Rhubarb Kuchen - Piestengelkuchen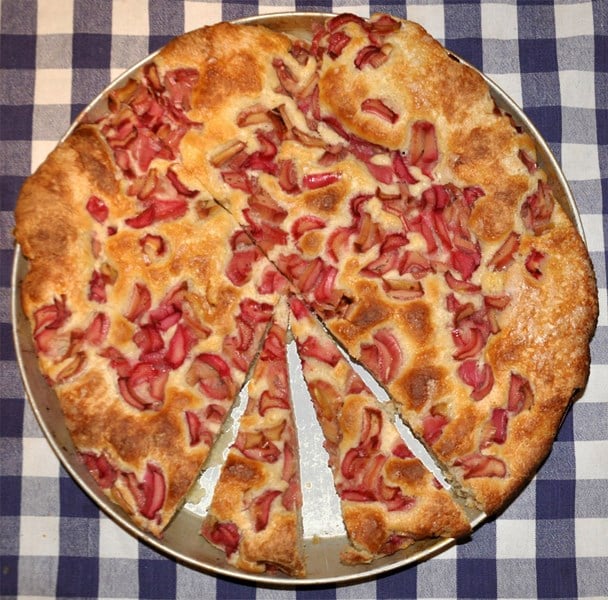 We'll end Mitagessen (Lunch) with kuchen, a typical Amana dessert. Kuchen are basically a cake made with sweetened yeast dough onto which chopped fruit have been added. They are the German equivalent of English 'fruit buckles', although most 'buckle' doughs are quick breads leavened with chemicals (usually baking powder, baking soda) rather than yeast.
Our spring kuchen is made with rhubarb - or pie plant (Piestengel in German). Because the succulent mid-rib of early-emerging leaves are used rather than actual fruits, rhubarb is ready for harvest and use as early in the spring as the leaves emerge from the ground -- at least a month to six weeks earlier than the earliest true fruits, like strawberries. The presence of rhubarb in the kitchen garden allowed for a dessert with fresh (rather than stored) ingredients to be made for the first time in months, and was a sure sign of winter's end.
The various recipes that we found for fruit kuchen in Amana cookbooks were not inspiring to us. But, since kuchen dough is rather wet and baked in a relatively thin layer in a large pan, we realized that in essence this dessert is simply a sweet foccacia topped with prepared fruit. So, we headed over to Nancy Silverton's classic 'Breads from the La Brea Bakery' for a good basic foccacia recipe, and modified it by switching out butter for the olive oil, and by adding sugar into the dough. We were very happy with the result and hope that you will be too. The following recipe will make a 12" diameter round kuchen, or a slightly thicker 8"x12" rectangle.
1½ cups warm water
1 tablespoon instant yeast
4 cups flour
1 cup sugar, in all, plus extra for dusting
1 teaspoon salt
2 tablespoons milk
2 tablespoons melted butter
4 cups chopped rhubarb
Preheat oven to 500° F
Place yeast into water, let it dissolve and become foamy. Mix in flour, ½ cup sugar, and salt with a with a sturdy spoon until incorporated. Let dough stand 20 minutes.
Continue mixing/kneading with a spoon, or with floured hands until the dough is silky -- approximately 10 minutes.
Add in the milk and melted butter, and beat / knead until both have been completely absorbed into the dough. At this point the dough will behave like a very stiff batter and may not be able to be kneaded. Allow dough to double in volume, approximately 2 hours.
Mix together the chopped rhubarb and remaining ½ cup sugar in a bowl, cover, and let stand at least 30 minutes.
Cover bottom of a 12" diameter round -- or 8" x 12" rectangular -- pan with baking parchment or well butter. Punch down dough and place / pour into the prepared pan, and spread it out into a uniform layer. Let the dough rest in the pan for 10 minutes. Evenly spread rhubarb over the top, and press individual pieces into the dough. Dust top with a little more sugar.
Place kuchen in oven and reduce temperature to 450° F. Bake for 15 minutes. Check the kuchen and rotate if it is browning unevenly. Continue baking for another 10-15 minutes.
Remove from oven and let set 10-15 minutes.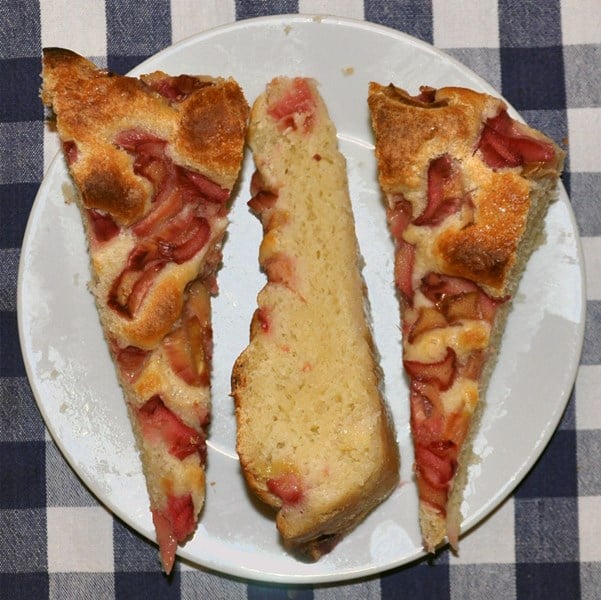 If you used parchment, be sure to remove it from the bottom of the kuchen before you cut it into slices.