Jeff & Linda's Kitchen of Diversity
Radish Salad - Rettichsalat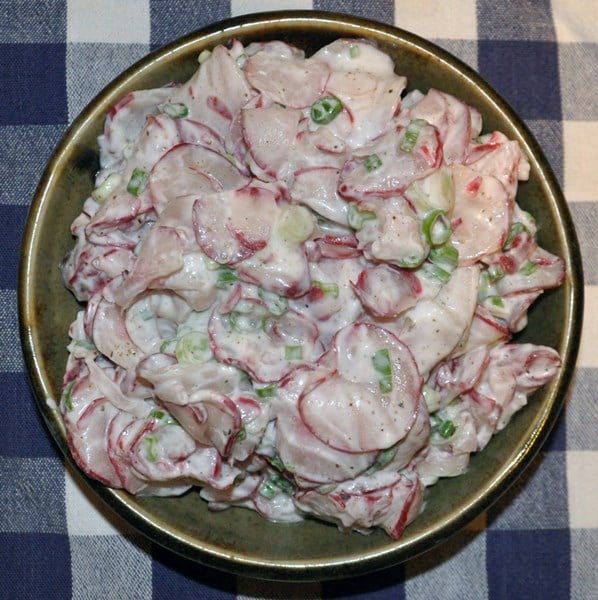 When you needed a whole pail of radishes to make a salad, you planted a lot of radishes!
Elizabeth Schoenfelder of Amana, as quoted in Seasons of Plenty
The first fresh vegetables of the year were eagerly anticipated by not only the Küchebaas, but the communal kitchen patrons as well to break the winter monotony of canned, pickled, and fermented foods and stored root crops. Along with fresh lettuce, the arrival of new radishes in May from the kitchen garden marked an important turning point of the year, as meals would now feature more and more fresh food.
This following salad was a common way to make use of this first bounty from the kitchen garden. The dressing of sour cream, vinegar, onion tops and a bit of freshly ground black pepper is an Amana and German classic. If you have access to fresh chives, please use them as they provide a cleaner onion flavor. One change we've made from the traditional Amana recipe is in terms of vinegar: the communal kitchens universally used distilled white vinegar. Frankly, because of its lack of flavor other than sour and industrial origin, we see this product as more of a household cleanser than a food item. So, we've modified the recipe by using white wine vinegar which is an easily made product in the home, and imparts a bit of fruitiness along with the sour. Rice vinegar would also work, but is a little more removed from the European culinary experience. But, don't use strongly flavored or colored vinegars like red wine, apple, malt, balsamic, etc. as they will distract from the simple radish flavor and muddy the salad color. Serves 4.
2 dozen radishes
½ teaspoon salt
½ cup sour cream
1 tablespoon white wine vinegar
2 tablespoons chopped chives or green onion tops
black pepper to taste
Shave or thinly slice radishes using a mandolin or food processor. Sprinkle with salt and let set for 45 minutes. Drain radish slices, squeeze dry, and mix with sour cream, vinegar, and chives or onion tops. Season to taste with freshly ground black pepper. Serve cold.
Use any early-season, small salad radish like Early Scarlet Globe or German Giant. If you've not done so already, you should consider establishing a patch of Common Chives near your kitchen door, as they will quickly establish a perennial bed that you can use throughout the growing season.