Jeff & Linda's Kitchen of Diversity
Cooked Red Cabbage - Rotkraut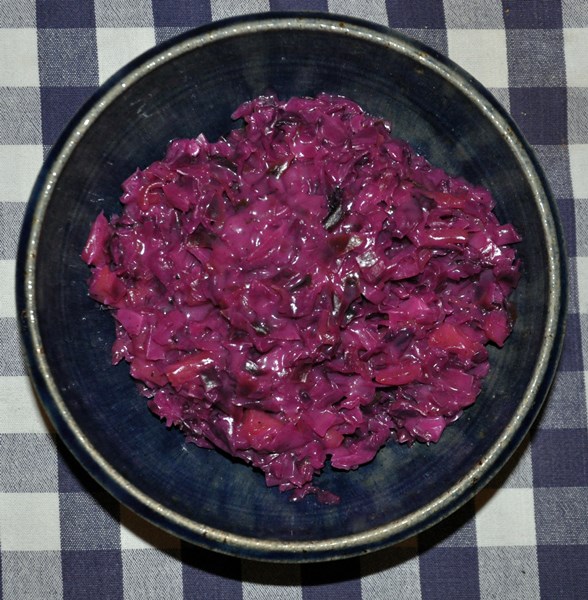 A lot of cabbage was grown in the Amana kitchen gardens, primarily to make sauerkraut for use in the communal kitchens as well as for sale outside of the colony. Seasons of Plenty relates that in 1900 the kitchen garden for the Ruedy Kitchen in Middle Amana produced 100 gallons of sauerkraut for kitchen use, with another 165 gallons being sold to markets as far away as Chicago.
Sauerkraut takes at least a month to ferment and sour. When the Küchebaas wanted to serve cabbage and the kraut was not yet ready -- or the winter's supply had run out -- the kitchen would often make a quick kraut by cooking fresh cabbage with vinegar and other flavorings. In the following recipe, the focal ingredient is red cabbage, which is cooked in this way with over-wintered apples, sugar, butter, and flour. Serves at least 4.
2 tablespoons butter
4 cups red cabbage, cut into medium dice
2 tart cooking apples, peeled, cored, and cut into medium dice
1 cup water
2 tablespoons flour
3 tablespoons white wine vinegar
3 tablespoons sugar
salt and freshly ground black pepper to taste
Melt butter over medium heat and add in cabbage, apple, and water and cook until tender, about 20 minutes. Mix in flour, then vinegar, sugar, salt and black pepper. Keep over heat until the sauce thickens. Serve hot.
Good choices for red cabbage to use in this dish include Red Express, Tete Noire and Vysoke Purple Pointed Head.