Jeff & Linda's Kitchen of Diversity
Spätzle with Morel Sauce - Spätzle mit Morchelsosse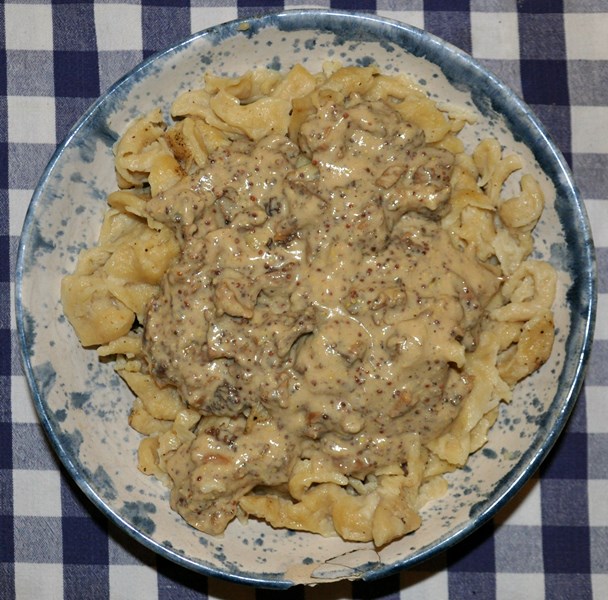 Morel mushrooms are one of the true blessings of May in Iowa. After the first warm rains, and coinciding with the blooming of the lilac bushes, morels begin to emerge from the soil in sometimes astonishing abundance. The soil and climate of eastern Iowa is perfectly suited for these mushrooms which in this region tend to appear around the bases of elm trees that died within the last year or two. Jeff and his father have made a ritual of mushroom hunting for most of the last 40 years, and can fondly remember picking over 700 morels from around a single tree, and bringing home over 60 pounds from a single trip. Being of Czech ancestry, wild mushroom picking is in their blood, and a spring without a walk in the woods looking for morels does not seem complete. So ingrained is morel hunting in the eastern Iowa Czech community that every spring the Czech Village Association in Cedar Rapids sponsors 'Houby Days' (Houby is the Czech word for mushroom), in which participants vie for awards given for the biggest, smallest, and most unusual morel mushrooms.
The Amana Colonists also made use of this springtime bounty, with morels making a brief appearance in many communal kitchens. Typically they were served as Jeff's parents most enjoy them, with the fresh mushrooms being cleaned, cut in half, dusted in cracker crumbs or flour, and then pan fried. But this is not the only way they can be eaten. We've taken a few liberties in the following recipe as we can't prove it was actually used in the Colonies. However, spätzle were an Amanas favorite. This rustic, hearty cross between a noodle and a dumpling originated in Swabia in the centuries before the Inspirationists fled to the New World and they brought the recipe with them. Spätzle are a wonderfully frugal dish which allows a bit of flour, a few eggs and some milk to feed many hungry diners. In the Colonies, spätzle were added to soups and mixed with melted butter and fried onions and topped with toasted bread crumbs. In Germany they were also commonly served with various types of flavorful sauces, including mushroom sauces. These were often based on whole grain mustard and dairy products. We've adapted our favorite mustard sauce -- reminiscent of German mushroom sauces -- from a recipe originating in the Somerset region of southwestern England. We love the extra flavor that the use of hard cider provides. Even though this exact recipe may never have graced an Amana communal kitchen table, we think that many a Küchebaas would have gladly served it for a mid-May Abendessen had she known about it. Serves 4-6.

Spätzle
3 cups flour
1 teaspoon salt
½ cup powdered milk dissolved into 1¼ cup morel soaking water
(if dry morels were used);
otherwise use 1¼ cups milk
2 eggs
Pot of boiling water
Melted butter

Put flour and salt into a deep bowl. Make a well in the center and add in the eggs. Beat the eggs in the well with a sturdy spoon, gradually working outwards into the flour. When the eggs are well beaten, add the milk into the well, and continue stirring, gradually increasing the size of the well until finally no dry flour is left. Beat the batter vigorously until it is smooth and begins to form sheets.
Place the bowl over the boiling water and tip it so that the batter begins to run out. With a wet table knife, cut the batter into thin strips as it begins to flow out of the bowl and let it drop into the boiling water. Continue until all of the batter has been cut into strips and has dropped into the pot, dipping the knife into the boiling water each time to keep the batter from sticking to it. Let the spätzle cook until they float to the surface, the water returns to a rolling boil, and foam begins to form on the water surface, about 5 minutes. Drain spätzle and add in butter and allow it to melt, and then mix well so that each spätzle is coated with butter.
Morel Sauce
¾ ounce dry morel mushrooms (or 2 cups fresh morels)
1½ cup hot water (if using dry morels)
2 tablespoons butter
2 cups hard cider
2 tablespoons coarse grained mustard
1 cup heavy cream
Salt and freshly ground black pepper to taste
If using dry morels, soak in hot water until soft. Drain off water and reserve for spätzle.
Coarsely chop morels. Heat butter in a medium saucepan over medium heat and when melted add in the morels. Sauté for 5 minutes, stirring frequently. Stir in cider and mustard and mix well. Add cream and cook until sauce thickens. Remove from heat and adjust seasoning with salt and pepper.
Pour sauce over spätzle and serve hot.