Quelites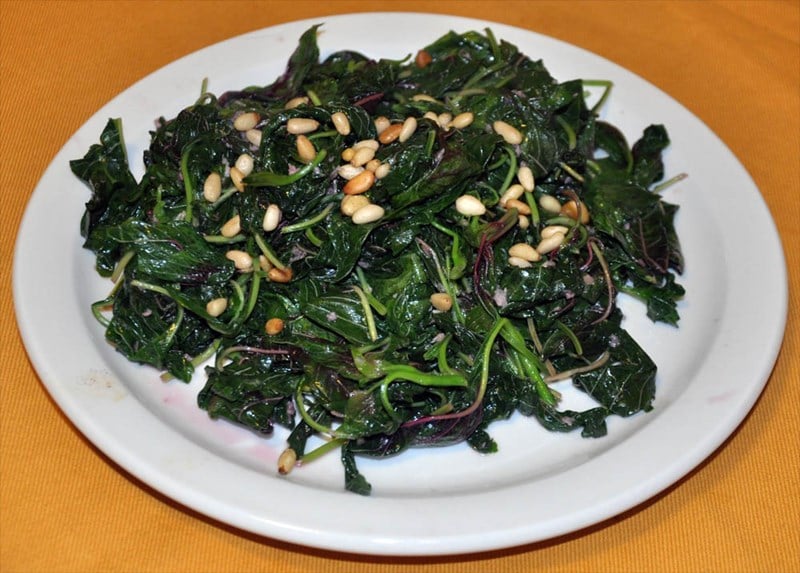 One of the many useful concepts in meso-American gardening is the idea of two types of weeds: "good" and "bad". Bad weeds are simply those plants that show up in gardens that have no benefit and decrease crop yields. Good weeds, however, will have some use while also benefiting garden soils. One of the most well known of these good weeds in Mexico and the adjacent USA are the various species of amaranth that come up with abundance in every garden. These need to be weeded out to allow the crops a chance to grow, but their leaves are a favored early season green. Termed 'quelites,' this word also includes weeds in other related plant families, such as the Chenopodiaceae. As related by Cheryl Alters & Bill Jamison in their 1995 The Border Cookbook, the cooking of the former northern Mexican frontier (in other words the southwest USA) is much more simple than the grander cuisines found to the south in the former Aztec and Mayan heartland. In the following recipe, adapted from one presented in this cookbook, quelites are made into a simple and hearty dish that includes two other iconic southwestern ingredients: piñon nuts from an indigenous small pine and powdered chili pods.
1/3 cup piñon (pine) nuts
2 tablespoons olive oil
3 garlic cloves, minced
½ teaspoon mild New Mexico chili powder
1½ pounds amaranth greens
salt and freshly ground back pepper to taste
Roast piñons in a 350° F oven until lightly browned, about 5 minutes. Remove from oven and let cool.
Heat oil over medium heat. Sauté garlic for 1 minute, then stir in the ground chile powder. Add in the greens, cover the pan, and reduce heat to medium-low. Cook until the greens are tender but still vibrant green, about 5 minutes. Season with salt and pepper. If water accumulates in the pan bottom, uncover, increase burner temperature to medium-high, and boil off, stirring constantly. Mix in the roasted piñons and serve.
Quelites con Frijoles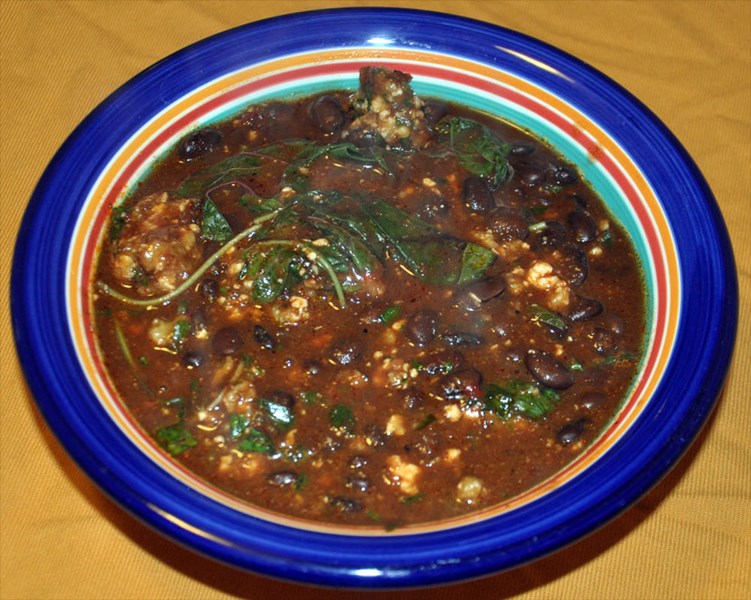 To see how quelites can be elaborated, we share the following Veracruz, Mexico recipe adapted from the 1996 Rick Bayless's Mexican Kitchen. Here the humble quelite is combined with black beans and corn-cheese dumplings in a chili-rich adobo to make one of the most extraordinary vegetarian dishes that you'll likely run across from the Mexican tradition.
1 pound dry black beans
1 can of chipotle chili in adobo sauce
1½ ounces dry ancho (pasilla) chili, stemmed and seeded
6 garlic cloves, peeled and chopped
½ small onion, chopped
¼ cup olive oil
1 cup fresh masa dough (or ¾ cup masa harina mixed with 2/3 cup hot water)
1 scant tablespoon salt
¾ cup cilantro, chopped
6 ounces queso fresco (fresh Mexican farmer's cheese), crumbled
6 cups stemmed, coarsely chopped amaranth (or any other) greens
Pick over beans and remove any stones, dirt clods, or other impurities. Place in a deep pot and cover with 2 quarts of water. Let soak for at least 6 hours. Drain soaking water. Cover the beans with enough fresh water to submerge them by ½ inch and bring to a boil. Reduce heat and simmer until tender, about 1 hour.
While beans are cooking, heat an ungreased griddle or heavy skillet over medium heat. Toast the dry ancho (pasilla) chilies, pressing them into the cooking surface and turning regularly until they soften and become aromatic. Cover roasted chilies in hot water and let soak until completely rehydrated, about 30 minutes. Drain and place in a blender or food processor with the chipotles in adobo, garlic, onion, and ½ cup of water. Puree until smooth. Heat 2 tablespoons olive oil in a large saucepan over medium-high heat. Add in the chile/garlic/onion puree and simmer, stirring occasionally, until thickened, about 30 minutes.
Now make the dumplings by kneading together masa dough with the remaining 2 tablespoons olive oil, ½ teaspoon salt, ¼ cup chopped cilantro, and crumbled cheese. Form into 1-2 in balls. Cover and set aside.
When the beans are cooked, adjust the water level to make sure the broth has the thickness of a light sauce. If there is not enough water, add more. If there is too much, remove some cooked beans from the pot, puree until smooth, and return to the pot. Liberally season with salt – usually 2 teaspoons or so will more than suffice. Increase the burner temperature to medium, and bring the beans to a vigorous simmer. Add in the dumplings one at a time, stirring gently to make sure they do not fall apart. Cook for 5 minutes, and then add in the chopped greens. Continue simmering until the greens are fully cooked, about 10 minutes.
These are wonderful served with fresh corn tortillas or over rice. They also are wonderful combined with the Savory Amaranth Topping to make an extraordinary batch of vegetarian nachos.
Savory Amaranth Topping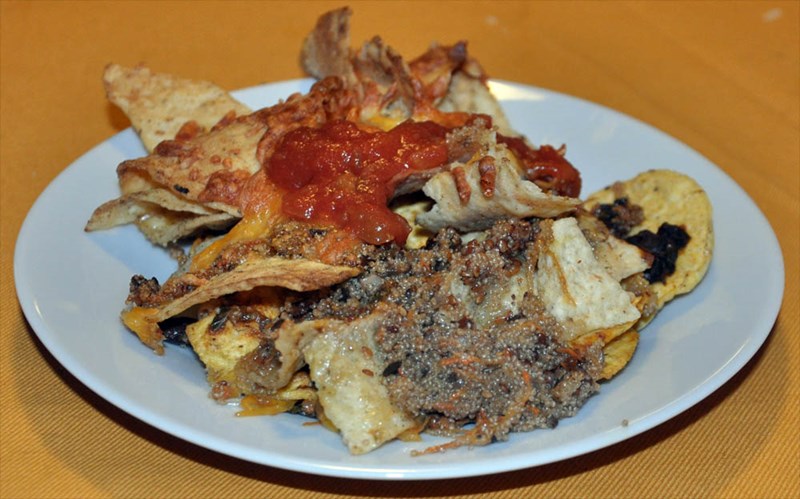 Not only are amaranth greens nutritious and tasty, but the cooked seeds also make an excellent porridge. In the following, we use this ingredient as a base upon which we create a savory topping that makes a wonderful replacement for ground meat. Note that the amaranth seeds will be quite sticky just after cooking, and that you may want to let this topping rest for a day or two in the refrigerator. Over this time the gooey mouth-feel will disappear.
¾ cup olive oil
1½ cups amaranth seed
2¼ cups stock
½ teaspoon salt
2 garlic cloves, finely minced
1 teaspoon dry thyme leaves
3 cups sliced mushrooms
¼ teaspoon freshly ground black pepper
1 tablespoon balsamic vinegar
1 cup grated carrots
¼ cup sesame seed
½ cup sherry vinegar
1 tablespoon soy sauce
1 teaspoon sesame oil
Heat ½ tablespoon olive oil in deep saucepan over medium heat. Stir in amaranth seeds to coat with oil. Add stock and bring to a boil. Reduce heat and simmer until the liquid has been absorbed and the grains are tender, about 20 minutes. Remove from heat, cover, and let sit for at least 5 minutes.
Heat another tablespoon of olive oil in a skillet. Sauté minced garlic for about 30 seconds, then add in the thyme, mushrooms, black pepper and balsamic vinegar. Stirring frequently, cook until most of the released mushroom moisture has cooked away, about 10 minutes. Remove from heat and coarsely chop.
Heat oven to 300° F and toast sesame seeds in a pan until lightly browned, abut 5 minutes. Remove from the oven and cool.
Mix together the cooked amaranth, chopped cooked mushrooms, grated carrots, and toasted sesame seeds. Make a vinaigrette from the remaining olive oil, sherry vinegar, soy sauce, and sesame oil. Stir into amaranth-mushroom mixture.
To make Amaranth Nachos (illustrated), simply layer corn tostada chips with the amaranth topping and cheese. Heat in a 350° F oven until the cheese is melted and has begun to turn brown. Feel free to also layer in cooked black beans. We used Quelites con Frijoles leftovers (see above). Serve with salsa.