How to Eat an Artichoke
It is intimidating to be confronted for the first time with a steaming artichoke on your plate. Most vegetables don't need an instruction manual to figure out how to eat them, but artichokes are an exception. So, how can you get to the tasty bits (and boy, are they tasty)?
First, it is important to realize that not all of the Artichoke is actually edible: quite a bit of it is too fibrous to chew, swallow, and digest. The parts that you need to avoid are the outsides of the green leaf-like bracts surrounding the flower, and perhaps most importantly the spiny flower bud nestled inside of the artichoke itself (it's called the 'choke' for a good reason!).
Think of eating an artichoke as the same process as opening a present. You'll start with a bud that has been steamed long enough so that the outer bracts are easily pulled off the stem. Now pull off a bract one at a time, working around the artichoke in a circle. Traditionally, when you remove a bract you'll dip it in melted butter. But for the vegans out there warm olive oil infused with garlic or a balsamic vinaigrette works well, too. Then hold the top of the bract with your fingers, put it into your mouth with the outer surface facing up, close your teeth, and pull the bract out of your mouth. The delicious soft pulp will be left piled up behind your lower teeth. Eventually, you'll get far enough into the flower bud that the entire bottom of the bract will be soft and edible: when you get there simply dip the ends in the butter / oil and nibble off the bits that are not woody. You'll want some kind of container to collect all the discarded bracts; eating an artichoke makes for lots of good compost material.
Finally you will have removed all the bracts. At this point you'll see the fleshy, green 'heart' topped by a prickly flower bud. You'll want to take a spoon and carefully lift the prickly flower bits off the heart, and put this 'choke' into the waste container with the discarded bracts. What remains is the succulent flower base, which you should dip in butter or oil and eat with unabashed joy.




Aleppo Artichoke Spread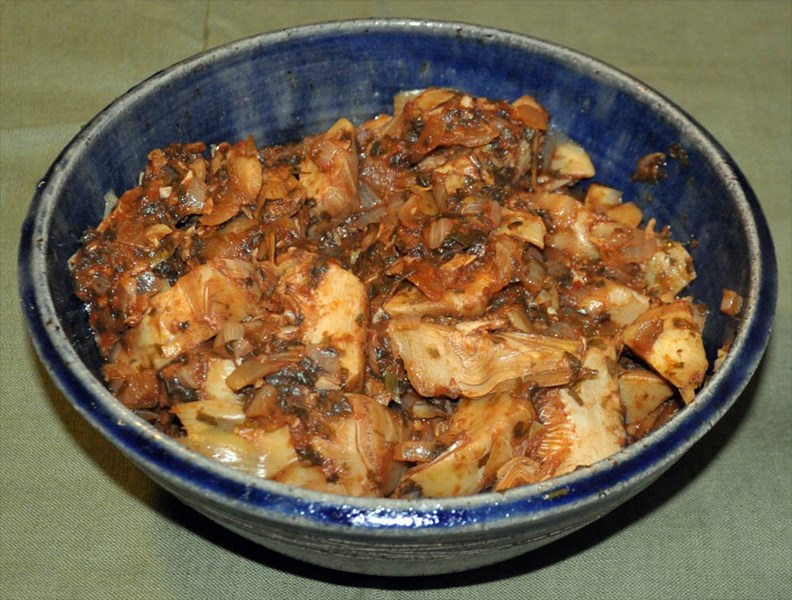 Aleppo, in northwestern Syria, is considered one of the cradles of cooking in the Levant. In the following dish, again adapted from one presented by Clifford Wrightin his 2001 cookbook, Mediterranean Vegetables, chopped artichoke hearts are stewed with tomato, garlic, onion, cilantro, lemon juice and pomegranate molasses to make an addictive savory/tart spread to be eaten with khoubz loaves at the start of a meal. Pomegranate molasses is a tart/sweet syrup made from reduced pomegranate juice, and can be found at most Middle Eastern groceries or also from many on-line vendors.
8 medium to large artichoke hearts, each cooked, cleaned, and coarsely chopped
1 cup tomato sauce
8 large garlic cloves, peeled and chopped
1 teaspoon salt
¼ cup extra-virgin olive oil
1 medium onion, finely chopped
¾ cup cilantro, finely chopped
1 cup water
1 tablespoon lemon juice
2 tablespoons pomegranate molasses
Pound garlic and salt together in a mortar to make a thick paste.
Heat olive oil in a large skillet over medium-high heat. Sauté onions until softened, about 5 minutes. Stir in the garlic paste and chopped cilantro, and stir until fragrant, another 2 minutes. Add in chopped artichokes, tomato sauce and water. Bring to a boil. Reduce heat and simmer, stirring frequently, until the sauce has slightly reduced, about 15 minutes. Add in lemon juice and pomegranate molasses and continue cooking until the sauce has thickened and become syrupy, abut another 10-15 minutes. Remove from heat. Serve topped with drizzle of olive oil.




Cream of Artichoke Soup
This is a wonderful soup for a cool fall evening when all of the vegetables can be harvested fresh from the garden. Serve it with a side salad and some crusty bread.
4 artichokes
2 cups vegetable stock
2 cups water
½ cup dry sherry
1 cup diced potato
1cup diced carrot
1 cup chopped onion
½ cup diced celery
2 tablespoons minced garlic
2 bay leaves
½ teaspoon of dried marjoram
½ cup heavy cream
½ cup milk
¼ cup grated romano cheese
Salt and pepper to taste
Steam the artichokes in 2 cups of water until tender; reserve the liquid. Allow the artichokes to cool. Scrape the flesh from the bottom half to third of each bract and combine with cooking liquid in a medium pot. Remove the choke and discard (see "How to Eat and Artichoke"). Dice the artichoke hearts.
Combine artichokes, carrot, potato, onion, celery, garlic, bay and marjoram with cooking water. Simmer until vegetables are tender, about 45 minutes. Puree the soup, return to the cooking pot, add cream, milk and cheese and heat but don't boil. Add salt and pepper to taste.




Greek Potatoes and Artichokes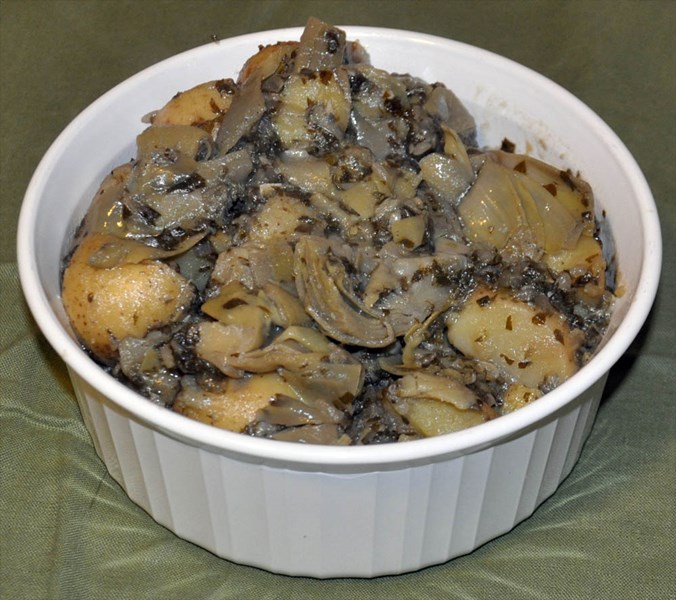 Potatoes arrived in the Old World after Spanish contact with the New World in 1492, and quickly spread throughout the Mediterranean basin. They became an especially important element in the Greek cuisine. In this recipe, adapted from one presented by Jeff Smith in his 1989 "The Frugal Gourmet Cooks Three Ancient Cuisines", they are pared with one of the oldest Mediterranean vegetables, the artichoke, to make for a wonderful, savory, but also simple side dish.
3 tablespoons olive oil
1 medium onion, peeled and thinly sliced
4 cloves garlic, peeled and crushed
½ cup parsley, coarsely chopped
1 teaspoon dry oregano leaf
3 pounds new, yellow potatoes, unpeeled and quartered
1 cup stock
3 cups artichoke hearts, chopped
salt and freshly ground black pepper to taste.
Sauté onion and garlic in olive oil over medium head until almost transparent, about 10 minutes. Add in parsley, oregano, potatoes and stock. Bring to a boil, reduce heat, cover, and simmer until potatoes are just barely tender, about 10-15 minutes. Add in artichoke hearts and simmer, uncovered, for another 10 minutes. Adjust seasoning with salt and pepper. Serve warm.





Tunisian Artichoke Salad
This is a delightful, light, and easily prepared artichoke heart salad which is adapted from one presented by Clifford Wright in his 2001 cookbook, Mediterranean Vegetables. Once you have cooked, cleaned, and cut the artichoke hearts, this dish takes all of a minute or two to prepare, provided that you have harissa paste on hand. We described how to make this delicious condiment at home in our September, 2014, blog entries.
2 tablespoons lemon juice
2 teaspoons harissa
¼ cup extra-virgin olive oil
¼ teaspoon salt or more, to taste
3-4 large artichoke hearts, each cleaned and cut into 8 wedges
12 pitted kalamata olives
1 tablespoon capers, rinsed
Whisk together lemon juice, harissa, olive oil, and salt. Pour over artichoke hearts, olives, and capers and toss. Serve at room temperature.