Asparagus Giardiniera
We usually think of giardiniera as a pickled relish made of large chunks of summer vegetables such as cauliflower and peppers. However, there is no reason to not make it as well in the first harvest of spring, including tiny vegetables thinned from rows. Here we've liberally adapted a Greek pickled asparagus recipe presented by Jeff Smith in his 1989 "The Frugal Gourmet Cooks Three Ancient Cuisines" to make an addictive condiment ready for a spring antipasti tray. We recommend that you use the tiny, round Parisienne carrots, as they will be the same size as the radish. Note that if you are inundated with large amounts of spring harvest bounty, it is also possible to can this relish using a hot water bath.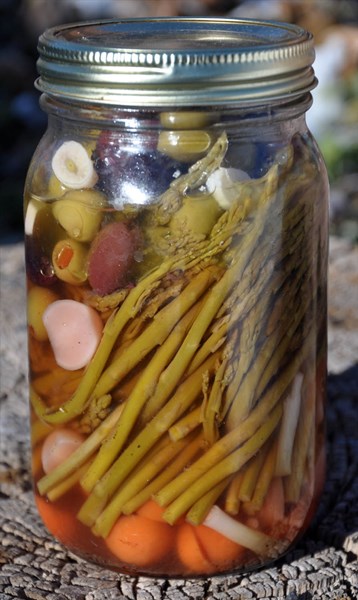 1½ cups white wine vinegar
3 whole allspice berries, crushed
1 tablespoon black pepper corns, crushed
2 whole cloves
2 bay leaves, crumbled
1 teaspoon thyme leaves
1 teaspoon tarragon leaves
1½ teaspoons salt
6 small, round carrots, halved
6 radish, halved
1 pound asparagus
12 green onions, trimmed of roots and leaves
¼ cup green olives
¼ cup black kalamata olives
4 garlic cloves, peeled and thickly sliced
½ cup olive oil
Bring vinegar, allspice, cloves, black pepper, bay, thyme, tarragon, and salt to a boil. Remove from heat, cover, and allow to steep for 30 minutes. Strain through a fine sieve to remove particulates, and reserve.
Bring a quart of water to a boil in a deep pan. Blanch the carrots for 2 minutes, then add in the radish and asparagus. Bring to a simmer and drain, rinsing the vegetables with cold water to stop cooking. Allow to thoroughly drain.
Pack the blanched vegetables, green onions, olives, and garlic slices into a 1 quart glass canning jar. Pour in olive oil, marinade, and top off jar with additional white wine vinegar. Cap, and allow to marinate 2-4 days in the refrigerator.




Mushroom and Asparagus Risotto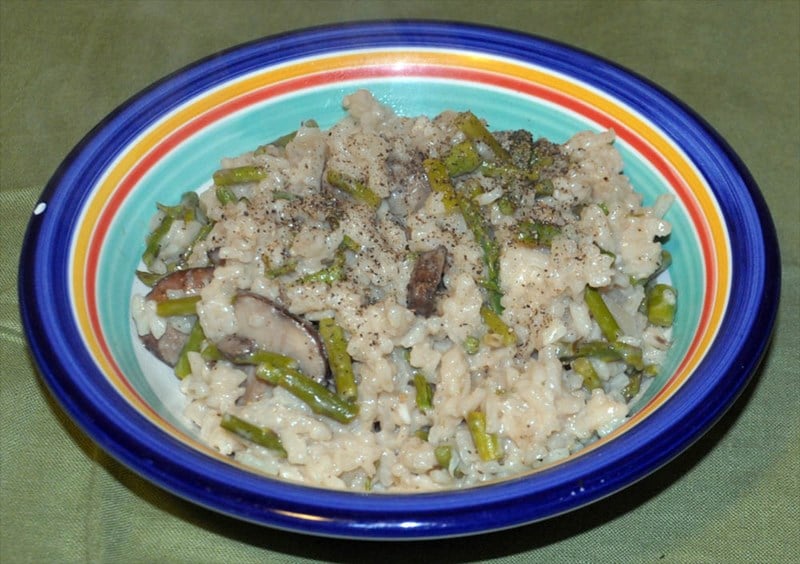 In this excellent spring risotto, arborio rice is cooked with mushrooms, asparagus, and mixed at the end with chevre to make a rich, satisfying meal for a cold evening. If you live in an area with morel mushrooms, consider using 2 cups of them in place of the regular mushrooms. If you do this, don't garnish with truffle oil as the morels will be plenty tasty on their own.
¼ cup extra-virgin olive oil
1 medium onion, finely diced
1 tablespoon garlic, minced
2 cups arborio rice
1 cup fruity white wine such as a Riesling
8 cups stock
4 cups sliced mushrooms
1 pound asparagus, tough bottoms removed and cut into 1" pieces
½ teaspoon freshly ground black pepper
1 teaspoon salt, or more, to taste
¼ cup chevre
2 tablespoons truffle oil (black or white)
In a 3-4 quart pan, bring stock to just under boiling. Keep at this temperature.
In a heavy, wide bottomed and deep saucepan heat oil. Sauté onion until translucent. Add in rice and garlic. Cook rice in hot oil, stirring constantly, until slightly toasted, about 3-4 minutes.
Add in the mushrooms and wine, stirring constantly until it is absorbed by the rice. Repeat with 1-cup units of hot stock, stirring constantly, adding in more hot stock as the prior cup has been absorbed. When only 1 cup of hot stock remains, add in the asparagus and then the final cup of stock. Continue stirring until the sock has been absorbed and the rice is al dente and held together by a creamy sauce. Remove from heat, mix in the chevre, and cover. Let stand 10 minutes. Garnish with the truffle oil just before serving. Be sure to have freshly grated parmesan on hand to scatter over the top of each bowl along with a little fresh ground black pepper.




Asparagus Soup - Spargelsuppe
Soups were a vital part of the communal kitchen repertoire, as they were able to feed a large number of people simply, and typically with ingredients that were always on hand. Not a day went by when some soup was not served, especially for the noon meal.
One of the most cherished parts of each communal kitchen garden was the asparagus patch, which the Gartenbaas treated with special care. The deep, rich soils and temperate climate of eastern Iowa are particularly well suited for asparagus, and these beds were maintained for generations, with a given patch often having been planted by the grandmother of the Gartenbaas, Küchebaas, or communal kitchen patrons. By May, the first succulent asparagus stems were emerging from the dark loam, and the kitchens looked forward to serving this ephemeral spring delicacy.
For our lunch meal we're making an iconic spring soup -- Asparagus Soup, or Spargelsuppe. Because this is a blended soup, it also works well near the end of the season when the asparagus stem bases have become a bit woody. 8 servings.
2 tablespoons butter
3 tablespoons flour
1 leek, chopped fine
8 cups vegetable stock
2 pounds asparagus, cut into 2-inch pieces
½ teaspoon thyme
1 cup cream
salt and freshly ground black pepper, to taste
Melt butter in kettle over medium-high heat, and sauté leek until wilted (about 5 minutes), stirring frequently. Whisk in flour, and cook another 2 minutes. Add in stock and mix well to dissolve all clumps. Add thyme and asparagus, reserving the tips. Bring to a boil, and cook for about 30 minutes or until the asparagus is tender. Puree the asparagus-leek-broth mixture until smooth using an immersion blender, food processor, or food mill. Stir in cream, and adjust seasoning with salt and freshly ground black pepper, and add in reserved asparagus tips. Warm over low heat until the asparagus tips are poached, bright green, and tender, about 5 minutes. Serve hot.




Farro, potato, and greens soup -- The Marches, Italy
This soup was inspired by Felice Orazi of Le Copertelle in Serra San Quirico in the Italian Marches along the Adriatic Coast. Chef Orazi is a consummate wild-forager, as Paula Wolfert discovered when visiting the region. In the original recipe Bladder Campion greens were used. To capture their sweet-pea like flavor, Ms. Wolfert substituted asparagus and fresh garden peas. We recommend that you leave the peas out of the soup base and add them in just before serving to preserve their bright green color and flavor. Otherwise, they tend to overcook (especially upon reheating), turning bitter and a khaki color reminiscent of bad school lunches. Please don't go there. The soup is too wonderful to ruin in this way. Serves 4.
¼ cup dry farro kernels
3 tablespoons olive oil
½ cup flat leaved parsley, chopped
½ teaspoon red pepper flakes or more to taste
6 garlic cloves, finely sliced
½ pound waxy boiling potatoes, cut into 1" dice
¼ pound wild mustard greens or arugula, coarsely chopped
3 asparagus stalks, thinly sliced into rounds
4 cups stock
1 cup shelled peas
salt and freshly ground black pepper to taste
grated Pecorino Romano cheese (optional)
Pick through farro to make sure that there is no foreign material present; cover with water and let soak overnight. Drain and cover with fresh water and bring to a simmer. Cook, covered until the grains are al dente, about 45 minutes.
Pour olive oil into a soup pot, heat to medium-hot, and add in parsley, red pepper flakes, garlic and potatoes. Sauté about 15 minutes, allowing some sides of the potato cubes to brown. Add greens and asparagus and allow to fry for a few minutes in the oil until the greens wilt. Add in the cooked farro and stock, and bring to a simmer. Cook for 30 minutes to cook the vegetables and blend the flavors. At this stage the soup base can be held until serving.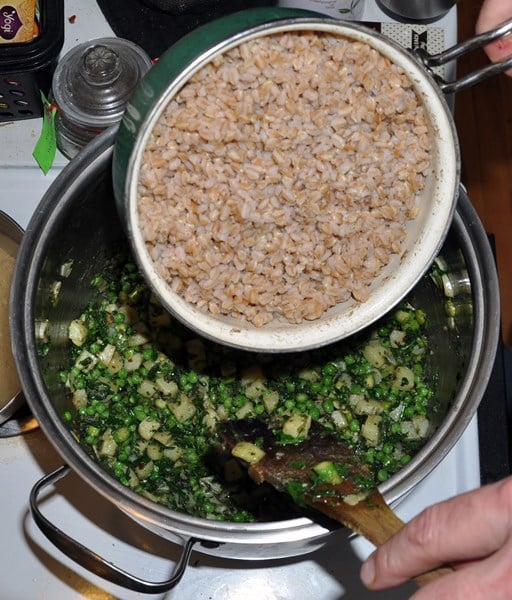 When ready to serve, add in ¼ cup peas per portion and let blanch in the soup for about 5 minutes. Adjust seasoning with salt and pepper. Remove from heat and let stand for 5 minutes. Pour into bowls and top each with a drizzle of good olive oil and a tablespoon of grated cheese (if you're not vegan).
This soup's quality is based on using the freshest produce possible.




Hunan Asparagus and Shitake Stirfry
Hunanese cuisine is known for its liberal use of both salted black beans (see the Hunan Tofu Stirfry recipe from March, 2014, for more information about this interesting soyfood) and chili peppers. Here we've adapted a recipe from the 1978Henry Chung's Hunan Style Chinese Cookbook to make it vegetarian by swapping out sliced beef with mushrooms. This is an excellent but different way to make use of your asparagus harvest.
10 dry shitake mushrooms
2 tablespoons fermented black beans
3 tablespoon corn or canola oil
1 tablespoon minced fresh garlic
1 tablespoon fresh ginger paste
1 teaspoon hot pepper flakes
3 tablespoons soy sauce
1 tablespoon Chinese rice wine or sherry
1½ pounds asparagus, trimmed of hard bottoms and cut into 1" lengths
1 tablespoon cornstarch mixed with 2 tablespoons water
salt to taste
Cover dry mushrooms in plenty of hot water, and let soak until soft, about 30 minutes. Drain, reserving soaking liquid. Thinly slice mushroom caps.
Cover black beans with hot water and soak for 15 minutes. Drain and crush to a coarse paste
Heat oil in wok over high heat. When it just begins to smoke, add in bean paste, garlic, ginger, and hot pepper flakes. Stir fry for 1 minute. Add in sliced mushrooms, soy sauce, and rice wine/sherry. Stir fry for 2 minutes. Add 1 cup of reserved mushroom soaking liquid. Bring to a boil. Add in asparagus, and cook for 1 minute, until the asparagus turns bright green. Add in cornstarch/water paste, stir to break apart any lumps, and cook until the sauce returns to a boil and has thickened. Serve over hot rice.