Jeff & Linda's Kitchen of Diversity
Aloo Skardu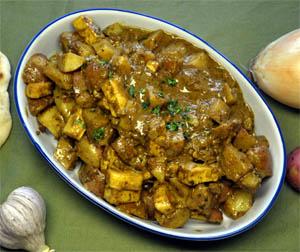 We've saved the best recipe for last. The original by Pat Chapman (which he called Murgh Skardu) calls for chicken pieces to be stewed in a creamy, aromatic sauce. We've adapted this to a vegetarian recipe (and renamed it Aloo Skardu) by substituting boiled new Red Potatoes. This will make a wonderful centerpiece to bring the rest of the feast together.
Aloo is the Hindi word for Potato. Skardu (shown in the third picture from the top in the 'Welcome to Baltistan' blog entry) is the capital city of Baltistan, resting along the banks of the Indus River in the shadow of K2, the world's second tallest peak.
6 servings
3 tablespoons Ghee or Canola oil
6 Garlic cloves, finely chopped
1 teaspoon Sesame seeds
1 teaspoon White Poppy seeds
½ teaspoon whole Fennel seeds
½ teaspoon whole Ajiwain seeds
3-4 Green Cardamom pods
2 inch piece of Cassia bark
1 large Onion, finely chopped
4 tablespoons Balti Masala Paste
¾ cup Whipping Cream
2 teaspoons Sugar
1 cup Vegetable Stock
3 pounds new Red Potatoes, scrubbed, boiled until fork tender, and quartered.
1 tablespoon Balti Garam Masala
1 tablespoon Cilantro leaf, finely chopped
Aromatic Salt, to taste
Heat ghee / oil in large pan, and when hot add in Garlic and spices; stir fry for 30 seconds. Add Onion, reduce heat, and sauté for 10 minutes until Onion becomes transparent and begins to brown. Stir in Balti Masala Paste, raise heat and stir fry for another 5 minutes.
Add Cream and Sugar and slowly mix in the stock about ¼ cup at a time. Simmer, constantly stirring, over low heat for about 10 minutes.
When the sauce is thick, toss in the quartered Potatoes, Balti Garam Masala, and Aromatic Salt to taste. Garnish with chopped Cilantro.
Serve your Balti meal with a flatbread such as Nan. For a truly authentic experience forgo tableware: tear off pieces of bread and use them to scoop up little bits of the food. Although not quite as traditional, you can also serve your meal with cooked Basmati Rice.
You can grow your own Sesame, Fennel, Potatos, Onions and Garlic. The best types of Potatoes are a waxy variety bred for boiling. The best Onion is some type of short-storing sweet variety like Alisa Craig. For garlic we we recommend a sweet, nutty Middle Eastern type like Himalayan Red or Turban type like Tashkent Violet Streak. Again, you may well have to shop on-line to find some of the more exotic ingredients, such as White Poppy Seed and Ajiwain. If you are lucky enough to live in a city with an Indian market, however, these ingredients should be readily available there.