Jeff & Linda's Kitchen of Diversity
Balti Carrots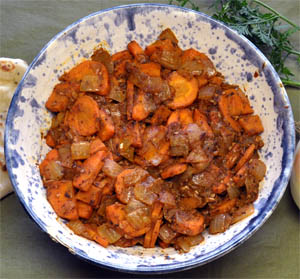 Carrots were initially domesticated from their wild ancestors in an area extending from Baltistan through Afghanistan through the central Asia Republics. These tend to have yellow or purple roots and hairy leaves.
It should not be surprising, then, that carrots feature in traditional Balti cooking. Here we'll blanch carrot slices until tender, and then toss with Tandoori Masala Paste and a few other seasonings. These may be the best cooked carrots you've ever eaten! Serves 6
3 pounds Carrots, washed, peeled, and cut into ¼ inch wide slices
¼ cup Canola oil
6 large Garlic cloves, thinly sliced
1 pound coarsely chopped Onion
1/3 cup Tandoori Masala Paste
1/3 cup Lemon juice
3 tablespoons dry Fenugreek (Methi) leaf
Blanch carrots in boiling water until just tender. Remove from hot water and cool under running water. Drain.
Heat oil in large skillet. Add Garlic and stir fry for 15 seconds; add Onion and stir fry for another 2 minutes.
Add Tandoori Paste, Lemon Juice, and dry Fenugreek leaf. Continue stir frying for 2 additional minutes.
Add drained, blanched carrots, and stir until carrots have warmed to the temperature of the sauce. Remove from heat and serve.
You can make this in the traditional style of Baltistan by using purple or yellow carrots such as Cosmic Purple or Amarillo. However, this dish is also terrific when made with the fat, sweet Chantenay types. We recommend a strongly flavored yellow 0nion like Yellow of Parma, and a purple stripe garlic like Samarkand Purple or Shatili. You can also grow your own Fenugreek.