Jeff & Linda's Kitchen of Diversity
Green Masala Paste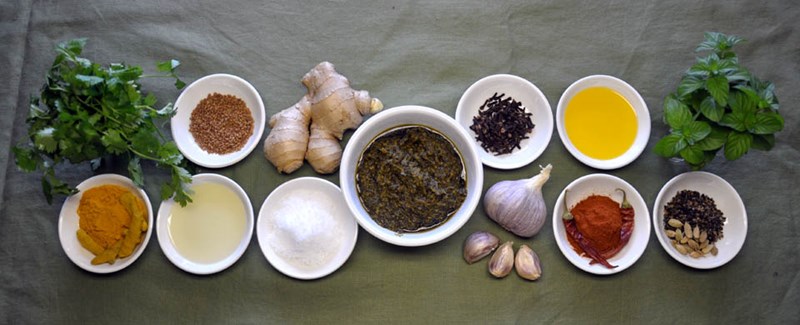 We're almost there. One more spice mix to go, and then we get to start making our Balti feast. This time we're going to make the paste with fresh cilantro and mint leaves. Makes about 1 lb.
½ teaspoon ground Cloves
1 teaspoon ground Cardamom
1 teaspoon ground Fenugreek seed
6 chopped large Garlic cloves
2 tablespoons grated fresh Ginger
1½ ounces fresh Mint leaves
1½ ounces Cilantro leaves
1 tablespoon Salt
1 tablespoon ground Turmeric
2 teaspoons ground Cayenne (or other red pepper)
½ cup distilled Vinegar
½ cup Canola oil
¼ cup Sesame oil
Dry roast and grind Cloves and Cardamom. Place into a blender or food processor with remaining ingredients, except oils, and puree. Let stand for at least 10 minutes.
Heat oils in a large pan, add paste, and fry according to the directions given for Balti Masala Paste. Place into a clean glass pint canning jar, top with oil, and seal with a lid. Refrigerate.
You should conisder growning your own Cayenne, Cilantro, Fenugreek, Garlic, and Mint.