Welcome to Baltistan, the roof of the world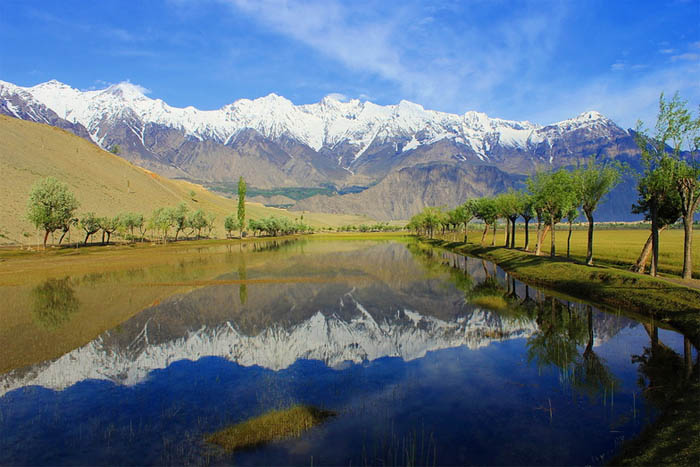 Nestled in the high valley of the Indus River, surrounded by the Himalayas, Karakorams, and Hindu Kush is Baltistan, the formerly autonomous kingdom that is now part of the Gilgit–Baltistan Province of Pakistan. Being at the same approximate latitude as Santa Fe (36° N), with a mountainous landscape, severely cold winters, and not enough rain to support agriculture except for the water flowing down the Indus from melting glaciers, the region is very much a higher, drier, and colder version of New Mexico.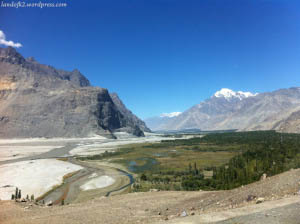 People have lived along the Indus for millennia, with the advanced Mohenjo-Daro settling as far north as Baltistan by 4500 years ago. By 3000 years ago, a trading route linking China in the east to the Persia in the west was developed through the high passes of Baltistan, and the local people gained access to a wide variety of goods that passed through their region, including the wok which the Balti adapted into the cast-iron karahi. By 2000 years ago this route had evolved into the Silk Road, with the Balti developing a unique fusion cuisine borrowing from the Chinese, Persians, and cultures of the Indian subcontinent. Conquering armies (including Alexander the Great) ebbed and flowed across this region until Arab conquest 1300 years ago that firmly established Islam. Baltistan remained an independent kingdom until the 1800s when it succumbed to the British Empire.
The Balti Invasion of England started in the mid 1970s, when theAdil and Paris restaurants opened in Birmingham. These establishments introduced Balti food to the curry-crazy Brits. At its best Balti food is very aromatic but not excessively spicy, and is evocative of the Silk Road that gave it its origins. Balti Curry Houses are most known for a mix-and-match menu in which the diner chooses a meat, pulse, and vegetable or two that will be all mixed together in a karahi at the table. The food is plentiful, inexpensive, and delicious, and by the turn of this millennium was competing with tandoori as the favorite curry-style in the UK.
The best place to learn about Balti Cuisine are the books and website maintained by Pat Chapman, founder of the Curry Club, and 'curry king' of Britian. His family has a long connection to the Indian Subcontinent through service to the British Raj. His recipes are excellent, well tested, and allow for anyone to recreate a British Curry House meal at home.
Being Muslim, the Balti themselves tend to not be vegetarian. But, the Balti have always enjoyed a diversity of vegetable foods, and would abstain from meat eating during certain fast days. As a result, this cuisine has a number of foods that are -- or can be easily adapted -- to vegetarian rules.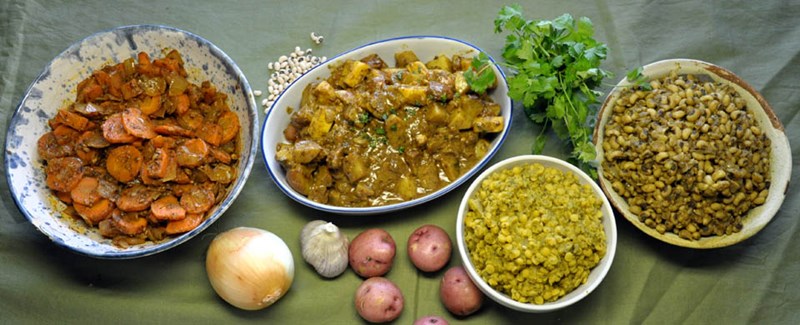 Over the course of January we'll create an authentic Balti House vegetarian feast from scratch, using recipes adapted from Pat Chapman's 1997 Balti Curry Cookbook.





Balti Garam Masala and Aromatic Salt

Before we can get down to the process of making a vegetarian Balti meal we'll need to make five spice mixes. We've given recipes that make much more of these than you'll need for a single meal. The reason is that it takes little extra effort to make a larger batch. And, because these mixes keep for months, you can then make future Balti meals almost instantly.
Garam Masala is used to perk up dishes at the very end of cooking and just before they are served. While mixes from further south tend to be very spicy and hot, those used in Baltistan are much sweeter and more aromatic, being inspired by the spices flowing back and forth along the Silk Road.
The following recipe will make about 7 ounces, and will keep for months if kept in a sealed container in a dark cupboard. The main process involved in making this mixture is to dry roast the spices to bring out their full flavor. If they scorch or burn (you'll know from the acrid smell), throw the mixture away and start over.
Balti Garam Masala
4½ tablespoons whole Coriander seed
2½ tablespoons whole Cumin seed
1 heaping tablespoon whole Anise seed
1½ tablespoon whole Cardamom seed
1 tablespoon while Cloves
1½ teaspoon dried spearmint leaves
6 bay leaves, crumbled
1 tablespoon dry rose petals
1 teaspoon saffron threads
1 heaping tablespoon ground Cassia bark
Mix coriander, cumin, anise, cardamom, cloves, spearmint leaves, bay leaves, rose petals, and saffron together. Heat a dry skillet over high heat. When the pan is hot (you may see some whiffs of smoke), add in the above mixture. Shake pan continually until steam rises and the mixture gives off an aromatic smell. Take immediately off of the heat, and continue shaking pan until the mixture cools to the point that it is no longer steaming. Let mixture cool completely.
Grind the roasted spices in 2-3 batches in a clean coffee grinder (if it's not clean, your garam masala will end up tasting like coffee; in fact, you may want to consider using a mill dedicated to spice grinding). Sift the ground spices through a narrow-mesh sieve to filter out unground bits. Return these to the mill and process until all is finely ground. Mix in the ground cassia, and store in an airtight jar. The flavors will continue to meld after grinding, and will reach their optimal flavor after about a week.
Cassia is the bark of a tree related to true cinnamon, and is what we call 'cinnamon' in the USA and Canada. However, true cinnamon is a different species with a different flavor, and should not be substituted.
Rather than using plain salt, Balti cooks often use the following seasoned salt to add a little more depth of flavor to their food. It is very easy to make:
Aromatic Salt
4 oz coarse sea salt
1 teaspoon ground cassia
1 teaspoon ground allspice
Grind above in a spice mill, and store in an airtight jar.
You'll find many of the spices to be of higher quality at a better price if you buy them in bulk from an ethnic grocery or through a spice merchant. Rose Petals are available at most Middle Eastern markets.
Balti Masala Paste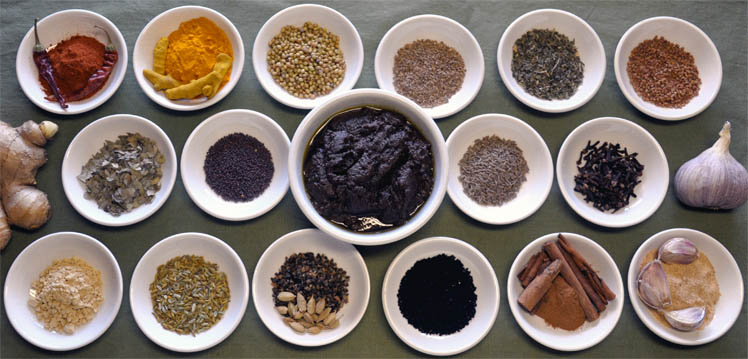 Masala means 'seasoning' in Hindi, and is the basis for the ubiquitous 'curry powder' found in most western kitchens. However, there is not just one masala used in Balti (or Indian) cooking, but many that are tailored to the foods they accompany. As a result, we also need to make three different masalas before we start cooking our Balti meal.
The first we'll make is Balti Masala, which like Balti Garam Masala is more savory and aromatic than masala mixes from farther south. Like before, we'll dry roast and grind the whole spices, but then we'll follow up by cooking this mixture in vinegar and oil to make a ready-to-use paste that will keep for months in the refrigerator. With this on hand you'll be able to make an authentic Balti curry at a moment's notice.
Why grind your own spices from whole seeds? Many of the flavor components in spices are volatile, and will evaporate away over time. To get the fullest and freshest flavor, with all the tastes held in the spices, it is always best to grind them just before use. You'll be amazed at the difference, and won't be able to go back to pre-ground spices. The only reason to not is when the spices are too hard or large to effectively grind using a coffee mill; in this case go ahead and buy the pre-ground. Because we're going to make a spice paste, the volatile flavors will get caught in the oil and vinegar. Thus the paste will keep its flavor indefinitely.
The following recipe will make about a pound and a half of paste:
4 tablespoons whole Coriander seed
2 tablespoons whole Cumin seed
2 teaspoons whole Fennel seed
2 teaspoons whole Brown Mustard seed
2 teaspoons whole Cardamom seed
1 teaspoon whole Ajiwain seed
1 teaspoon whole Kalonji seed
10 Cloves
1 tablespoon dry Fenugreek (Methi) leaves
6 crumbled Bay leaves
1 tablespoon dry Curry leaf
1 tablespoon ground Cassia bark
1 teaspoon ground Fenugreek seed
1 heaping tablespoon ground Turmeric
1 heaping tablespoon Garlic powder
2 teaspoons ground Ginger
1½ teaspoons ground Cayenne (or other hot) pepper.
1 cup distilled white Vinegar
1 cup Canola oil
Roast and cool whole spices as directed in the Balti Garam Masala recipe. Grind and mix with remaining pre-ground spices.
Place all of mixed spice powder into a bowl. Whisk in 1 cup of white vinegar; leave paste to stand for at least 10 minutes.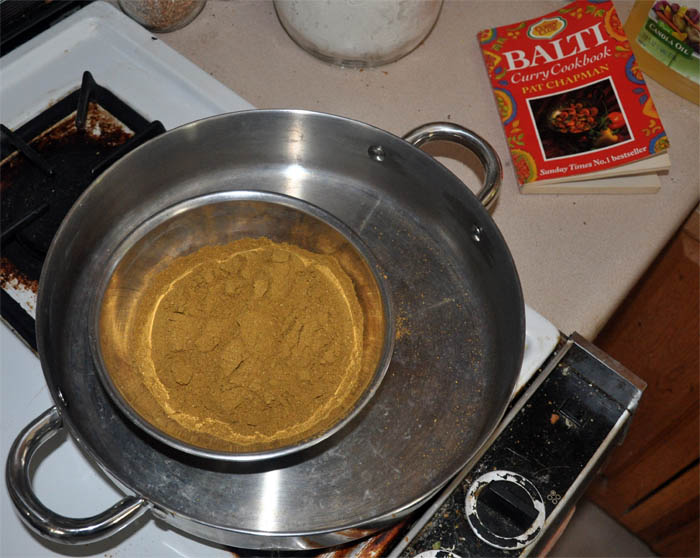 Heat oil in a large pan until it just begins to smoke. Add the paste to the hot oil. Be careful! It will sputter quite a bit. Mix into the hot oil by continually whisking.
In about 5 minutes the paste will become reduced to the point that it will begin making a bubbling noise (Pat Chapman correctly describes this as 'chup-chup-chup-chup'. As soon as you see some oil gathering on the top of the paste, take the pan off the heat.
Place hot paste into a clean 1-pint glass canning jar (Picture 7). Cover with a cap of oil and seal jar. Once cool, place in the refrigerator.
While many of these are typical grocery store spices, other are more exotic and may take some searching if you don't live in a city with a diverse ethnic population. All may be bought at an Indian market although they may be called different things. For instance, Ajiwian is sometimes called 'Bishops Weed' while Kaljoni is sometimes call 'Charnushka' or 'Black Cumin'. If you can't find these spices locally, consider buying them on-line from a reputable vendor.





Tandoori Masala Paste
This masala paste is dark red in color, and more savory than Balti Masala from its paprika, mango powder, mint, and extra garlic powder. While commercial Tandoori pastes achieve their florid red color from synthetic tartrazine compounds, we're not going to use them here. Rather, we'll make an almost identical color (although not quite as shockingly red) by the use of two natural food dyes, one orange (Annato powder) and the other red (Beetroot powder).
As earlier with the Balti Masala Paste, we're going to roast and grind whole spices, and then mix them with vinegar and cook them in oil to make a paste that will keep for months when refrigerated. Makes 1½ pounds.
2 heaping tablespoons whole Coriander seed
5 teaspoons whole Cumin seed
5 teaspoons Garlic powder
5 teaspoons ground Paprika
4 teaspoons Amchur (green mango) powder
6 teaspoons dry Mint leaves
4 teaspoons Beetroot powder
1 tablespoon ground Cayenne (or other hot pepper)
2 teaspoons Anatto seed powder
2 teaspoon aromatic Salt
1 cup distilled Vinegar
1 cup Canola oil
Dry roast coriander and cumin seed; grind, and cool. Mix with remaining ingredients.
Make a paste with 1 cup vinegar. Let sit for at least 10 minutes. Cook in 1 cup of hot oil in a large skillet as described above for Balti Masala Paste. Store in a clean 1 pint glass canning jar topped off with oil, and capped with a lid. Keep in the refrigerator.
While much of the spices are available at a good grocery, some are very much specialty items for which you'll need to search. Amchur powder is available at any Indian market, and can also be found online at various Indian food websites. Annato seed and beetroot powder may be the most difficult to find. We buy ours fromMountain Rose Herbs. You can also substitute Achiote paste blocks (available in most Hispanic markets) for Annato Seed Powder. These are a compound of not only Annato but also other items like garlic powder that are also in the recipe. You'll rub these into the dry spice mix with your fingers just like you would shortening into a pie crust pastry.





Green Masala Paste
We're almost there. One more spice mix to go, and then we get to start making our Balti feast. This time we're going to make the paste with fresh cilantro and mint leaves. Makes about 1 lb.
½ teaspoon ground Cloves
1 teaspoon ground Cardamom
1 teaspoon ground Fenugreek seed
6 chopped large Garlic cloves
2 tablespoons grated fresh Ginger
1½ ounces fresh Mint leaves
1½ ounces Cilantro leaves
1 tablespoon Salt
1 tablespoon ground Turmeric
2 teaspoons ground Cayenne (or other red pepper)
½ cup distilled Vinegar
½ cup Canola oil
¼ cup Sesame oil
Dry roast and grind Cloves and Cardamom. Place into a blender or food processor with remaining ingredients, except oils, and puree. Let stand for at least 10 minutes.
Heat oils in a large pan, add paste, and fry according to the directions given for Balti Masala Paste. Place into a clean glass pint canning jar, top with oil, and seal with a lid. Refrigerate.





Balti Lobia (Black Eyed Peas)
The preparatory work is over. We now have Balti, Tandoori, and Green Masala Pastes plus Balti Garam Masala and Aromatic Salt. We can now assemble our feast.
We'll start with a pulse. Cooked legumes are one of the most important components of any meal on the Indian Subcontinent, especially among vegetarians. These foods are tasty, high in protein, and easily grown in large quantities and thus able to help feed many hungry mouths.
While the Black Eye Pea (Lobia in Hindi) originated in sub-Saharan Africa, it rapidly spread across Asia and became a staple throughout India and southeast Asia. While not as commonly used in the Subcontinent as chickpeas, gram, mung beans or pigeon peas, they do occasionally appear on tables. The almost smoky flavor and creamy texture of Black Eye Peas marries well with the aromatic, savory flavors of Balti Masala paste. Makes 6 servings
1 pound Black Eye Peas or any Field Pea
2 tablespoons Canola oil
1 medium Onion, thinly sliced
1 heaping tablespoon Balti Masala Paste
Aromatic Salt to taste
Pick over dry peas, removing any stones or foreign material. Rinse and cover with cool water. Let soak at least 12 hours or over night and drain.
Bring three quarts of water to a boil in a deep pot. Add drained peas, bring back to a boil, and then reduce heat. Simmer peas for 45-60 minutes until tender. Drain.
Heat Canola oil until almost smoking and add chopped Onion. Sauté for 5 minutes until slightly transparent. Stir in Balti Masala paste, and fry for another minute or so. Add in cooked beans and adjust seasoning with Aromatic Salt.
Remember that Black Eye Peas are just one of a large number of Cowpeas / Field Peas, which range in color from white to red, yellow, brown, and black. Each will make the dish a bit different -- try the various kinds to see which you like the best.





Balti Chana Dhal
The chickpea we are accustomed to using in the West with its large light brown seed is only one of four major types. The first domesticated chickpeas are smaller with a dark brown, tough seed coat. Evidence for their cultivation extends back over 7000 years. These ancient chickpeas are still extensively grown in India, where they are often hulled and split, with the resulting split-pea like pulse being one of the most commonly used for dhals. Called Chana Dhal, this variety has a nuttier and more savory flavor than the standard large variety.
Here Chana Dhal is combined with Green Masala paste to make a dish utterly different from the Balti Lobia. Makes 8 servings.
1 pound split Chana Dhal
1 cup finely diced Onion
¼ cup Green Masala Paste
2 tablespoons Sugar
Aromatic Salt, to taste
Pick through Chana Dhal to remove any stones or other foreign material. Cover generously with cold water and soak for at least 6 hours. Drain and rinse.
Bring two quarts of water to the boil. Add rinsed and drained Chana Dhal. Stir every few minutes to make sure that they do not stick to the pot bottom or to each other. Bring water back to the boil, reduce heat and simmer for roughly 45 minutes. Skim off any scum as it forms. When Chana Dhal is tender, drain.
Place cooked Chana Dhal back into the pot. Add the remaining ingredients, and gently cook for at least 10 minutes.
Look for hulled and split Chana Dhal at a local or online Indian grocier. You can also make this dish using whole chana dhal -- the end product will not look the same and will have a different mouth feel, but will still taste great.





Balti Carrots
Carrots were initially domesticated from their wild ancestors in an area extending from Baltistan through Afghanistan through the central Asia Republics. These tend to have yellow or purple roots and hairy leaves.
It should not be surprising, then, that carrots feature in traditional Balti cooking. Here we'll blanch carrot slices until tender, and then toss with Tandoori Masala Paste and a few other seasonings. These may be the best cooked carrots you've ever eaten! Serves 6
3 pounds Carrots, washed, peeled, and cut into ¼ inch wide slices
¼ cup Canola oil
6 large Garlic cloves, thinly sliced
1 pound coarsely chopped Onion
1/3 cup Tandoori Masala Paste
1/3 cup Lemon juice
3 tablespoons dry Fenugreek (Methi) leaf
Blanch carrots in boiling water until just tender. Remove from hot water and cool under running water. Drain.
Heat oil in large skillet. Add Garlic and stir fry for 15 seconds; add Onion and stir fry for another 2 minutes.
Add Tandoori Paste, Lemon Juice, and dry Fenugreek leaf. Continue stir frying for 2 additional minutes.
Add drained, blanched carrots, and stir until carrots have warmed to the temperature of the sauce. Remove from heat and serve.





Aloo Skardu
We've saved the best recipe for last. The original by Pat Chapman (which he called Murgh Skardu) calls for chicken pieces to be stewed in a creamy, aromatic sauce. We've adapted this to a vegetarian recipe (and renamed it Aloo Skardu) by substituting boiled new Red Potatoes. This will make a wonderful centerpiece to bring the rest of the feast together.
Aloo is the Hindi word for Potato. Skardu (shown in the third picture from the top in the 'Welcome to Baltistan' blog entry) is the capital city of Baltistan, resting along the banks of the Indus River in the shadow of K2, the world's second tallest peak. 6 servings
3 tablespoons Ghee or Canola oil
6 Garlic cloves, finely chopped
1 teaspoon Sesame seeds
1 teaspoon White Poppy seeds
½ teaspoon whole Fennel seeds
½ teaspoon whole Ajiwain seeds
3-4 Green Cardamom pods
2 inch piece of Cassia bark
1 large Onion, finely chopped
4 tablespoons Balti Masala Paste
¾ cup Whipping Cream
2 teaspoons Sugar
1 cup Vegetable Stock
3 pounds new Red Potatoes, scrubbed, boiled until fork tender, and quartered.
1 tablespoon Balti Garam Masala
1 tablespoon Cilantro leaf, finely chopped
Aromatic Salt, to taste
Heat ghee / oil in large pan, and when hot add in Garlic and spices; stir fry for 30 seconds. Add Onion, reduce heat, and sauté for 10 minutes until Onion becomes transparent and begins to brown. Stir in Balti Masala Paste, raise heat and stir fry for another 5 minutes.
Add Cream and Sugar and slowly mix in the stock about ¼ cup at a time. Simmer, constantly stirring, over low heat for about 10 minutes.
When the sauce is thick, toss in the quartered Potatoes, Balti Garam Masala, and Aromatic Salt to taste. Garnish with chopped Cilantro.
Serve your Balti meal with a flatbread such as Nan. For a truly authentic experience forgo tableware: tear off pieces of bread and use them to scoop up little bits of the food. Although not quite as traditional, you can also serve your meal with cooked Basmati Rice.
The best types of Potatoes are a waxy variety bred for boiling. The best Onion is some type of short-storing sweet variety. For garlic we we recommend a Middle Eastern type like Himalayan Red or Turban type like Tashkent Violet Streak. Again, you may well have to shop on-line to find some of the more exotic ingredients, such as White Poppy Seed and Ajiwain. If you are lucky enough to live in a city with an Indian market, however, these ingredients should be readily available there.