Jicama-Zucchini Fritters with Tomato Coulis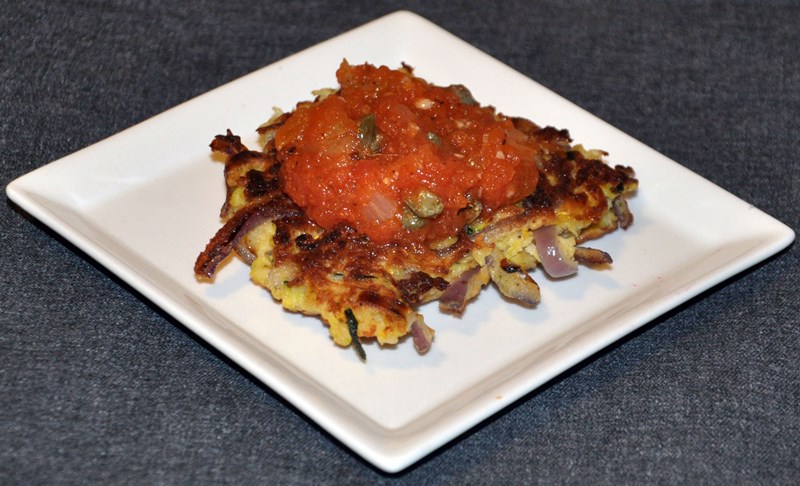 When we think of Jicama recipes, it is usually in the form of some type of light summery salad that pairs the rather bland but crunchy tuber with various fruits, beans, vegetables or greens. We were glad to discover in Didi Emmons' wonderful Vegetarian Planet a different take on this vegetable, whereby it is used to make a crunchy and tasty fritter that is served with a tomato-caper sauce. Because this recipe reminds us of an Indian Pakora, we've modified her recipe by using chickpea (besan) flour as the binder, in the process producing a more savory and nutty fritter than was possible with the original wheat flour recipe.
1 small (1 pound) jicama
1 pound zucchini or other summer squash
½ red onion
1 teaspoon salt
2 tablespoons olive oil
½ cup chopped onion
6 garlic cloves, pressed
2 cups minced tomatoes
½ cup water
2 tablespoons capers, drained
salt & freshly ground back pepper to taste
2 eggs, beaten
½ cup besan flour
Peel and grate jicama. Grate summer squash. Thinly slice the red onion. Toss all three together with 1 teaspoon salt and let rest for at least a half hour.
While the vegetables are resting, make the tomato sauce. Heat 1 tablespoon olive oil in a small saucepan over medium-high heat. Sauté onion for 5 minutes, then add in a 2 cloves pressed garlic and continue cooking for another minute. Add tomato and water and bring to a simmer. Reduce heat to low and cook 10 minutes. Add capers and continue cooking another 5 minutes. Adjust seasonings with salt and pepper, remove from heat, and let cool.
Place grated, salted vegetables in a colander and squeeze out the accumulated water. Put grated vegetables into a bowl and toss with eggs, remaining garlic, besan flour, and freshly ground pepper.
Heat a large well-seasoned skillet over medium heat. Add in 1 tablespoon olive oil. Drop batter, ½ cup at a time, into oiled pan, and flatten into thick pancakes. Make sure that you do not put the cakes too close together so that they touch. Fry for 3-4 minutes until the fritters are golden on the bottom, then flip and repeat on the other side. Transfer to a paper-towel covered plate, and repeat until all the batter has been used up.
Serve warm fritters with tomato sauce.
If you'd like to add in a bit of southwestern zip into the fritters, consider mixing ¼ cup of thinly sliced roasted green chili into the batter just before cooking.