Cuban Black Beans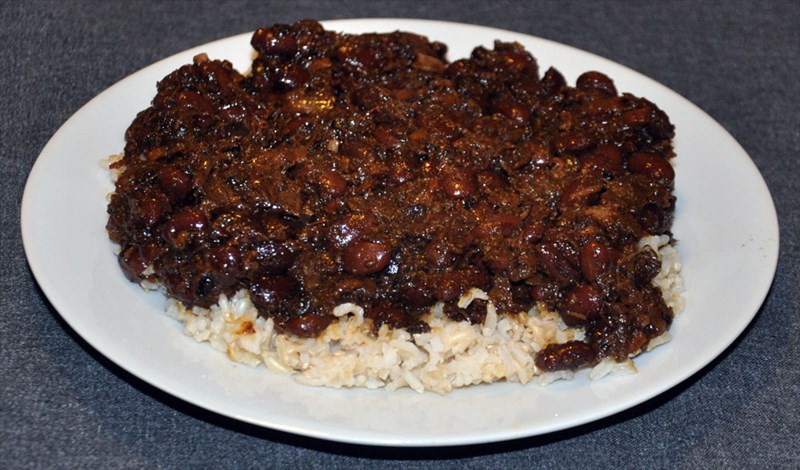 Black beans are the soul of the Cuban and Yucatan cuisines. We've already presented a recipe featuring a Mexican recipe in the Amaranth entries, but have decided to share a Cuban-inspired version as well because of how utterly different these two dishes are. The following is a vegetarian adaptation of a black bean recipe presented in Norman Van Aken's New World Cuisine (ISBN 0679432027). Note that the recipe uses a sofrito of ten different vegetables and spices that are sautéed together to make a rich sauce within which the beans are ultimately cooked. The beans are also cooked with sherry and sherry vinegar; don't leave these out. If you can't find sherry vinegar, you can try rice or wine vinegar, but the depth of flavor will not be quite the same.
3 tablespoons olive oil
3 tablespoons butter
6 garlic cloves, minced
3 jalapeno chiles, seeded and minced
1 red bell pepper, diced small
1 ancho chili, diced small
1 red onion, diced small
2 large stalks celery, diced small
1 large carrot, peeled and diced small
1 small fennel bulb, trimmed and diced small
1 tablespoon cumin, roasted and ground
1 tablespoon black pepper, roasted and ground
2 bay leaves
¼ teaspoon liquid smoke
2 teaspoons cayenne
½ cup sherry vinegar
2 cups sherry
2 cups dry back beans, cooked until tender
3 cups vegetable stock
salt and black pepper to taste
Heat a large saucepan over medium heat, add olive oil and butter. When the butter is melted and begins to foam, stir in garlic and jalapenos. Cook for a minute.
Turn up heat to medium-high and add in bell pepper, red onion, celery, carrot, fennel and sauté until the vegetables are caramelized. Stir in cumin, black pepper, bay, and liquid smoke.
Transfer mixture to a 3 quart pot. Stir in cayenne, vinegar, and sherry, cooked beans, and stock. Bring to a boil. Lower heat to a simmer and cook until the sauce is reduced and thickened. Adjust seasoning with salt and pepper. Serve warm over rice.




Ethiopian Vegetables (Yataklete Kilkil)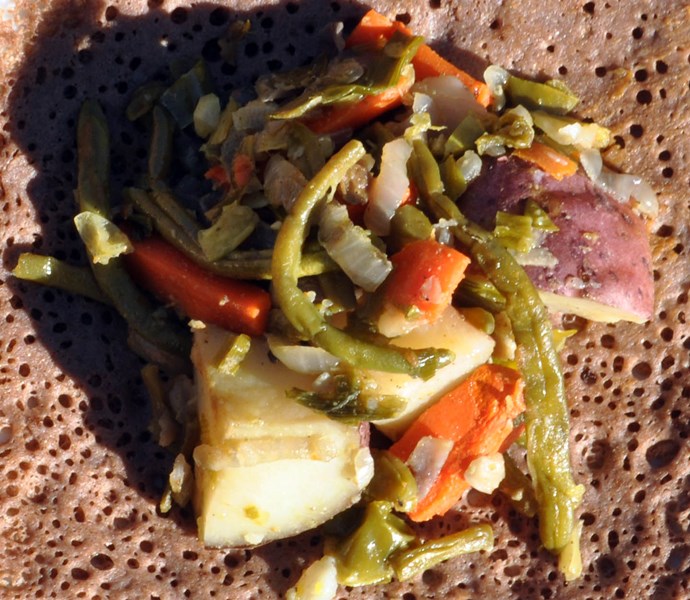 This simple yet very tasty mildly spiced dish is a wonderful accompaniment to the more strongly flavored ones in this meal. While we like the combination of potatoes, carrots, and green beans as the main vegetables in this medley, consider using whatever fresh produce is available from your garden. Other possible tasty options include cauliflower, broccoli, asparagus, turnip, broad beans, sweet bell peppers, sweet potato or squash. Again, it is easy to make this vegan by substituting flavored vegetable oil for the spiced butter. Makes at least 10 cups.
8 waxy red potatoes, washed and cut into 2"dice
3 large carrots, peeled, cut into quarters and then into 2" lengths
¼ cup spiced butter
2 medium red onions, sliced in half and then into ½" wide strips
2 mild green chilies, seeded and cut into ½x2" wide strips
3 fresh hot green chilies, stemmed, de-seeded, and chopped
2 tablespoons minced garlic
1 tablespoon freshly ground ginger paste
1 teaspoon salt
½ teaspoon freshly ground white pepper
½ pound green beans, stemmed, and cut into 2" lengths
6 green onions, cut into 2" lengths
Blanch potatoes and carrots in boiling water for 5 minutes until they are almost tender. Place immediately into a basin of cold water to stop cooking. Let sit for 3-4 minutes, and then drain.
In a 4-5 quart casserole melt spiced butter over medium heat. Add in onion and chilies sauté until the onions are transparent. Add in ginger, garlic, salt and pepper and stir fry with the onions and chilies for another minute or two.
Now add in the green beans, green onions, and precooked potatoes and carrots. Stir so that all the vegetables are lightly coated in oil.
Reduce heat to low and cook for 10 minutes until the vegetables are firm but tender.




Greek Green Bean Salad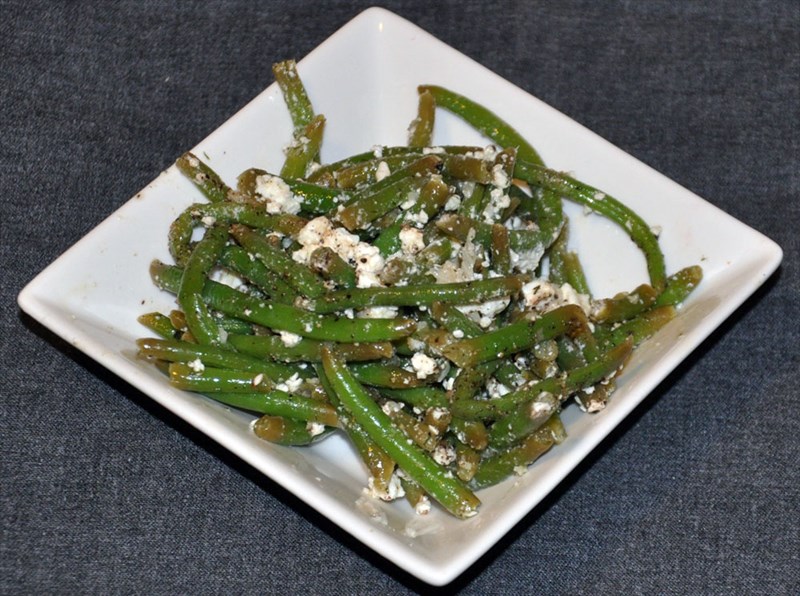 This is a drop-dead easy and amazingly tasty green bean salad from Clifford Wright's Mediterranean Vegetables. As is characteristic of Greek food, this dish is seasoned with dill, garlic and feta cheese, and is dressed with lemon juice and olive oil. If you can find real sheep milk feta, you'll be much happier with the result.
1 pound green beans, trimmed
2 tablespoons extra virgin olive oil
2 tablespoons lemon juice
1 teaspoon garlic, pressed
1 teaspoon dill leaf, chopped
salt and freshly ground black pepper to taste
¼ cup feta cheese, crumbled
Cook green beans in boiling water for 10-15 minutes until they are tender. Drain.
Whisk together olive oil, lemon juice, garlic, dill, salt & pepper, and toss with green beans and feta.




Miso Soup & Green Beans with Miso Dressing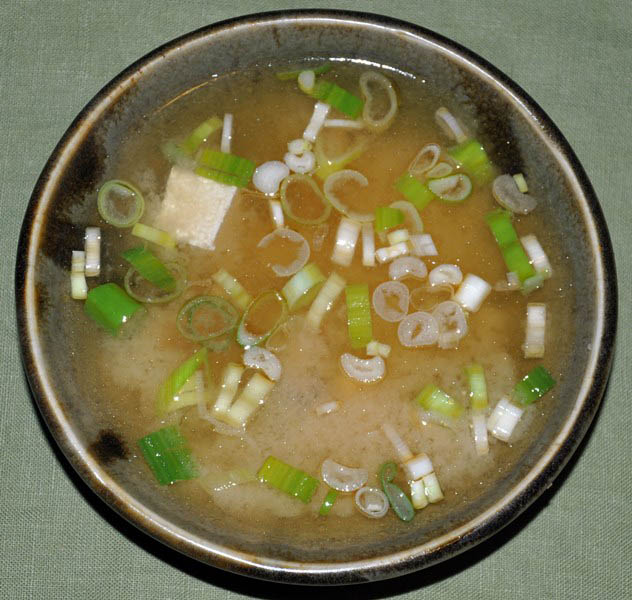 We finish our exploration of soyfoods with two simple Japanese recipes using miso. First we'll make a tasty vegan version of the iconic miso soup that almost everyone in Japan eats at least once a day. In it we'll not only use our home-made miso but our home-made tofu as well. This soup is infinately variable and can be changed to fit whatever fresh, seasonal ingredients you may have on hand -- remember that there are Japanese cookbooks that provide recipes for a different miso soup for every day of the year. Be adventureous!
Shitake and Tofu Miso Soup
6 dry shitake mushrooms
4 oz home-made tofu
4 cups shitake dashi
1/3 cup miso
¼ cup slivered Japanese leeks
1 tsp sesame oil
salt to taste
Soak shitake in hot water for 30 minutes or until soft. Drain and reserve water for shitake dashi; slice shitake into 1/8" wide slices. Cut tofu into ¾" cubes. Make shitake dashi.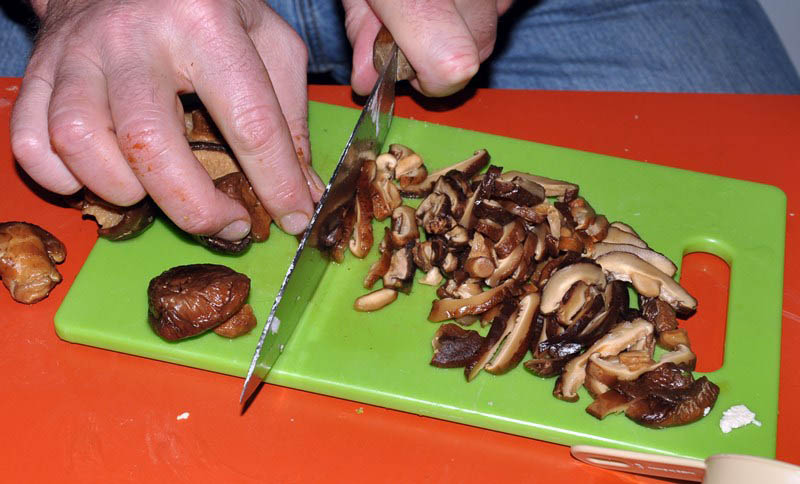 Bring dashi to a simmer. Add in sliced shitake and tofu. Reduce heat so that it is at a low simmer and mix in the miso. Make sure that the broth does not boil. Add in the slivered leeks and sesame oil. Serve hot.
Last, here's a very simple green-bean sunomono that takes only a minute or two to assemble.
Green Beans with Vinegared Miso Dressing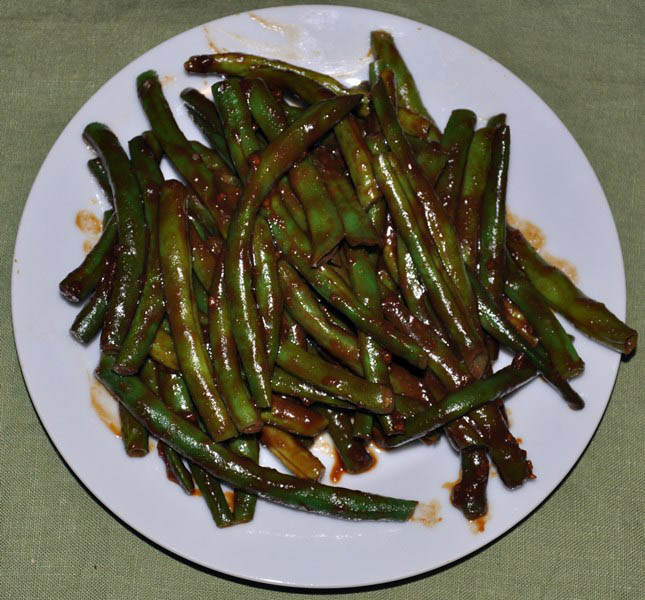 3 tablespoons miso
2 tablespoons rice vinegar
3 tablespoons sugar
2 cloves garlic, crushed
1 lb green beans
Mix together miso, vinegar, sugar, and garlic in a small saucepan and gently heat while stirring until the sugar is dissolved and the garlic well mixed into the sauce. Blanch or steam the green beans until bright green but still crisp. Cool under running water, drain, and dress with the miso sauce. Serve at room temperature.




String Beans with Herb Sauce – Bohnen mit Sosse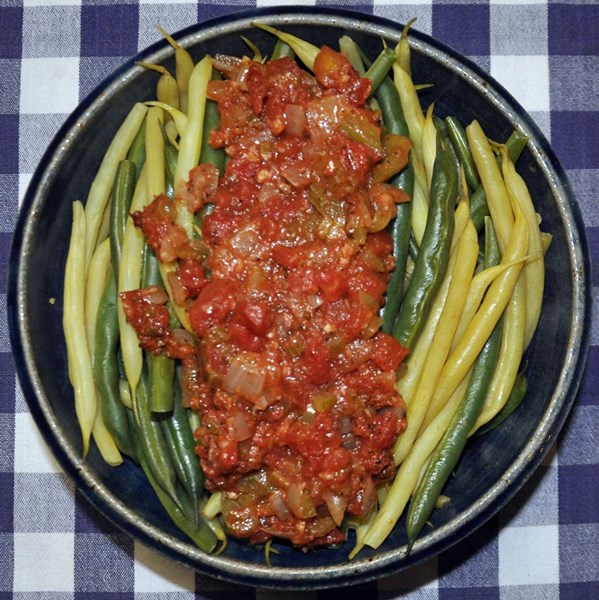 (from the Fall 2014 Heirloom Gardener)
String beans were one of the most intensively grown crops in Amana Colonies kitchen gardens. Both green and yellow varieties were grown, with the yellow being the only type used for Katerbohen -- Pickled Dill Beans. However they were also used for fresh eating. Here both colors are steamed tender and served with a simple but tasty herbed tomato sauce
3/4 pound green beans
3/4 pound yellow beans
2 tablespoons minced green bell pepper
2 tablespoons minced celery
¼ cup minced onion
¼ cup Canola oil
2 pounds tomatoes, seeded and chopped
2 tablespoons white wine vinegar
2 cloves garlic, pressed
1 teaspoon salt
¼ teaspoon freshly ground black pepper
1 teaspoon dry marjoram
Steam beans until tender.
Saute pepper, celery, onion in oil for 5 minutes. Add tomato, vinegar, garlic, salt, black pepper, and marjoram. Simmer another 10 minutes. Pour over beans. Serves 6.




White Bean Salad
As you are no doubt seeing with these tapas recipes, Spanish cooking represents a wonderful fusion of traditional European, Middle-Eastern, and New World techniques and ingredients. This should be not at all surprising given that much of Spain was variously controlled over the last two millennia by Rome, then Charlemagne, and then Moors from the Maghreb before Spanish kingdoms eventually took control of the Iberian Peninsula. Spanish ports were also the first places in which the bounty of New World agriculturalists spread across Europe.
The following bean salad is an excellent example of this process. Bean salads themselves have been part of the Mediterranean diet for thousands of years, although before New World traced commenced these would have been limited to various chickpeas, peas, lentils, horse beans and broad beans. An excellent example of this is the bean salad described in last month's iftar meal, although even this recipe has been influenced by New World agriculture as is shown by its inclusion of tomato. The common bean of the New World (Phaseolus vulgaris) was one of the first of the New World domesticates to be accepted into the European diet, as it provided the nutrition and cooking qualities of the broad bean (fava bean) without requiring removal of the tough, inedible skins and did not contain potentially fatal alkaloids like vicine or convicine. In the following recipe cannelloni beans are used, which are a white bean commonly used in Italy. However, this New World crop is treated in a very European fashion being mixed with celery, gherkin and chives and dressed in a garlicky mustard vinaigrette.
½ pound dry cannelloni beans
¾ cup olive oil
1/3 cup white wine vinegar
2 garlic cloves, crushed
1 tablespoon parsley, minced
1 tablespoon Dijon-style mustard
1/8 teaspoon sugar
salt and freshly ground black pepper, to taste
4 celery stalks, chopped
1 gherkin, finely chopped
2 tablespoons chives, cut into ½-inch lengths
Pick over beans to remove any stones or other foreign material. Soak in water over night. Drain beans, place into pot, cover with water, and heat to boiling. Simmer for 1- 1½ hours until beans are just cooked. Drain, rinse with cool water, and drain again.
Whisk olive oil, vinegar, crushed garlic, minced parsley, mustard, sugar in a bowl, and season to taste with salt and pepper.
Mix together the cooked beans, celery, and gherkin in a bowl. Toss with the vinaigrette and top with the chopped chives. Serve at room temperature.
This dish will taste much better if allowed to sit overnight to allow the various flavors to meld. Also, while you can make this using canned cannelloni beans, we recommend strongly that you search out dry beans to cook up as the canned beans to us taste much of their can.