Barbecued Limas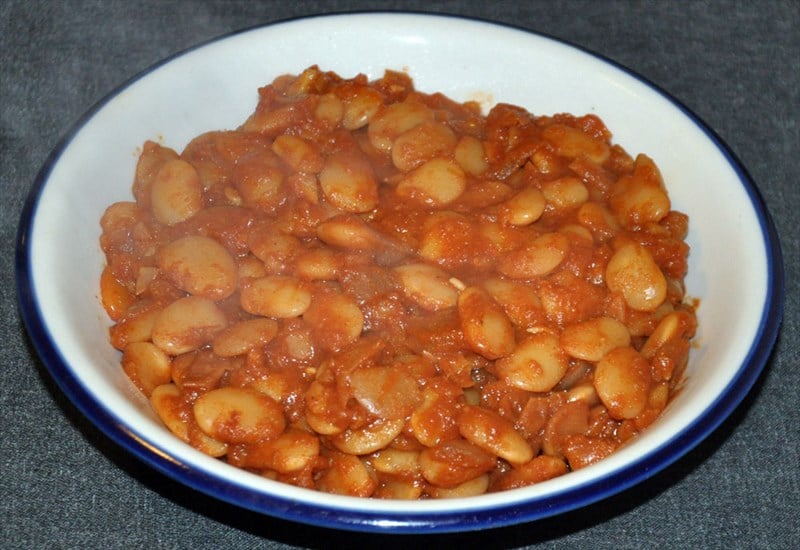 Lima beans make an intriguing substitute for common beans, being starchier and also having a different – and we thing more savory – flavor profile. For this reason, we find them especially nice when used in vegan and vegetarian recipes, as they add in a meat-like set of tastes. In the following, dry lima beans are cooked soft and then baked in a spicy, tomato-based barbeque sauce to make for a perfect dish for a summer picnic or potluck. Our recipe was adapted from one presented in Alex Hawkes' 1968 A Word of Vegetable Cooking.
1 pound dry baby limas
2 tablespoons olive oil
1 medium onion, diced
2 tablespoons garlic, minced
½ cup roasted green chili, chopped
1 tablespoon dry mustard powder
1 teaspoon Henderson's Relish
1 tablespoon chipotle chile powder
1 tablespoon New Mexican chile powder
½ cup tomato sauce
2 tablespoons cider vinegar
2 tablespoons brown sugar
salt to taste
Pick over beans, place in a medium-sized pot, and cover with 4" of water. Let stand overnight, or bring to a rapid boil, remove from heat, cover, and let stand for an hour. Return pot to medium-high heat and bring to a boil. Reduce heat to simmer and cook for 1-2 hours until the beans are just tender. Remove from heat and drain beans, reserving 1 cup of cooking liquid.
Heat olive oil in a medium-size casserole. Sauté onion and garlic until lightly browned, about 10 minutes. Add in cooked beans and remaining ingredients (except salt). Mix in the reserved bean cooking liquid, stir well and bake covered in a 400° F oven for at least 30 minutes until the beans are very tender. If the sauce is too watery, remove cover for the last 15 minutes. If the sauce is too thick, add in more water and replace lid.
Remove from oven and adjust seasoning with salt. Serve warm.




Cajun Butter Beans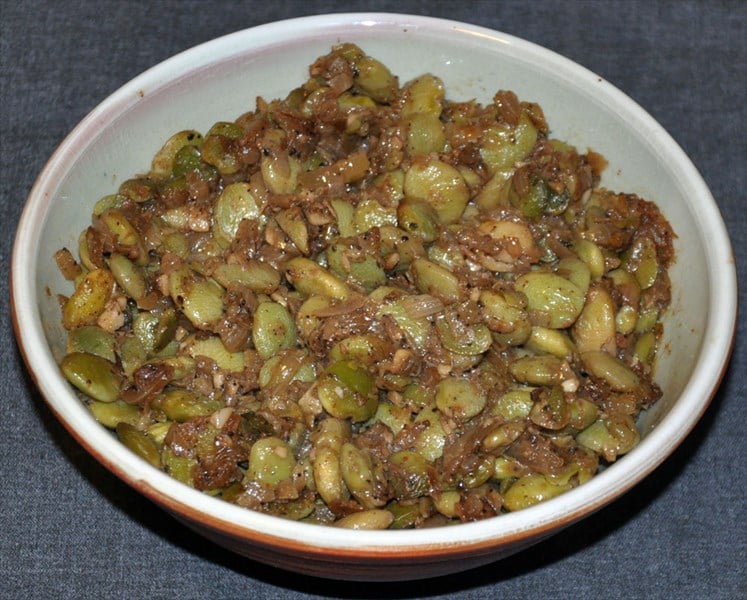 One of our favorite cookbooks is the collaborative effort by Paul Prudhomme's family to capture the essence of the Cajun home cooking that they grew up with. Here we've adapted their recipe for fresh lima beans – called 'butter beans' throughout the south. Butter beans are a common part of many summer meals from Texas through Virginia, and this version belies its Cajun origin by its considerable use of both cayenne pepper and garlic. We use reduced stock in this recipe to give the final dish a savory and complex flavor that use of water alone could not provide. If you don't have reduced stock already in your freezer, it can be easily made by cooking ¾ of the water out of 2 cups of unsalted regular stock.
3 tablespoons olive oil
2 cups finely minced onion
2 tablespoons minced garlic
½ teaspoon cayenne
½ teaspoon freshly ground black pepper
1 teaspoon salt
1 pound (3 cups) fresh lima beans
½ cup reduced vegetable stock
2 tablespoons sugar
Heat olive oil in a deep pan over high heat. Add in onion, garlic, cayenne, black pepper and salt and sauté for 5 minutes.
Add in the beans, and stir to mix well. Reduce heat to medium-low and cook, stirring occasionally, until browned sediment covers about ½ of the pan bottom, or about 15-20 minutes. Add in the reduced stock and deglaze pan bottom. Reduce stock until it thickens. Remove from heat and serve immediately over rice.