Long Bean Paht Peht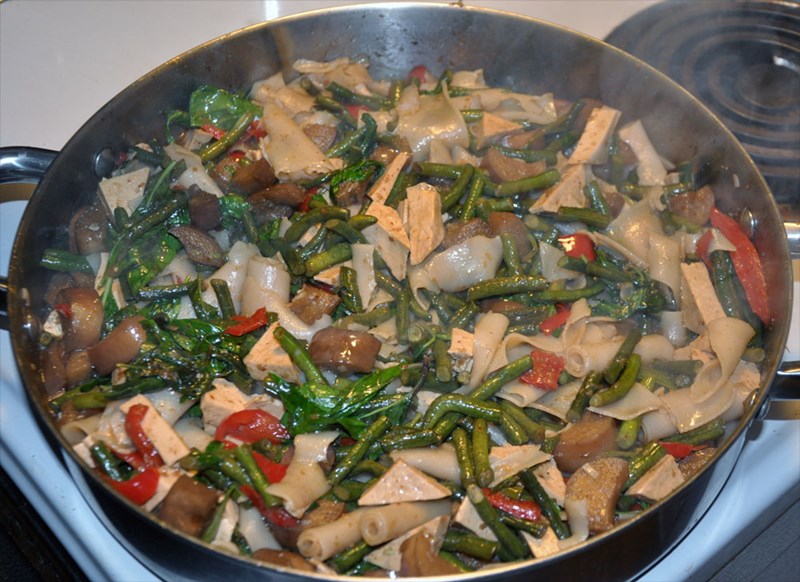 This is a classic vegetarian Thai red curry based inspired from a recipe presented in Nancie McDermott's 1997 Real Vegetarian Thai cookbook. This dish is perfect for mid- to late-summer when you can pick most of these ingredients straight from your garden. As always, you will be very pleased if you choose to make your own red curry paste, and recommend that you check out not only Real Vegetarian Thai but also McDermott's earlier Real Thai for vegan and typical versions. You want to make sure that you use long beans, and not green beans, as they have a slightly wilder flavor and remain crunchy over longer cooking times. Also, make sure to use Thai basil – Genovese just won't do. And do look for rice flake noodles in your local Asian grocery as these work much better in the dish than long, narrow noodles of 'normal' shape. This is not to be pad thai, after all.
7 oz dry rice flake noodles
1 pound long beans, stemmed and cut into 2" lengths
¼ cup vegetable oil
½ cup Thai red curry paste
2 Asian eggplants, quartered and cut into ¾" sections
½ cup stock
1 tablespoon soy sauce
2 tablespoons sugar
1 teaspoon salt
1 pound firm tofu, cut into ½" thick triangles
1 red bell pepper, cut into 2" long strips
1 cup tightly packed Thai basil leaves
Blanch the rice flakes in boiling water until they have just softened. Drain and refresh in cold water. Keep the noodles submerged so that they do not stick together.
Blanch the prepared long beans in boiling water for 1 minute until they have turned bright green. Drain and rinse under cold water. Drain again.
In a large pan or wok heat the oil. Add in the curry paste and story fry until it is incorporated into the oil and becomes fragrant, about 2 minutes.
Add in the blanched beans, eggplant, stock, soy sauce, sugar, and salt. Cook covered for 5 minutes, stirring occasionally. Add in the tofu and bell pepper strips, toss gently, and cook for another 2 minutes. Toss in the rice flake noodles and basil, and cook a remaining 2 minutes until the noodles are soft and the basil leaves have wilted.
Remove from heat and serve with rice.