Beet Bruschetta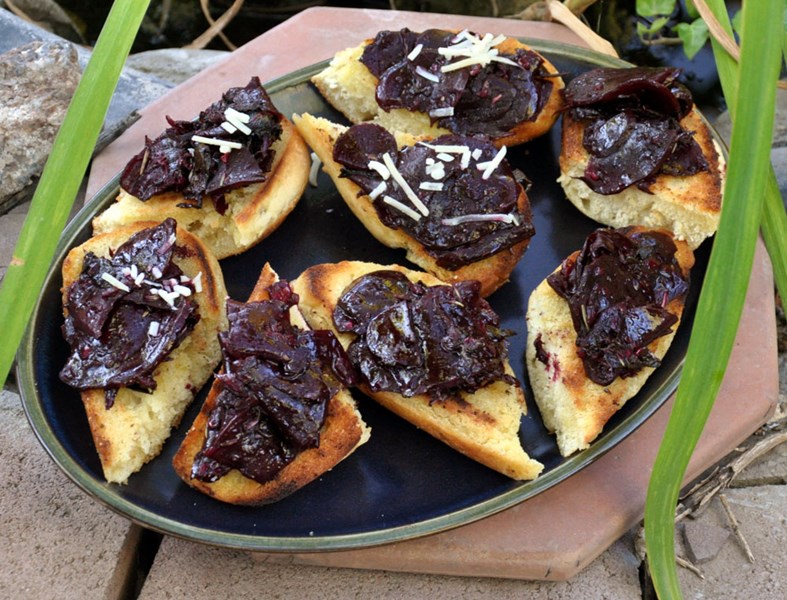 Bread has a long a sacred presence among the peoples of the Mediterranean, where it was just as much the staff of life as rice is to the peoples of southeast Asia or maize is to the peoples of central America. Made in the traditional way with nothing but flour, water, salt, wild-yeast leavening, and sometimes oil, bread has a rather short shelf life, particularly in Mediterranean climates where it will start to dry out within a day or two of baking. Thus, a considerable cooking focus was placed on creative uses of day-old bread. Bruschetta is one of these, whereby Tuscans enlivened their day-old (unsalted) bread through grilling and basting with good olive oil, garlic, and a little salt. While beginning with this humble origin, over the last half millennium bruschetta has become a standard Italian antipasti, with any number of increasingly extravagant garnishes being piled on top of grilled olive oil and garlic bread.
The concept for this recipe came from what was one of the very best restaurants of the Door Peninsula of eastern Wisconsin about a decade ago: T. Ashwells in Ellison Bay. It is now sadly out of business, but at the time they did a wonderful Med-Rim dinner for locals in February at the very end of the season, just before they took 2 months off before gearing up for the next tourist season. And, they made a bruschetta something like this for those dinners.
At some point we had the hubris to try and make it ourselves. We think we got pretty close.
1 day-old baguette or loaf of Italian bread
1/3 - ½ cup fruity, extra-virgin olive oil
6-8 shaved, peeled small beets
6 roasted garlic cloves, peeled and coarsely chopped
1 teaspoon dry whole-leaf marjoram
½ teaspoon dry whole-leaf rosemary
¼ cup shredded fresh basil
2 tablespoons balsamic vinegar
Cut bread into 1-1½ inch slices, brush generously with olive oil, and grill. When it begins to brown, remove and set aside.
Heat a cooking pan over medium-high heat and add in 1 tablespoon olive oil, and when hot add in the chopped roasted garlic, marjoram, and rosemary. When the garlic begins to brown (1 minute or so), add the shaved beets and cook over medium heat for about 10 minutes until the beets begin to soften. Add in the shredded basil and balsamic vinegar to deglaze pan, and keep over flame long enough to cook out the water and create a thickened sauce. Remove from heat, and place an equal amount onto each grilled bread slice.
When we think of beets, we think red, but beets come in a wide range of colors. While Bull's Blood will give you the expected darkest red color, why not also consider the bright yellow Golden Beet, white Albino Beet, or candy-striped Chioggia Beet? Use a garlic that is meant to be roasted to bring out its full flavor. I recommend any of the standard Purple Stripes (try Shatili or Samarkand Market), Marbled Purple Stripes (for instance Siberian), or Porcelains (try Music). Use a standard pesto basil, such as Genovese or Lettuce Leaf. Purple basils are probably not worth the effort if you're using a red beet, as their color will get lost. But something like Dark Purple Oval would provide an interesting contrast to yellow or white beets. For the Baslamic Vinegar, it may be worth it to try one of the higher-quality, more syrupy types, rather than the mass-produced cheapies, as the former has more sugar and depth of flavor.




Beet Relish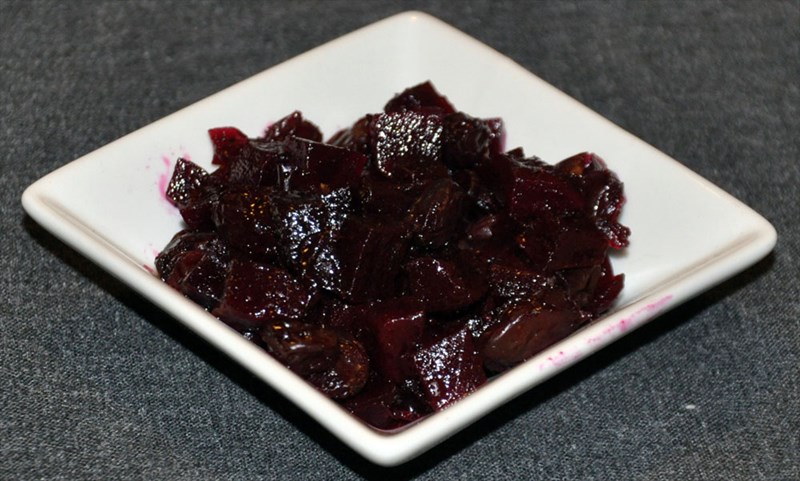 When Jere Gettle suggested this A-Z Vegetable recipe project, our thoughts immediately went to Marian Morash's The Victory Garden Cookbook which was the 1982 print companion to her and her husband's pioneering PBS show of the same name. This superb cookbook works through the vegetable garden from A to Z, sharing gardening tips and over 800 recipes along the way. We hope that in our own way this little blog pays a sufficient vegetarian homage to her work.
Here, we've adapted her excellent beet relish. While Marian calls this a 'chutney' we don't see it in that way as it lacks the curry flavorings of a true chutney. Rather this is a sweet-sour relish with fruit and some sweet spices that makes excellent use of your beet crop. Note that this relish can be easily canned for long-term storage using a hot-water bath to seal the jars.
1 pound cooked beets, peeled and cut into ¾ inch dice
6 cloves
1 teaspoon allspice
6 black peppercorns
½ teaspoon mace
1 teaspoon salt
1 cup brown sugar
1 cup cider vinegar
1 medium onion, finely chopped
½ pound raisins
Finely grind cloves, allspice and black pepper. Place into a small saucepan with mace, salt, brown sugar, vinegar, onion, and raisins. Bring to a boil, cover, and simmer until onions are tender, about 20 minutes. Add in beets and continue cooking, covered, until the beets are tender. Remove from heat. This relish may also be canned using a hot water bath for long-term storage.




Red Flannel Hash

This is our vegan version of the iconic New England meal that is simply a Yankee adaptation of Bubble & Squeak, a classic English hash. While traditional Red Flannel Hash uses leftover chopped corned beef, potatoes, and beets from a boiled dinner, here we've substituted cooked buckwheat groats for the meat. This may seem a bit odd at first, but you'll be amazed at how similar the rich-savory flavor of the buckwheat mimics corned beef. Also note that we're using Henderson's Relish, the vegan equivalent to Worcestershire Sauce.
1/3 cup olive oil, in all
1 cup buckwheat groats
2½ cups stock
1½ cups beets, cooked, peeled, and coarsely chopped
2½ cups waxy potatoes, boiled, peeled, and diced
1 medium onion, diced
2 tablespoons parsley, chopped
1 tablespoon Henderson's Relish
salt and freshly ground black pepper to taste
Heat 1 tablespoon olive oil in a pan over medium heat. Add in buckwheat and sauté until well toasted, about 3-4 minutes. Add stock, bring to a boil, cover and simmer over low heat for 20 minutes until the buckwheat has absorbed all the stock and is tender.
Mix together the cooked buckwheat, beets, potatoes, onion, parsley, and Henderson's Relish. Heat remaining oil in a heavy 12-inch frying pan over medium heat. Add in vegetable mixture and press into the pan. Cook over low heat until the bottom is browned, about 10-15 minutes. Mix the hash and press back into the pan, and cook another 10-15 minutes until the bottom is browned again. Repeat this process at least one more time, and more if your like lots of crunchy bits to your hash. Remove from heat and serve.




Vegetarian Borscht with Little Dumplings
Part I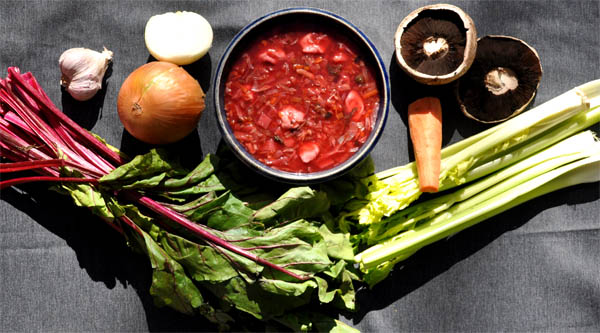 An Ukrainian Proverb states: 'Borscht is the center of everything.' It is the Ukrainian national dish and is to be made so thick that a spoon can stand up in it. The name borscht derives from the Old Church Slavonic 'brsh' (beet) in honor of the central ingredient of this stew. While originally a way to extend a handful of vegetables and various leftovers to feed the whole family over a number of cold winter nights, borscht soon evolved into a more extravagant dish loaded up not only with many vegetables but also many types of meat and sausage. There are now as many types of borscht as there are babushkas (grandmothers).
For Christmas Eve, the borscht must follow Orthodox Lenten rules and avoid use of meat, dairy, and eggs. In their place, tiny mushroom-filled dumplings are added to make the stew rich, complex and hearty. Making the tiny dumplings takes a bit of time, so if you want to cut a corner or two, you can eliminate them from the final dish, although it won't be quite as authentic.
As with all borscht, the flavor will improve as it sits over a few days. If you're not vegan and do not feel obliged to strictly follow Orthodox rules, you should consider serving each bowl with a generous dollop of sour cream on top, which is stirred in at the table to make the borscht even more rich, complex, and luxuriant.
We're going to break this recipe into two parts. Today we'll describe how to make the little dumplings. Tomorrow we'll make the borscht itself.
Tiny Mushroom-filled Dumplings (Vuška)
In Ukrainian 'vuška' means ears, and these little filled dumplings do look this way. They also greatly resemble small tortellini. Make them ahead of time and keep in the refrigerator until ready to be put into the borscht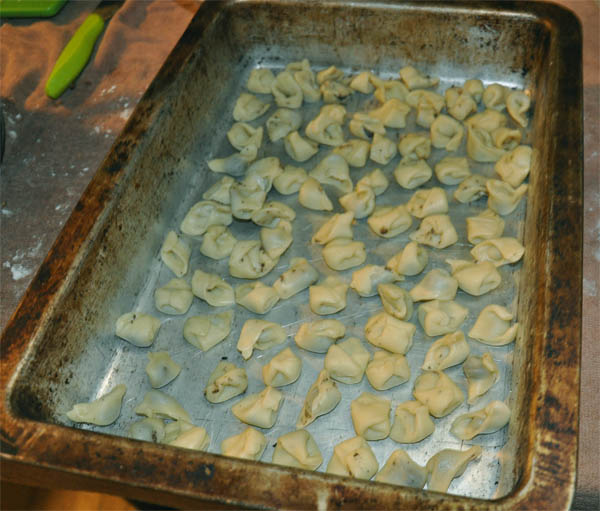 Filling
½ pound mushrooms, coarsely chopped
¼ cup canola oil
1 cup finely chopped onions
½ cup dry, unflavored bread crumbs
salt and pepper, to taste

Heat oil in a small pan over medium heat. Sauté onions until lightly golden, about 10 minutes. Then add in the mushrooms and cook for another 10 minutes until the mushrooms have lost and evaporated their water. Remove from heat and let cool. Put mixture into a food processor and grind into a paste. Add in bread crumbs, season with salt and pepper, and mix well. Set aside.
Dough
1 cup unbleached flour
¼ teaspoon salt
2 tablespoons canola oil
¼ cup water
Mix flour and salt together in a medium-sized bowl. Make a well in the middle of the flour and add in the oil and 1/3 cup water, and mix into the flour with a sturdy spoon, working from the center out. If there is not quite enough water to bring up all the four, add in a little more a tablespoon at a time. Once you have a ball of dough, transfer to a floured surface and knead until smooth, about 2 minutes. Cover and let rest for 30 minutes.
Assembling the Vuška
Roll out the dough very thin, about 1/16 of a inch. Cut into 1 inch squares. Place ¼ teaspoon of mushroom filling near the corner of a dough square. Moisten the edges with a little water, and fold in half along the long axis to make a little triangle. Seal the edges so that the filling won't escape. Bring the opposing corners of the triangle together and pinch to seal. Place on a lightly floured baking sheet. Repeat until all of the dough is used up; you should be able to make at least 50.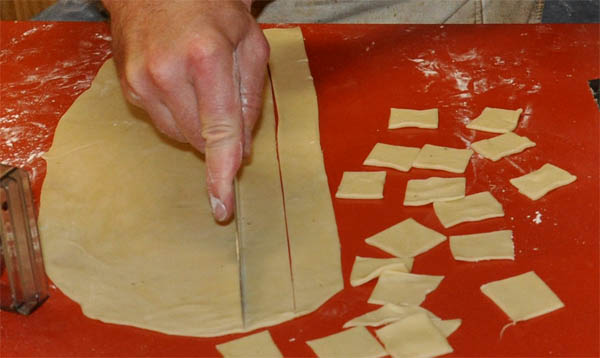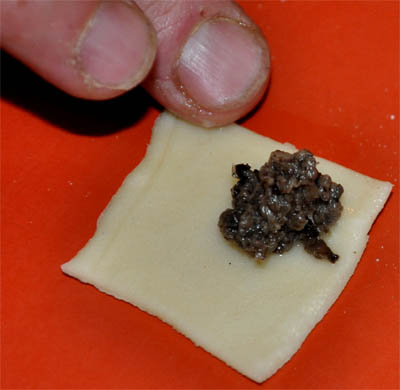 These are a bit fiddly to make, and it will be much more enjoyable if you can get a few other people to help make them with you.
Vegetarian Borscht with Little Dumplings
Part II
After making the tiny dumplings in Part 1, we'll now assemble the borscht. Remember that the flavor will improve with time and that you should let the borscht sit for at least 3 hours before reheating and serving. Better yet, let it rest in the refrigerator over night. Serves at least 8
1/3 cup olive oil
1½ pounds sliced mushrooms
2 large onions, finely chopped
2 large carrots, grated
2 parsnips, thinly sliced
2 leeks, cleaned and finely chopped
3 celery stalks cut into ¼-inch dice
7 medium beets, peeled and grated
1 pound cabbage, shredded
5 potatoes, peeled and cut into ½ inch dice
1 tart apple, peeled and cut into 1 inch dice
6 garlic cloves, coarsely chopped
8 oz tomato paste
3 quarts vegetable stock
2 bay leaves
Tiny mushroom-filled dumplings (optional, though traditionally part of Christmas Eve borscht)
1 tablespoon sweet paprika
2 tablespoon lemon juice (or more to taste)
1 teaspoon sugar or more to taste
salt and pepper (to taste)
2 tablespoons parsley
2 tablespoons dill leaf
Heat oil in a large kettle over medium heat. Add in mushrooms, onions, carrots, parsnips, and leeks and sauté until slightly softened – about 7 minutes. Then add in celery, beet, and cabbage, and continue cooking another 10-15 minutes. Now add the potatoes, apple, garlic, tomato paste and stock. Bring to a boil, reduce to a simmer, add in tiny dumplings (Vuška), and cook (covered) for another 20 minutes.
Add the paprika, sugar, lemon juice, and adjust flavors with salt and pepper.
Let stand at least 2-3 hours (preferably overnight) to let the flavors meld. Reheat and garnish with parsley and dill.