There are so many reasons to adorn your garden and landscape with heirloom flowers. Our newest floral introductions will wow you and keep your local pollinator population coming back for more.

Pansies
Pansies are an iconic cool-season flower. These vibrantly colored heirlooms are among our very favorite edible flowers, and they are a clever choice for small farmers, as fresh, local edible flowers are highly sought after by restaurants. Try growing the luxuriant and lavish crushed velvet blooms of BERNA VELVET BLUE PANSY. The gilded petals of CORONATION GOLD PANSY add a touch of regal elegance to baked goods and other culinary creations. CELESTIAL BLUE PANSY is a sky blue pansy representing one of the rarest and most sought-after colors in the plant kingdom! LAKE OF THUN PANSY is the loveliest of all deep blues, named for the sparkling blue waters of the Alpine Lake Thun of Switzerland. BRUSH STROKES VIOLA is a stunning reselection of the striped pansies and violas of yesteryear. For the ultimate kids' garden, you must try BUNNY EARS VIOLA! The blooms are sweetheart pink with two prominent petals, giving the flowers a bunny ears appearance, and the blooms are sweetly scented.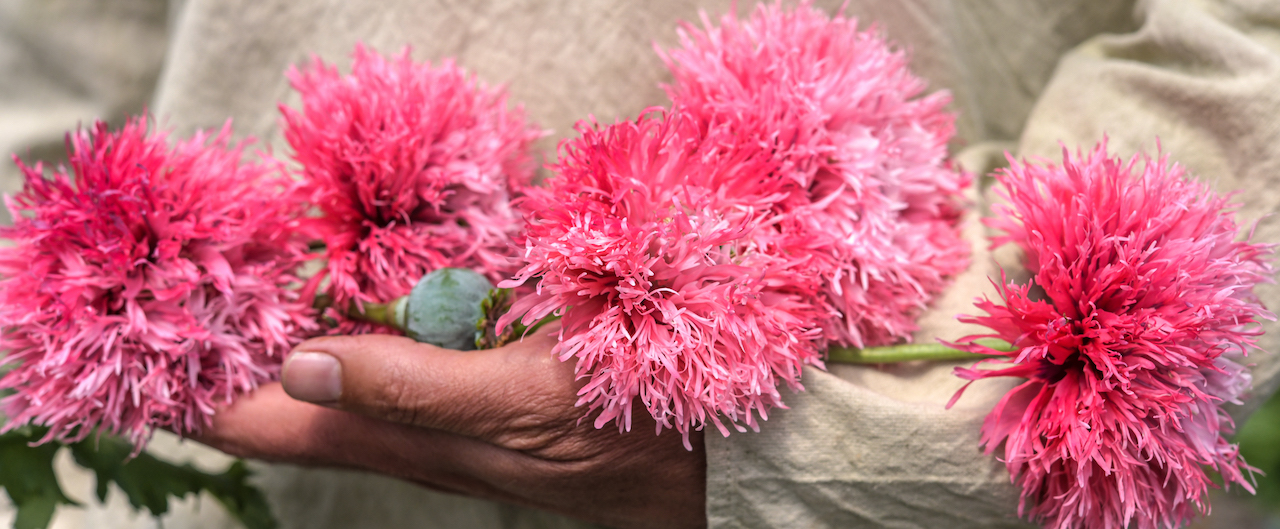 Rose Feathers poppy
Poppies
The seeds of poppies like to be sown in the late winter or early spring. This year we have added a massive selection of eye-catching poppies. There are many species in the papaver genus, and we offer a range!
Papaver somniferum, also known as the breadseed or opium poppy, typically grows as annual but will readily self seed in the garden. Here are a few of the stunners we have released this season.
Peony type poppies are almost unrecognizable as a member of the Papaver genus, as the fully double flower heads truly resemble a peony. Try CREAM PEONY POPPY, with its opulent, fully double opalescent blooms that reach 4 inches across. Pair it with BLACK PEONY POPPY, a deeply dramatic variety, with intricately ruffled blooms in shades of obsidian to dark burgundy. If you're after a pop of color, try SCARLET PEONY POPPY. The massive scarlet blooms look positively majestic as they sway in the breeze atop wiry stems.
Poppies aren't all about the glitzy, glamorous petals, though. The pods can also be used in arrangements, and the opium poppies have the largest pods. GIANT RATTLE BREADSEED POPPY, with its massive, blue-green golf ball sized pods, makes an exotic and intriguing floral design element. When dried, they are full of delicious bread seeds! Speaking of unusual pods, perhaps the most outlandish poppy we've seen is HENS AND CHICKENS POPPY, which is named for its unusual habit of forming small clusters of smaller seed pods in a halo shape around the main seed pod, like a mama hen and her chicks.
Frizzy petaled varieties are yet another unconventional take on the poppy. The SWAN'S DOWN POPPY bursts open with frizzled, frilly, white petals, making a beautiful ruckus in the garden! The massive ROSE FEATHERS POPPY is a sweetheart pink pompom bloom that reaches 4 inches across. CRIMSON FEATHERS POPPY forms highly doubled, frilled heads that with unusual form and stunning color.
Perhaps one of the more historically intriguing breadseed poppies is the SISSINGHURST WHITE POPPY, a gem plucked from one of the most beloved gardens in England. The pillowy soft, snow white petals of Sissinghurst White poppy originated in the famous "white garden" at Sissinghurst Castle in Kent, England.
Papaver commutatum is the Latin name for the Caucasian scarlet poppy. LADYBIRD POPPY is a delightful, domesticated version of a wildflower from the Caucasus, Turkey and Iran. She is a lipstick red poppy with black spots, reminiscent of ladybird beetle wings!
Papaver rhoeas is also known corn poppy or common poppy, but FALLING IN LOVE POPPY is anything but common! Its gleaming jewel tones of coral, salmon, rose and cerise make it a must have for any garden design. The dazzling blooms are semi double to fully double with picotee edging. The blooms will gently nod in the breeze, beckoning pollinators and enthralling onlookers.
Eschscholzia californica, Latin name for California poppy, is a member of the poppy family native to the United States and Mexico. STRAWBERRY FIELDS CALIFORNIA POPPY is unbelievably gorgeous, with strawberry sherbet colored blooms. The petals look like little bundles of silk in sunset colors!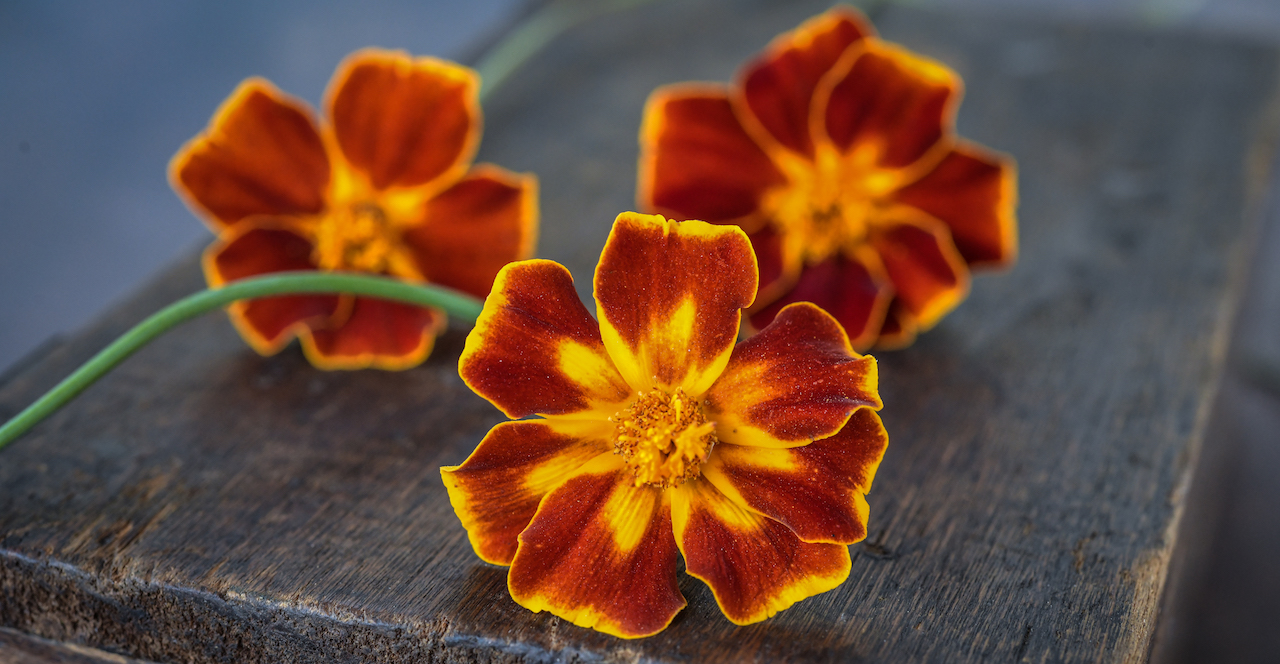 Linnaeus Burning Embers marigold
Favorite Companion Flowers
While all flowers have the power to enrapture with their beauty or attract pollinators to the garden, a few also possess properties that make them especially suited to companion planting with vegetables. Marigolds and calendula both have the ability to attract beneficial insects to the garden as well as deter certain pests. We suggest you interplant them among your vegetables, especially anything in the cabbage family! LINNAEUS BURNING EMBERS MARIGOLD is a smoldering and memorable marigold with gracefully wavy stems and smoky orange and red blooms that resemble embers in a crackling fire. This old variety has long been tended at the Linnaeus Botanical Gardens in Uppsala, Sweden. YELLOW PORCUPINE CALENDULA produces quilled, lemon yellow petals, giving this favorite medicinal flower an even more fascinating look. With its striking beauty and unique beauty, this calendula is sure to be a flower grower's favorite. The hues of FLASHBACK MIX CALENDULA are stunning, with peach, apricot, orange, vanilla and yellow tones, sometimes bicolored or tricolored, to captivate the eye.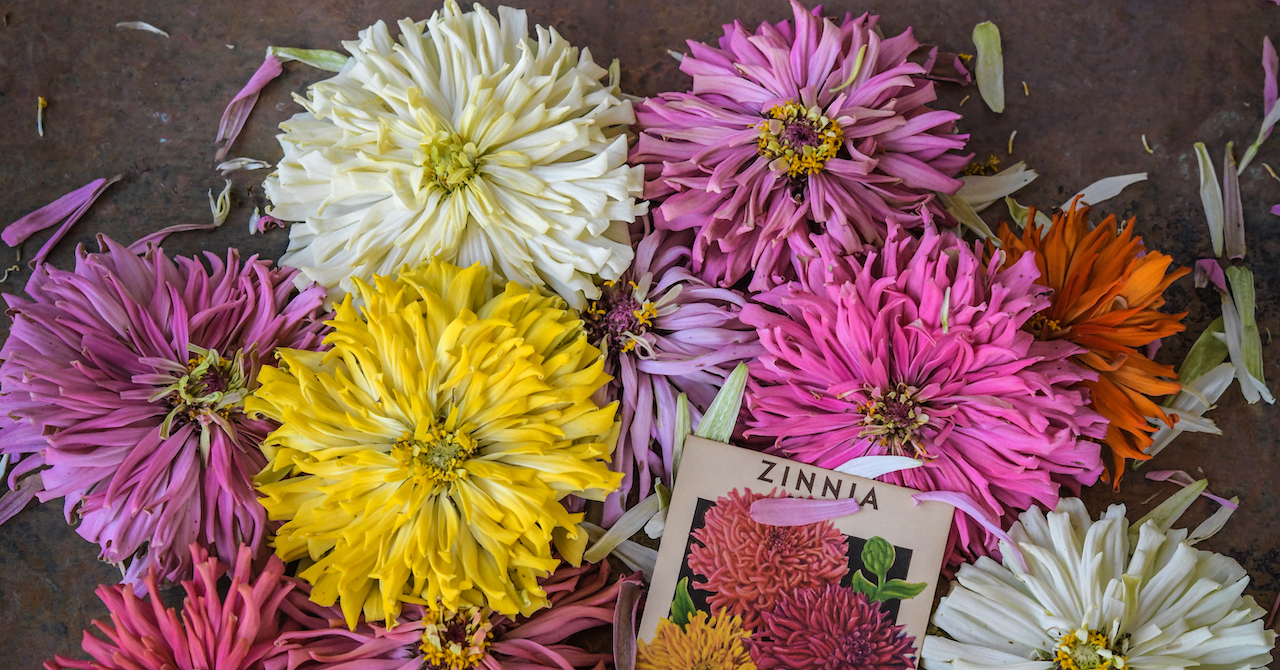 Takii's Choice Mix zinnia

Pollinator favorites
Pollinators are a cornerstone of agriculture and natural harmony. Therefore, feeding, housing and protecting pollinators is of chief importance in every garden. Here are the newest additions to our list of pollinator friendly flowers.
Salvia is particularly nectar rich and a beacon to tons of pollinators. In its regal gem tones, CLEOPATRA MIX SALVIA is fit for a queen! The compact, tidy flowers bloom in bright hues of red, orange, pink and purple!
Cosmos are perfectly suited to a host of pollinators, attracting bees, butterflies and hoverflies. FIZZY ROSE PICOTEE COSMOS are the most alluring and eye-catching cosmos, with pale pink petals and dazzling magenta picotee. The ballerina-pink, semi and fully double blooms of DOUBLE DUTCH ROSE COSMOS are a cheerful addition to the cottage garden, floral designs and the landscape. If you like your cosmos big and bold, CANDYFLOSS RED COSMOS is your choice! We love the magenta blooms with a vibrant yellow eye.
Sunflowers are ultra attractive to bees and butterflies. DOUBLE SUN KING SUNFLOWER is a super cheerful, fully double sunflower that is top choice for arrangements! It reaches 6 feet tall with fluffy, plush golden heads.
Zinnias are famously beloved by all kinds of beneficials, which is why you'll often see them tucked in alongside vegetables in the garden. Monarch butterflies especially adore zinnias. TAKII'S CHOICE MIX ZINNIA is a charming Japanese mix of large-headed, cactus and dahlia-style zinnias in a range of choice colors. CUPID MIX ZINNIA is a cute, thumbelina mix of jewel toned 1-inch blooms that make this a charming choice for kids to grow and for cottage garden designs. The PERUVIANA ZINNIA is a native wildflower of South America. This simple yet stunning annual flower reaches 2 feet tall and will attract tons of pollinators to your beds, borders, containers and wildflower meadows!
STARLIGHT FORMULA MIX ASTERS are glitzy and glamorous. This mix produces clusters of glistening sea urchin-shaped blooms in colors from pinks to whites and purples. The blooms lure pollinators like bees and butterflies.
Milkweed is perhaps a pollinator plant that needs no introduction. It is known to be the primary food source for the larval stage of the monarch butterfly and the blooms attract other benefiials as well. SHOWY MILKWEED is a gorgeous pollinator attractor plant that is host to the monarch butterfly and others. A native milkweed of the Western half of the U.S., this herbaceous perennial will bloom from May to September.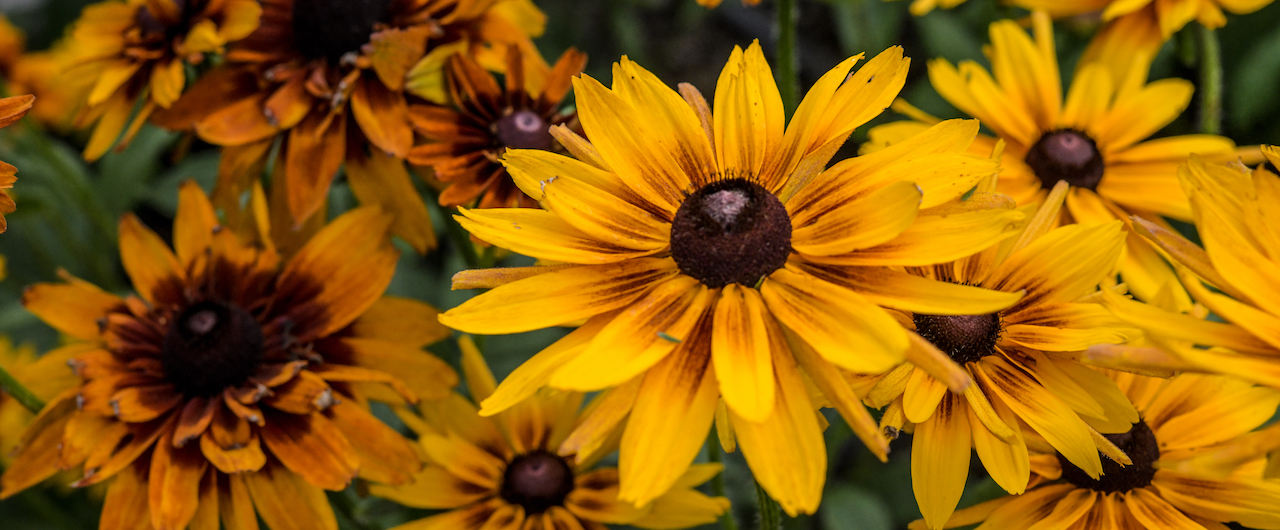 Cherokee Sunset rudbeckia
Native North American Wildflowers
Helping to preserve our population of bees and other native pollinators is imperative. If you're growing in North America, these native wildflowers will surely nourish your local pollinator population. SWAMP SUNFLOWER is a fabulously floriferous native wildflower that beckons pollinators, butterflies and birds. CHOCOLATE DAISY is an easy-to-grow native wildflower with darling yellow blooms that smell of hot cocoa, an aroma that is especially strong in the early morning hours. The stamens of the flower are edible and taste faintly of chocolate! INCREDIBLE DWARF MIX COREOPSIS is a dainty and delightful dwarf variety of the commonly found native flower, but with a gorgeous array of sunset colors. And the compact and tidy plants reach about 16 inches tall and about as wide.
For a more domesticated riff on the native wild phlox, try LAVENDER BEAUTY PHLOX for its soft and most romantic shades of dusky lavender, periwinkle and violet blooms. Rudbeckia are native to North America. They are known to be the larval host to many native butterfly species and to be a powerful pollinator plant. CHEROKEE SUNSET RUDBECKIA is a gorgeous medley of rustic sunset colors saturated in high-intensity tones. A feast for pollinators, they are easy to grow, and so quick to bloom. CHERRY BRANDY RUDBECKIA is a completely unique annual type rudbeckia with cherry rose colored petals! Large (3-4 inch) blooms make the perfect landing pad for pollinators!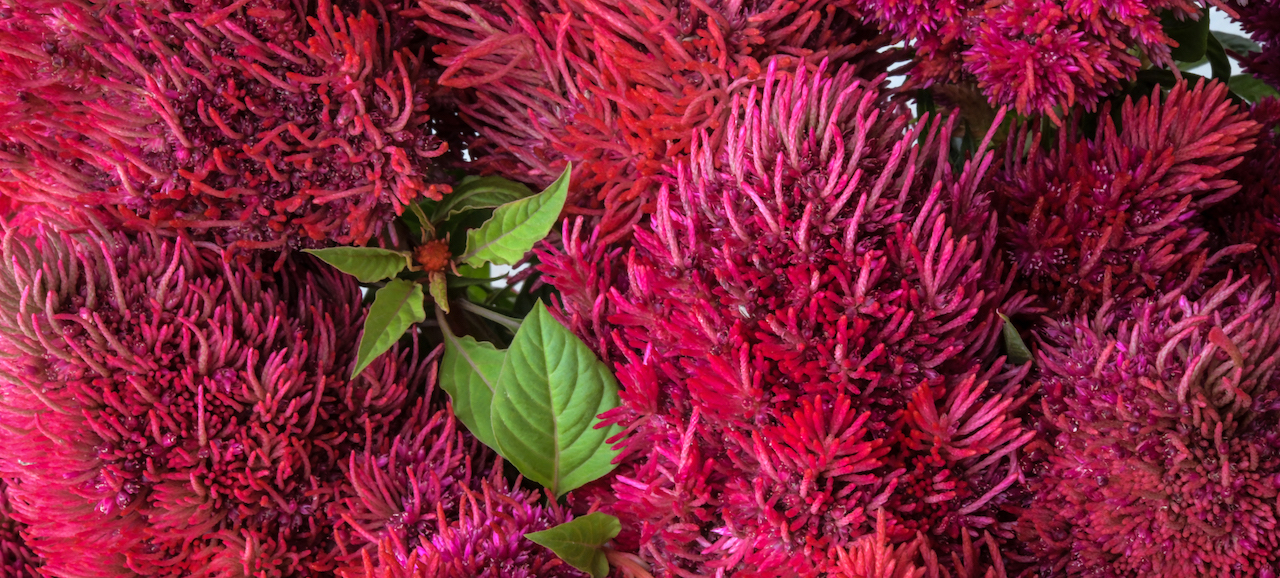 Chinese Wool Flower celosia
Cottage Garden Flowers
The cottage garden aesthetic is a classic that never goes out of style. The untamed floriferous design is made more eye-catching by blending so many colors, shapes and textures from bulbs to vines and of course a few edible flowers as well.
The original cottage gardens were actually quite functional, always incorporating edibles into the design for sustenance. Try these edible flowers in your next antique garden design.
Nasturtiums should always be found tumbling through a carefree cottage garden design, CHERRY ROSE JEWEL NASTURTIUM and PURPLE EMPEROR NASTURTIUM will be right at home in your cottage garden. The edible blooms express stunning color and delicious peppery taste! Dianthus are also edible; the petals have a distinctive clove-like flavor! HOLLANDIA PURPLE CROWN DIANTHUS is a gorgeous cottage garden flower with burgundy, lavender and cream-colored, edible blooms. RAINBOW LOVELINESS DIANTHUS produces stunning, spidery blooms in a soft pastel rainbow of pinks, purples and whites. PURPLE STARDUST ICEPLANT is a wonderful attraction that is as delicious as it is beautiful! The bright, shimmering blooms and succulent foliage of this fast-growing perennial form a beautiful flowering ground cover that is also edible and nutritious. The gilded petals of CORRALES AZAFRAN SAFFLOWER are often used as a saffron substitute. This flower is equally stunning and useful.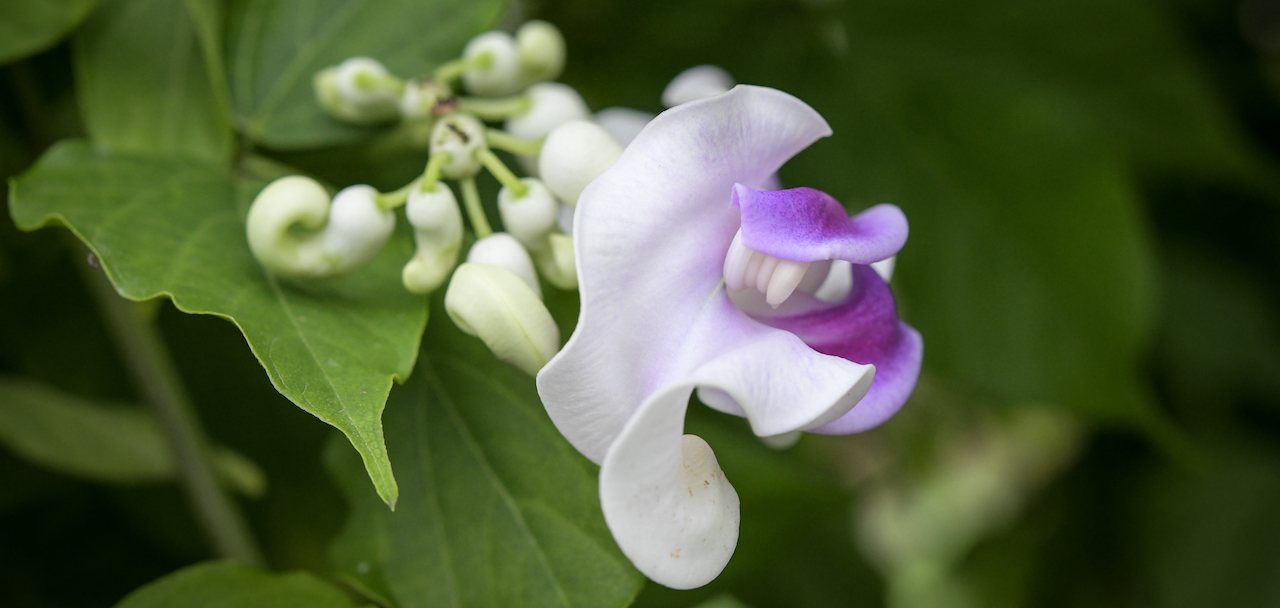 Snail Vine

Cockscomb and celosia have always been embraced in the cottage garden for their striking and unusually shaped flower heads. INDIANA GIANT COCKSCOMB is a mammoth variety in stunning scarlet. RAINBOW PLUME MIX CELOSIA is a gorgeous jewel-toned mix for landscape and cut flower design. The brilliant blooms of CHINESE WOOL FLOWER look like colorful tufts of yarn, setting landscapes and floral arrangements ablaze!
No cottage garden is complete without a few flowering vines rambling along the fence, arbor or lattice, bringing a pop of color and another dimension. The uniquely shaped flowers of SNAIL VINE actually resemble small snails! The fragrance of these distinct blooms is thought to be reminiscent of hyacinths, and Thomas Jefferson called this plant "the most beautiful bean in the world." Invite the IMPERIAL JAPANESE MIX MORNING GLORY MIX into your garden, and your landscape will be enveloped in extraordinary and intriguing blooms in a range of colors and forms.
Native to Chile and Argentina, salpiglossis is a dreamy trumpet-shaped bloom that makes a stunning focus flower in the cottage garden design. The bewitching blooms of BLACK TRUMPET SALPIGLOSSIS run from burgundy to deep obsidian with a stark golden eye in the center. The effect is a gothic bloom with depth and personality. They are perfect to play off of stark white or to incorporate into an all-black flower garden.
Anytime Mix stocks
Petunias are often found tucked into window boxes and containers. For a departure from the norm, try SUPERBISSIMA PETUNIA, whose mammoth blooms reach up to 6 inches across! With dramatic deep-veined throats, the petals look like crushed velvet. SPARKLERS PETUNIA is a dazzling petunia with diminutive purple blooms that look like a cluster of stars! This unique petunia is semi trailing, reaching about 14 inches wide and 12 inches high, ideal for planters and window boxes.
Add another dimension of intrigue to your garden designs with the intoxicating aroma of scented flowers. ANYTIME MIX STOCKS is a fabulous jewel tone mix of sweetly scented blooms. Stocks make an incredible cut flower or landscaping specimen.
The long-lasting gomphrena is another stellar flower for cutting or landscaping. MANDARIN ORANGE GOMPHRENA is an outstanding everlasting flower bursting with tangerine tones! Ignite your landscape and floral designs with this electrifying, citrusy gem.
Weaving coleus throughout your garden design will enliven the landscape with an electrical current of colorful foliage. PINTO MIX COLEUS is one of the most colorful coleus blends we have ever seen! This selection is a neon rainbow of leafy loveliness and beauty.
FLAKE AFRICAN DAISY

is an annual flower with the most pleasing blend of orange and yellow colors, a cheerful addition to beds, borders and containers.