We are proud to present the newest heirlooms to the illustrious lineup at Baker Creek! Our seed team has searched across the globe and from greatest gardens of the past to assemble a stellar collection of open-pollinated varieties. We are delighted to share our collection of curiosities, from the rare, exotic and whimsical to the time-honored treasures plucked from the annals of heirloom history.
Innovative Vegetable Introductions
Picture a garden bursting with tasty vegetables; with these prolific, productive and delicious vegetable crops, you can grow an abundance of nutritious produce and have a well-stocked pantry!
Lemon Drop Watermelon is an outstanding and super rare all-golden mini melon that is lemon-yellow color from skin to flesh! The perfect single-serving sized 1-2 pound fruit has a flavor that is unparalleled, with a candy sweet flavor and crispy texture. With its very thin rind, It's a perfect little snacking melon.
Japanese Wasabi Radish This round-shaped Japanese daikon radish has an intensely pungent spicy flavor, perfect for lovers of wasabi. Chefs and experimental home cooks will be delighted to play with this sensational root crop. A must-have for market farmers.
Orange Hat Tomato is our favorite new micro tomato! The darling, extra dwarf bush plants reach just 6-9 inches in height and are wildly prolific, offering oodles of tiny orange orbs that burst with fruity sweet flavor. A perfect indoor or patio tomato, comfortably fitting in a 6-inch pot and endlessly snackable.
De Jesi Cauliflower produces incredible fractal patterns in a stunning creamy white color, similar to Romanesco cauliflower. Historically grown near Venice, this mild-flavored variety is amazingly eye catching with gourmet flavor, perfectly suited to marketing.
Queen of Malinalco Tomatillo is unlike the common tomatillo that is so ubiquitously used for Mexican green salsa. This old variety from the Malinalco region of Mexico is actually more like a sweet paste tomato mixed with a husk cherry! The fruit is used to make salsas; it can also be cooked up like tomatoes or simply eaten fresh like a fruit.
Pink Jazz and Orange Jazz tomatoes were bred by legendary tomato breeder Fred Hempel. This massive beefsteak often weighs in at 1 lb each, dripping with a sweet, tomato flavor that is also often described as having peach undertones. The leviathan fruit are tiger striped. Selected with disease resistance in mind, it is moderately tolerant of some fungal pathogens.
China Jade Cucumber combines jade-colored flesh with unmatched sweet flavor. It is a popular variety in China, where cucumbers have long been selected and perfected for sweet, nutty gourmet flavor. This variety is an homage to those many years of natural breeding — a seedless and burpless cuke in a stunning gemtone color.
Globo Onion is an award-winning giant exhibition onion with super sweet complex flavor. The flask-shaped orbs are wrapped in a pale straw-colored skin, and the flavor is divine — sugary sweet, with a spicy finish.
Amazing Asian Greens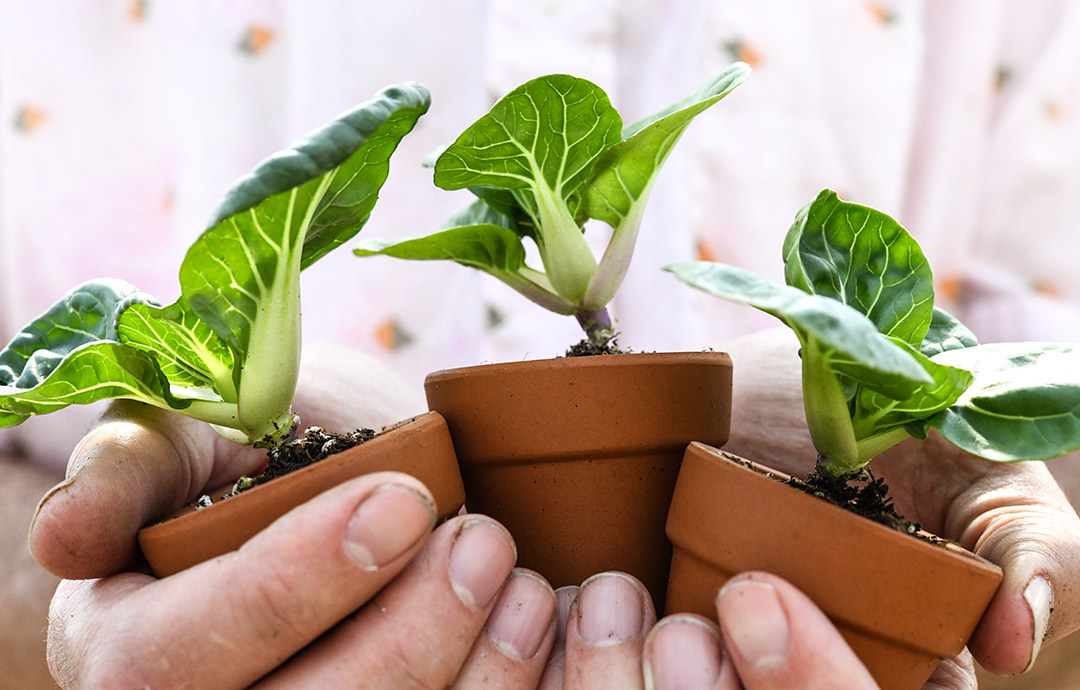 Hedou Tiny Bok Choy
Asian greens are one of the most versatile greens to grow. You can eat them raw or cooked and they are easy to grow and adaptable!
Hedou Tiny Bok Choy is a perfect bite-sized bok choy! Stuff several in your steamer basket or pop one in your mouth for a nutritious snack! The extra-dwarf heads are famous across China and even in U.S Chinese markets and restaurants.
Big Leaf Tong Ho has extra-large leaves and beautiful edible flowers. A unique Asian green, the leaves are thick and crunchy with a scrumptious savory flavor. It produces tons of large, edible blooms that reach 3 inches across and make great cut flowers.
Unique Kales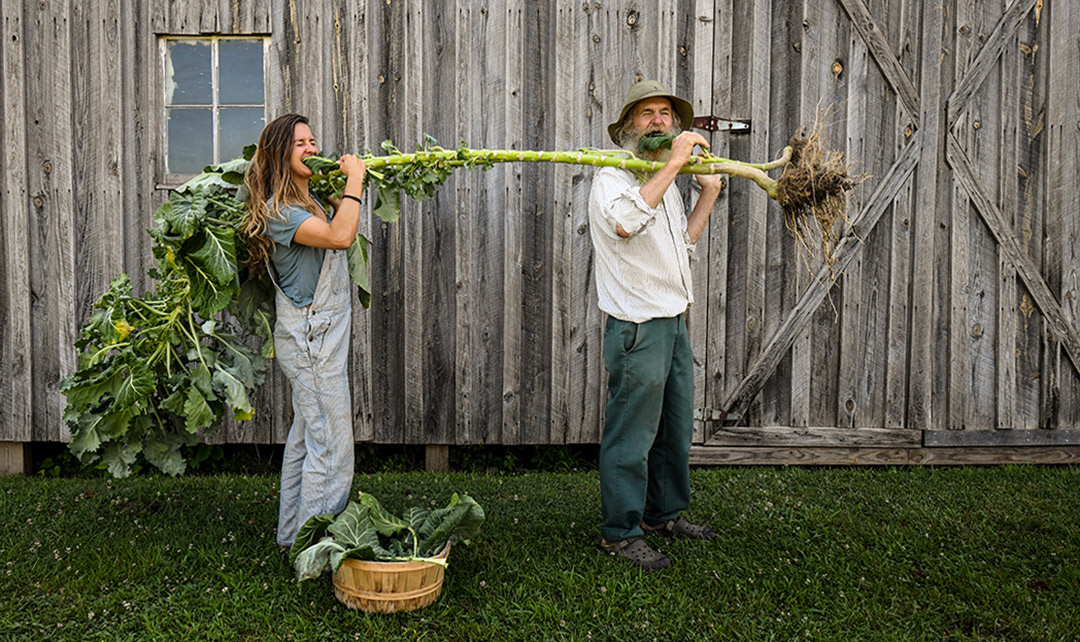 Walking Stick kale
Thanks to its superfood status and ease of growing, kale is a popular leafy green.
Walking Stick Kale is an extra-tall kale that is the stuff of legend, said to grow up to 20 feet tall. Grown in the British Isles for centuries, its long sturdy stalks were varnished and turned into canes. The most tender, young greens make a delicious flat leaf kale. Its many unusual uses and tall stature make it a standout variety from antiquity that we are delighted to see reintroduced.
Dazzling Blue is a smoky blue lacinato type kale that has become a favorite of gardeners and market farmers. A new heirloom and a beautiful example of the recent renaissance in modern open-source plant breeding. Boasts unparalleled cold hardiness and fantastic purple and blue leaves.
Jagallo Nero Kale is by far the best-tasting, sweetest and most tender and buttery kale we have trialed! The deep blue/ green deeply cut leaves have ornamental appeal and truly stand out as much more refined and mild flavored than any other kale, ideal for raw preparations. The flavor is highly gourmet on its own and needs little adornment.
Crunchy Carrots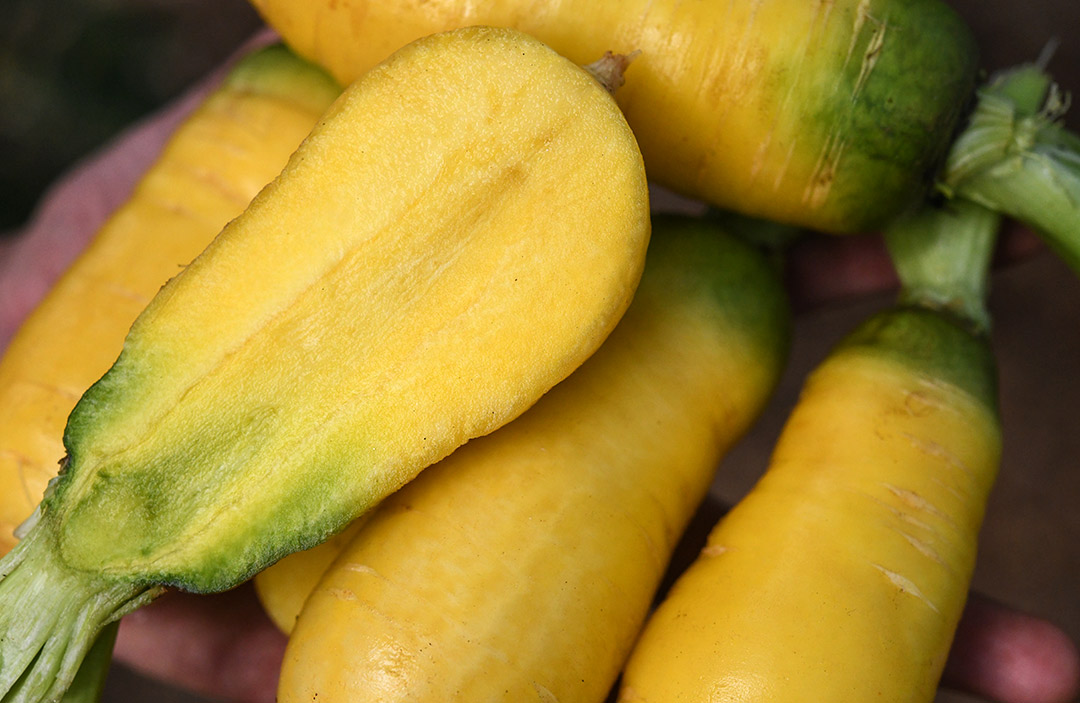 Uzbek Golden carrot
Carrots are a favorite crop for home and market gardeners, as they are rewarding to grow, cold hardy and super delicious. Most of us grew up eating chemically treated baby carrots in a pallid shade of orange, so it is a wonder to discover an explosive pallet of color and a range of unique shapes in carrots.
Uzbek Golden Carrot is delectable, with lemon-yellow roots in a unique shape! These carrots have a fine-grained texture that is crispy and juicy with plenty of natural sugar. This variety hails from Uzbekistan and is popular across central Asia.
New Kuroda Carrot is the best-tasting orange carrot we have tried, New Kuroda is sugary sweet and the texture is ultra-fine grained. The roots can power through tough soil and blistering heat, producing winning roots under even the most brutal conditions.
Colorful Corn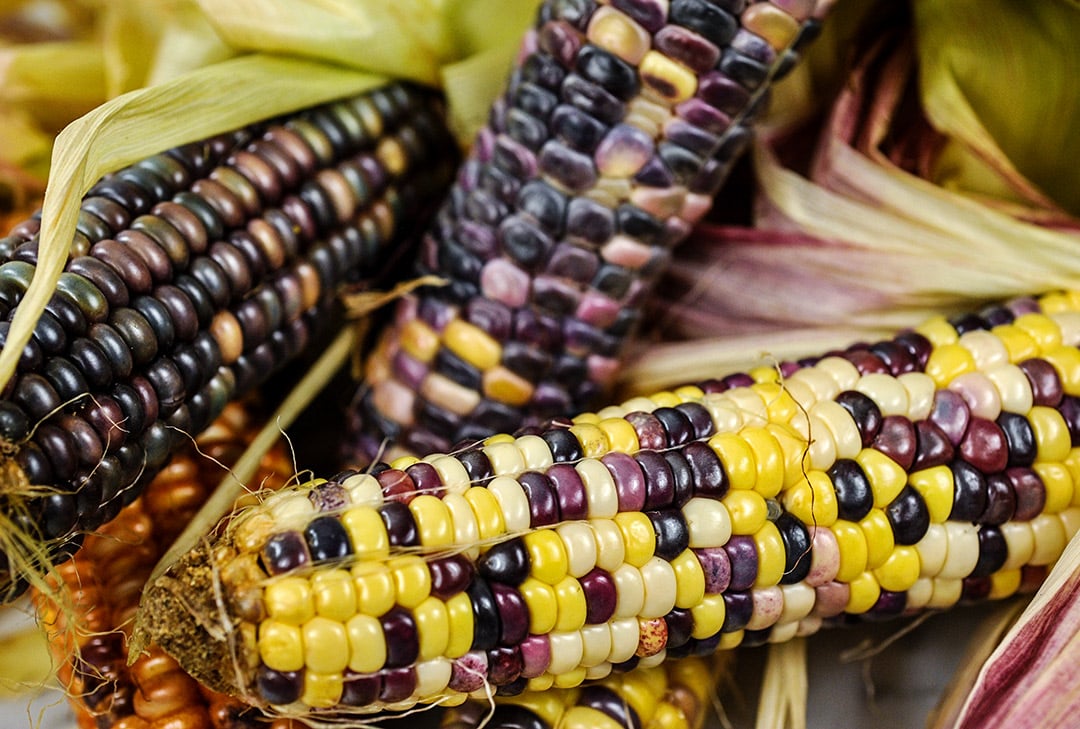 Astronomy Domine corn
Corn is an ancient crop of the Americas, where it has been held in the highest esteem for thousands of years. An astounding range of heirloom corn has been domesticated, selected and stewarded for centuries by the Indigenous people of the Americas. Many breeders today enjoy blending and selecting from this solid foundation of ancient genetics to make beautiful varieties with a range of uses.
Astronomy Domine is a multi-colored sweet corn that may be the most beautiful corn in the galaxy. It's certainly the most beautiful sweetcorn available, and possibly the most nutrient dense! The ears boast old-fashioned sweetcorn flavor and a mix of vivid colors.
Montana Lavender Clay Corn is a vigorous and early producing, lavender-colored flour corn in an attractive pastel shade that produces silky, soft cornmeal.
Peppers Hot and Sweet!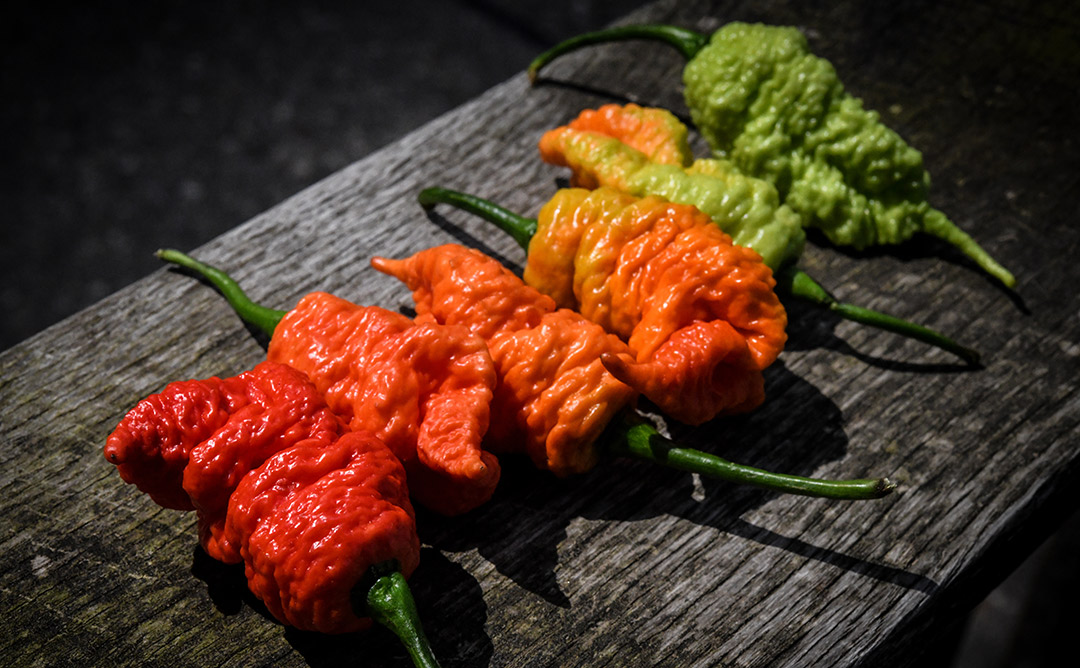 Death Spiral pepper
Sizzling New Hot Peppers
Hot peppers have the power to add intensity and depth to your cooking. The chili pepper is a true chameleon, changing color, flavor and pungency level and playing cameo roles in traditional cuisines across the globe!
The jalapeño is one of America's most beloved peppers, and the iconic green chili has been reimagined into curious and delicious variations. Deighito Jalapeño is an entirely unique and wonderful jalapeño from Italy. The heart-shaped fruit is ideal for stuffing. Its deeply etched green-to-cherry colored skin makes for an unusual looking jalapeño and the flesh is thick, sweet and flavorful, a perfect complement to its mild jalapeño heat.
Aji Pineapple is a Peruvian heirloom with, you guessed it, tropical pineapple flavor! Aji peppers are noted for their beautifully balanced flavor, marrying tropical sweetness and heat. Aji pineapple is a bit hotter than a jalapeño, excellent for snacking, homemade hot sauce or cooking!
Sugar Rush Cream Pepper blends sugary sweet flesh with medium spicy heat for a totally unique combination of flavors and sensation. A versatile little pepper, the fruity heat adds dimension to dishes or makes a fun little snack eaten out of hand!
Chiltepin Pepper is a wild native of the canyonlands of the US-Mexico border. This small but mighty pepper is highly revered, especially in the American Southwest, where it plays a role in food history and culture. This rare chili still grows wild and is protected in certain national parks.
Jigsaw Pepper is stunning, with multicolored leaves in tie dye patterns of lavender, cream, violet, seafoam and forest green, making it one of the most ornamental peppers. Short, stocky plants produce small, plum-colored fruit, about as spicy as a jalapeño. Try this dazzling edible ornamental in containers or borders, or anywhere its ornate foliage can be admired.
Scorching Super Hots
With a name like Death Spiral Pepper (pictured above), you know this is brutal pepper, and indeed, it ranks among the world's hottest! We were introduced to his little scorcher by extreme pepper expert Jim Duffy of Refining Fires Chilis. The menacing fruit is contorted and wrinkled with a fierce little scythe-shaped tail. Jim reports that this pepper has a floral flavor and intense mouth burn that hits the tongue, gums and roof of the mouth.
Jay's Bhut Jolokia is the legendary ghost pepper of northern India in a peach sherbet tone. While the color may be inviting, don't forget that the Bhut Jolokia took the record for world's hottest pepper in 2007. This peachy princess in nothing short of scorching! It is top notch for extreme hot sauce blends and powders or nuclear hot cooking recipes.
Trinidad Scorpion Yellow is a slightly more mellow take on the brutal super hot from Trinidad. Yellow-to-orange fruit often bears the infamous scorpion "tail." This natural variant of the classic Trinidad Scorpion has considerably less heat. The fruit is pleasantly citrusy, and still plenty hot, as this is a close relative of what was one of the world's hottest pepper varieties.
Scrumptious Sweet Peppers
Lesya Pepper is believed to be the sweetest of all peppers, with unique pointed heart-shaped fruit that ripens to a deep red and has intensely juicy texture. This is also one of the thickest fleshed peppers.


Favorite Flowers for the Veggie Garden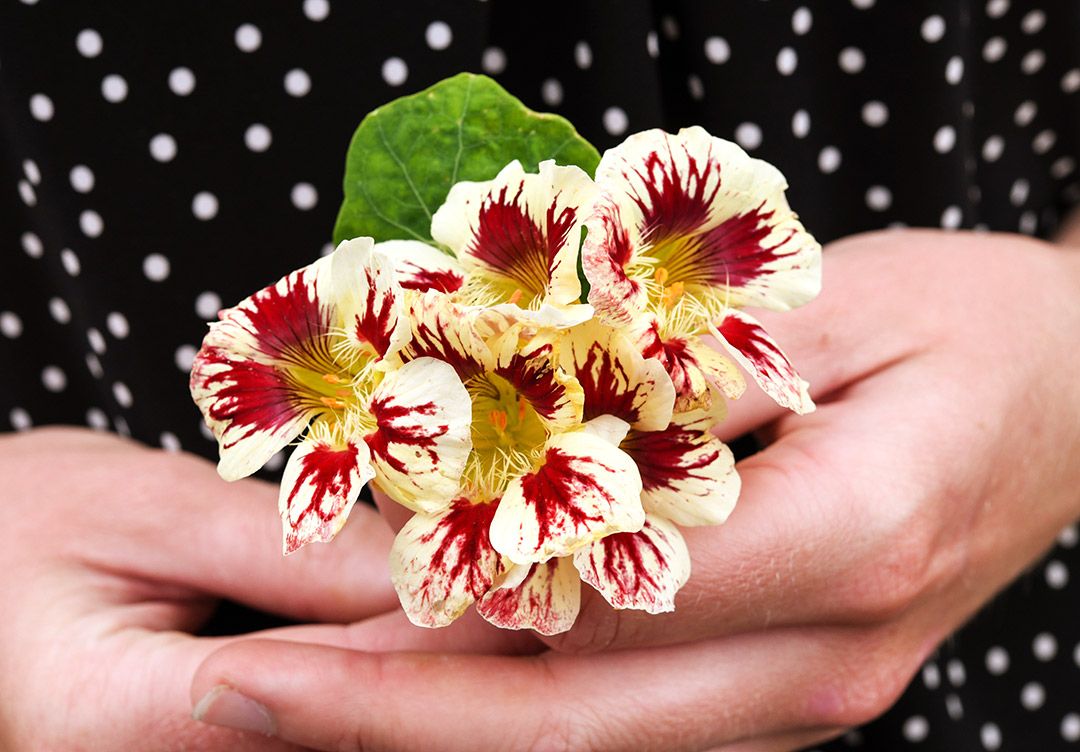 Orchid Cream nasturtium
Incorporating flowers into the veggie patch is an excellent way to brighten up the space. Edible flowers or those with natural pest-repellent qualities are the very best blooms to intercrop with vegetables. Nasturtiums are versatile; the blooms and leaves are edible and even the seed pods can be pickled into a piquant mock caper.
Orchid Cream Nasturtium truly resembles an intricately painted orchid! Each creamy white petal is splashed with blood red, a dramatic effect that catches the eye!
Bambino Marigold produces profusions of sunny and cheerful little blooms in tangerine and lemon stripes. Bambino boasts short and perfectly tidy mounds reaching just 10 inches tall, each a small burst of sunshine, ideal for mixed plantings, containers and bedding.
Pink Dandelion is a delightful take on the popular bitter green. The soft, baby-pink blooms are wildly attractive to pollinators. Pink dandelion hails from Eurasia and is a less invasive relative of common dandelion. All parts of this plant are edible.
Healthful and Healing Herbs
Grow your own herbs for an inexpensive supply of medicinal remedies, tasty teas and flavorful seasonings.
Wild Bergamot Bee Balm (Monarda fistulosa) is a perennial that is popular with pollinators. The aromatic foliage is reminiscent of oregano and the flowers range in shades of earl grey to lavender and pink. This native wildflower is an important nectar plant for native bees and possesses a host of medicinal benefits!
Echinacea Paradiso Mix is a candy jar of the wildest gem tones, adding gorgeous accent to herb gardens, perennial beds, meadows and containers. The colorful heads of this medicinal ornamental can be harvested and made into an immune boosting herbal tea.
Cut Flowers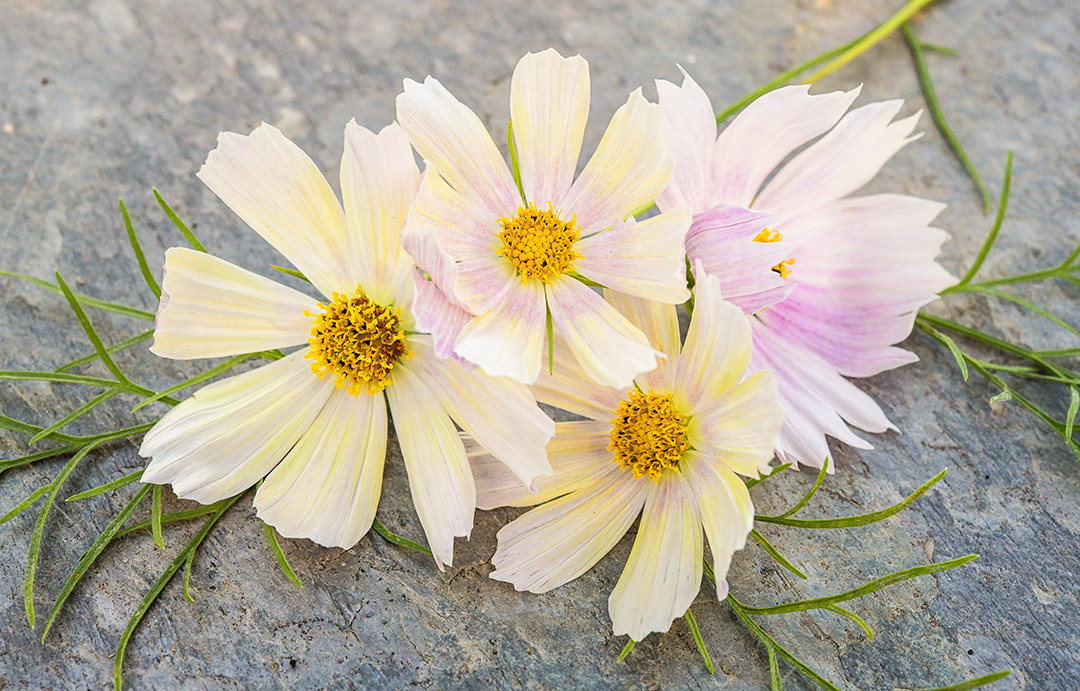 Apricot Lemonade cosmos
Growing heirloom flowers means feeding the pollinators and brightening up the landscape. Growing your own cutting garden is an excellent way to keep fresh flowers on display and can make a lucrative side business, as local flowers are in high demand!
Apricot Lemonade Cosmos produce a silky soft palate of unique color combinations, making Apricot Lemonade one of the most highly sought-after heirloom flowers. Sumptuous shades of buttery lemon and apricot make a truly whimsical display in the landscape or in fine arrangements.
Amazing Grey Poppy has the look of crushed silk that has been dip dyed in earl grey lavender. The blooms are as sophisticated and light as a feather blowing in the breeze. Highly sought after, its elegant look is arresting both in the landscape and arrangements.
Candy Cane Select Mix Zinnia is a large double-petaled type in a delightful blend of pink, red, white and yellow, each petal splattered with contrasting color. These cheerful striped zinnias have graced gardens since their introduction in the mid 20th century and were first listed in Vaughan's 1951 catalog with a splashy full-color photo.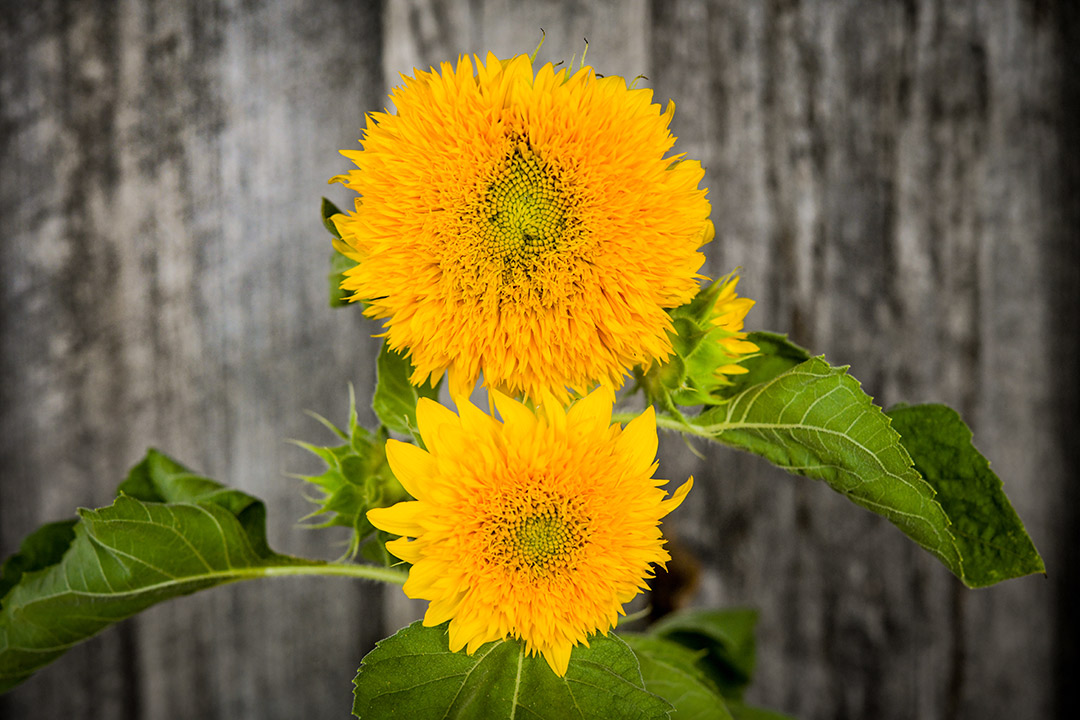 Gold Coin sunflower
Stellar Sunflowers
A native American wildflower that is sometimes referred to as the fourth sister in reference to the Native American three sisters planting.
Hopi Black Dye Sunflower is a rare variety used for making a beautiful natural purple dye. This fascinating piece of American history makes big purple heads, creating a dramatic look in the landscape and a gorgeous crafting dye.
Gold Coin and Gold Ring Sunflowers will have your beds and borders buzzing with electrifying yellow color and pollinator action. Plants stand an average of 20 inches tall with heads just 3.5-4 inches across. These two varieties perfectly complement each other; Gold Ring boasts inviting yellow petals and rich chocolate brown centers, while Gold Coin is a fully double ruffled gold head!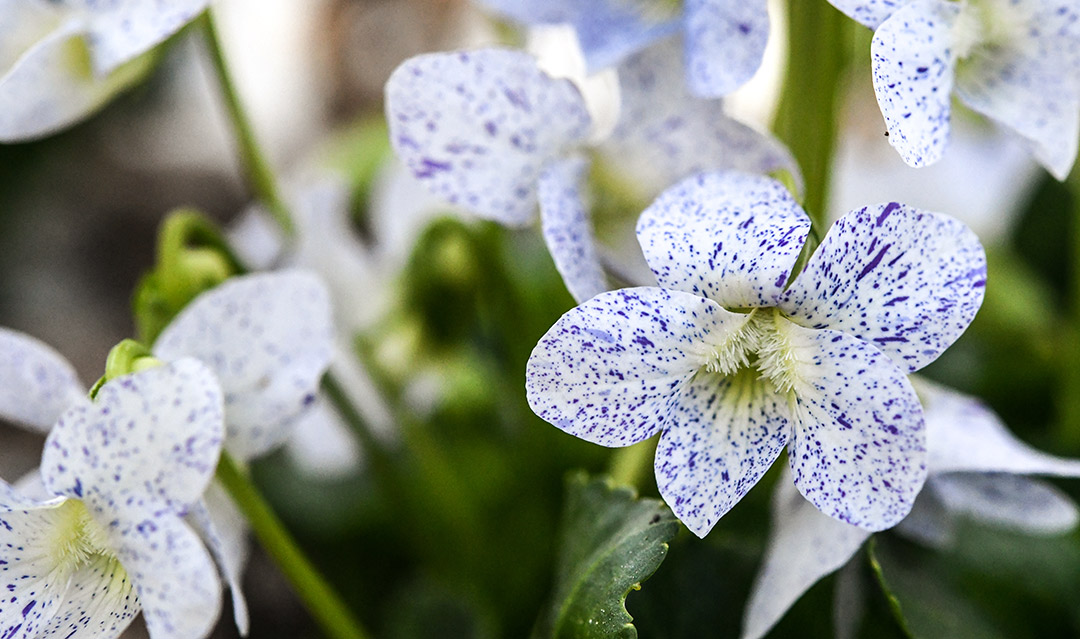 Freckles viola
Gorgeous Flowers for the Landscape and Pollinators
Landscaping with heirlooms is the most pollinator friendly choice, as heirlooms are typically richer in pollen and nectar!
Freckles Viola is a darling, dainty blue-freckled version of the familiar wild violet of North America. This native wildflower produces heart-shaped foliage that grows in neat bunches just 6-8 inches tall. The prominent buttercream-colored flower petals are bespeckled, resembling Delft Blue pottery. Pollinators love them, and they are a food source of the fritillary butterfly in its caterpillar stage. A perennial wildflower, these plants will self sow in the garden or lawn
Double Diamond Yarrow is a relative of common yarrow. It is a pollinator attractor, medicinal plant and cut flower. The plants reach 2-3 feet tall and produce gobs of cheerful white pom poms, which are alluring to many small pollinators. It is said that the soldiers commanded by Greek mythological warrior Achilles used yarrow to treat their wounds. It is also a versatile cut flower.
Cosmic Candy Thunbergia will warm up the garden color palette with its delightful mix of shades from orange to yellow, smoky salmon to apricot and ivory. Thunbergia is a favorite climbing vine, so try this variety to cover your trellis, fence or wall with oodles of colorful blooms!