Spring may be the most visually stunning season. Verdant new growth and bold spring blooms saturate the landscape in color ... and yet, when we close our eyes to picture spring, we often recall the fragrances of our favorite early flowering blooms. There is some science to this fragrant phenomenon, as memories associated with smell tend to be more vivid!

With its sublime overtones of jasmine, morning dew, and clove, hyacinth is one bloom that captures the sweet, fresh fragrance of spring. Planting them adds another dimension to the garden, one more memorable than any shape or color.

What Is Hyacinth?
Native to the eastern Mediterranean, hyacinth is a highly fragrant, spring-blooming flower whose bulbs are planted in the fall. The plants are perennial from USDA zones 3-8 and will live a few years (3 to 4, on average) in the landscape before eventually fading away.
Why plant this iconic harbinger of spring? Let us count the ways!
Hyacinths are incredibly resistant to mammalian predation. Deer, rabbits, voles, and groundhogs will leave your hyacinth alone!
Their fragrance will waft through the mid-spring garden and the blooms can also be cut to add scent to floral arrangements and designs.
Beyond their fragrance, hyacinth also comes in a broad range of colors to brighten the landscape.
These delightful bulbs are great for forcing in water, making for a burst of plant life in dreary wintertime.

What is muscari?
Muscari is often called "grape hyacinth," but it's just a distant relative! Native to the Mediterranean, the blooms come in a range of cool tones from grape to glacial blue. Some varieties are true blue in color, a rarity in the plant world. Baker Creek's Shannie McCabe visited the Keukenhof botanical garden in the Netherlands (the world's largest bulb garden), where she saw the famous "Muscari river," a dense planting in the shape of a winding river. Try this effect in your own garden, or let the prolific little bulbs naturally spread and fill out the landscape.


What are the benefits of planting muscari?
Muscari's return on investment is spectacular, as it will naturalize in your landscape and multiply over time to create a fragrant wonderland.
Exceptionally care free and easy to grow, muscari thrives even in average, well-draining soil and full sun to partial or dappled shade, making a perfect addition to the understory.
The true-blue color is super rare in flowers, and muscari is one of the easiest true-blue flowers to grow and achieve that fine gardening effect.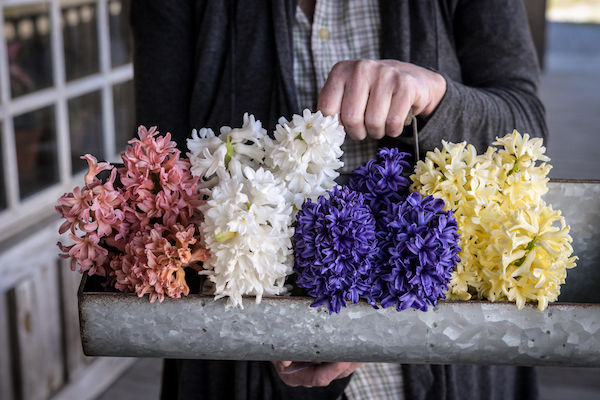 Here are some of our favorite hyacinth and muscari:

Gipsy Queen hyacinth is a unique, coral-pink variety with amazing fragrance. Place it front and center where its alluring color can be appreciated.
The bubblegum pink, double-petaled blooms of Spring Beauty hyacinth waft a saccharine scent.
If you are looking to add drama and depth to your landscape and floral designs, consider Dark Dimension hyacinth. Its deep eggplant color helps lighter spring colors pop, and the fragrance is spectacular.

Muscari Ocean Magic is a grape hyacinth that has a phenomenal shaded effect, from snow white to baby blue. Plant these dainty darlings en masse for a stunning scented carpet of blue.

The frosty blue Baby's Breath muscari is a rare find and will completely transform your spring garden into a fragrant, glacial wonderland. This grape hyacinth can be planted to resemble a winding river or pathway. Try planting these en masse to create a stunning effect. Plants reach about 8 inches tall.
Hyacinth and muscari will transform your spring bulb garden into a true garden of the senses!