BUENA MULATA: ANOTHER CLASSIC PIPPIN PEPPER
BY WILLLIAM WOYS WEAVER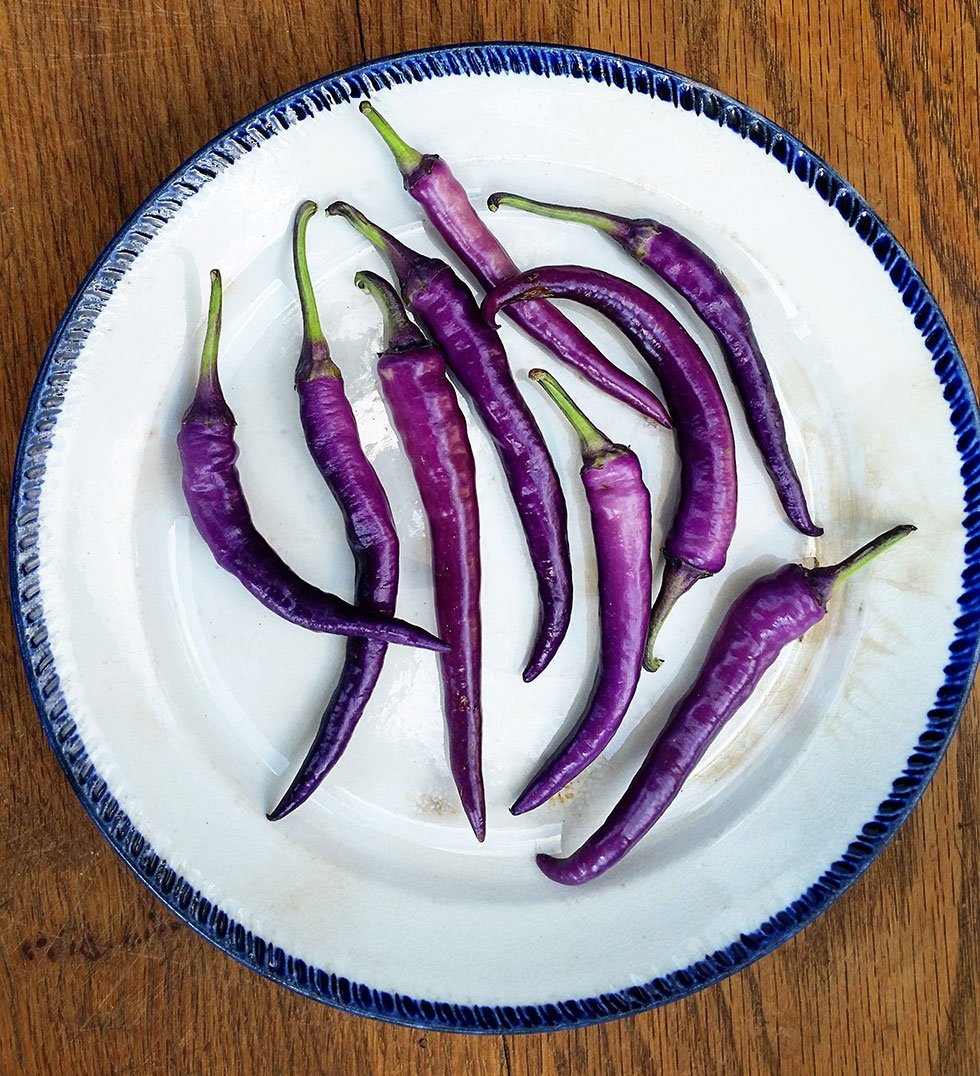 When I began to thaw out

my grandfather's seed collection

back in the 1960s, many heirloom treasures emerged from the dark depths of the freezer where they had been stored.  One of the best known peppers I discovered was the popular

Fish Pepper

, which is now offered by many seed companies, including

Baker Creek

.  Most of the rare peppers my grandfather collected were given to him by his friend, an African-American folk artist, Horace Pippin.  Mr. Pippin visited my grandfather's West Chester, Pennsylvania, garden often, and the story about how he traded seeds for bee stings (my grandfather had bee hives) is described in my book

Heirloom Vegetable Gardening

.  However, the

Fish Pepper

was not the only pepper I retrieved from obscurity, for many years I have been maintaining several other Pippen varieties with equally fascinating histories.  One of them is the

Buena Mulata

, a "new" Capsicum annuum which is being offered exclusively through

Baker Creek

.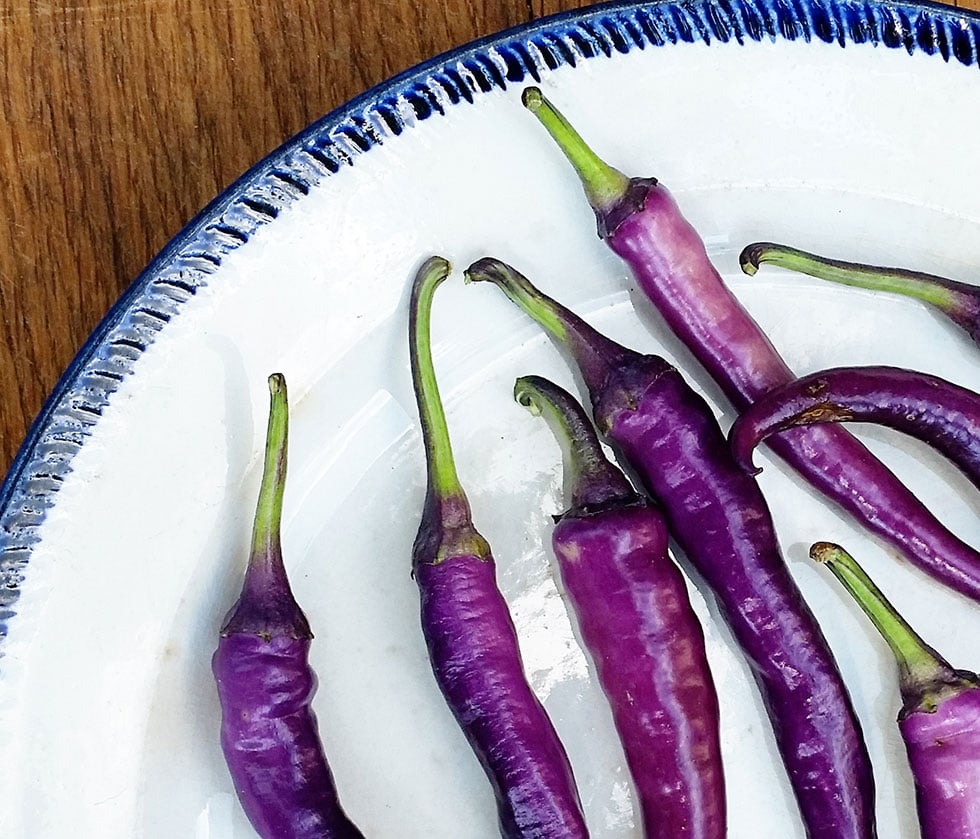 According to my grandfather's annotation on the seed jar label, he received the pepper from Horace Pippin in 1944.  There was no other information, apart from grow out dates, right down to 1955. After growing it a few times in the late 1960s and early 1970s, I became enamored of the chameleon-like color changes the pepper underwent as it ripened: violet to pinkish flesh color, then orange changing to brown, and eventually to deep red.  I thought at first it might be a commercial pepper known as Aurora, but it is showier, better flavored and much, much older.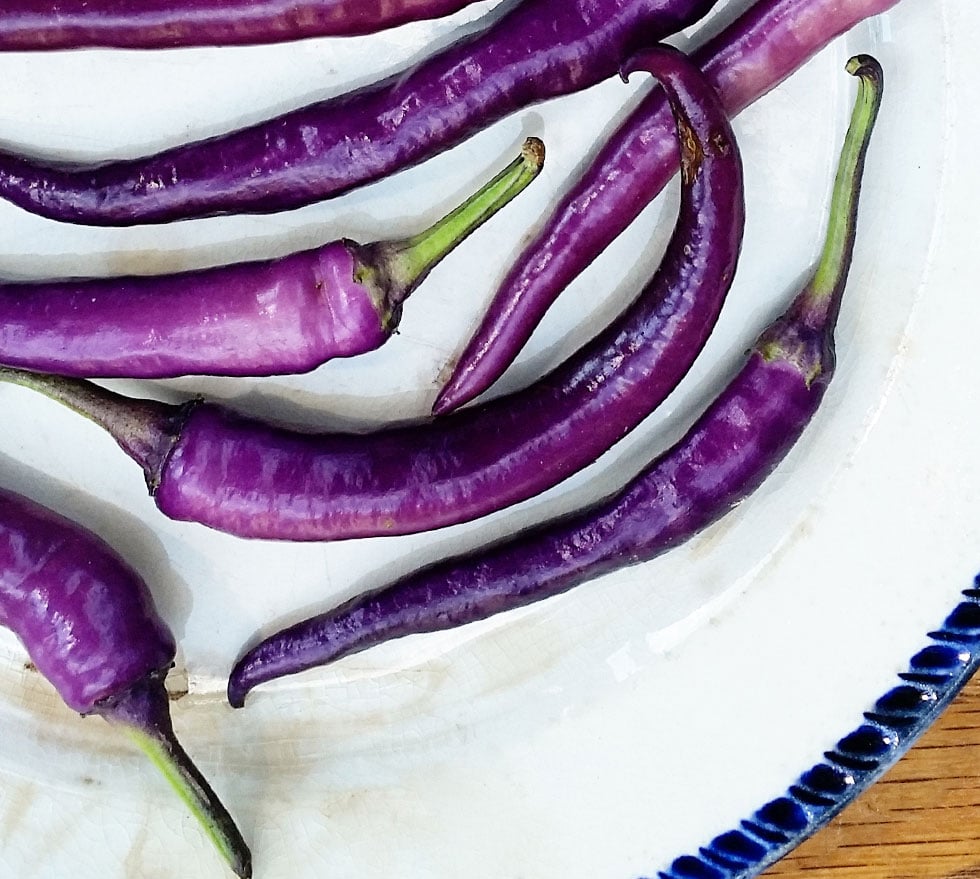 Two of the patterns I have noticed in all of the peppers that Mr. Pippen gave to my grandfather are a consistant emphasis on unusual appearance and special culinary qualities; this may have been a result of Mr. Pippen's artistic eye for color and his enjoyment of good cooking.  Whatever the case,

Buena Mulata

is a long, pointed, voilet-colored cayenne which fits both of these criteria.  It is startlingly beautiful and packs high voltage flavor along with it's heat.  The long, round pods measure as much as six to seven inches in length and undergo a flavor change as they ripen to red. the reds being much sweeter and meatier than the violets.  The plants are also massive producers, giving them excellent value for commercial-scale farming.  That said,

Buena Mulata

makes a very nice potted plant for the summer terrace, so it is highly adaptable to different modes of cultivation.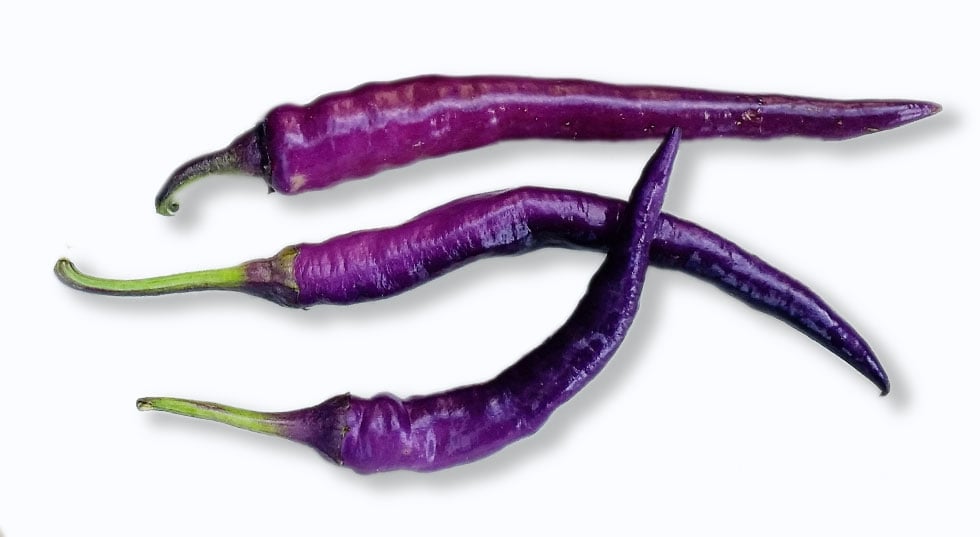 I do not know where Mr. Pippin found this pepper, but after researching old Caribbean cookbooks, I discovered that there was a commercial hot sauce sold in Cuba in the 1920s which carried the brand name

Bueno Mulata

("The Merry Mulata").  The bottle label featured a smiling mulatto woman in a bandana, very similar to the mammy images from the Old South.  There may be a connection between this heirloom and the sauce, although this needs further and more conclusive documentation. 
What I do know is that the

Buena Mulata

makes an extra flavorful salsa morada with high-test heat. Here is how to do it:
Salsa Morada
1 cup Sugar
1 1/2 T Pickling Salt 
2 T Powdered unsweetened chocolate
1 1/2 cup Vinegar
Yield: 5 cups (five 8-oz. jars)   
Put the

green pepper

,

Buena Mulata

, sugar, salt, chocolate, vinegar, and

coriander

in a heavy preserving pan.  Cover and boil gently for 20 minutes.  Remove from heat and let stand 2 to 3 hours or until the peppers are completely soft.  Puree to a smooth creamy consistancy.  Reheat in a clean preserving pan and bring to a boil. Cook3 minutes and then adjust the heat with additional pepper to taste. Pour into sterilized jars and seal.