Broccoli Cheese Soup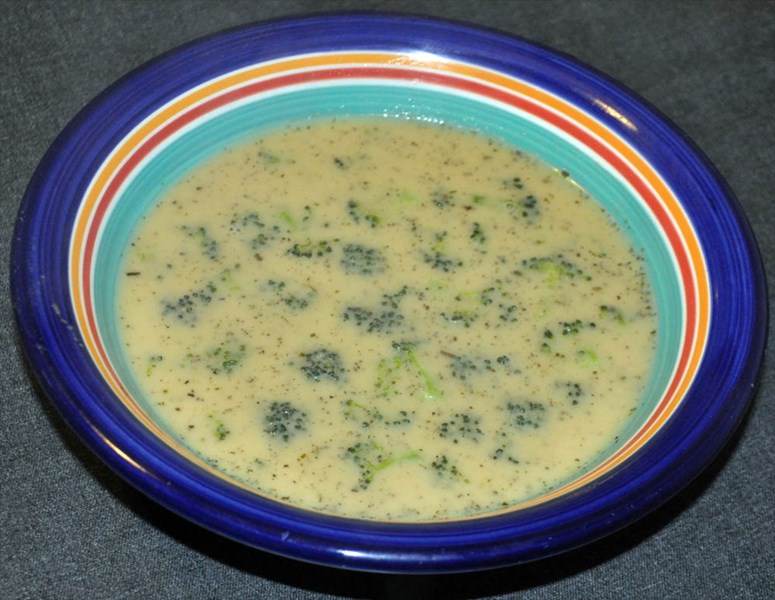 Living in the midwest we have been confronted in restaurants more times than we care to remember with barely-edible, gloppy, broccoli-cheese soups that are almost certainly made with processed cheese food and filled with chemical preservatives and stabilizers. This glorious soup should never be so horrifically abused. Thankfully you can make a terrific version easily in your own kitchen, using freshly picked broccoli from your own garden. The following recipe is broadly adapted from the 1997 Harrowsmith Simmering Suppers cookbook, published by the late (and wonderful) Canadian rural life magazine that was bought out and eventually run into the ground by large corporate interests.
1 small broccoli head
½ cup onion, cut into medium dice
2 tablespoons butter
½ teaspoon white pepper, freshly ground
1 teaspoon dry sage
1 teaspoon Henderson's Relish
½ teaspoon ground mace
¼ teaspoon Tabasco sauce
2 tablespoons flat leaf parsley, minced
4 cups stock
¼ cup cornstarch dissolved into ¼ cup water
½ cup beer
2 cups milk
2 cups grated extra-sharp cheddar
Separate broccoli florets into small pieces. Peel and coarsely chop the remaining stems. Keep both separate.
Melt butter over medium heat and sauté onion until soft, about 10 minutes. Whisk in white pepper, sage, Henderson's Relish, mace, Tabasco, parsley, and chopped broccoli stems. Sauté an additional 2 minutes, then add stock. Simmer for 30 minutes until the broccoli is fully cooked. Puree until smooth.
Add in cornstarch mixture and whisk until smooth. Now add in beer and milk and bring just bring to a boil. Add the grated cheddar and continue simmering, stirring frequently, until the broth becomes smooth. Add in the reserved broccoli florets and continue simmering until they turn bright green and are heated through.




Romanesco Broccoli-Mushroom Casserole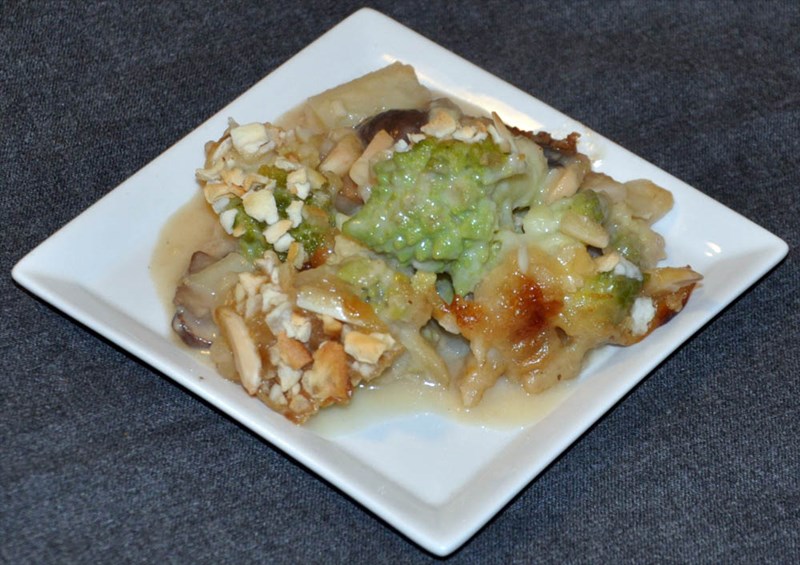 In this recipe we highlight Romanesco Broccoli, that poster-child for garden fractals and the Fibonacci Sequence. The original recipe, found in Maryana Vollstedt's1999 The Big Book of Casseroles, is among the most tasty broccoli dishes we've ever tried (like almost everything she has included in her cookbooks). By swapping out Romanesco for normal broccoli we have moved the flavor profile ever so slightly towards the sweet-starchiness of cauliflower. It is important to use white cheddar in the sauce to allow light-green color of the Romanesco to come through. Remember that you can also make this casserole the traditional way by using regular broccoli and orange cheddar.
5 cups Romanesco broccoli florets
3 tablespoons butter
2 cups sliced mushrooms
¼ cup flour
2 cups milk
2 tablespoons dry white wine
½ teaspoon Dijon mustard
½ teaspoon salt
¼ teaspoon freshly ground white pepper
1 cup grated extra-sharp white cheddar cheese
2 tablespoons grated parmesan
¼ cup slivered almonds, toasted until golden-brown
¼ cup bread crumbs
Preheat oven to 375º F. Blanch Romaneso florets in boiling water until tender-crisp, about 4 minutes. Drain and rinse under cold water and drain again.
Lightly oil a 2½ quart casserole and place into it the blanched broccoli. Melt 1 tablespoon butter in a medium sized saucepan over medium heat. Saute onions until just tender, about 5 minutes. Place these into casserole.
Melt remaining butter and whisk in the flour. Let the paste bubble and cook for 2 minutes, then whisk in the milk and wine, and continue whisking until the sauce thickens, about 2 minutes. Stir in mustard, salt, pepper and cheeses and continue whisking until the cheese melts and the sauce becomes smooth. Pour over the broccoli and mushrooms and gently mix all together. Top with almonds and bread crumbs and bake uncovered until the sauce thickens, about 35-45 minutes.




Broccoli-Carrot-Soba Salad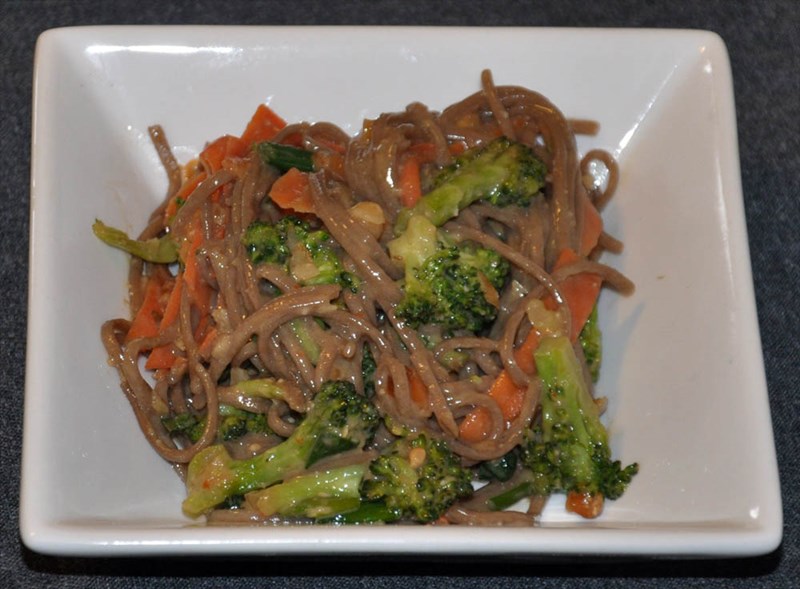 This easy and enormously tasty vegan salad is centered around soba, the Japanese buckwheat noodle. These are tossed with blanched broccoli florets, carrot ribbons, green onions and miso-peanut sauce. You will probably want to use a mild white or yellow miso, and the best of these are ones that you have made yourself.
¼ cup peanut butter
¼ cup miso
¼ cup mirin
¼ cup sugar
1/3 cup rice vinegar
1 tablespoon soy sauce
1 tablespoon ginger paste
½ cup canola oil
1 tablespoon sesame oil
1 pound carrots, peeled and cut into ribbons
1 pound broccoli florets, separated into small pieces
6 green onions, the bottoms thinly sliced and the leaves cut into 1" segments
¼ cup cilantro, minced
¼ cup chopped, roasted peanuts
¾ pound soba noodles
Whisk together peanut better, miso, mirin, sugar, rice vinegar, soy sauce, ginger paste and both oils in a small saucepan and bring to a simmer over medium-low heat. Remove from heat and let cool.
Make carrot ribbons by cutting peel carrots the long way with a potato peeler. Cut ribbons into 2" segments.
Blanch carrot ribbons and broccoli pieces in boiling water for 2 minutes. Drain, rinse under cold water, and drain again.
Cook soba noodles until al dente; drain and toss with a teaspoon of canola oil.
Toss together broccoli, carrots, green onion, cilantro, peanuts, and soba noodles with the peanut-miso dressing and serve at room temperature.




Stuffed Broccoli Pizza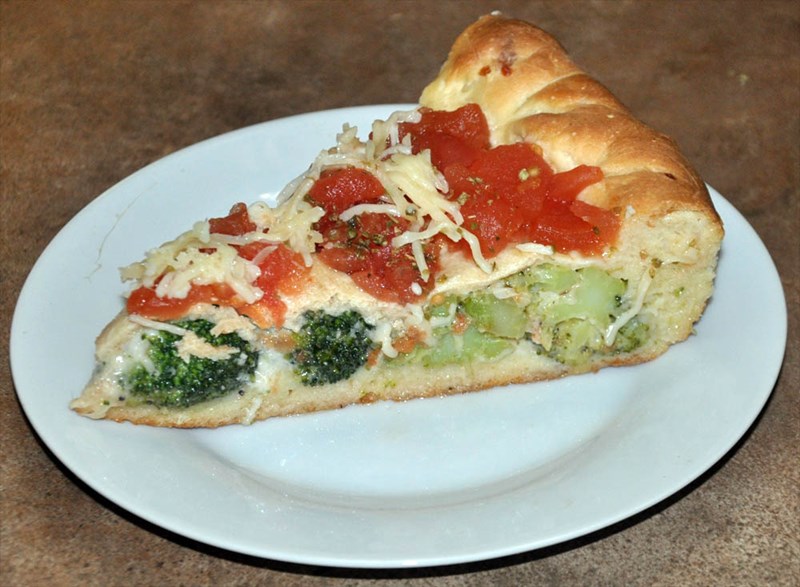 Chicago is known, among other things, for its deep dish pizza. In the late 1970s Edward Jacobson began making a stuffed deep dish pizza in his pizzeria (Edwardo's) in Rogers Park on the far north side of Chicago. These pies differed from typical Chicago deep dish pizzas by not only having a top crust, but by also using a typical Sicilian dough that does not include cornmeal. Edwardo's became best known for their soufflé-stuffed pizza in which a vegetable was sautéed in olive oil, garlic and red pepper and then mixed with grated fresh mozzarella before being put into the pie. While the most famous of these was made with chopped fresh spinach, other vegetables were also used, including broccoli. Ed shared his recipes for both his broccoli and spinach stuffed pizzas with Evelyne Slomon, and they appeared in her classic 1984 The Pizza Book (ISBN: 978-0812911138). As a result we have made many a soufflé-stuffed pizza. Our primary alteration to the original has been to use chopped tomatoes on the top crust, as this makes for a lighter pie that allows the flavor of the filling to come forward.
1½ cups water
2 tablespoons dry yeast
4½ cups flour
½ cup olive oil
2 teaspoon salt
Combine yeast with ½ cup water; let rest until foamy. Pour activated yeast and remaining water into a medium bowl and add in olive oil and 2 cups flour. Mix thoroughly with a spatula or wooded spoon. Mix in a third cup of flour, and as the dough begins to pull away from the sides of the bowl knead in the remaining flour a bit at a time. Knead until the dough no longer feels sticky. Place in a lightly oiled large bowl, cover securely, and let rise in a warm place until doubled in bulk.
1 tablespoon extra virgin olive oil
2 pounds broccoli, coarsely chopped
6 garlic cloves, peeled and minced
1 teaspoon crushed red pepper
1 pound mozzarella, shredded
salt and freshly ground black pepper to taste
2 cups diced tomatoes, drained
2 tablespoons shredded fresh basil
¼ cup grated parmesan cheese
Preheat oven to 500º F. Heat olive oil in a large pan over high heat. Add in broccoli, garlic, and red pepper and saute, stirring constantly, until the broccoli is just tender. Remove from heat and adjust seasonings with salt and black pepper. Allow mixture to cool to just above body temperature and stir in shredded mozzarella. Set aside.
Punch down risen dough and remove 1/3; set this small piece aside. Lightly oil a 15-inch deep dish pizza pan. Take the larger piece of dough and roll into a 16" diameter circle and place into the pizza pan. Fill with the broccoli-cheese mixture.
Roll out the remaining smaller piece of dough into a 14" circle and place on top of the filling. Crimp and seal the edges of the pie. Cut a few small holes in the upper crust to allow steam to escape. Let pie rise for 15 minutes.
Bake at 500º F. for 15 minutes. Lower oven temperature to 400º F. and continue baking another 10 minutes. Remove pie from oven and top with tomatoes, basil, and parmesan. Return to oven and continue baking a final 10 minutes. When done the crust will be golden-brown on the bottom.
Remove from oven and let rest 10-15 minutes before cutting and serving.