Jeff & Linda's Kitchen of Diversity
Anadama Rolls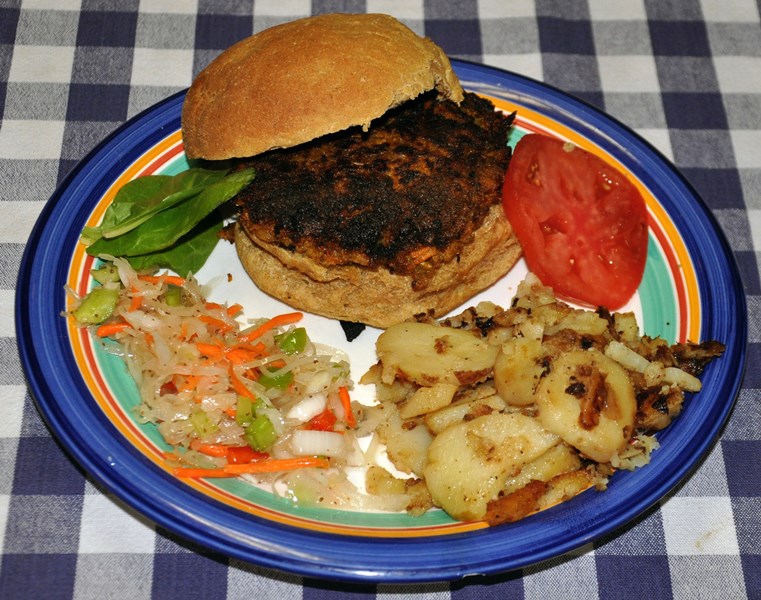 Our next burger and roll combination is a curry-flavored carrot and garbanzo burger that we accentuate by serving inside an Anadama roll. Anadama is a traditional yeast bread of the New England states and is known from before 1850 in the area around Rockport and Gloucester, Massachusetts. This wheat bread is made with cornmeal and molasses and is notable for its sunny corn flavor in combination with the deep sweetness of molasses. This flavor profile makes an excellent match with our carrot-walnut burgers.
2 tablespoons dry yeast dissolved into 2 tablespoons of warm water
2 cups water
1/3 cup molasses
6 cups white bread flour
1¼ cups cornmeal
1 tablespoon salt
¼ cup (4 tablespoons) butter at room temperature
Place dry yeast into warm water and let sit until foamy.
Place water into the bowl of a bench-top mixer along with the molasses and active yeast. At low speed mix in flours until a medium-soft dough is formed, about 2 minutes. If the dough is too stiff, add in more water. Sprinkle salt over the dough and continue mixing at medium speed for another 6 minutes. Leaving the mixer running on medium, drop butter in 1 tablespoon units into the bowl and wait until it has been incorporated until adding in the next. (The dough can also be made by hand; in this case add in the salt and butter with the flours, and knead until the dough is satiny, about 10-15 minutes.)
Cover bowl with a damp cloth or with a plastic bag, set in a warm place, and let raise until doubled.
Form and bake as per the general directions (click to follow link).