Jeff & Linda's Kitchen of Diversity
Curried Carrot-Walnut Burger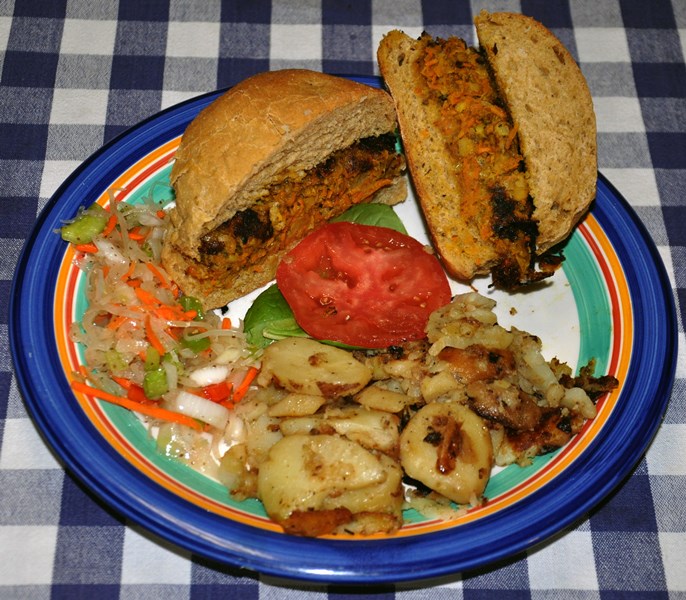 We love curry and carrots and walnuts, so what could be better than a curry carrot-walnut burger? These have an addictively complex flavor that plays well off the chickpeas, carrots, and mushrooms, and makes for an excellent addition to an Indian-themed summer meal. In this recipe we'll make use of two of the spice pastes that we prepared for the Baltistan dinner: the Balti masala and green masala pastes. Don't be shy in using more besan (chickpea) flour to thicken these burgers, as they will tend to fall apart if you don't use enough.
1 cup dry garbanzos, cooked until tender and drained
3 tablespoons canola oil
1 large onion, minced
2 tablespoons minced garlic
1 tablespoon Balti masala paste
1 tablespoon green masala paste
1 teaspoon fennel seed
4 ounces crimini or white button mushrooms, chopped
4 medium carrots, grated
¼ cup chopped walnuts
1 cup besan (chickpea) flour
½ teaspoon salt or more to taste
freshly ground black pepper to taste
Heat oil in a large skillet over medium heat. Add the minced onions and sauté, stirring frequently for 2 minutes. Add in minced garlic, both masala pastes and fennel seed, and continue cooking another 3 minutes. Add mushrooms and sauté another 5 minutes. Remove from heat.
Using a food processor or immersion blender coarsely puree the garbanzos and onion-garlic-mushroom mixture. Mix in the grated carrots, walnuts, besan flour, salt and pepper. If the mixture is not stiff enough to form patties, add in more besan flour. Let mixture rest for at least 30 minutes.
Form into patties and pre-bake as per the general directions (click to follow link).
We suggest you use a sweet onion like Alisa Craig, a thick, sweet carrot like Kuroda Long 8, and a nutty garlic like Burgundy. You can also grow your own fennel seed, which will taste much fresher than anything you can buy in a store.
We suggest serving these curry burgers on a split Anadama Roll topped with tomato, lettuce, and a large dollop of fruit chutney. We particularly enjoyed the Spicy Cranberry Jelly recipe described in Pat Chapman's cookbook, Taste of the Raj.