Jeff & Linda's Kitchen of Diversity
Lentil-Mushroom Burger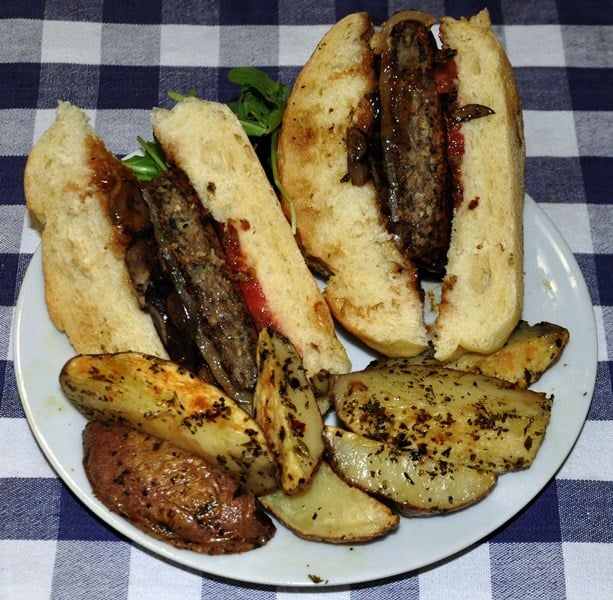 If you're looking for a vegetarian replacement for the ubiquitous ground beef hamburger, then this is the recipe you want to make first. The earthy qualities of the lentils plays off the oats and hearty mushrooms, which in combination with the classic seasonings for roast beef – celery seed and black pepper – makes a burger that even most die-hard hamburger eater will not be disappointed of.
¾ cup dried lentils cooked until tender and drained
½ pound cleaned and coarsely chopped crimini or button mushrooms
2 tablespoons olive oil
1½ cups minced onions
2 tablespoons minced garlic
½ teaspoon celery seed
¼ teaspoon freshly ground black pepper
½ teaspoon salt or more to taste
½ cup minced Italian flat-leaf parsley
2 cups old fashioned oatmeal, ground in a food processor to a coarse meal
Heat oil in a large skillet over medium heat. Add the minced onions and sauté, stirring frequently until they soften, about 5 minutes. Add in the garlic and cook another 2 minutes. Then add in the chopped mushrooms, celery seed, and black pepper and cook for another 5-10 minutes until the mushrooms until the expelled water has cooked off. Take off heat and season with salt and pepper.
Coarsely puree the lentils and onion-garlic-mushroom mixture in a food processor or with an immersion blender. Put in a large bowl, and add in the parsley and bread/cracker crumbs. Mix well with your hands. Taste the mixture and adjust the salt. If the mixture is too wet, add in more bread/cracker crumbs until a stiff paste is formed. Chill mixture for at least an hour.
Form into patties and pre-bake as per the general directions (click to follow link).
We suggest that you serve this burger on a split Semolina Roll, as you don't want the bun's flavor to compete with the burger itself. We find this combination to make exemplary mushroom-swiss burgers. All you need to do is sauté sliced crimini mushrooms in a little olive oil with some thyme and a pinch of salt until the mushrooms have released all their moisture and this has cooked away. Melt a slice of swiss cheese on the lentil burger patty in a skillet or grill, then top with the cooked mushrooms and some brown gravy made with standard bisto.
Bisto is a wonderful product that we discovered a number of years ago while visiting England. It is a vegan instant brown gravy mix that is made without industrial chemicals and stabilizers and miraculously tastes just like roast beef gravy. It can be a bit hard to find in North America, but is available from a number of online vendors if no local merchants carry it.
We would be remiss (as New Mexicans) if we also didn't mention that these patties make great green chile cheeseburgers. In this case you'll place the hot patty in a Semolina Roll, top with a slice of cheddar cheese, a roasted New Mexico green chile, lettuce, tomato, and then the condiments of your choice.
Use a flavorful onion like Stuttgarter, and a flat leaf parsley like Giant of Italy. You'll want to use a nice full flavored garlic like Serafini Red Italian. Also, don't forget that you can also grow your own celery seed. What you'll want to do is grow one of the 'smallage' types which is wild celery grown for its strongly flavored leaves as opposed to stems. These will flower and produce lots of tasty celery seed in their second year. A good variety for this type of production is Zwolsche Krul.