Jeff & Linda's Kitchen of Diversity
Pumpkin-Pecan Buns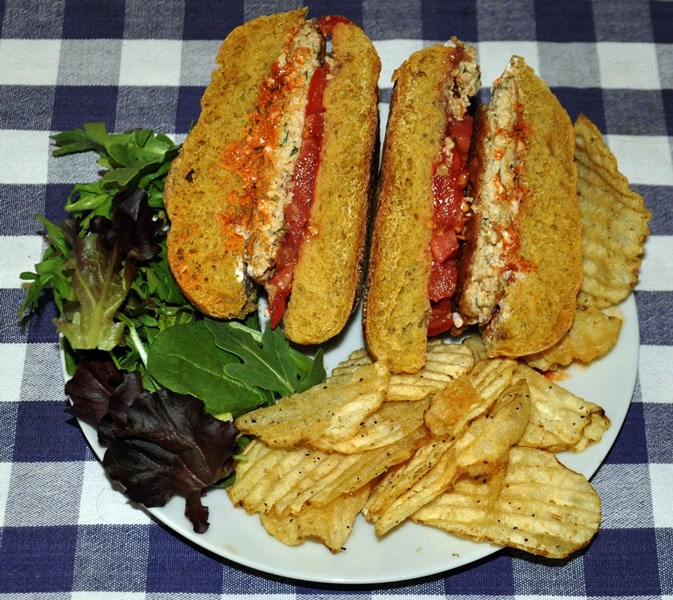 Our last roll and veggie burger combination is a modern recipe with no historical equivalents as it marries tofu with Middle Eastern seasonings.
We have chosen a pumpkin-pecan roll as its accompaniment. We find the earthy flavor of squash and sweet nutty accent of pecans to accentuate the sesame, garlic, and cumin in the burger.
2 pounds squash, cut open with the seeds removed
1½ cups raw pecan pieces
2 tablespoons dry yeast dissolved into 2 tablespoons warm water
2 cups water
½ cup what germ
1 teaspoon ground cumin
3¼ cups unbleached white bread flour
1¼ cups whole wheat flour
1 tablespoon sea salt
Bake the squash in a 400° F oven for about an hour, or until soft. Remove from oven and cool. Scoop the pulp from the skin and mash with a fork. Save 1½ cups of mashed squash, and use the rest for other cooking. Reset the oven to 350° F. Place pecan pieces on a baking pan, and roast in the oven until fragrant and lightly browned, about 10 minutes. Remove from oven and cool.
Place dry yeast into warm water and let sit until foamy.
Place water into the bowl of a bench-top mixer along with the squash, cumin, wheat germ, and active yeast. At low speed mix in flours until a medium-soft dough is formed, about 2 minutes. If the dough is too stiff, add in more water. Sprinkle salt over the dough and continue mixing at medium speed for another 6 minutes. Lower the mixer speed to low, and mix in the roasted pecan pieces until all have been incorporated into the dough. (The dough can also be made by hand; in this case add in the salt with the flours, and knead until the dough is satiny, about 10-15 minutes. Knead in the pecan pieces at the very end.)
Cover bowl with a damp cloth or with a plastic bag, set in a warm place, and let raise until doubled.
Form and bake as per the general directions (click to follow link).
You should consider using home-grown squash for this bread. The best types to use are one of the sweet, dense, non-stringy Cucurbita maxima or Cucurbita moschata varieties like Blue Hubbard, Candy Roaster, Chiriman, Galeux D'Eysines, Hidatsa, Long Island Cheese, or Sweet Meat.