Jeff & Linda's Kitchen of Diversity
Rice & Pea Burger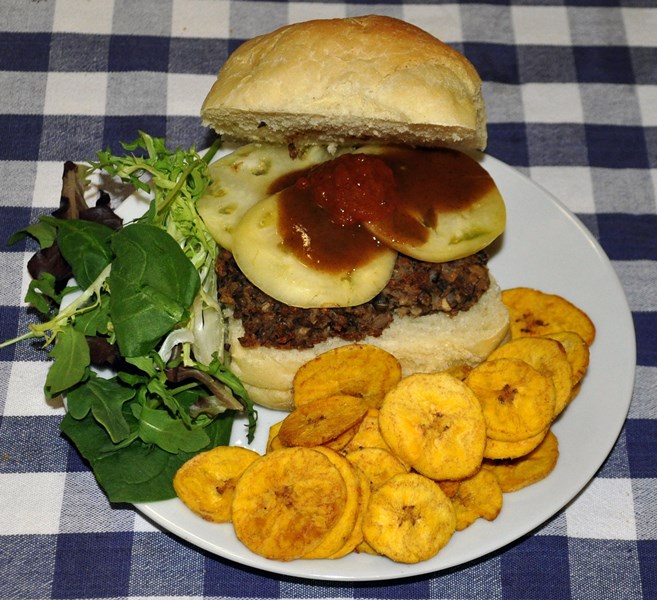 Rice and peas is a mainstay of the English-speaking islands of the Caribbean, and are traditionally eaten with the Sunday meal. In this dish, cooked peas are typically added to dry rice along with green onion, garlic, ginger, allspice, thyme, and scotch bonnet peppers and then simmered in coconut milk until the rice is tender.
The 'peas' used here are not English Garden Peas (Psium sativum) but rather Pigeon Peas (Cajanus cajan) a perennial tropical shrub that was domesticated about 3500 years ago from wild plants living in the dry tropical forest of eastern India. It spread from India into eastern and then western tropical Africa, and finally via the slave trade into the Caribbean. It is one of the most popular pulses in India where it is referred as Toor Dal.
The following burger follows the basic Caribbean rice & peas recipe, with alterations being made to allow it to be formed into patties and eaten on a bun.
1 cup dry pigeon peas, cooked until tender and drained
1 cup dry long-grain rice, cooked in 2 cups water until tender
2 tablespoons canola oil
1½ cups minced green onions
2 tablespoons minced garlic
1 tablespoon ginger paste
1 teaspoon freshly ground allspice
1 teaspoon dry thyme
1½ cups bread/cracker crumbs
2 tablespoons coconut milk powder
½ teaspoon Caribbean hot sauce
1 teaspoon salt or more to taste
freshly ground black pepper to taste
Heat oil in a large skillet over medium heat. Add the minced green onions and sauté for about 2 minutes. Add in the garlic, ginger paste, allspice, and thyme and cook another 2 minutes. Remove from heat.
Using a food processor or immersion blender, coarsely puree the cooked pigeon peas, rice, and green onion-garlic-ginger mixture. Mix with bread/cracker crumbs, coconut milk powder, hot sauce, salt, and pepper using your hands. Taste and adjust seasonings. Add more bread/cracker crumbs if the mixture is too wet to form patties. Let rest at least 30 minutes.
Form into patties and pre-bake as per the general directions (click to follow link).
You'll want to find – or make – an authentic Caribbean Hot Sauce for this recipe. These differ from the types usually found in North America by using scotch bonnet peppers as well as mustard and tropical fruit. We'll eventually show you how to make your own, but for now perhaps it is easiest to find a vendor selling Matouk's Hot Pepper Sauce. You'll also need to locate coconut milk powder which not only gives the burgers a coconut undertone but also serves as a binder. You should be able to find this item at any good oriental market. It is also available through the internet.
We recommend that you serve this burger on a split Semolina Roll, topped with lettuce, tomato, a slice of a mild sweet onion like Alisa Craig, Salsa Lizano, and a splash of a Caribbean Hot Pepper sauce if the burgers are not spicy enough.