Jeff & Linda's Kitchen of Diversity
Semolina Rolls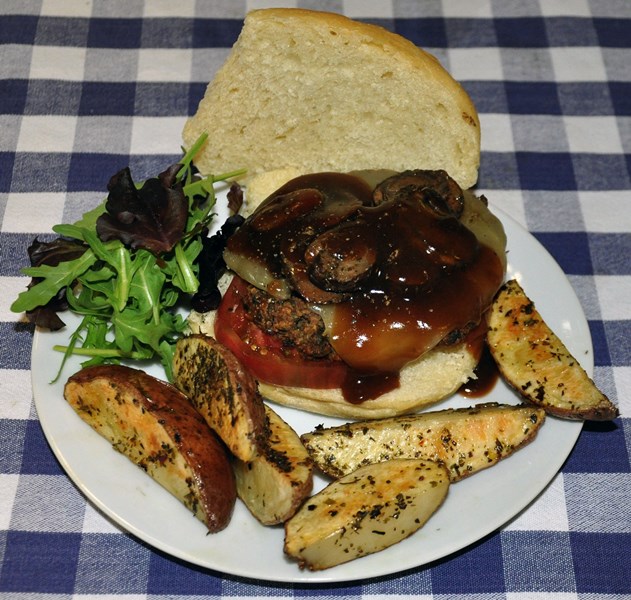 We begin with a basic roll that we'll pair with two of the upcoming burgers: Mushroom-Lentil and Rice & Pea. This is a nice, neutrally-flavored roll that tastes of grain and yeast. It is wonderfully light on the inside but with a toothsome chewiness in the crust.
2 tablespoons dry yeast dissolved in 2 tablespoons water
2 cups water
2½ cups unbleached white bread flour
3½ cups fine durum flour / fine semolina
1 tablespoon sea salt
¼ cup olive oil
Place dry yeast into warm water and let sit until foamy.
Place water into the bowl of a bench-top mixer along with the active yeast and flours. At low speed mix until a medium-soft dough is formed, about 2 minutes. If the dough is too stiff, add in more water. Sprinkle salt over the dough and continue mixing at medium speed for another 6 minutes. Keeping mixing speed at medium, slowly pour the olive oil into the bowl as a narrow stream. Mix for another 2-3 minutes until all the oil has been absorbed into the dough. (The dough can also be made by hand; in this case add in the salt and olive oil with the flours, and knead until the dough is satiny, about 10-15 minutes.)
Cover bowl with a damp cloth or with a plastic bag, set in a warm place, and let raise until doubled.
Form and bake as per the general directions (click to follow link).