Bengali Cabbage and Potato Curry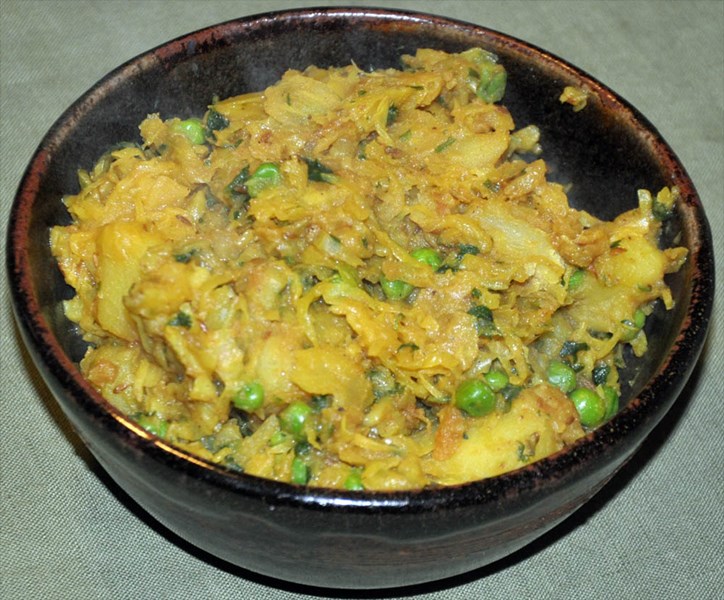 Bengali cooking differs from other cuisines of the Indian subcontinent in its use of more simple spice mixes and avoidance of heavy sauces. The following is an excellent example of a vegan Bengali bhoona (stir fry) curry based on cabbage and potato, adapted from Bharti Kirchner's 1992 cookbook The Healthy Cuisine of India(ISBN 978-1565651142).
3 tablespoons canola oil
2 pounds potatoes, peeled and cut into 1" dice
1 teaspoon cumin seed
6 cups shredded cabbage
1 hot green chile, seeded and minced
1/3 cup water
1 teaspoon salt
½ teaspoon turmeric
1 teaspoon sugar
¼ teaspoon cayenne pepper
½ cup peas
½ teaspoon garam masala
Heat 2 tablespoons of oil in a large pan or dutch oven over medium heat. Add potatoes and fry until they are half cooked, about 15 minutes. Remove from pan with a slotted spoon and reserve.
Add remaining 1 tablespoon oil to the pan. Stir fry the cumin seed until they brown and become fragrant. Add cabbage, green chile, and water. Lower heat to medium and cook, covered, until the cabbage collapses and becomes soft, about 10 minutes. Mix in salt, turmeric, sugar, cayenne, and potatoes. Cover and simmer until the potatoes are tender, about 15-20 minutes. Mix in peas and garam masala and heat through. Serve warm with rice, chapati, or nan.




Rice and Cabbage Pilaf (Λαχανόρυζο Θρακιώτικο)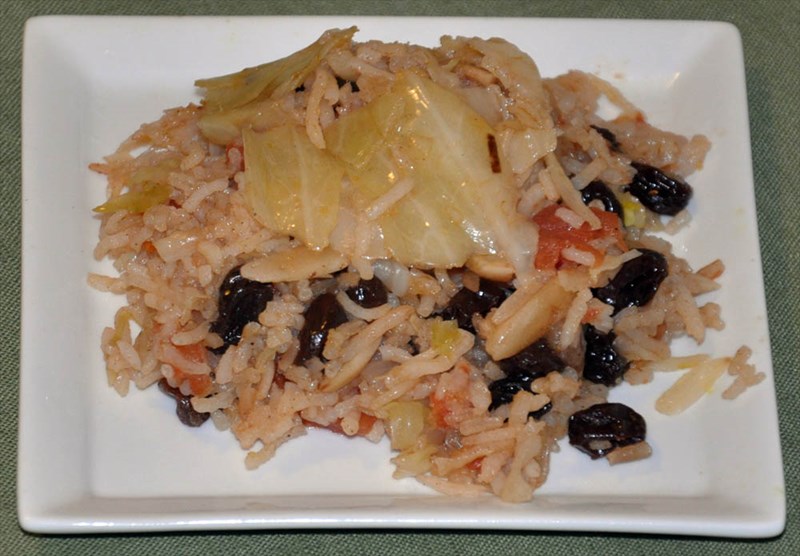 As related in Diane Kochilas' 1990 cookbook The Food and Wine of Greece, the cuisine of Thrace in far northeastern Greece diverges considerably from the rest of the country based on its proximity to Bulgaria. The following recipe exhibits this Slavic-Greek fusion well by using shredded cabbage in an otherwise fairly typical rice pilaf. This really unusual but very tasty dish is an excellent way to use freshly harvested cabbage from your garden.
2 tablespoons butter
1 cup onion, coarsely chopped
4 cups cabbage, shredded
1 cup tomato, peeled and chopped
2¾ cups water
1 cup basmati rice
½ cup dark seedless raisins
½ cup slivered almonds, roasted
¼ teaspoon cinnamon
Salt, to taste
Melt butter in a large pot over medium heat and saute onion until soft, about 5 minutes. Add cabbage and continue cooking, stirring frequently, until it becomes soft and translucent in 5 to 10 more minutes. Add in the tomatoes and water and bring the mixture to a boil. Add in remaining ingredients. Return the mixture to a boil then lower heat, cover, and simmer until the rice is cooked and all the liquid has been absorbed, about 20 minutes. Remove from heat and let sit for 10 minutes, then fluff with fork and serve warm.




Vegetable Soup - Fransozensuppe
(from the Fall 2014 Heirloom Gardener)
Soups were a vital part of the communal kitchen repertoire, as they were able to feed a large number of people simply, and typically with ingredients that were always on hand. Not a day went by when some soup was not served, especially for the noon meal. In late summer, one of the most commonly served was Fransozensuppe, or "French Soup" in the Amana German dialect, which was made from a variety of fresh vegetables harvested from the kitchen garden, and is in many ways a Germanic-version of minestrone. The following recipe should be seen as a suggestion for Fransozensuppe, and you should make yours based on the produce available in your garden: celery, green beans, fresh lima beans, turnips, or most other produce will also work well. The only things that should always be present are the tomatoes, cabbage, and onion. While this recipe makes 12 servings at least, it keeps well in the refrigerator and freezer, so there is no reason to not make a large batch and then be able to enjoy a simple dinner at some point in the future from the leftovers.
2 quarts vegetable stock
1 quart seeded and chopped tomatoes
2 quarts shredded cabbage
3 medium onions, cut into medium dice
3 medium carrots, cut into small dice
4 medium waxy, red potatoes, cut into large dice
1 tablespoon celery seed
1 tablespoon salt
freshly ground black pepper to taste
Bring stock to a gentle boil. Add in the vegetables and simmer until tender. Add in salt and pepper, taste, and adjust by adding more if necessary. While not at all traditional, we also like to add a few drops of hot pepper sauce to our bowl of Fransozensuppe.




Kraut Salad - Krautsalat
(from the Fall 2014 Heirloom Gardener)
A lot of cabbage was grown in the Amana kitchen gardens, primarily to make sauerkraut for use in the communal kitchens as well as for sale outside of the colony. Seasons of Plenty relates that in 1900 the kitchen garden for the Ruedy Kitchen in Middle Amana alone produced 100 gallons of sauerkraut for kitchen use, with another 165 gallons being sold to markets as far away as Chicago.
A common way to use this kraut was to substitute it for fresh shredded cabbage when making German coleslaw, which uses a vinegar-sugar dressing and avoids mayonnaise. While this dish was commonly served in the communal kitchens and remains a frequent accompaniment to meals in modern Amana restaurants, sadly no recipe for it is found in either Amana Colony Recipes or Seasons of Plenty. Instead, the recipe below is adapted from one found in The Best of the Open Line, a wonderful collection of eastern Iowa recipes. The Open Line began in 1963 as a live call-in radio show in which listeners were able to share their favorite recipes with all the other listeners within the broadcast radius of Cedar Rapids AM Radio Station WMT. So many good recipes had been sent out over the airwaves that by 1969 the show's host, Jim Lloyd, started publishing them in a series of three cookbooks. The recipe which inspired the following appeared in the initial cookbook in this series, and was shared by an Iowa City listener. Iowa City, home of the University of Iowa and initial state capitol, is one of the closest cities to the Amana Colonies, being only 25 miles distant. Serves at least 6.
1/3 cup canola oil
1/3 cup white wine vinegar
1 cup sugar
2½ pounds sauerkraut, rinsed and squeezed dry
½ cup chopped onions
½ cup chopped green peppers
½ cup chopped red peppers
½ cup chopped celery
½ cup carrots, cut into small dice
½ teaspoon celery seed
Beat salad oil, vinegar, and sugar over low heat until sugar is dissolved. Combine remaining ingredients and pour syrup over mixed ingredients. Stir to coat all ingredients well and refrigerate overnight for best flavor.
Do not use canned sauerkraut unless you want your salad to taste like a can. Rather, use fresh-homemade kraut, or store-bought sealed in glass jars or in plastic bags.




Cooked Red Cabbage - Rotkraut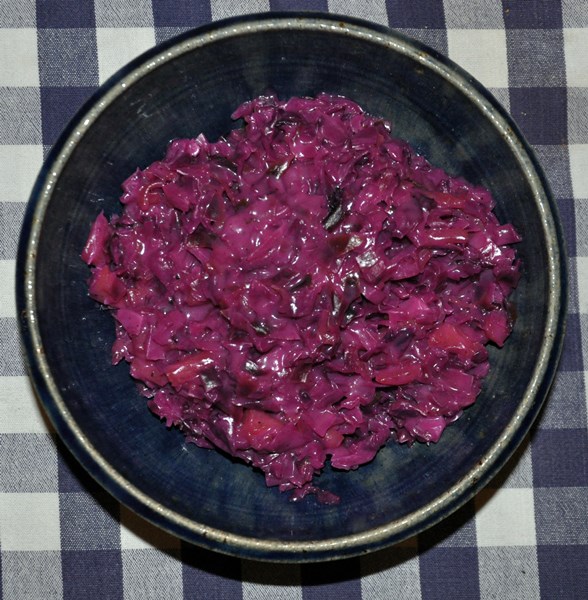 A lot of cabbage was grown in the Amana kitchen gardens, primarily to make sauerkraut for use in the communal kitchens as well as for sale outside of the colony. Seasons of Plenty relates that in 1900 the kitchen garden for the Ruedy Kitchen in Middle Amana produced 100 gallons of sauerkraut for kitchen use, with another 165 gallons being sold to markets as far away as Chicago.
Sauerkraut takes at least a month to ferment and sour. When the Küchebaas wanted to serve cabbage and the kraut was not yet ready -- or the winter's supply had run out -- the kitchen would often make a quick kraut by cooking fresh cabbage with vinegar and other flavorings. In the following recipe, the focal ingredient is red cabbage, which is cooked in this way with over-wintered apples, sugar, butter, and flour. Serves at least 4.
2 tablespoons butter
4 cups red cabbage, cut into medium dice
2 tart cooking apples, peeled, cored, and cut into medium dice
1 cup water
2 tablespoons flour
3 tablespoons white wine vinegar
3 tablespoons sugar
salt and freshly ground black pepper to taste
Melt butter over medium heat and add in cabbage, apple, and water and cook until tender, about 20 minutes. Mix in flour, then vinegar, sugar, salt and black pepper. Keep over heat until the sauce thickens. Serve hot.




Vegetarian Runza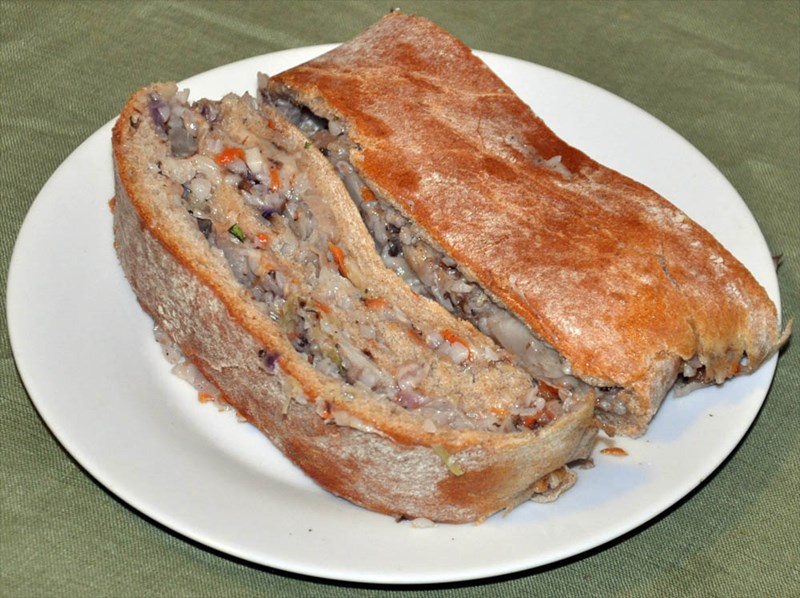 One of our favorite activities is searching out unique local foods, wheather it be breaded pork tenderloins in Iowa, green chili cheese fries in New Mexico, pepperoni rolls in West Virginia, or lobster rolls in Maine. When passing through Nebraska you are likely to run into the Runza Restaurant chain, which specializes in the local specality, runzas, or bierocks as they are known in Kansas and other places in the Great Plains. These are yeasted rolls filled with a savory combination of various ground meats, cabbage or saurkraut, onion and cheese. Originating in Russia, Jeff has enjoyed fried versions at both Siberian roadside stands and Moscow kiosks.
Typically these savory buns (both in North America and Russia) are filled with meat and vegetables, making them out-of-bounds for a vegetarian diet. But they are delicious and we decided to take on the challenge of making a meat-free version. We are quite happy with the result of our experimentation.
Note that in the following recipe we have made our own rye bread dough (based on a Burgundy cider-rye bread detailed in Nancy Silverton's 1996 Breads from the La Brea Bakery; ISBN 978-0679409076) to encase the buckwheat-cabbage-onion-cheese filling. Traditionally a simple white wheat dough is used, but we like the extra flavor imparted by the rye. If you don't feel like making your own, feel free to use pre-made yeast bread dough in your local restaurant freezer section.
2 tablespoon dry yeast
2¼ cups body temperature water
1 tablespoon barley malt syrup
½ cup hard cider
2 cups dark rye flour
4 cups white bread flour
2 teaspoons salt
Mix yeast with ¼ cup water and let rest until it becomes foamy. Put into large bowl with remaining 2 cups water, malt syrup, and cider. Mix in rye flour and 2 cups white flour with a wooden spoon. Mix in remaining flour ½ cup at a time until the dough begins to pull away from the side of the bowl. Mix in salt, and knead in the remaining flour ½ cup at a time. Continue kneading until the dough becomes smooth and elastic. Place in a lightly oiled bowl, cover, and let rise.
1 cup whole buckwheat groats
2 tablespoons extra-virgin olive oil (in all)
2 cups stock
1 medium onion, finely diced
2 cloves garlic, crushed
4 cups cabbage, shredded
12 oz. shredded Gruyere (or Swiss) cheese
salt and freshly ground black pepper to taste
While dough is rising, make the runza filling. Heat 1 tablespoon olive oil in a 1 quart saucepan over medium-high heat. Sauté buckwheat groats until they turn golden brown. Add in stock. Bring to a boil, reduce heat, and simmer for 20 minutes until all the stock has been absorbed and the buckwheat is tender. Remove from heat.
Heat remaining 1 tablespoon olive oil in a large pan. Sauté onion and garlic over medium heat until they have softened and become translucent, about 5 minutes. Add in shredded cabbage, cover pan, and cook, stirring occasionally, until the cabbage has collapsed and softened, about 10 minutes.
Remove from heat and allow to cool. When it reaches body temperature, mix in the cooked buckwheat and shredded cheese. Adjust seasoning to taste with salt and pepper.
Heat oven to 400° F.
When the dough has doubled in volume punch it down and roll it out into a 12x18" rectangle. Spread the filling over the top and within 1" of the edge. Roll up, sealing the bottom and sides. Place into a lightly greased baking pan and bake for 40 minutes until the dough is fully cooked and had browned nicely on both the top and bottom. Remove from oven and let cool for approximately 15 minutes. Cut into slices and serve warm.