Ailazan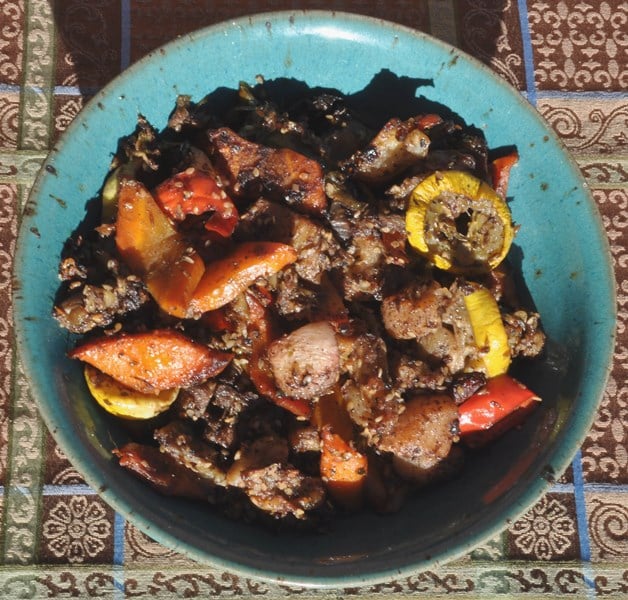 While we looked west to the Maghreb for our iftar soup, we now look east for the following roasted vegetable dish which originated in the Caucasus. The cuisines of the Caucasus peoples – in particular the Armenians and Georgians – represent a unique combination of both savory and sweet flavors. In the case of this recipe its eastern origins are suggested by the use of sweet flavorings like spearmint, cinnamon, and cardamom in combination with more savory ingredients like cumin and olive oil, the nuttiness of sesame seeds, and the sweet/sour/peppery contribution of sumac. While you'll want to keep the spice mix the same, you should not feel obliged to use the exact vegetables listed below, as they simply represent what was fresh and available in Albuquerque when we trailed the recipe in mid-June. So, head out to your garden or local farmer's market and choose a nice mélange of roasting vegetables. As long as they are fresh and harvested at their peak of flavor you can't go wrong. Serves 4-6:
2 medium eggplants cut into ½ inch slices, and then into 2 inch wide planks
4 carrots cut into ¼ inch thick diamond shapes
1 summer squash cut into ½ inch thick rounds
12 cipollini onions, skinned but left whole
½ each of a red, yellow and green pepper, cut into ½ inch wide strips
6-8 small turnips, peeled and quartered
1/3 cup olive oil
1 tablespoon dried spearmint
1 tablespoon dried sumac
½ teaspoon ground cinnamon
1 teaspoon ground cardamom
1 teaspoon ground cumin
¼ cup sesame seeds
salt and ground pepper to taste
Preheat oven to 450° F. Toss prepared vegetables with spice mix, sesame and olive oil. Place in a single layer on a large oiled pan. Roast for 10 minutes, stir vegetables and seasonings and cover pan. Return to oven and reduce heat to 350° F. Bake for another hour, allowing vegetables to steam. Uncover pan, stir vegetables and seasonings, and continue roasting uncovered until the vegetables are well browned, about 30 minutes.
The vegetables may be served either hot or cooled to room temperature. While they are wonderful eaten on their own, they are especially nice when stuffed into a splitkhoubz loaf and topped with laban sauce.
You'll need to find a Middle Eastern market for ground sumac, which is related to but different tasting than the various types of wild sumac found throughout North America. This spice is also available from on-line vendors. Just be sure you are using freshly ground sumac as its vibrant flavor will fade within a few years. Also be sure to use spearmint which is much sweeter than toothpaste-flavored peppermint.




Balti Carrots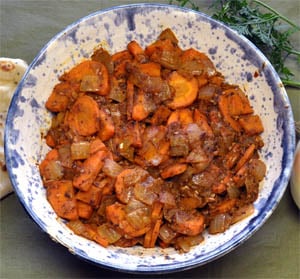 Carrots were initially domesticated from their wild ancestors in an area extending from Baltistan through Afghanistan through the central Asia Republics. These tend to have yellow or purple roots and hairy leaves.
It should not be surprising, then, that carrots feature in traditional Balti cooking. Here we'll blanch carrot slices until tender, and then toss with Tandoori Masala Paste and a few other seasonings. These may be the best cooked carrots you've ever eaten! Serves 6
3 pounds Carrots, washed, peeled, and cut into ¼ inch wide slices
¼ cup Canola oil
6 large Garlic cloves, thinly sliced
1 pound coarsely chopped Onion
1/3 cup Tandoori Masala Paste
1/3 cup Lemon juice
3 tablespoons dry Fenugreek (Methi) leaf
Blanch carrots in boiling water until just tender. Remove from hot water and cool under running water. Drain.
Heat oil in large skillet. Add Garlic and stir fry for 15 seconds; add Onion and stir fry for another 2 minutes.
Add Tandoori Paste, Lemon Juice, and dry Fenugreek leaf. Continue stir frying for 2 additional minutes.
Add drained, blanched carrots, and stir until carrots have warmed to the temperature of the sauce. Remove from heat and serve.




Commissary Carrot Cupcake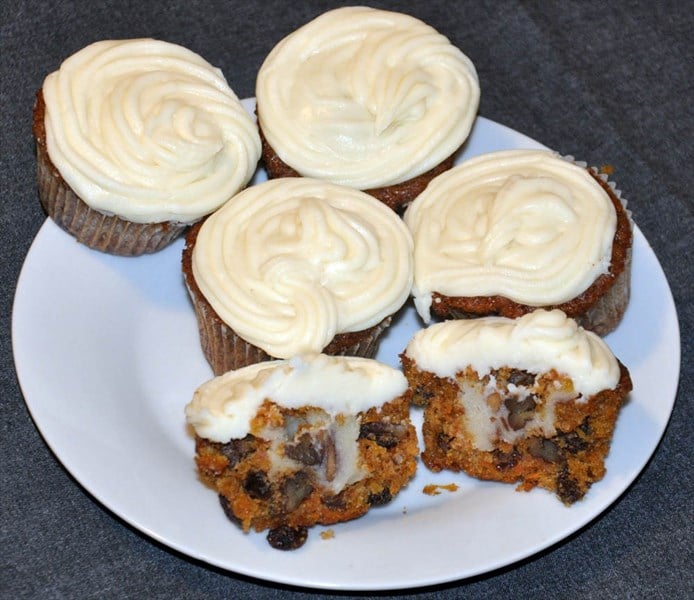 If you have ever had a carrot cake at a high-end coffee house (often for more than $5 a slice) then you have eaten one of the descendants of this amazing desert that helped revolutionize North American cooking. The original inspiration can be traced to Steve Poses, who opened the groundbreaking Frog Restaurant in Philadelphia in 1973. This little restaurant literally invented Asian/European fusion cooking in North America. Later he opened The Commissary, a trendsetting upscale cafeteria in which this iconic carrot cake first appeared.
We have tweaked the original recipe, which can be found on Steve Poses' Wordpress site, by swapping out cow milk and cream for goat milk and chevre. We find that the more savory flavor of the goad milk products makes for – if possible – an even more tasty and memorable cake than the original. We have also altered the recipe by turning the ingredients into two dozen filled cupcakes rather than a single large cake that will serve 20. The individual cupcakes are easily frozen after filling with the pecan nougat, keeping them fresh for a longer period of time. We simply take these from the freezer, and when they have thawed but are still cold, we frost them.
We recommend that you make the pecan nougat and chevre frosting first and allow them to chill overnight in the fridge. You'll also want to make the cupcakes far enough in advance that they are completely cool before you fill and frost them. You may want to consider doing these extravagant delicacies over a three day period, making the filling and frosting on day one, the cupcakes on day two, with filling, frosting and easting/freezing on day three.
Pecan Cream Filling
¾ cups pecans, coarsely chopped
¾ cups sugar
2 tablespoons flour
1/3 teaspoon salt
1/3 cup goat milk (the creamier the better)
½ cup butter
2 tablespoons chevre
1 teaspoon vanilla extract
Toast pecans in a 375° F oven until they turn golden, about 10-15 minutes. Remove from oven and allow to cool. Melt better and chevre in a saucepan over medium heat with sugar. Whisk in milk, salt and flour. When the all these ingredients have integrated and the sauce has begun to turn a golden brown color – about 20 minutes – take the pan off the heat. Stir in the pecans and vanilla. Allow to chill completely in a refrigerator before filling the cupcakes.
Chevre Frosting
8 oz butter
8 oz chevre
1 pound powdered sugar
1 teaspoon vanilla extract
Melt butter and chevre together until both are very soft – but not liquid. Add in vanilla and powdered sugar and whisk until the mixture is loose but holds together. Chill completely to allow the frosting to fully set before applying to cake.
Carrot Cupcakes
1½ cup corn oil
2 cups flour
2 cups sugar
2 teaspoons cinnamon
2 teaspoons baking soda
1 teaspoon salt
4 eggs
4 cups grated carrots
1 cup chopped pecans, toasted
1 cup raisins
Preheat the oven to 350° F. Have ready two greased and floured cupcake pans – for a total of 24 cupcakes. In a large bowl, whisk together the corn oil and sugar. Sift together the flour, cinnamon, baking powder, baking soda and salt. Sift half the dry ingredients into the sugar-oil mixture and blend. Alternately sift in the rest of the dry ingredients while adding the eggs, one by one. Combine well. Add the carrots, raisins, and pecans. Pour mixture into the cupcake pans and bake for 45 minutes.
To assemble the cupcakes, cut a hole into the center of each cake being sure to not cut through the bottom. Reserve the cupcake plug. A cupcake holer is an excellent tool for this job and can usually be purchased for around $2. Fill the hole with the pecan nougat, and place the cake plug back on top, which will stick up like an 'outie' belly button. Don't worry about this, as it will be covered in frosting. If you plan on freezing the cupcakes for later use, now is the time to do this. Just before serving, frost with the chevre frosting.




Carrot & Daikon Salad and Pickled Ginger
Bentō usually contains various vinegared foods or sunomono (酢の物) in which raw or cooked vegetables and fruits (or other foods) are dressed in a thin rice vinegar-based sauce. It is important to use rice vinegar for these dishes as it has a mild taste that will not overwhelm the main ingredients, yet has more flavor than distilled white vinegar. We'll make a total of three sunomono for our spring bentō: two based on crops that have been held for the winter in the root cellar, and one based on fresh spring greens. Today we'll focus on the root crop sunomono.
A major goal of any Japanese meal (and bentō in particular) is that it be as beautiful to look at as it is to eat. Thus, there should be an array of colors and textures present in the various nibbles. The carrot and daikon salad is stunning in with its deep orange and white matchsticks, interspersed with bits of dried apricot, and is wonderfully crunchy. It tastes great, too.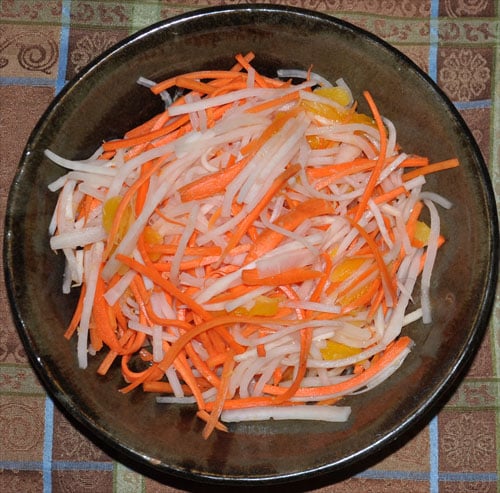 Carrot and Daikon Salad (なますor Namasu)
1 medium carrot, peeled and cut into matchsticks
½ pound daikon radish, peeled and cut into matchsticks
¼ cup slivered dried apricots
3 tablespoons rice vinegar
1½ tablespoons sugar
1 tablespoon mirin
½ teaspoon grated lemon peel
½ teaspoon salt
Place prepared carrot, daikon, and apricots into a bowl. In a small jar mix together the remaining ingredients and when everything is dissolved pour over the carrot/daikon/apricot mixture. Toss well and refrigerate at least 30 minutes. Before placing into your bentō box, let portions drain to remove excess dressing.
While cutting the carrot and daikon into matchsticks can be done by hand, it is an excellent job for a mandolin using the julienne plate. If you don't own one, you should consider getting one for your kitchen: we bought ours for only a dollar at a second-hand store.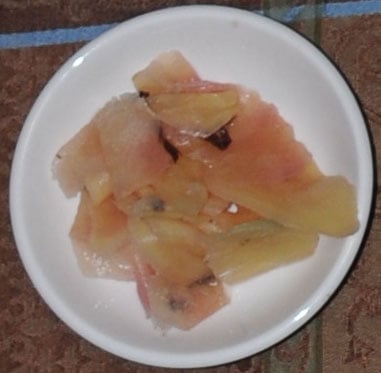 Next, we'll make pickled ginger, the ubiquitous condiment served in sushi restaurants. It is a wonderful palate-cleanser, making it possible to switch between various foods and be able to fully appreciate the flavors of each. While most have probably only tried pickled ginger from the store, it is easy to make at home, and wow -- does the home made pack a much stronger ginger punch! You probably will never buy this again.
Pickled Ginger (ガリor Gari)
1/3 pound ginger root
1/3 cup rice vinegar
¼ cup sugar
1/3 teaspoon salt
3-4 dark red shiso leaves
Scrape the brown skin off the ginger roots using a spoon. Shave into paper-thin slices using a mandolin or a sharp knife. Blanch in boiling water for 30 seconds; drain.
Mix together the vinegar, sugar and salt until everything is dissolved. Shred the shiso leaves. Put the blanched ginger, shredded shiso, and vinegar dressing into a ½ pint canning jar. Cap and shake vigorously. Refrigerate. The ginger slices can be eaten after 24 hours, but will improve and turn a deeper pink over the next week or three.
Shaving the ginger into thin sheets really can't be done by hand -- although you can try. You are better off using a mandoline if you have one.





Carrot – Ginger Soup
This is an excellent early spring vegan soup, full of flavor but yet also light. It has been adapted from the 2004 S.O.U.P.S. (Seattle's Own Undeniably Perfect Soups; ISBN 978-1570614262) cookbook by chef Michael Congdon of Seattle's Hopvine Pub. While the original recipe includes orange juice concentrate and green onions, we have found these to be absolutely in the 'optional' category and may actually prefer it without these ingredients. Try it either way!
2 tablespoons canola oil
1 onion, thinly sliced
2" piece of fresh ginger, peeled and minced
¼ teaspoon cayenne
2 teaspoon salt
1 ½ pounds carrots, peeled and grated
6 cups vegetable stock
¼ cup orange juice concentrate (optional)
1 teaspoon sesame oil
2 green onions, chopped (optional)
salt and freshly ground white pepper to taste
Saute onion in oil over medium-heat until softened, about 5 minutes. Add in ginger paste, cayenne and salt. Stir well and cook for another 5 minutes. Add in the shredded carrots, another teaspoon salt, and stock. Bring to a boil, cover, and let simmer for 20 minutes until the carrots are fully cooked and soft.
Remove from heat and puree smooth. Return the soup to your pot, add in orange juice concentrate (if using) and adjust seasonings with salt and pepper. Heat through and garnish with sesame oil and chopped green onion.




Curried Carrot-Walnut Burger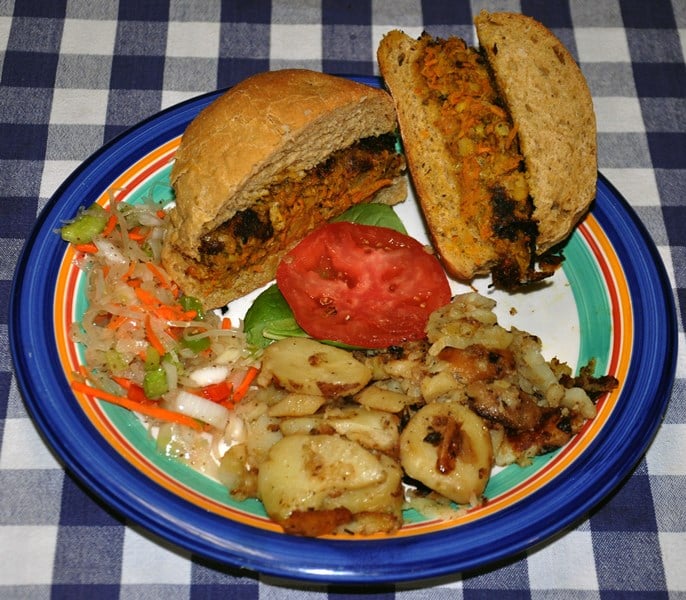 We love curry and carrots and walnuts, so what could be better than a curry carrot-walnut burger? These have an addictively complex flavor that plays well off the chickpeas, carrots, and mushrooms, and makes for an excellent addition to an Indian-themed summer meal. In this recipe we'll make use of two of the spice pastes that we prepared for the Baltistan dinner: the Balti masala and green masala pastes. Don't be shy in using more besan (chickpea) flour to thicken these burgers, as they will tend to fall apart if you don't use enough.
1 cup dry garbanzos, cooked until tender and drained
3 tablespoons canola oil
1 large onion, minced
2 tablespoons minced garlic
1 tablespoon Balti masala paste
1 tablespoon green masala paste
1 teaspoon fennel seed
4 ounces crimini or white button mushrooms, chopped
4 medium carrots, grated
¼ cup chopped walnuts
1 cup besan (chickpea) flour
½ teaspoon salt or more to taste
freshly ground black pepper to taste
Heat oil in a large skillet over medium heat. Add the minced onions and sauté, stirring frequently for 2 minutes. Add in minced garlic, both masala pastes and fennel seed, and continue cooking another 3 minutes. Add mushrooms and sauté another 5 minutes. Remove from heat.
Using a food processor or immersion blender coarsely puree the garbanzos and onion-garlic-mushroom mixture. Mix in the grated carrots, walnuts, besan flour, salt and pepper. If the mixture is not stiff enough to form patties, add in more besan flour. Let mixture rest for at least 30 minutes.
Form into patties and pre-bake as per the general directions (click to follow link).
We suggest serving these curry burgers on a split Anadama Roll topped with tomato, lettuce, and a large dollop of fruit chutney. We particularly enjoyed the Spicy Cranberry Jelly recipe described in Pat Chapman's cookbook, Taste of the Raj.




Moroccan Carrot Salad
Carrot salads are often dressed with sweet, mayonnaise based sauces and are loaded up with raisins. As a result, they often go uneaten at the dinner table. A better way to make carrot salads is by taking the approach used throughout the Mahgreb and to toss the shredded carrots with oranges and to use a light lemon-olive oil dressing. The following, adapted from one presented in the Cook's Illustrated 2005 Best American Side Dishes, is an excellent example. Remember that the salad will taste better the second day after all the flavors have melded.
1 pound carrots, peeled and grated
2 blood oranges, segmented and de-seeded
1 teaspoon honey
1 tablespoon lemon juice
¼ cup extra-virgin olive oil
1 teaspoon cumin, roasted and ground
½ teaspoon salt
¼ teaspoon cayenne
¼ teaspoon cinnamon
¼ cup cilantro, minced
Prepare carrots and oranges, toss together, and set aside. Make the dressing by whisking together the honey, lemon juice, olive oil, cumin, salt, cayenne, and cinnamon. Pour over carrots and oranges, and toss with the cilantro. Let sit for about an hour before serving to allow the flavors to meld.




Torta de Verduras
One of the more iconic tapas dishes is the tortilla. While we in the New World immediately think of the Mexican flatbread (either corn or wheat) when hear this name, it means a very different thing in the Iberian Peninsula. There, a 'tortilla' is a 'little pie' most often made from sliced potatoes and onion and held together with beaten eggs. It is likely that some form of this tortilla is served at most tapas assortments.
We decided to share with you something a little different – a torta, or pie. In the case of Torta de Verduras, it is a Vegetable Pie, made from a variety of summer vegetables held together with beaten eggs combined with a creamy béchamel sauce. It resembles a cheese and cream-free quiche filling without a crust, and is served just as the more familiar tortilla is – namely as cut slices. Serves 6
1 medium onion, finely chopped
3 cloves garlic, minced
¼ cup olive oil
½ cup diced potato
½ cup diced carrot
½ cup diced green beans
½ cup diced cauliflower
½ cup diced zucchini
½ cup peas
2 tablespoons minced parsley
1 tablespoon minced thyme
3 eggs, beaten
1 cup béchamel sauce (see below)
¼ teaspoon salt
¼ teaspoon freshly ground pepper
Blanch the diced vegetables until partially cooked, about 1 minute for the green beans and zucchini, 2 minutes for the cauliflower, and 3 minutes for the carrots and potatoes. Remove from water and drain.
Sauté onion and garlic in oil over medium heat until they begin to turn translucent. Add in the blanched vegetables and peas, and sauté for another 3 minutes.
Remove from heat. Stir in the parsley, thyme, béchamel (see recipe below), beaten eggs, salt and pepper. Pour into a buttered 9x12 inch pan, and bake in a preheated 375° F oven for 15-20 minutes until the tart has set in the center.
Cool and cut into squares. Serve at room temperature.
Salsa Béchamel
1 tablespoon butter
1 tablespoon flour
¾ cup milk
1/8 teaspoon freshly ground nutmeg
salt and freshly ground black pepper to taste
Melt butter in saucepan over medium heat. Whisk in flour and let bubble for about a minute. Stir in milk and whisk until smooth. Cook until thickened. Add in nutmeg, salt and pepper.




Ethiopian Vegetables (Yataklete Kilkil)
This simple yet very tasty mildly spiced dish is a wonderful accompaniment to the more strongly flavored ones in this meal. While we like the combination of potatoes, carrots, and green beans as the main vegetables in this medley, consider using whatever fresh produce is available from your garden. Other possible tasty options include cauliflower, broccoli, asparagus, turnip, broad beans, sweet bell peppers, sweet potato or squash. Again, it is easy to make this vegan by substituting flavored vegetable oil for the spiced butter. Makes at least 10 cups.
8 waxy red potatoes, washed and cut into 2"dice
3 large carrots, peeled, cut into quarters and then into 2" lengths
¼ cup spiced butter
2 medium red onions, sliced in half and then into ½" wide strips
2 mild green chilies, seeded and cut into ½x2" wide strips
3 fresh hot green chilies, stemmed, de-seeded, and chopped
2 tablespoons minced garlic
1 tablespoon freshly ground ginger paste
1 teaspoon salt
½ teaspoon freshly ground white pepper
½ pound green beans, stemmed, and cut into 2" lengths
6 green onions, cut into 2" lengths
Blanch potatoes and carrots in boiling water for 5 minutes until they are almost tender. Place immediately into a basin of cold water to stop cooking. Let sit for 3-4 minutes, and then drain.
In a 4-5 quart casserole melt spiced butter over medium heat. Add in onion and chilies sauté until the onions are transparent. Add in ginger, garlic, salt and pepper and stir fry with the onions and chilies for another minute or two.
Now add in the green beans, green onions, and precooked potatoes and carrots. Stir so that all the vegetables are lightly coated in oil.
Reduce heat to low and cook for 10 minutes until the vegetables are firm but tender.