Cauliflower Paprikas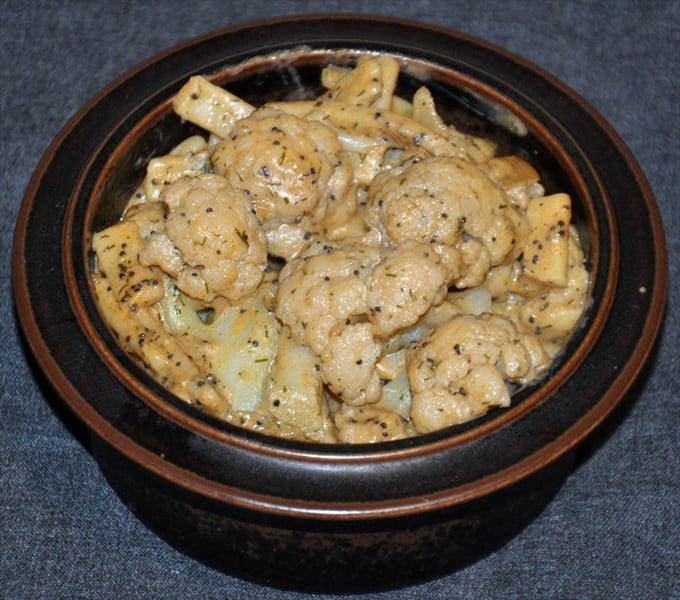 Like our savory brussels sprouts side dish, here is another scribbled recipe on a torn piece of paper from Jeff's recipe box. Again he has no idea where it came from, although in this case it probably came from someone in Chapel Hill, North Carolina during his graduate school days. The recipe is reminiscent of one found in Molly Katzen's 1982 The Enchanted Broccoli Forest, so perhaps it ultimately originated there.
1 medium cauliflower, separated into florets and stem diced
12 ounces dry egg noodles
1 teaspoon canola oil
2 tablespoons butter
1 cup onion, diced
2 tablespoon flour
1 tablespoon grated horseradish
2 tablespoons sweet paprika
1 tablespoon dry dill leaf
1 tablespoon poppy seeds
1 teaspoon salt
1 cup yogurt
1 cup sour cream
freshly ground black pepper to taste
Blanch cauliflower for 4 minutes in salted, boiling water. Drain and rinse under cold water. Drain again. Cook noodles in salted boiling water until al dente, drain, rinse under cold water and drain again. Toss with canola oil to keep noodles from sticking.
Melt butter over medium heat in a large pan. Sauté onion, stirring constantly, until translucent and soft, about 5-10 minutes. Whisk in flour, horseradish, paprika, dill, poppy seeds, salt and pepper. Add in yogurt and sour cream and continue whisking to make a smooth sauce.
Remove from heat and add in blanched cauliflower and noodles. Toss until all is well mixed and serve warm.




Jade and Snow Salad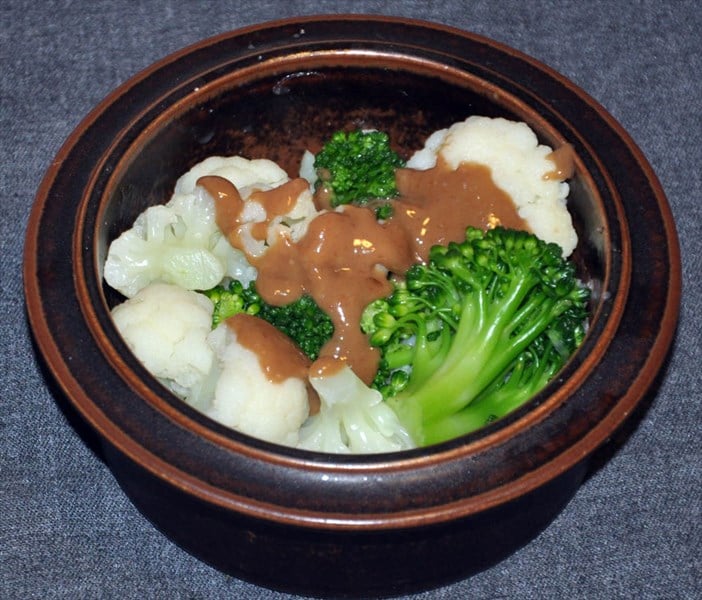 In this simple vegan salad, adapted from one presented in Ken Hom's 1988 Asian Vegetarian Feast (ISBN 978-0688077532), blanched broccoli and cauliflower florets are dressed with a peanut, soy and coconut milk dressing. If you can find the sweet Indonesian soy sauce called 'ketjap manis' please use it instead by replacing 1 tablespoon of it for the soy and sugar.
½ pound broccoli florets
½ pound cauliflower florets
2 tablespoons peanut butter
2 tablespoons rice vinegar
2 tablespoons coconut milk
1 teaspoon chili oil
1 teaspoon sesame oil
1 tablespoon sugar
1 tablespoon soy sauce
Blanch broccoli and cauliflower florets in salted, boiling water for 4 minutes. Drain, rinse under cold water and drain again.
Mix remaining ingredients in a small saucepan, and just bring to a simmer over medium heat, whisking constantly. Remove from heat and let cool. Dress on top of the blanched broccoli and cauliflower and serve cold.




Sicilian Cauliflower Salad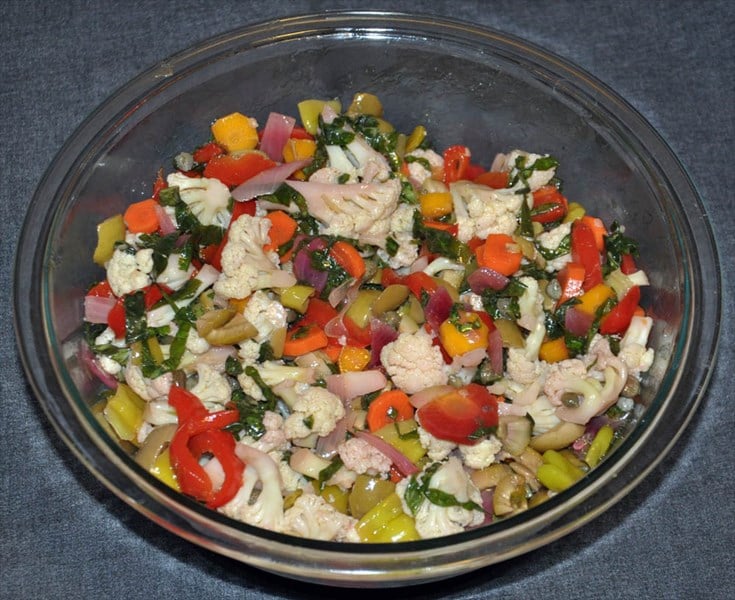 This is an amazing and wonderful vegan rendition of giardiniera, adapted from a recipe presented by former Milwaukee, Wisconsin chef Sanford D'Amato in the 1993The Burger Meisters, a cookbook project used to raise funds for the Culinary Institute of America (ISBN 978-0671865382). Our principle alteration of the original recipe is by using white wine vinegar, which does not turn all the vegetables pink as does red wine vinegar. Once the giardiniera is made it can be refrigerated for up to a week, with the vinegar in the marinade helping keep the salad fresh. We recommend that you consider using a mix of various carrot colors, as this gives the salad a wonderful appearance. We used orange, yellow, and purple in the above pictured batch and would have also used white if they had been available.
2 cups water
2 cups white wine vinegar
½ cup sugar
8 garlic cloves, peeled and minced
3 bay leaves
2 sprigs fresh thyme
1 sprig fresh rosemary
8 allspice berries, crushed
6 whole cloves
1 tablespoon black peppercorns, crushed
1 teaspoon kosher salt
4-6 cups cauliflower florets
1 cup thinly sliced carrots
½ cup red onion, diced
½ cup red bell pepper, cut into thin slices
½ cup pepperoncini, stemmed and cut into thick wedges
2 tablespoon capers
1 cup brine-cured Sicilian green olives, pitted and chopped
1 cup extra virgin olive oil
½ cup thinly sliced fresh basil leaves
salt and freshly ground black pepper to taste.
Prepare marinade by heating water, vinegar, sugar, garlic, bay, thyme, rosemary, allspice, cloves, pappercorns, and salt in a 4-quart stainless steel pot over high heat. If fresh thyme and rosemary are unavailable, use 1 tablespoon dry leaf for each. Bring to a boil. Remove from heat, cover, and let steep for 30 minutes. Strain out solids by pouring through a small-mesh sieve. Press on the solids to release as much of the liquid as possible.
Return marinade to saucepan. Add in the cauliflower, carrot, onion and bell pepper. As soon as the liquid boils, remove from heat. Add in the pepperoncini, capers and olives. Mix well and cool to room temperature. If you have more vegetables than the marinade can cover, simply divide the vegetables in two, reserving and reusing the marinade for the second batch.
Drain marinade from vegetables. Place drained vegetables into a non-reactive bowl and mix in the olive oil and basil. Adjust seasonings with salt and pepper to taste and serve immediately.