Celery & Celeriac Recipes
Basque Celeriac Bake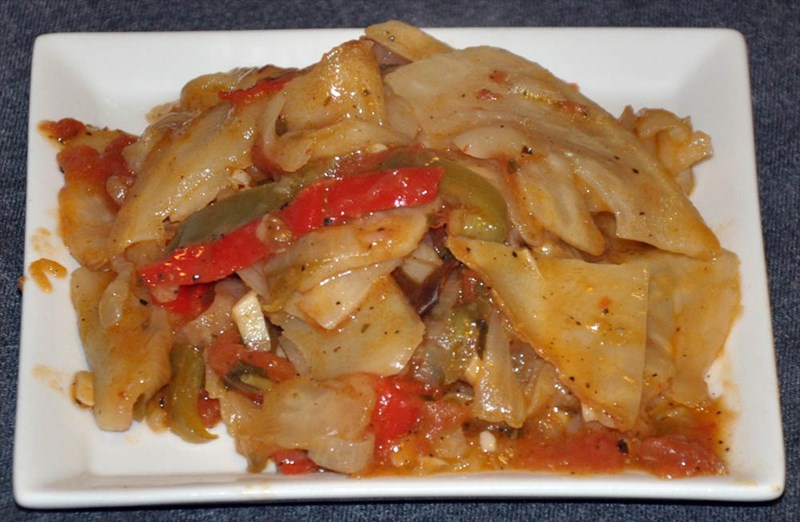 This vegan casserole is built upon the classic tomato/bell pepper/onion/garlic foundation characterisic of the Basque cuisine. Here these ingredients are baked with thinly sliced celeriac root to make an exquisite casserole. The following is adapted from a recipe appearing in Marian Morash's 1982 The Victory Garden Cookbook(ISBN 978-0394707808).
¼ cup olive oil
1 large onion, coarsely chopped
1 large green bell pepper, seeded and cut into strips
1 large red bell pepper, seeded and cut into strips
2 cups tomatoes, peeled, seeded and coarsely chopped
¼ cup garlic, minced
1 teaspoon dry basil (or 2 tablespoons fresh)
2 pounds celeriac, peeled and cut into ¼ inch slices
1 tablespoon flour
1 cup stock
salt and freshly ground black pepper to taste
Preheat oven to 375° F.
Place oil in a large pan over medium-high heat. When hot, reduce heat to medium and add in the onions. Sauté for 5 minutes until they are translucent and beginning to soften. Add in the green and red bell pepper strips and continue sautéing until the onion begins to turn golden and the peppers are well cooked, about 10-15 minutes. Add in the tomatoes, garlic and basil. Cook until heated through, about 2 minutes more. Remove from heat and adjust seasoning with salt and pepper.
Toss celeriac slices with flour. Place 1/3 of celeriac into the bottom of a medium-size casserole. Layer 1/3 of the onion/garlic/pepper/tomato sauce on top. Repeat until all the celeriac and sauce is used. Cover and bake for 45 minutes, basting occasionally. If the celeriac is still not coked and softened after this time, continue baking until it is ready. When done, remove cover and continue baking another 15 minutes to brown the top.
Serve warm.




Celeriac-Apple Slaw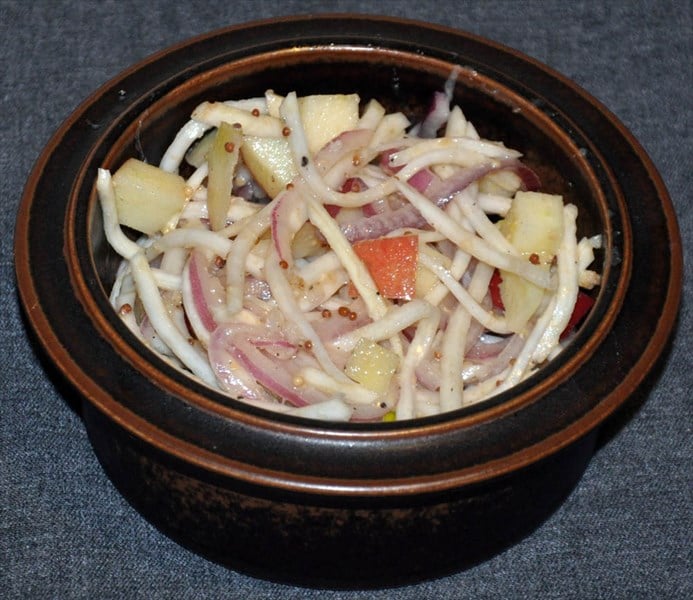 We often think of vegetable slaw as being made from cabbage and having a thick mayonnaise dressing, and we dislike almost all of these with an abiding passion. But there are many other versions. We have already presented a cabbage slaw dressed with a sweet-sour oil and vinegar dressing. As much as we love this, perhaps our all time favorite is the following celeriac root, onion and apple slaw dressed with a light mustard vinaigrette. This recipe is adapted from one presented in Didi Emmons'1997 Vegetarian Planet. We should also mention that Linda's mother uses almost the exact same dressing on her cabbage slaw. So, feel free to be inventive and use this recipe as an inspiration to develop your own unique slaw.
1½ pounds celeriac, peeled and cut into matchsticks
1 small red onion, cut in half and thinly sliced
2 tablespoons smooth Dijon mustard
2 tablespoons wholegrain Dijon mustard
¼ cup lemon juice
2 cloves garlic, pressed
1 tablespoon sugar
1 teaspoon salt
¼ cup extra virgin olive oil
freshly ground black pepper, to taste
2 medium-small apples, cored and cut into ½" dice
Prepare celeriac and onion. Turning the celeriac into a pile of shreds will be much easier if you have a mandoline. You can also coarsely grate the roots using a food processor.
In a small bowl whisk together the mustards, lemon juice, garlic, sugar, salt and pepper. Slowly incorporate the olive oil to make a moderately-thick dressing.
Toss together the celeriac and onion with the dressing and apple cubes. Serve at room temperature.




Celery and Chinese Cabbage Salad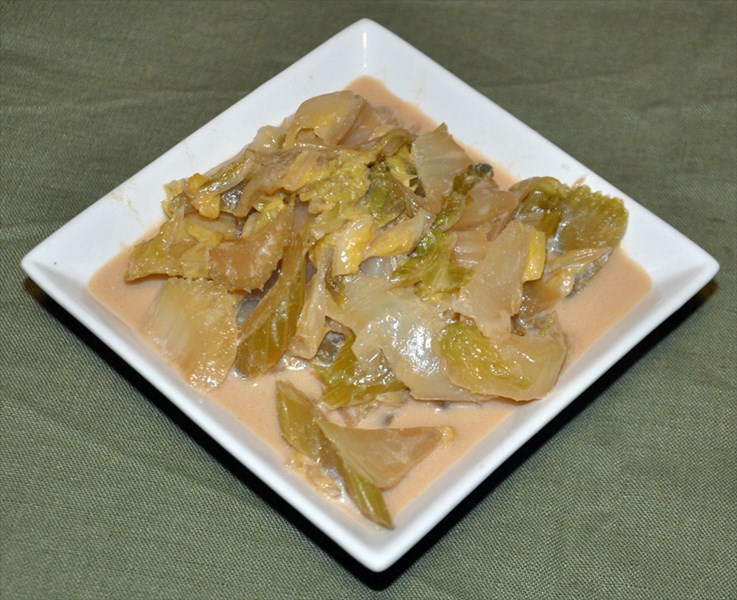 Here Chinese cabbage and celery are tossed in a savory/spicy mustard-based dressing to make for a very unusual but also very tasty salad. This recipe, typical of northern China but almost unknown in North America, is adapted from one presented by Kenneth H.C. Lo in his excellent 1974 "Chinese Vegetarian Cooking" (ISBN 978-0394706399). Note that you'll probably want to make this dish a day ahead of serving as the mustard in the dressing is initially very powerful. However, as it sits in contact with the air, the mustard oils dissipate. It is excellent when used as a topping to cooked rice
1 lb Chinese cabbage, washed and cut into 2x2" pieces
¾ lb celery, washed and cut diagonally into ½" thick slices
1½ tablespoons mustard powder
2 tablespoons water
2 tablespoons soy sauce
½ teaspoon salt
1 tablespoon rice wine vinegar
1 tablespoon chili oil
1 tablespoon Chinese rice wine or dry sherry
½ tablespoon sesame oil
Bring a large pot of water to a boil and blanch the cabbage and celery for 3 minutes. Drain, rinse under cold water, and allow to drain.
Whisk mustard powder with water to form a smooth paste. Whisk in remaining ingredients and toss with blanched cabbage and celery. Cover and let marinade for at least 3 hours before serving. The longer the salad marinades the less hot the sauce will be.




Celery Roquefort Soup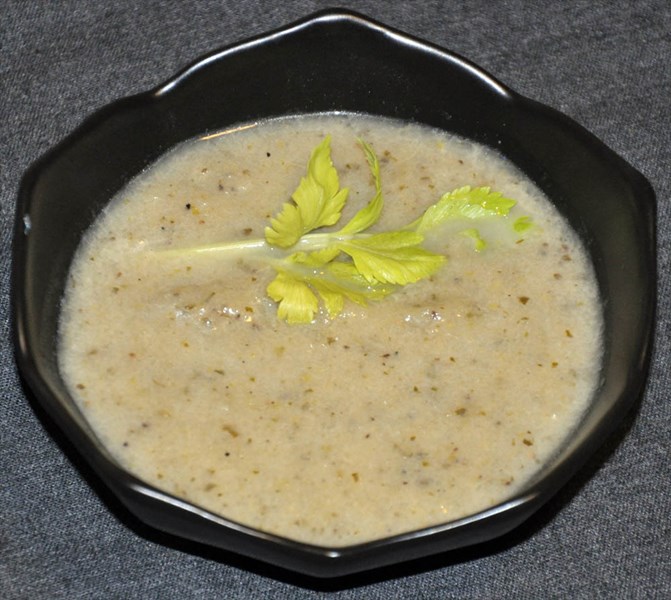 This is another excellent soup adapted from one found in Michael Congdon's 2004S.O.U.P.S. (Seattle's Own Undeniably Perfect Soups; ISBN 978-1570614262). Here a full head of celery is sautéed with onion and then poached in a rich stock. The soup is finished by adding in celery seed with a milk/roquefort/chevre puree. The flavors are incredible and develop over time, making it even more tasty the second day.
¼ cup canola oil
1 large yellow onion, diced
1 large bunch celery, trimmed and sliced (including leaves)
1 teaspoon salt
1 cup flat leaf parsley, chopped
1 teaspoon freshly ground black pepper
½ cup dry white wine
4 cups stock
2/3 cup crumbled roquefort cheese
1½ cup milk
½ cup chevre
1 teaspoon celery seeds
salt and freshly gound black pepper to taste
Melt butter in soup pot over medium-high heat. Add in onion, celery, and salt. Reduce heat to medium and saute for at least 30 minutes until the vegetables have lost half their volume and have become very tender. Add in parsley, pepper, wine and stock. Mix well and bring to a boil. Cover and let simmer 15 minutes. Remove pot from heat and puree contents.
Puree roquefort, milk and chevre top make a thick paste. Add to the vegetable puree and mix well. Add in celery seed and let simmer for 10 minutes.
Remove from heat, adjust seasoning, and serve hot.




Andalusian Celery (Apio a la Andaluza)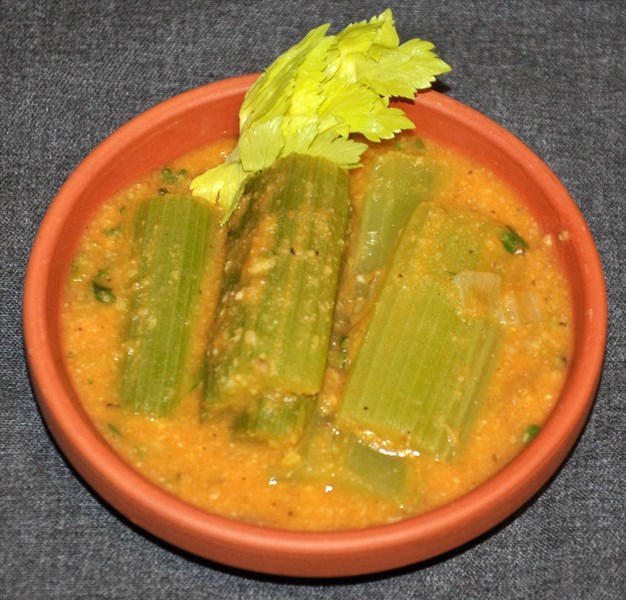 This fascinating recipe represents a traditional vegan version of the various legume stews found across the Iberian Peninsula. We adapted our version from one presented in Clifford Wright's 2001 Mediterranean Vegetables. While it is not mentioned in this book, we strongly suspect that this dish was created to be served during the Lenten fast. We've changed the following version by adding in a bit of lemon juice and smoked Spanish paprika to brighten and strengthen the flavor of the legume sauce. We've found the best way to enjoy this dish is to serve it over rice with a drizzle of extra-virgin Spanish olive oil.
4 cups water
3 tablespoons flour, in all
1 large bunch celery, trimmed and cut into 2" pieces
¼ cup extra-virgin olive oil, in all
1 medium onion, chopped fine
½ teaspoon mace
1 tablespoon ground cumin
1 tablespoon smoked Spanish Paprika
2 cups cooked garbanzos, pureed
6 garlic cloves, minced
2 large ripe tomatoes
2 tablespoons liemon juice
2 tablespoons chopped flat leaf parsley, chopped
2 tablespoons fresh mint, chopped
salt and freshly ground white pepper to taste
Whisk 2 tablespoons flour into the water and bring to a boil in a medium pot. Add celery, reduce heat to a simmer, cover pot and cook until the celery is tender but still firm, about 15-20 minutes. When done drain celery and reserve ½ cup of the cooking liquid.
Puree cooked garbanzos, garlic and tomatoes.
Heat 2 tablespoons olive oil in a large pan over medium-high heat. Sauté onion until softened, about 5 minutes. Add in remaining 1 tablespoon flour, mace, cumin and paprika. Cook, stirring constantly until the flour turns brown, about 1-2 minutes. Deglaze pan with reserved celery cooking water and mix in pureed garbanzo / tomato mixture, lemon juice, parsley, and mint. Allow mixture to just come to a boil. Add in cooked celery. Adjust seasonings and serve immediately.




White Bean Salad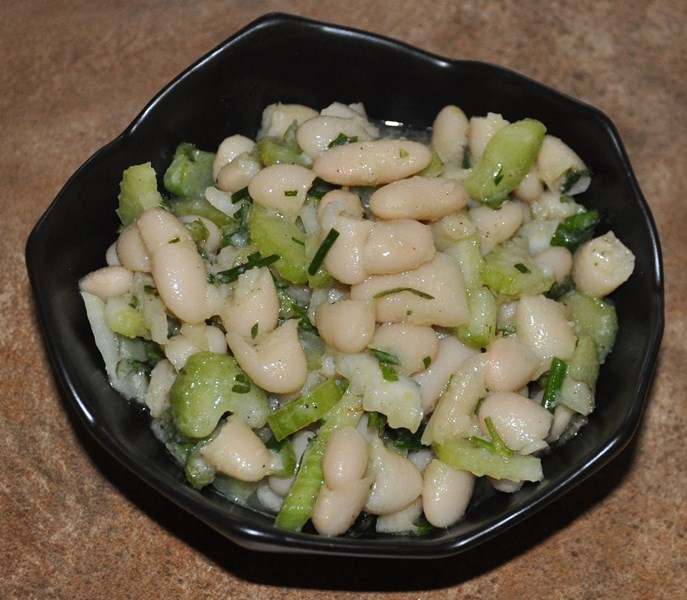 As you are no doubt seeing with these tapas recipes, Spanish cooking represents a wonderful fusion of traditional European, Middle-Eastern, and New World techniques and ingredients. This should be not at all surprising given that much of Spain was variously controlled over the last two millennia by Rome, then Charlemagne, and then Moors from the Maghreb before Spanish kingdoms eventually took control of the Iberian Peninsula. Spanish ports were also the first places in which the bounty of New World agriculturalists spread across Europe.
The following bean salad is an excellent example of this process. Bean salads themselves have been part of the Mediterranean diet for thousands of years, although before New World traced commenced these would have been limited to various chickpeas, peas, lentils, horse beans and broad beans. An excellent example of this is the bean salad described in last month's iftar meal, although even this recipe has been influenced by New World agriculture as is shown by its inclusion of tomato. The common bean of the New World (Phaseolus vulgaris) was one of the first of the New World domesticates to be accepted into the European diet, as it provided the nutrition and cooking qualities of the broad bean (fava bean) without requiring removal of the tough, inedible skins and did not contain potentially fatal alkaloids like vicine or convicine. In the following recipe cannelloni beans are used, which are a white bean commonly used in Italy. However, this New World crop is treated in a very European fashion being mixed with celery, gherkin and chives and dressed in a garlicky mustard vinaigrette.
½ pound dry cannelloni beans
¾ cup olive oil
1/3 cup white wine vinegar
2 garlic cloves, crushed
1 tablespoon parsley, minced
1 tablespoon Dijon-style mustard
1/8 teaspoon sugar
salt and freshly ground black pepper, to taste
4 celery stalks, chopped
1 gherkin, finely chopped
2 tablespoons chives, cut into ½-inch lengths
Pick over beans to remove any stones or other foreign material. Soak in water over night. Drain beans, place into pot, cover with water, and heat to boiling. Simmer for 1- 1½ hours until beans are just cooked. Drain, rinse with cool water, and drain again.
Whisk olive oil, vinegar, crushed garlic, minced parsley, mustard, sugar in a bowl, and season to taste with salt and pepper.
Mix together the cooked beans, celery, and gherkin in a bowl. Toss with the vinaigrette and top with the chopped chives. Serve at room temperature.
This dish will taste much better if allowed to sit overnight to allow the various flavors to meld. Also, while you can make this using canned cannelloni beans, we recommend strongly that you search out dry beans to cook up as the canned beans to us taste much of their can.