Jeff & Linda's Kitchen of Diversity
There are only two entries left in September following our over-run of August's vegetarian tapas recipes. We thought the best way to deal with these openings in the schedule was to focus on chili peppers and to present our recipe for harissa – which we promised in a few earlier entries like the Winter Squash and Greens Couscous from April and the Middle Eastern Tofu Burger from June. We also thought this was a good time to celebrate Capsicum and late summer garden produce in general by presenting our award winning vegetarian chile recipe.
Harissa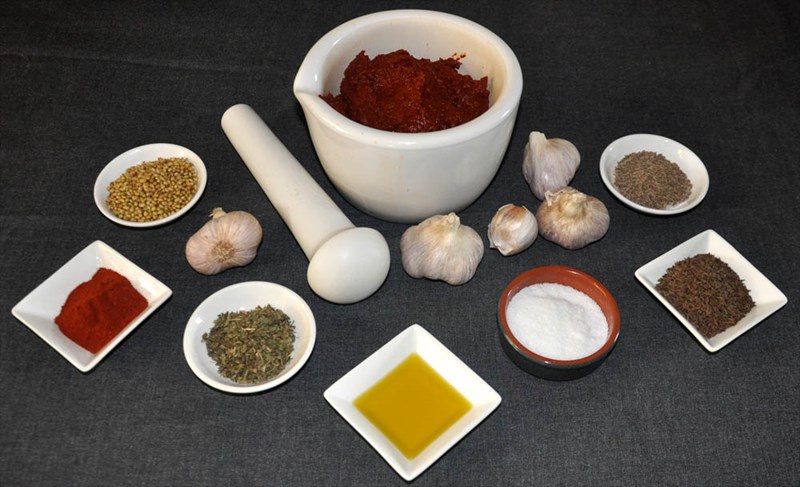 Our focus during the tapas entries was the fusion cuisine created a half-millennium ago along the western shores of the Mediterranean by the introduction of New World vegetables into indigenous European and Arabic food ways. This cooking revolution, spurred on by the introduction of new crop plants, was nowhere more profound than in the Maghreb along the Mediterranean south shore where chili peppers were immediately and enthusiastically adopted.
Harissa – often referred to as the ketchup of Tunisia – is an excellent case in point. The name harissa comes from an Arabic word meaning to pound, and as you'll see this makes sense given that we use a mortar and pestle to pound together chiles, garlic, various spices, salt, and olive oil to make a highly seasoned paste served along side of most meals in the region. Given that red pepper paste is the essential base ingredient for harissa, and that nothing like this was present in the region before the voyages of Columbus, this most popular condiment simply did not exist until 500 years ago.
While there is nothing like harissa in the pre-Columbian foods of the Maghreb, the olive oil-garlic-salt paste into which is mixed red pepper paste and ground spices does extend back to at least Roman times. This paste is the predecessor of aioli, the garlic-flavored mayonnaise of Provence and Catalonia. The egg-free emulsion used here as our harissa base is still considered by many in Spain as the 'true' aioli. The following recipe makes about 2 cups.
6 oz medium-hot New Mexico chili, ground
¾ cup water
1 tablespoon coriander seed
1 tablespoon caraway seed
1 tablespoon cumin seed
½ cup garlic, coarsely chopped
1 tablespoon salt
1/3 cup olive oil
1 tablespoon dried spearmint
Mix together ground chili and water. If paste is stiff, add in more water until it is of medium-thickness. Let sit for 30 minutes.
Place coriander, caraway, and cumin seed into a hot skillet and shake constantly until steam begins to come off the seeds (see instructions for this process in the Balti Garam Masala recipe). Remove from heat and let cool. Place in spice grinder and process until finely ground. Set aside.
Place garlic and salt in a mortar and grind with a pestle until a rough paste is formed. Gradually add in the olive oil, grinding to make a thick, smooth paste.
Place garlic paste into a bowl along with the chili paste, roasted ground spices, and dry spearmint. Mix together, adding more olive oil as necessary to make a medium-thick paste. Place into a 1-pint jar, cap, and keep refrigerated.
Depending upon how hot you want your harissa, you can use chiles ranging from mild Anaheim to the hot Syrian Goat Horn or Tunisian Baklouti. You can also use any good quality New Mexico chili powder. Use a nutty garlic like Moroccan Creole. The coriander, caraway and cumin can all be grown in your garden. Be sure to use spearmint and not peppermint unless you want your harissa to taste like toothpaste.