Collard & Black Eye Pea Soup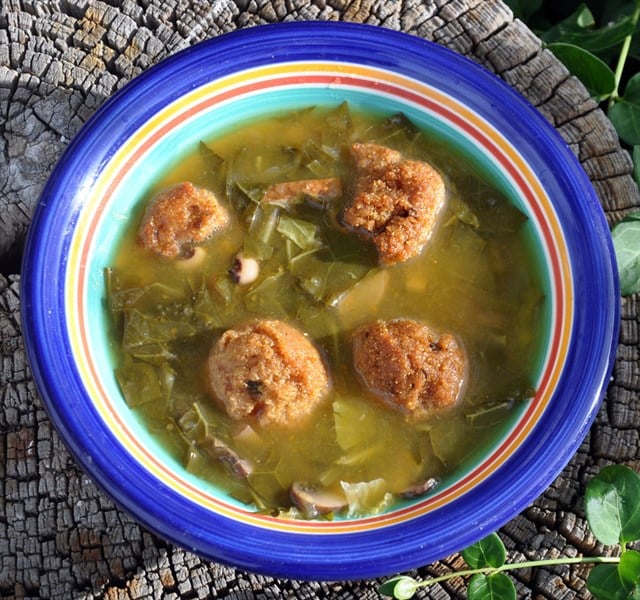 While not a traditional southern dish, this wonderful soup makes use of a number of iconic southern ingredients, including not only collards but also black eyed peas. While the original recipe by Sarah Belk (presented in the 1990 Best of Food & Winerecipe compendium; ISBN 978-0916103118) uses smoked ham hocks, we have made our version vegan by swapping out the pork for mushrooms and a dash of liquid smoke. We also found that the best accompaniment were small hushpuppies, which we adapted from Bill Neal's classic 1985 Southern Cooking (ISBN 978-0807842553). As you'll see, the huspuppies are vegan as they include eggs and buttermilk. If you want to keep the meal vegan, simply substitute toasted French bread. Lastly, we very much like garnishing the soup at the table with a little Eastern North Carolina-style spicy vinegar barbeque sauce. While you should feel free to use any vinegar-based hot sauce, we've also included a typical recipe in case you'd like to try the real thing.
1 gallon water
4 carrots, peeled and cut lengthwise into halves
4 celery ribs, cut lengthwise into halves
4 medium onions, each studded with 3 whole cloves
12 oz whole Crimini mushrooms
1 small bunch of Italian parsley, tied together at the stem end
12 whole peppercorns
1 tablespoon dried hot red pepper flakes
1 tablespoon dry thyme
4 bay leaves
½ scant teaspoon liquid smoke
2 cups dry white wine
½ pound black eye peas, cooked until just tender
1½ pounds collards, stemmed and cut into 1" dice
¼ cup cider vinegar
salt and freshly ground black pepper to taste
Place water, carrots, celery, mushrooms, parsley, peppercorns, red pepper flakes, thyme, bay, liquid smoke, and white wine into a large soup pot. Bring to a boil and simmer until the vegetables are tender, at least 2 hours.
Drain stock through a colander, and return stock to the pot. Place the carrot, celery, and onions (with cloves removed) in a deep bowl with 1 cup of the stock. Puree smooth and return to the stock. Cut mushrooms into ¼ inch slices and return to the stock.
Bring stock back to a simmer. Add in cooked black eyed peas and prepared collards. Simmer for 30 additional minutes. Add in cider vinegar and adjust seasoning with salt and pepper.
Serve with hushpuppies (see below recipe). Feel free to garnish with a vinegar-based hot pepper sauce, preferably some type of North Carolina barbecue-style vinegar sauce (also see below).
Hushpuppies
1½ cups corn meal
½ cup flour
1 teaspoon salt
½ teaspoon sugar
2 tablespoons baking powder
1 teaspoon baking soda
¼ teaspoon cayenne pepper
¼ teaspoon freshly ground black pepper
¼ teaspoon garlic powder
2 eggs, beaten
1¼ cup buttermilk
2 tablespoons corn oil
½ cup green onion, finely chopped
Oil for frying
Heat oil in a deep fryer, or 2" deep oil in a cast iron skillet to 365° F.
Sift together all dry ingredients. Mix together all wet ingredients, and then pour into the dry ingredients. Mix well.
Drop 1" diameter balls of batter into the oil. They will initially sink to the bottom, then rise to the top, and then flip over when the bottom side is cooked. When the inital top side has flipped over and turned a golden brown, remove from oil and drain on paper toweling.
Eastern North Carolina Barbeque Sauce
2 tablespoons cayenne pepper
1 teaspoon freshly ground black pepper
2 teaspoons salt
1 cup cider vinegar
Mix all ingredients together and pour into a clean jar. Seal and let sit in a cool, dark place for at least 10 days.




Vegan Collards
Traditionally, a mess of collards is cooked throughout the South with a heaping helping of fatty pork such as fat back. These end up, for our tastes, more than a bit greasy and unappetizing. We were thrilled to discover a vegan version of this dish in Marvin Woods' 2000 cookbook The New Low-Country Cooking. His recipe was so well designed that we only changed it slightly by swapping out yellow onion for red to give the dish a deeper color. These greens are particularly good served smothered over hot cornbread.
3 tablespoons vegetable oil
1 carrot, cut into small dice
1 medium red onion, cut into small dice
3 pounds collards, stemmed and cut into 1" dice
1 teaspoon dry thyme leaf
1 teaspoon dry rubbed sage leaf
1 teaspoon dry rosemary leaf
1½ cups stock
¼ cup apple cider vinegar
Salt, freshly ground black pepper, and hot pepper sauce (see the Collard Soup recipe)
Heat oil in a large skillet over medium-high. Add in carrot and onion, and saute until just tender, about 5-10 minutes. Add collards, herbs and stock, cover skillet. Uncover and stir every minute or so until the collards have collapsed. Add in vinegar, hot pepper sauce, salt and pepper to taste.
Reduce heat to low, cover, and simmer for 45 minutes.




Collards with Spiced Cheese (Yegoman Kifto)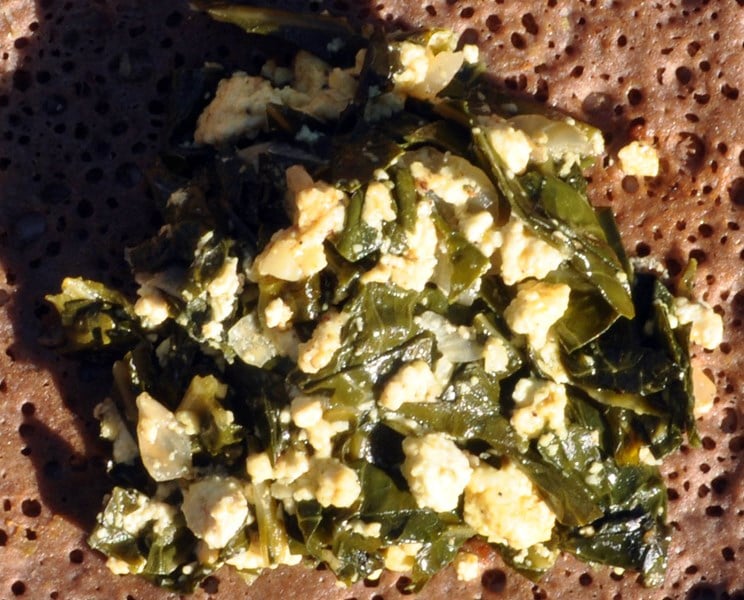 This is without a doubt our favorite way to eat collards, with the spiced cheese and butter playing off the bitterness of the collards in a most addictive way. While it is possible to make this dish with dry ricotta or cottage cheese, we prefer making our own cheese. This is simply done by heating buttermilk to a simmer. At high temperatures the acids in the buttermilk cause the milk proteins to solidify into curds, exactly as one does when making ricotta, although in that case the acidity comes from added lemon juice. All that needs to be done at that point is to drain off the whey by pouring the entire mixture through cheesecloth or muslin, letting the curds remain behind. After an hour or so of draining, the remaining solid cheese ball with very small curd is flavored with spiced butter, garlic, cardamom, and white pepper. This cheese (which looks very much like scrambled eggs) is then mixed into the cooked collards, with the entire mixture being eaten at room temperature.
If you would like to try to make a vegan version of this recipe, you could consider making the cheese from freshly drained soy curds (see our DIY Tofu recipe) which have been solidified using lemon juice rather than nigiri. Also, you'll need to swap out the spiced butter for spiced vegetable oil. Makes 6-8 cups.
Spiced Cheese
3 quarts buttermilk
¼ cup spiced butter, melted
2 garlic cloves, pressed
¼ teaspoon whole cardamom seed, ground
½ teaspoon whole white pepper, ground
1 teaspoon salt
Pour buttermilk into a heavy 6 quart casserole, and gently bring to a boil over moderate-low heat, about 30-45 minutes. The milk will separate into white curds and clear whey when done. Ladle the curds into a cheesecloth or muslin-lined colander. Let drain for 5 minutes, then wrap the cloth into a bundle. Tie at the top with a long string, and let hang over the sink to continue draining for another 30 minutes, or until it reached room temperature.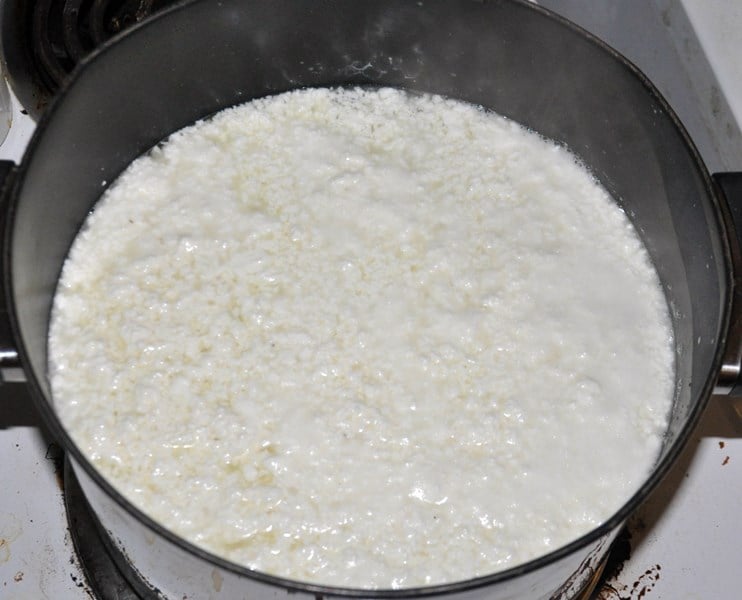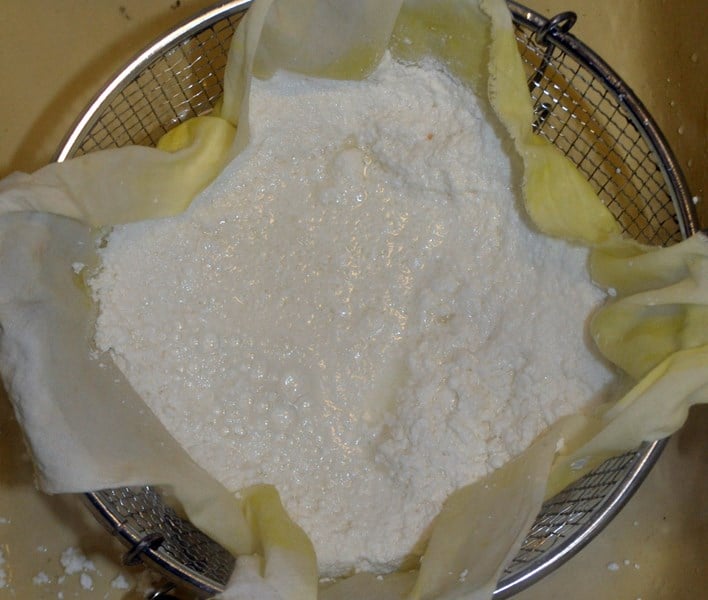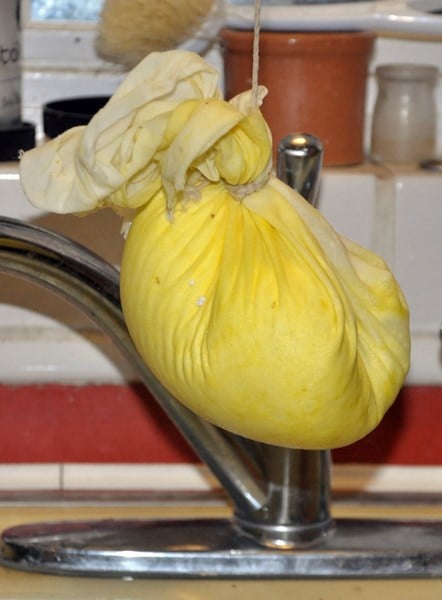 Unwrap the cheese and crumble it into a bowl. Mix in the melted butter and remaining ingredients together and toss with the cheese until all the curds are evenly coated. Cover with plastic wrap.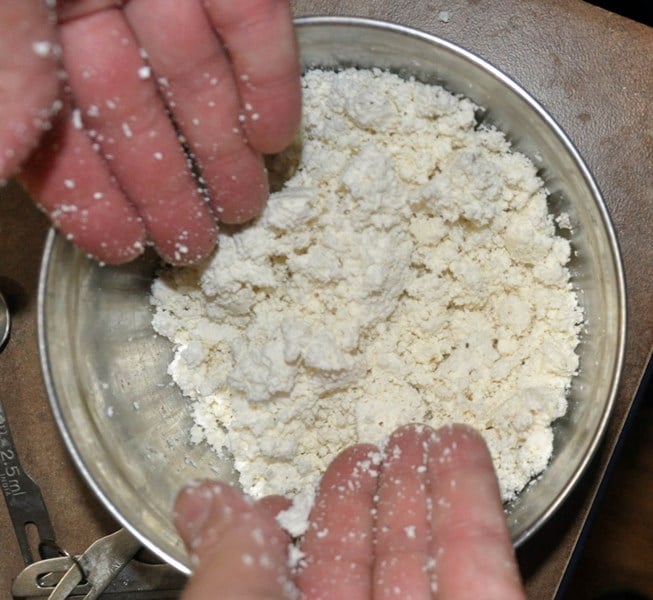 Cooked Collards
2 pounds fresh collards, stems removed and coarsely chopped
¼ cup spiced butter, melted
2 tablespoons stemmed and deseeded finely chopped hot green chili
1 tablespoon freshly grated ginger root paste
1 tablespoon minced garlic
½ teaspoon whole cardamom seed, ground
¼ cup yellow onions, finely chopped
1 teaspoon salt
Freshly ground black pepper, to taste
Cook prepared collards in a large pan until they are wilted and tender, about 15 minutes. Add in the remaining ingredients and stir-fry until the onions are tender. Remove from heat.
When the cooked collards cool to near room temperature – about 15 minutes – toss in the spiced cheese. Serve at room temperature.