Ailazan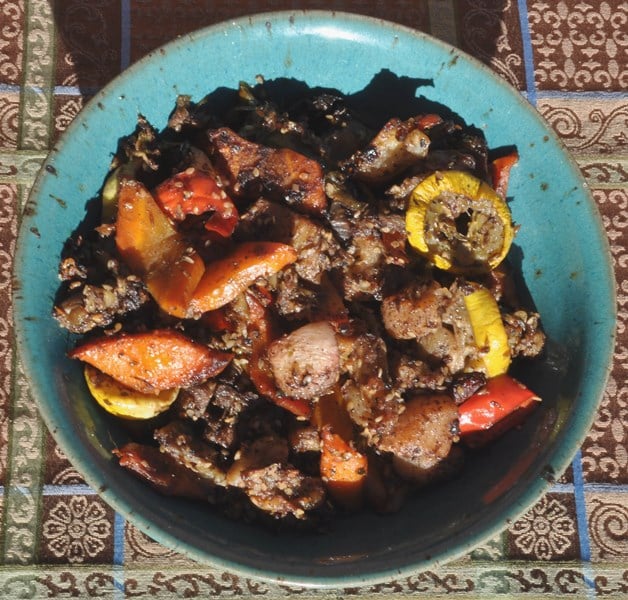 While we looked west to the Maghreb for our iftar soup, we now look east for the following roasted vegetable dish which originated in the Caucasus. The cuisines of the Caucasus peoples – in particular the Armenians and Georgians – represent a unique combination of both savory and sweet flavors. In the case of this recipe its eastern origins are suggested by the use of sweet flavorings like spearmint, cinnamon, and cardamom in combination with more savory ingredients like cumin and olive oil, the nuttiness of sesame seeds, and the sweet/sour/peppery contribution of sumac. While you'll want to keep the spice mix the same, you should not feel obliged to use the exact vegetables listed below, as they simply represent what was fresh and available in Albuquerque when we trailed the recipe in mid-June. So, head out to your garden or local farmer's market and choose a nice mélange of roasting vegetables. As long as they are fresh and harvested at their peak of flavor you can't go wrong. Serves 4-6:
2 medium eggplants cut into ½ inch slices, and then into 2 inch wide planks
4 carrots cut into ¼ inch thick diamond shapes
1 summer squash cut into ½ inch thick rounds
12 cipollini onions, skinned but left whole
½ each of a red, yellow and green pepper, cut into ½ inch wide strips
6-8 small turnips, peeled and quartered
1/3 cup olive oil
1 tablespoon dried spearmint
1 tablespoon dried sumac
½ teaspoon ground cinnamon
1 teaspoon ground cardamom
1 teaspoon ground cumin
¼ cup sesame seeds
salt and ground pepper to taste
Preheat oven to 450° F. Toss prepared vegetables with spice mix, sesame and olive oil. Place in a single layer on a large oiled pan. Roast for 10 minutes, stir vegetables and seasonings and cover pan. Return to oven and reduce heat to 350° F. Bake for another hour, allowing vegetables to steam. Uncover pan, stir vegetables and seasonings, and continue roasting uncovered until the vegetables are well browned, about 30 minutes.
The vegetables may be served either hot or cooled to room temperature. While they are wonderful eaten on their own, they are especially nice when stuffed into a splitkhoubz loaf and topped with laban sauce.
You'll need to find a Middle Eastern market for ground sumac, which is related to but different tasting than the various types of wild sumac found throughout North America. This spice is also available from on-line vendors. Just be sure you are using freshly ground sumac as its vibrant flavor will fade within a few years. Also be sure to use spearmint which is much sweeter than toothpaste-flavored peppermint.





Berenjenas con Queso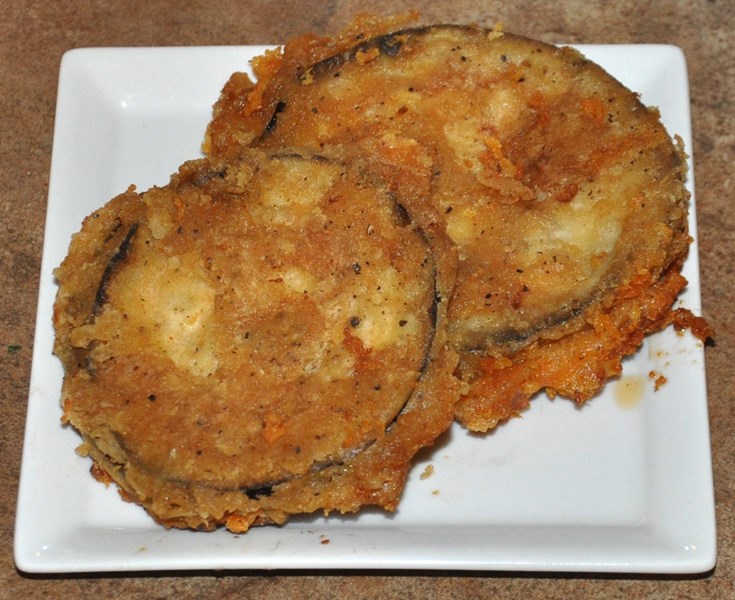 We come to our last vegetarian tapas recipe. In this, we are making little cheese 'sandwiches', using thin eggplant slices as our 'bread'. These are then lightly breaded and pan fried to make for a crispy, crunchy, cheesy treat. While fine as leftovers, they are really best when served fresh and hot from the pan.
While many of the recipes we've presented represent a fusion of New and Old World ingredients that could only have come into existence following the voyages of Columbus, in this last recipe we are working only with ingredients that were present in Europe before 1492. That being said, eggplant is itself a rather recent arrival. Although eggplant was domesticated in southeast Asia, its likely progenitor is a North African and Middle Eastern garden weed that spread east with agriculture. Southeastern Asian agriculturalists then took this plant and selected it for large, non-bitter fruits. The resultant crop plant then migrated back west with the spice and silk trade. After being reintroduced into the Middle Eastern diet, eggplant spread across the Maghreb, arriving in southern Europe and Spain around 1000 years ago.
1 large eggplant
½ pound sharp cheddar (or cabrales)
¾ cup white flour
¼ teaspoon salt
1/8 teaspoon freshly ground black pepper
2 eggs, beaten
Olive oil for frying
Cut eggplant and cheese into ¼ inch slices. Place a cheese slice between two eggplant slices. Hold these bundles together by pushing a toothpick through each at an angle.
Mix flour with salt and pepper in a bowl. Place beaten egg into another bowl. Heat a ½ inch thick layer of oil in a heavy skillet until hot. Dip each eggplant/cheese bundle into the seasoned flour, then into the beaten egg, and then back into the flour. Place into hot oil, and fry for 2-3 minutes until well browned. Turn over and fry the other side. You may want to remove the toothpick after you turn over each bundle. When both sides are golden and crispy remove from oil and drain on paper toweling. Serve hot.





Brinjal Chutney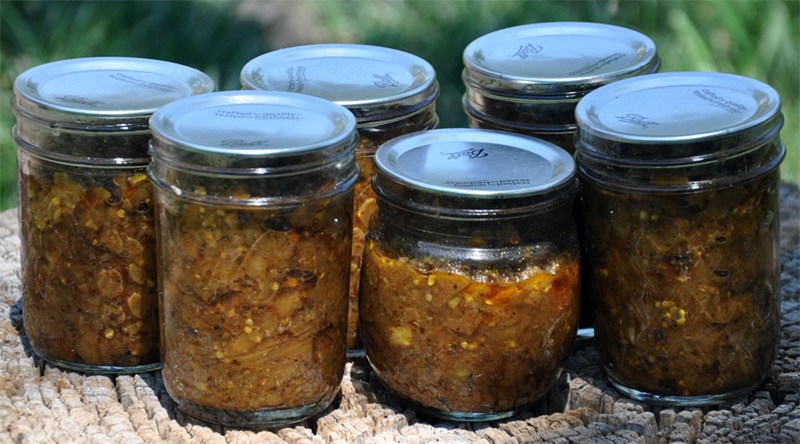 Brinjal is the name used for eggplant throughout India. Here we show how you can turn your surplus eggplant crop into a delicious chutney that can put up for remainder of the year. We searched high and low in our many Indian cookbooks for this chutney, but had no success whether it be books by Pat Chapman, Yamuna Devi, or others. This was odd because you can find such a product commonly for sale in many international groceries. We eventually had to come up with our own version. We hope you like it.
3 pounds eggplant, peeled and cut into ½" dice
½ cup vegetable oil
½ cup garlic, coarsely chopped
½ cup ginger paste
½ teaspoon turmeric
2 teaspoons ground dry mild red chili
¾ cup malt vinegar
½ cup brown sugar / jaggery
½ teaspoon ground fenugreek
1 teaspoon ground cumin
1 teaspoon freshly ground black pepper
½ teaspoon ground cloves
½ teaspoon ground cardamon
1 teaspoon ground cinnamon
2 teaspoons salt
Heat oil in a large, heavy pot. Add in garlic, ginger, turmeric and chili powder and stir fry over medium-high heat for 3 minutes.
Add in diced eggplant, and continue stir frying until the pieces are becoming tender and are starting to release the cooking oil. Add in the vinegar and sugar and stir constantly, scraping off any residue that has stuck to the bottom of the pan. When the pan bottom is clean, add in the remaining ground spices and salt.
If you plan on eating this immediately, continue cooking until the eggplant pieces are soft and oil and risen to the top of the pan.
If you plan on canning the chutney, remove from heat immediately after adding in the spices and salt. Process in a pressure canner at 10 pounds of pressure for 20 minutes. This recipe will fill about 9 half-pint jars.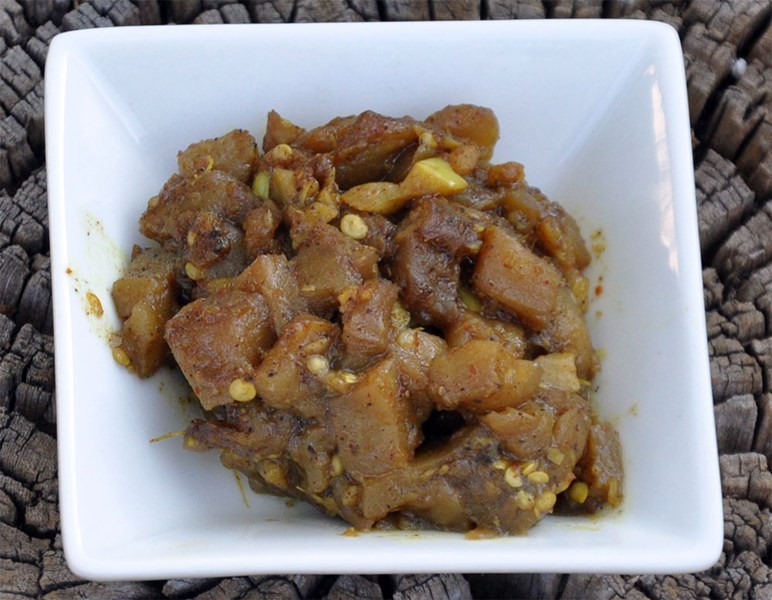 Eggplant Dengaku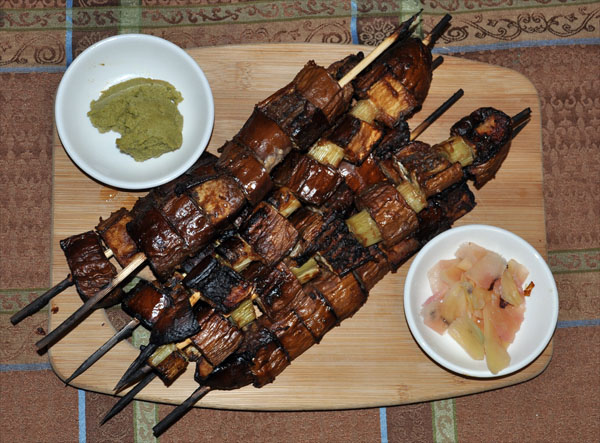 We'll finish our bentō with one final cooking technique: grilling. Grilled foods are very popular in Japan, and include vegetables as well as meats. We here are cooking eggplant in the dengaku fashion, whereby the food is coated in a simmered miso sauce and broiled on wooden skewers (much like shish kebabs). The kanji characters for dengaku (田楽) represent "rice paddy" and "music," in apparent reference to a folk play conducted in rice fields in which one of the actors preformed while standing on a single stilt. The pieces of food impaled on a single bamboo skewer reminded people of this performance, hence giving rise to the name of this delicious food.
Grilled Eggplant Skewers with Peanut Nerimiso (ピーナツねりみそ田楽ナスor pīnatsu nerimiso to nasu dengaku)
2 tablespoons creamy peanut butter
½ cup white miso
2 tablespoons brown sugar
2 Japanese Leeks, minced
2 tablespoons sake
1 tablespoon soy sauce
1½ pounds Japanese eggplant
2 tablespoons sesame oil
2 Japanese Leeks, cut into 1" slices
Make nerimiso by combining peanut butter, miso, brown sugar, minced leeks, sake and soy sauce in a small sauce pan. Heat to boiling and simmer 2 minutes, stirring constantly. Remove from heat and let cool.
Soak 12-18 bamboo skewers in water for 30 minutes. Cut eggplant into 1" thick rounds, and then cut each round in half. Alternately run eggplant and leek slices onto the bamboo skewers until each is filled. Brush the eggplant and leek with sesame oil.
Steam the filled skewers for 10 minutes or until the eggplant is barely tender. Remove and cool.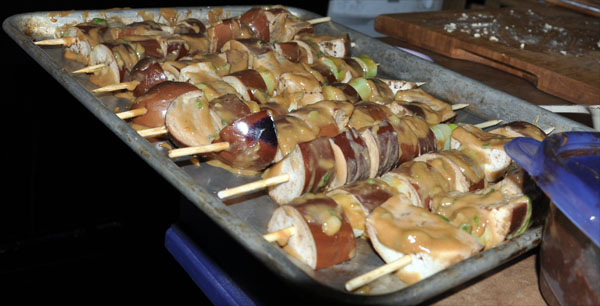 Liberally baste the eggplant with the nerimiso sauce. Cook outdoors on a grill or indoors under the broiler of your oven until sauce begins to brown. Turn and repeat on all sides. Remove from skewers to serve.
Use a long, thin Asian eggplant which have few seeds and are easily cut into the correct shape. We found sweet white miso to work well for this dish.





Eggplant, Chickpea and Spinach Curry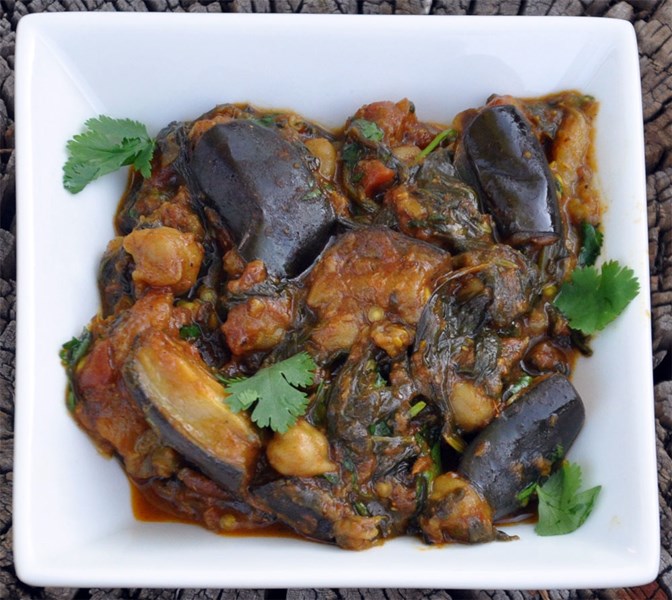 Eggplant originated in south Asia, and it is not surprising that some of its most intriguing recipes come from this region. The following dish, adapted from one presented by Yamuna Devi in her award-winning 1987 Lord Krishna's Cuisine, (ISBN 978-0525245643) is not only vegan but also typical of ayurvedic cooking which avoids the use of not only onion but also garlic. In this way the following dish is quite different from the British Curry House style which we considered over a year ago in our first set of blog entries. As Yamuna Devi points out, the following recipe is in some ways the ratatouille-equivalent of Northern India, being something that is made in almost every home to use the bounty of the late summer garden, with each cook having his/her own version.
½ cup canola oil, in all
1½ pound eggplant, cut into 1-inch cubes
2 tablespoons fresh ginger paste
2 hot green chilies, deseeded and minced
2 teaspoons whole cumin seed
¼ teaspoon asafoetida resin
2 cups tomatoes, seeded and chopped
1 tablespoon coriander seed, ground
1 teaspoon paprika
¼ teaspoon freshly ground black pepper
¼ teaspoon cayenne papper
1 teaspoon turmeric
½ cup water
2 cups cooked chickpeas
1 pound fresh spinach, coarsely chopped
2 teaspoons salt
¼ cup chopped cilantro leaf
1 teaspoon garam masala
Heat 1/3 cup oil in a large, heavy pan. When hot add in the eggplant cubes and sauté until browned and cooked through. Remove from pan and set aside.
Add the remaining 2 tablespoons of oil to the pan and increase heat to medium-high. When the oil is quite hot add in the ginger, chilies, and cumin and fry until the cumin seeds have turned brown. Add in the asafoetida and stir fry for another 15 seconds. Add in the tomatoes, coriander, paprika, black pepper, cayenne, and turmeric. Reduce heat to medium and cook until the oil separates from the tomato sauce, about 10 minutes.
Add water and bring the sauce to a boil. Reduce heat to low and add in the cooked eggplant cubes, chickpeas, chopped spinach and salt. Cover and simmer for 30 minutes. Before serving remove from heat and stir in the chopped cilantro and garam masala. Serve warm with rice or naan flatbread.





Pickled Stuffed Eggplant
Pickles are a common part of Middle Eastern mezze tables. A favored type are small picked eggplants, often stuffed with various other vegetables and allowed to ferment until they take on something akin to the flavor of a kosher dill. We found two versions of this recipe in our cookbook collection, one from Oded Schwartz's 1996Preserving (ISBN 978-0789410535) and the other from M. Humbatov's 2008Azerbaijan Cookery. We took ideas from both to make the following. If you would like to put up a glut of any miniature eggplants from your garden for later use, do give this a try. The following recipe will make a quart of pickles.
About 2 pounds of small eggplants (enough to fill a 1-quart canning jar)
Cut a deep slit into each eggplant. Boil for 5-8 minutes until just softened. Remove from water and allow to drain. When cool rub the insides of the slits with canning salt. Press under 10-pounds of weight and let stand overnight.
8 cloves garlic, coarsely chopped
1 cup celery, coarsely chopped
1 cup carrots, grated
2 fresh green chilies, deseeded and thinly sliced
1 teaspoon canning or kosher salt
Mix together the stuffing ingredients. Open each eggplant and place 1-2 tablespoons stuffing into the slit. Repeat until all eggplants are filled.
5 garlic cloves
2 fresh green chilies, halved and seeds removed
4 grape leaves
Additional canning or kosher salt
3 tablespoons white wine vinegar
Line the bottom of a quart jar with 2 grape leaves and fill with the stuffed eggplants, whole garlic cloves, and halved green chilies. Fill the jar with water and then pour off into a measured container. Add in 1 tablespoon salt for every 2 cups of water. Add in wine vinegar and mix until the salt has dissolved.
Place remaining 2 grape leaves on top of the eggplants and fill with the salt/vinegar brine. Weight down the solid ingredients to keep the eggplants from losing their stuffing. Tie a terrycloth around the top of the jar, and cover with a board to keep the brine from evaporating. You'll not want to seal the top with a lid as you need to be able to let gases escape - but you also need to keep out small flies and other insects. Place the jar in a non-reactive pan to catch any possible overflow and let rest for 1-3 weeks in a warm but dark, well ventilated place. When fermentation ceases and the pickling brine clears you may serve or put up for long-term storage by sealing in canning jars using a hot water bath
Before & After Fermentation
Summer Vegetable Burger
Tomatoes, eggplant, garlic, and olives are among the foundational flavors of southern Italian cooking. While tomatoes are a recent, post-Columbian arrival from the Americas, it may be surprising to learn that the eggplant is also rather recent arrival, having been brought to the region during the Arab conquest of the island around 1000 AD. It became an essential part of the regional diet where it is often called "carne della terra" – the meat of the earth. It slowly moved north up the peninsula where it was met with great suspicion by the Romans who referred to it as "mela insane" – the apple of insanity. The name stuck and eggplant in Italian is now known as "melanzana".
The following burger is made with a wealth of raw and roasted summer vegetables bound together with bread crumbs and oats to create a sunny and hearty Italian-infused concoction.
1 pound eggplant
½ tablespoon salt, in all
2 medium tomatoes, deseeded, and cut into ¼" slices
1 tablespoon olive oil
2 cups minced onions
2 large garlic cloves, quartered
½ cup rolled oats, ground to a coarse meal in a food processor or blender
1 cup cracker/bread crumbs
2 tablespoons sesame seeds
½ teaspoon dried marjoram
½ teaspoon dried basil
1½ cups grated carrots
freshly ground black pepper to taste
Preheat oven to 400° F.
Peel eggplant and cut into 1" dice. Toss with 1 teaspoon salt and let sit for 15 minutes. Rinse well in cold water, drain, and toss with oil. Mix with onion and garlic and place on baking sheet. Place sliced tomatoes onto a second oiled sheet. Place both sheets in oven and bake for at least 20 minutes until the eggplant is tender, the onion and garlic are lightly browned, and the tomatoes have begun to dry and brown. Remove both pans from the from oven and allow to cool.
Toast sesame seeds on a hot skillet until they begin to brown and release an aromatic steam. Remove from heat and cool.
Coarsely puree the roasted vegetables using a food processor or immersion blender. Mix with ground oats, bread/cracker crumbs, sesame seeds, marjoram, basil, grated carrots, remaining salt and pepper. Mix by hand, and add in more bread/cracker crumbs if the mixture is too loose to form patties. Taste and adjust seasonings. Let rest for at least 30 minutes.
If you'd like to try something different, consider turning this mixture into vegan 'meat' balls by using a 1½" diameter ice cream scoop to create the balls. These are then placed on an oiled pan and baked just like the patties.
This burger is best enjoyed on a split tomato-parmesan-olive roll topped with a slice of provolone and plenty of tomato marinara sauce.





Yuxiang Eggplant Stirfry
In Szechwan cooking, "yuxiang" stirfries are cooked "in the style of fish." What this means is that non-fish main ingredients are cooked using a sweet-sour suite of condiments and seasonings that are typically usually used with fish. In this case we're cooking eggplant in the yuxiang style, making one of the best eggplant dishes you'll ever eat. We've adapted our recipe from one presented in Ellen Schrecker's acclaimed 1976 Mrs. Chiang's Szechwan Cookbook (ISBN 978-0060138035). Our main alteration was to increase the amount of eggplant while at the same time cutting back on the cooking oil. If you'd like your version to be more authentic, you can double (or even triple) the amount of oil. But we frankly prefer this lighter version and see no reason for the eggplant to be swimming in oil.
¼ cup vegetable oil
12 cloves garlic (preferably a turban variety), minced
2 tablespoons fresh ginger paste
1 tablespoon Szechwan chili-garlic paste
6 dried shitake mushrooms, soaked until soft in hot water and thinly sliced
½ cup dry tree ear mushrooms, soaked in hot water until soft and thinly sliced
4 Asian eggplants, cut into 3" sections and then into ½" thick slices
8-12 fresh water chestnuts, peeled and cut into 1/8" matchsticks
2 tablespoons sugar
2 tablespoons rice wine vinegar
1 teaspoon salt
6 green onions, bottoms cut into ½" and the tops into 1" pieces
2 tablespoons soy sauce
1 cup water
Heat oil in a wok over high. When the oil begins to smoke, add in the garlic and ginger. Stir fry for 30 seconds.
Add in the chili paste, shitake and tree ear mushrooms. Stir fry for another minute.
Add in the eggplant, water chestnuts, and sugar. Stir fry for another minute.
Add in the vinegar and salt and stir fry for another 2 minutes.
Add in the green onions and soy sauce and stir fry for another 2 minutes.
Add in the water. Let come to a boil in the wok, reduce heat to medium-high and cover. Cook for 15 minutes until the eggplant is soft and slightly mushy and some oil has risen to the top of the cooking liquid.
Serve warm with Peking pancakes or hot rice. Wheat tortillas make a fine substitute for the pancakes.