Endive & Escarole Recipes
Belgian Endive, Taleggio and Walnut Risotto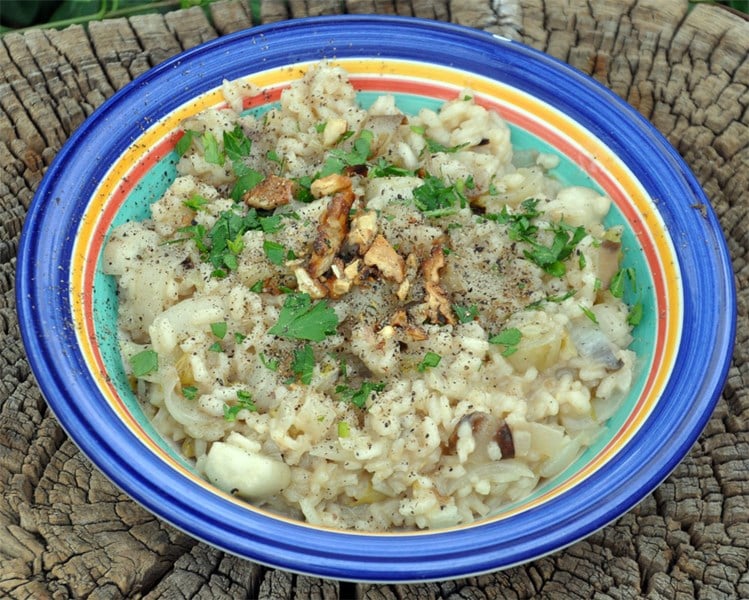 Yes, we've already presented a risotto recipe using this same plant species, in particular radicchio. So why do another? Because this is an utterly different dish, due not only to the fact that Belgian Endive is not nearly as bitter and is more sweet than radicchio, but also because we're using white wine and melting nutty Taleggio cheese into the finished dish. This is really a spectacular dish that you should try. We're altered the original recipe from Alice Waters' 1996 Chez Panisse Vegetablesby increasing the amount of arboro rice so that the finished product is thick and starchy and not thinner and almost soup-like.
We were lucky in being able to find Taleggio at a local grocery. But this can't be expected for many. So, what cheese would make a good substitute? Taleggio is an Italian rind-washed, smear-ripened cheese that like many in this class is quite aromatic (or shall we say stinky?). We would use aged brick (a North American rind-washed cheese) if we could not find Taleggio, and if aged brick was not available we'd try limburger. Remember that the smell will dissipate with cooking, leaving behind only a creamy, sweet, nutty goodness.
6 Belgian endives
1 medium yellow onion, finely minced
8 cups stock
3 tablespoons olive oil
2 tablespoons butter
2 cups arborio rice
1 cup dry white wine
3 oz Taleggio cheese
2 tablespoons chopped, toasted walnuts
1 tablespoon minced Italian flat leaf parsley
Salt and black pepper to taste
Cut the endives in half lengthwise, and then cut each of these crosswise into ½" slices.
Heat the stock just to a simmer.
In a large, heavy pan heat the olive oil and butter over medium-high. Sauté onion until translucent, about 5 minutes. Add in the rice and, stirring constantly, cook until the grains are lightly toasted, about 5 minutes more.
Add in the wine and cook, stirring constantly, until the liquid has been absorbed into the rice. Add in 1 cup of hot stock, stirring constantly until the liquid has almost all be absorbed. Keep adding in stock in 1 cup units, stirring the rice constantly until the liquid has been almost all absorbed. Before adding in the last cup of stock, add in the endive. Add in the last cup of stock and stir constantly until all the moisture has been absorbed and the rice grains have achieved an al dente texture. Remove from burner, mix in the Taleggio cheese, and adjust seasoning with salt and pepper. Cover and let rest for 10 minutes. Garnish with parsley and walnuts before serving.





Escarole Pizza (Pizza con Scarola)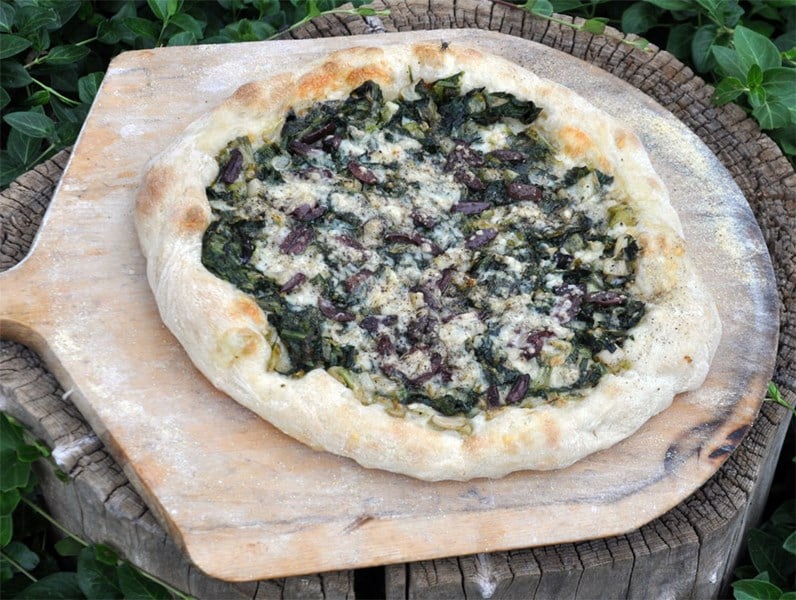 We usually think of pizza as requiring not only tomato sauce but also loads of mozzarella cheese. But this is only true from a North American perspective, as many traditional Italian pizzas have neither. An excellent case in point is this pizza topped with sautéed escarole, based on a recipe presented in Julia Della Croce's 1996 The Classic Italian Cookbook. We don't mind at all the absence of the tomatoes and mozzarella, and in fact this pizza become one of our favorite pies. While we have chosen to use some provolone and parmesan cheese to help hold the cooked escarole onto the crust, you can also easily turn this into a vegan recipe by eliminating both. It still tastes great but you will need to be careful eating it as the escarole has a tendency to fall off.
The Crust
1 cup warm water
1 tablespoon dry yeast
3 cups white flour
1 teaspoon salt
Dissolve yeast in water and let sit until it becomes foamy. Mix in the flour and salt and knead until the dough becomes elastic and satiny. Place in an oiled bowl, cover, and let sit in a warm place until doubled in bulk.
The Topping
¼ cup extra virgin olive oil
2 pounds escarole, shredded
¼ cup minced garlic
½ teaspoon dry oregano
salt and freshly ground black pepper to taste
6 oz aged provolone cheese, sliced
½ cup kalamata olives, pitted and sliced
¼ cup parmesan cheese
Heat olive oil in a large skillet over medium-high heat. Add in escarole, garlic, oregano, salt and pepper. Sauté, stirring constantly until the greens have wilted, about 5 minutes. Remove from heat and let cool.
Assembly
Heat oven to 550º F.
When the dough has risen, punch it down and form into a smooth ball. Let sit, covered, on a floured surface for about 5-10 minutes to let the dough relax. With well-floured hands press out the dough into an 8" circle. Enlarge the diameter of the crust to 14" using either a rolling pin or by placing the dough over the knuckles of your fisted hands and stretching the dough by gently pulling your fists apart, working around in a circle along the outer margin of the crust. While the latter technique will make for the most authentic pizza, it may be best to not try it unless you have experience doing this and/or have access to fuller instructions. We recommend Evelyne Slomon's 1984 The Pizza Book (ISBN 978-0812911138) for more information about not only stretching but also tossing pizza crusts.
Place the formed dough on a pizza pan or peel. To assemble the pie, first place on the dough a layer of provolone cheese. Top this with the escarole sauté, then the chopped olives and finally the parmesan. Dress the top of the pie with a little dry oregano, some freshly ground black pepper, and a drizzle of extra virgin olive oil.
Bake for 7-10 minutes until the crust is golden and the parmesan cheese has melted and turned a light brown. Remove from oven and let rest for 5-10 minutes before cutting.





Stuffed Escarole (Scarola Imbottita)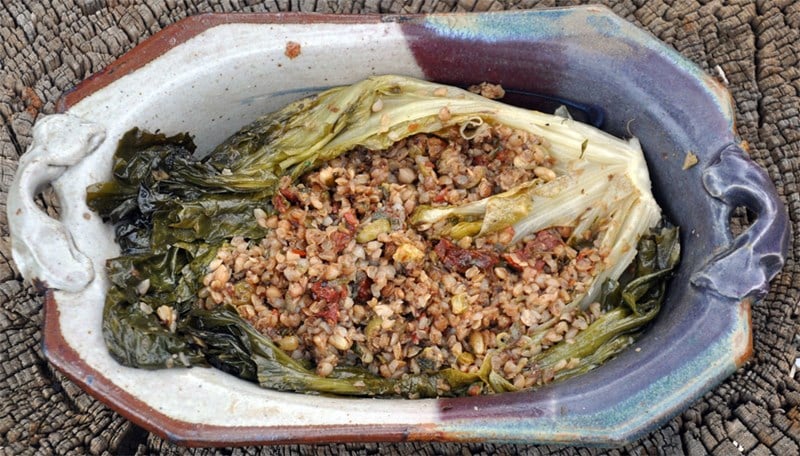 The original recipe for this unusual Sicilian stuffed head of escarole, as presented by Clifford Wright in his 2001 Mediterranean Vegetables, is out of bounds for this blog as it used ground meat in the filling. But we liked the idea and thought that we ought to be able to come up with a vegan version. To do this we fell back on one of our most useful tricks, substituting cooked buckwheat groats for the ground meat. And because of the different flavor, we also punched up the seasonings and flavors accompanying the buckwheat. The resultant dish was amazingly tasty and well worth a try in your kitchen.
A side note: as we were eating up the leftovers we wondered how this dish would work as a topping for nachos. It turns out very well, indeed. Just be sure to coarsely chop the escarole and mix into the filling before pitching onto your nacho chips.
½ cup extra virgin olive oil, in all
1 cup buckwheat groats
2 cups stock
2 tablespoons pine nuts
2 tablespoons golden raisins
¼ cup chopped black olives
¼ cup dried tomatoes, cut into strips
2 tablespoons flat leaf Italian parsley, chopped
2 garlic cloves, minced
Salt and freshly ground black pepper to taste
2 large heads escarole
Preheat over to 300º F.
In a medium saucepan, sauté dry buckwheat groats in 2 tablespoons olive oil over medium heat until toasted, about 2 minutes. Add in stock and bring to a boil. Reduce heat to a simmer, cover pan, and cook until all of the water is absorbed and the groats are completely cooked, about 20 minutes. Remove from heat and add in pine nuts, raisins, olives, dry tomatoes, parsley, and garlic. Season with salt and pepper.
Remove any damaged outer leaves of the escaroles. Set each head on its stem end and flatten each leaf from the outside into the center without breaking them off. Place half of the buckwheat mixture into the center of each escarole head. Bring the leaves back together to enclose the filling and tie the leaves together with a piece of string.
Place the stuffed escarole heads on their sides in a casserole and garnish with the remaining olive oil. Cover tightly and bake approximately 40 minutes until the escaroles are tender. Serve immediately.