Jeff & Linda's Kitchen of Diversity
Ethiopian Vegetables (Yataklete Kilkil)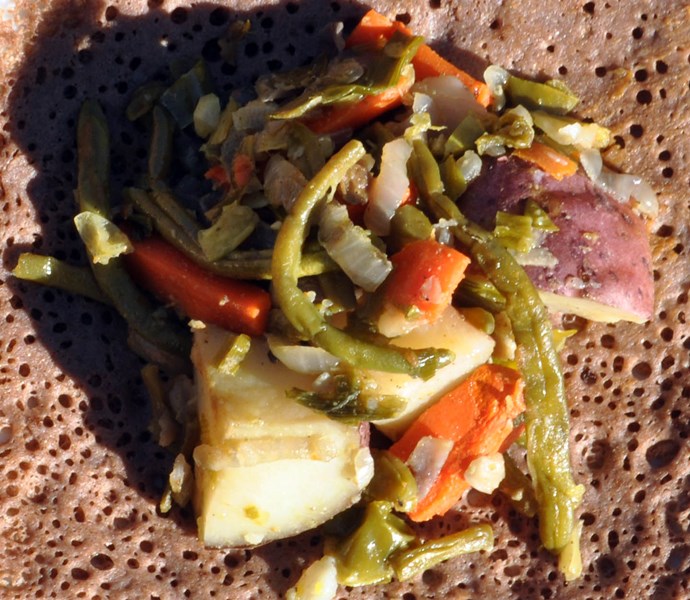 This simple yet very tasty mildly spiced dish is a wonderful accompaniment to the more strongly flavored ones in this meal. While we like the combination of potatoes, carrots, and green beans as the main vegetables in this medley, consider using whatever fresh produce is available from your garden. Other possible tasty options include cauliflower, broccoli, asparagus, turnip, broad beans, sweet bell peppers, sweet potato or squash. Again, it is easy to make this vegan by substituting flavored vegetable oil for the spiced butter. Makes at least 10 cups.
8 waxy red potatoes, washed and cut into 2"dice
3 large carrots, peeled, cut into quarters and then into 2" lengths
¼ cup spiced butter
2 medium red onions, sliced in half and then into ½" wide strips
2 mild green chilies, seeded and cut into ½x2" wide strips
3 fresh hot green chilies, stemmed, de-seeded, and chopped
2 tablespoons minced garlic
1 tablespoon freshly ground ginger paste
1 teaspoon salt
½ teaspoon freshly ground white pepper
½ pound green beans, stemmed, and cut into 2" lengths
6 green onions, cut into 2" lengths
Blanch potatoes and carrots in boiling water for 5 minutes until they are almost tender. Place immediately into a basin of cold water to stop cooking. Let sit for 3-4 minutes, and then drain.
In a 4-5 quart casserole melt spiced butter over medium heat. Add in onion and chilies sauté until the onions are transparent. Add in ginger, garlic, salt and pepper and stir fry with the onions and chilies for another minute or two.
Now add in the green beans, green onions, and precooked potatoes and carrots. Stir so that all the vegetables are lightly coated in oil.
Reduce heat to low and cook for 10 minutes until the vegetables are firm but tender.
We recommend use of a large, sweet cooking carrot like Chantenay or Kuroda, a sweet red onion like Brunswick, mild green Chimayo chili, hot green Thai or Serrano chilies, a nutty garlic like Himalayan Red, a large, stringless green bean like Dragon Tongue, Landreth, or Roma II, and a green onion like He Shi Ko.