---
FALL HARVEST FESTIVAL
Sunday & Monday | October 8-9, 2023
---
---
As the leaves begin to change in the Ozarks, join us in celebrating the abundance of harvest and appreciating the joy and self-sufficiency that gardening and farming bring.
Enjoy expert speakers, local food, unique vendors, greenhouse and garden tours, and old-fashioned entertainment at Baker Creek's Mansfield, Missouri, farm! Join thousands of gardeners, farmers, and craftspeople to celebrate heirloom gardening at our Missouri homeplace. Become a vendor or exhibitor, or join us as a guest!
$15 per vehicle. Admission is free, but limited parking requires purchasing a ticket before the festival.
---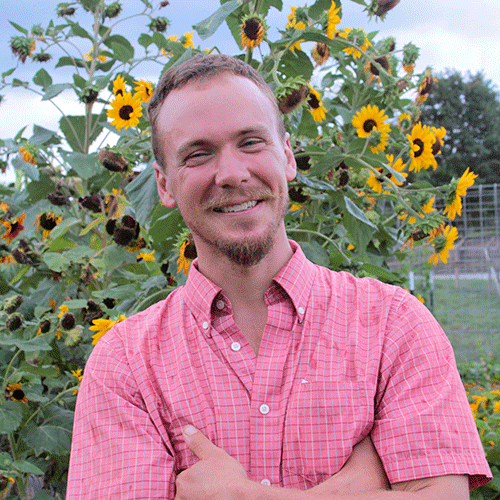 ---
JORDAN CHELL
"How to Grow Your Best Ozarks Garden"
10:30 a.m., Sunday, October 8
Jordan Chell is Farm Manager at Baker Creek Heirloom Seed Co. Farming is in his DNA. He is a third-generation farmer born and raised in southern California, where his great-grandfather, an Indian immigrant, built a very successful family farming business in the southern California desert. When his father began contract farming vegetables, and later table grapes and strawberries, in the Bakersfield and Oxnard plains, Jordan was right by his side. He has a wealth of experience in large-scale, hydroponic, and organic farming, including working as grower for Driscoll's genetic breeding and research program and as the head organic grower for Hollandia Produce, the West Coast's largest producer of hydroponic butter and cut-leaf lettuce. He also founded a company that helped commercial berry growers humanely control nuisance birds. Jordan has implemented many innovative growing systems at Baker Creek and managed a major expansion of the company's greenhouses and gardens.
---
---
BEVIN COHEN
"The Art of Seed Saving"
4:45 p.m., Sunday, October 8
Bevin is an author, herbalist, seed saver, and owner of Small House Farm in Michigan. He offers workshops and lectures nationwide on the benefits of living closer to the land through seeds, herbs, and locally grown food. Bevin's work has appeared in many national publications, and he is the author of four books, including Saving Our Seeds, The Artisan Herbalist, and The Complete Guide to Seed & Nut Oils. He and his wife, Heather, also helped found the Michigan Seed Library Network. In his presentation, Bevin will demonstrate how to save the seeds of many varieties and talk about why seed saving is so important.
---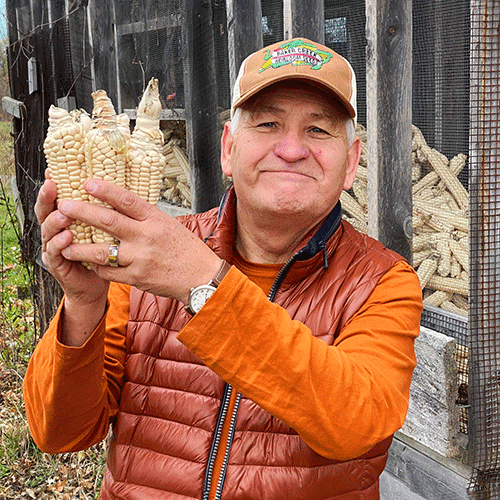 ---
STEPHEN MCCOMBER
"Seed Keeping and Planting by the Moon"
1:00 p.m., Monday, October 9
A traditional Haudenosaunee elder from the Mohawk community of Kahnawake in Quebec, Canada, Stephen is a member of the Bear Clan and a faith keeper and manager of spiritual, traditional ceremonies at the Mohawk Trail Longhouse. He is also a celebrated artist and has twice received The Canada Council for the Arts Award. As a traditional Haudenosaunee seed keeper, he has shared his knowledge with international audiences. Since 2007, he has worked as a native elder for Corrections Canada. He is also the proud grandfather of 12 grandchildren. Stephen will share stories of his seed-keeping work and collection, as well as describe the practice of planting by the moon.
---
---
RACHEL PARENT
"Combating the Lab-Grown Synthetic Food Revolution"
Rachel Parent is a journalist and Founder of Kids' Right to Know, a non-profit organization based in Canada and focused on education and policy change regarding GMOs. Rachel's interest in non-genetically modified foods was sparked while researching GMOs for a school project and she was dismayed to learn that the Canadian government did not require food producers to label genetically altered foods. Rachel makes the case that fixing the food system is possible through regenerative agriculture and activism.
---
---
---
MIKE SNYDER
"Growing Gourmet Mushrooms at Home"
2:15 p.m., Monday, October 9
Mike Snyder is a mushroom educator from the Ozarks and has been busy doing talks, walks, and workshops about mushrooms in the region for the past few years. He has been foraging and studying fungi for 13 years and has been cultivating mushrooms for about 3 years, focusing on outdoor growing methods. He serves on the Board of Directors of the Missouri Mycological Society and is one of their official mushroom identification experts, having earned the Harry Thiers Certificate of Mushroom Proficiency. He is a proud member of the North American Mycological Association Cultivation Committee as well. He and his wife, Cara, run WildWise Botanicals, a company that offers products handcrafted from wild-foraged plants and fungi.
---
---
ALAN SPARKS
"Elemental Joy: My Life as a Flower Breeder and Gardener"
1:00 p.m., Sunday, October 8
Alan Sparks devoted his career to the art and practice of flower breeding and selection, work that requires patience, persistence, and attentiveness. Over his 33 years at Sahin/Takii Europe, Alan developed many beautiful varieties, including the incredible Alan's Pride echinacea, a luminescent and mesmerizing green echinacea. Breeding and selection work is a little bit like "a creation story," Alan says. In his talk, he will reflect on his life as a breeder, but also, as he put it, "mainly just this joy you get when you walk into the back garden and potter about with living things. It's as though we are made to do this."
---
---
RACHAEL WEST
"Foraging in the Fall and Winter"
11:45 a.m., Sunday, October 8
Rachael West is the owner, founder, and lead instructor of Eating the Ozarks. An expert forager, wild foods chef, and certified herbalist, Rachael is also the author of Wild Foraged, an educational culinary cookbook. She has taught about wild foods in the Ozarks for the past decade. She appears biweekly on Springfield TV station KOLR-10 and has worked with many groups and organizations. Rachael also recently curated The Foraging Garden seed collection for Baker Creek. Learn more about her work at eatingtheozarks.com. Check out the collection at rareseeds.com.
---
---
ANNETTE & JARED THURMON
"Why Soil Health Matters"
2:15 p.m., Sunday, October 8
Annette and Jared Thurmon left the city life behind in Atlanta a few years ago when they moved to a piece of land an hour – and a world – away from Atlanta. Annette and Jared share their homestead experiences through social media in hopes they can nurture other people's dreams of a simpler life and greater self-sufficiency. Find them on Instagram: @azurefarm and on the web at www.azurefarmlife.com. They will talk about the physical benefits of getting our hands in the soil as well as how to make healthier soil.
---