Sardinian Chickpea and Fennel Stew (Zuppa di Ceci e Finocchio alla Sarda)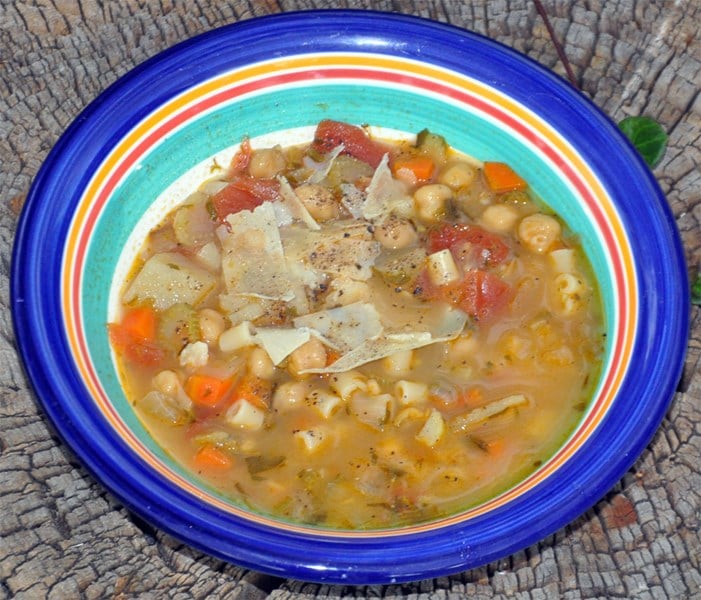 If you are a poor, hungry Sardinian shepherd what sort of food would you make to sustain yourself while tending your sheep in the rural countryside? This soup is one answer, being made from a few easily obtained ingredients and yet making for an imminently satisfying and hearty meal. This recipe, inspired from one shared byJulia Della Croce in her 1994 Italy: The Vegetarian Table is really nothing other than the Sardinian version of the mainland Pasta e Fagioli (Pasta and Bean Soup) that has found its way into so many North American Italian restaurants. But, this version tastes so much better.
1 cup dry chickpeas
¼ cup extra virgin olive oil
1 large onion, diced
2 tablespoons garlic, minced
3 tablespoons Italian flat leaf parsley, minced
1 large fennel bulb, stalks and fronds removed, halved, cored and thinly sliced crosswise
½ cup minced fennel fronds
1 large potato, peeled and cut into small dice
2 cups tomato, peeled, seeded and coarsely chopped
1 tablespoon chopped fresh rosemary or 1 teaspoon dry
1 tablespoon salt
½ teaspoon freshly ground black pepper
6 cups stock
¼ cup ditalini or other small pasta
¼ cup grated Pecorino Romano cheese
Soak the chickpeas overnight in water. Drain and place into a deep pan with 4 cups of water. Bring to a boil, cover, and reduce heat. Simmer until the chickpeas are tender, at least 2 hours. Drain and set aside.
Heat the olive oil over medium in a soup pot. Add in onion, garlic and 2 tablespoons parsley and sauté for about 10 minutes until the mixture begins to brown. Add in the sliced fennel bulb, chopped fennel fronds and potato. Sauté for another 10 minutes. Add in the tomatoes, cooked chickpeas, rosemary, salt, and pepper along with the stock. Bring to a boil, reduce heat and simmer, covered, for 10-15 minutes until the vegetables are cooked. Add pasta and continue to simmer for another 10-15 minutes until the pasta is al dente. Correct seasonings with additional salt and freshly ground black pepper.
Remove from heat. Stir in remaining parsley. Ladle into bowls and garnish with the Pecarino cheese if you need not keep this a vegan dish.





Finocchio a la Grecque (Greek Fennel)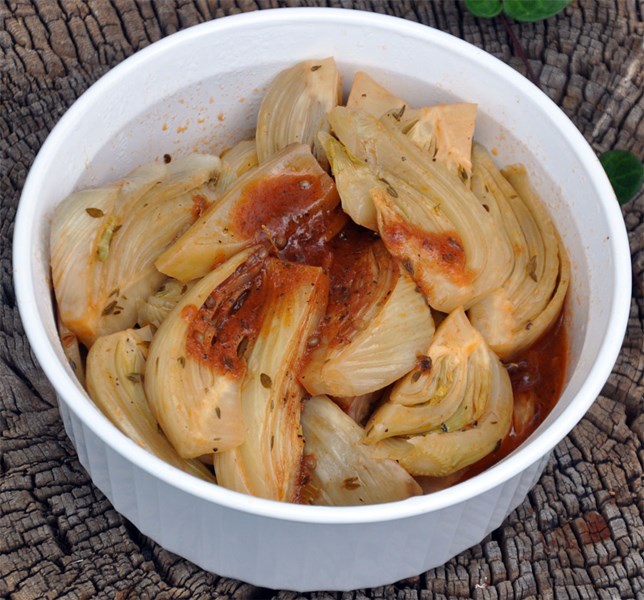 This is an excellent way to cook fennel for an antipasta plate. The recipe is adapted from Nika Hazelton's 1976 The Unabridged Vegetable Cookbook (ISBN 978-0871312136). If you have leftovers, remember that like many antipasti it makes a superb addition to pasta salads. Just make sure to chop the fennel wedges.
3 cups dry white wine
¼ cup extra virgin olive oil
2 tablespoons tomato paste
½ teaspoon lemon extract
2 bay leaves
½ teaspoon coriander seed
½ teaspoon dry thyme leaf
4 large fennel heads, cored and cut lengthwise into eighths
salt and freshly ground black pepper to taste
Combine the wine, olive oil, tomato paste, lemon extract, bay, coriander, and thyme in a heavy pan and bring to a boil. Reduce heat to a simmer and add in the fennel. Simmer, covered, until the fennel is tender but still firm, anywhere from 15-30 minutes. Remove cooked fennel to a serving dish. Increase heat to medium-high and reduce the cooking liquid to 1/3 of its original volume. Remove the bay leaves and pour over the cooked fennel. Allow to cool to room temperature before serving.





Sardines at Sea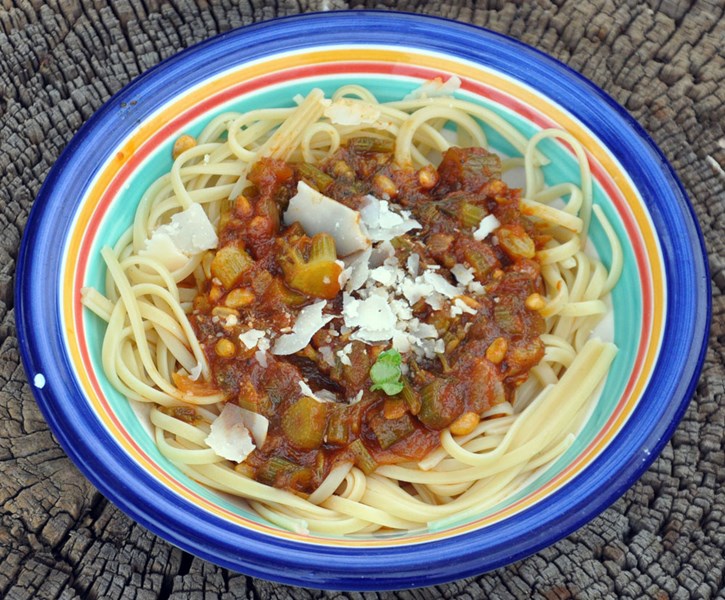 What a fun name for this vegan dish! As Faith Willinger relates in her 1996 Red White & Greens, the sardines do remain at sea as they are never caught and brought to shore. Rather, fennel greens and various other vegetables, fruits, and nuts are used instead to make for this very traditional and tasty rural Sicilian pasta sauce characteristic of "cucina povera", or poverty cuisine, in which excellent food was made from the most simple and inexpensive of ingredients. Often these were harvested free from the surrounding landscape as is the case with the fennel greens which grow wild throughout the Mediterranean. .
6 quarts water
2 tablespoons sea salt
½ pound fennel greens, tough stalks removed
1 large onion, chopped
3 tablespoons extra virgin olive oil
2 cups tomato, peeled, seeded and chopped
¼ cup pine nuts
¼ cup small raisins
1/8 teaspoon freshly grated nutmeg
1/8 teaspoon saffron, crushed and dissolved in 2 tablespoons of hot water
Salt and freshly ground black pepper to taste
Add salt to the water and bring to a rolling boil. Add in the fennel greens and cook until tender, about 6-8 minutes. Drain fennel, reserving the cooking water. Refresh fennel under cold water, drain, and coarsely chop.
Heat olive oil over medium heat in a large pan. Saute onion for about 10 minutes until soft. Add in the tomato, pine nuts, raisins, nutmeg, and chopped fennel leaves. Cook over medium-low heat until the sauce thickens, about 15-20 minutes.
Add in saffron and its soaking water along with ½ cup of the water used to cook the fennel leaves. Cook sauce over medium-high heat for 3-5 minutes until it thickens. If the sauce becomes too thick, add more of the fennel water. Adjust seasonings with salt and pepper.
Serve over linguini, spaghetti or some other long but narrow pasta which has been cooked in the fennel water. Garnish with freshly shaved parmesan cheese.





Tomato Fennel Soup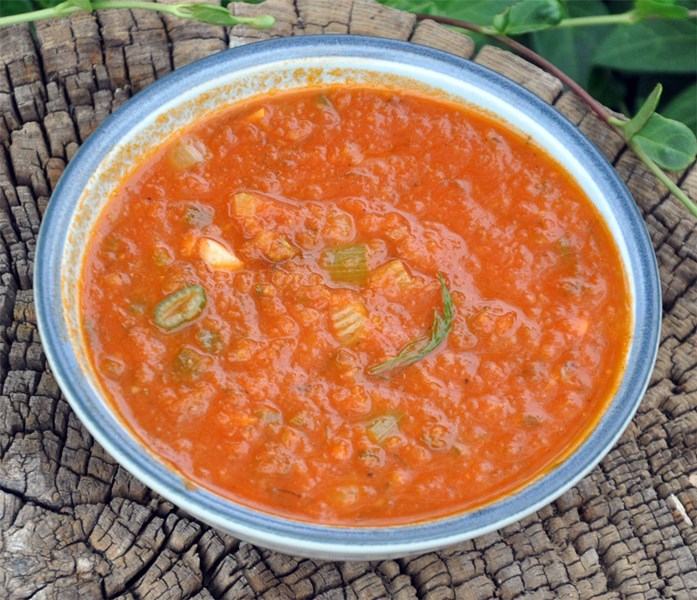 Here's a good and simple way to use fresh tomatoes and fennel from your late summer garden. This recipe is adapted from one presented by Julee Rosso & Shelia Lukins in their 1984 Silver Palette Good Times Cookbook (ISBN 978-0894808319). Note that you will want to steep the aniseed in vodka overnight before using the infused liqueur, so do plan ahead.
Also, note that while not only is this soup wonderful on its own, it also makes a terrific pasta sauce. In fact, we used the leftovers to make perhaps the tastiest batch of vegetarian lasagna that we've ever assembled. If you have an abundance of fennel and tomatoes in your garden you may want to consider doubling or tripling the batch and canning up the extra for future use.
1 tablespoon anise seed
½ cup vodka
3 fennel bulbs (about 2 pounds)
2/3 cup olive oil
1 large onion, minced
¼ cup garlic, minced
2½ pounds tomatoes, peeled, seeded and chopped
2 cups stock
salt and freshly ground black pepper to taste
The night before cooking place anise seed and vodka in a small jar. Screw on cap and let sit. Before using strain out the seeds using a fine tea strainer.
Remove the leafy tops from the fennel bulbs, chop, and reserve.
Coarsely chop two of the fennel bulbs. Heat olive oil in a large pan over medium. Add in the fennel, onion, and 3 tablespoons of garlic and sauté until the vegetables are soft, about 10 minutes. Add in tomatoes and simmer uncovered for 30 minutes. Puree the mixture until smooth and return to the pan.
Finely chop the remaining fennel bulb. Heat the remaining olive oil over medium and sauté the remaining fennel and garlic for 5 minutes. Add to the fennel-tomato puree along with the anise-infused vodka, chopped fennel tops, and stock. Simmer until heated through. Season with salt and pepper to taste.