Brandied Figs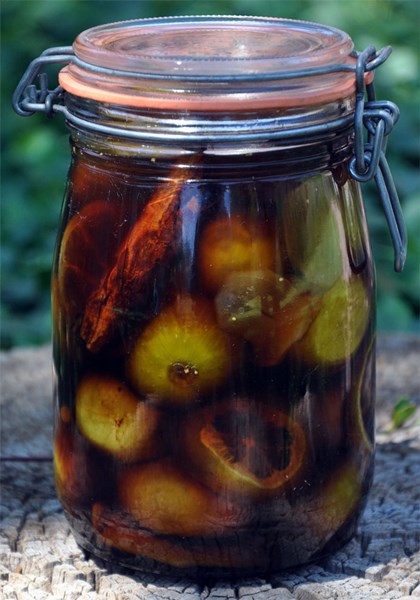 Fresh figs are glorious but they keep poorly and are available for only a very short time. So, what do you do with the bumper crop harvested from your trees before they rot? The most common preservation approach is through drying. But others exist. Here we share a wonderful recipe adapted from Jan Berry's 1997 The Art of Preserving (ISBN 978-0898158953) in which fresh figs are preserved in a sugar and brandy syrup. They can then be eaten by themselves or used as a topping for other deserts.
Note that the following recipe will likely make far more syrup than needed: in our case we only used 1 cup of syrup (and one cup of brandy) to cover and preserve our figs. Please don't throw out the leftover syrup! By itself it also has an amazing flavor profile through not only the brown sugar, lime, and spices, but also from the fig flavor that is infused into the sauce during poaching. What we did was to put the hot sugar syrup into clean canning jars and seal. We'll use this syrup in the future as a versatile dessert topping.
4½ cups packed brown sugar
2 cups water
10 cloves
2 3"long cinnamon sticks
2 limes, cut into 1/4" slices
16 large fresh figs
2 tablespoons preserved ginger, finely sliced
About 1 cup of brandy
Place brown sugar, water, cloves, cinnamon, and lime slices into a large saucepan. Bring to a simmer over low heat. Add in the whole figs and gently poach for 10 minutes. Remove the figs with a slotted spoon. Layer into a sterilized quart jar with the lime and ginger slices and cinnamon sticks.
Continue cooking the remaining syrup until it has reduced by half, at least 15 minutes.
Pour the reduced syrup over the packed figs. Now pour off the syrup into a measuring cup. Pour off half of the syrup, and replace with an equal amount of brandy. Pour the brandy-syrup mixture over the figs and seal the jar. Let rest in a cool, dark place for at least four weeks. Refrigerate after opening.






Grilled Fig Bruschetta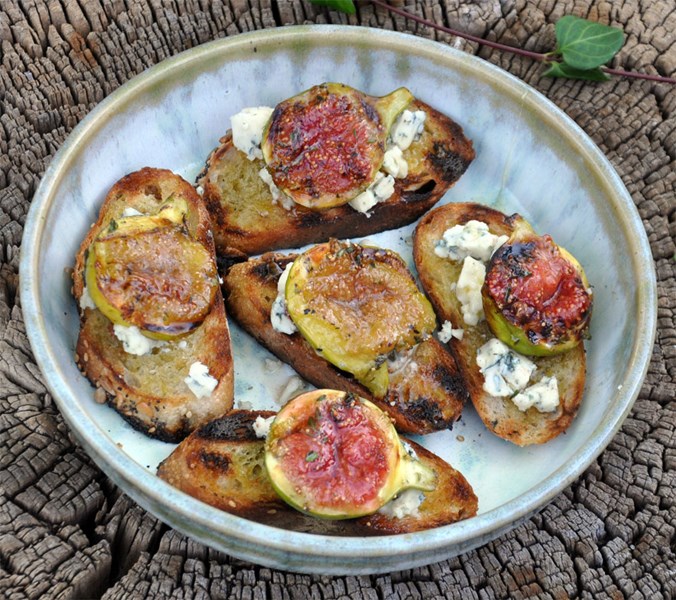 While we often think of bruschetta as having savory toppings (tomato/basil or beets, for instance) there are other approaches. Here we present a sweet bruschetta made with grilled figs, gorgonzola, and topped with herb-infused honey. This simple, quick and very tasty recipe will become a favored way for you to use your fresh figs during their all-but-too-brief season. The original version is found in Jerry Traunfeld's 2000 The Herbfarm Cookbook.
¼ cup honey
6 3-inch sprigs of fresh thyme
12 large ripe figs
2 tablespoons extra-virgin olive oil
2 teaspoons fresh thyme leaves, minced
6 oz Gorgonzola cheese
1 baguette
In a small saucepan bring the honey to a gentle simmer. Remove from heat and add in the thyme sprigs. Let sit for at least 15 minutes, removing the sprigs and letting them drain before use.
Cut the figs in half and toss with olive oil and minced thyme leaves. Grill over hot coals until they are heated through but not collapsed, about 1-2 minutes per side. Remove to a platter.
Cut baguette into 1/2" slices. Liberally drizzle with olive oil and toast over the hot coals until lighly browned on both sides.
Spread each toast with crumbled Gorgonzola and place on top of this a roasted fig half. Drizzle the warm thyme honey over the top and serve.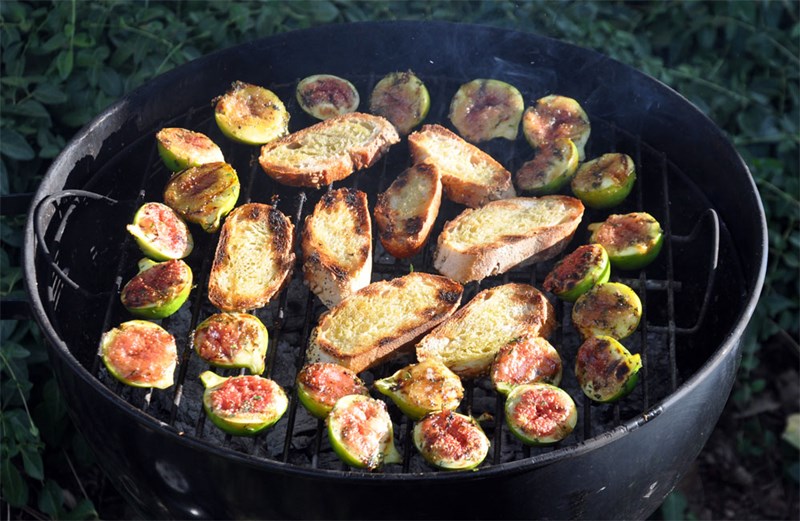 Fig Anise Bread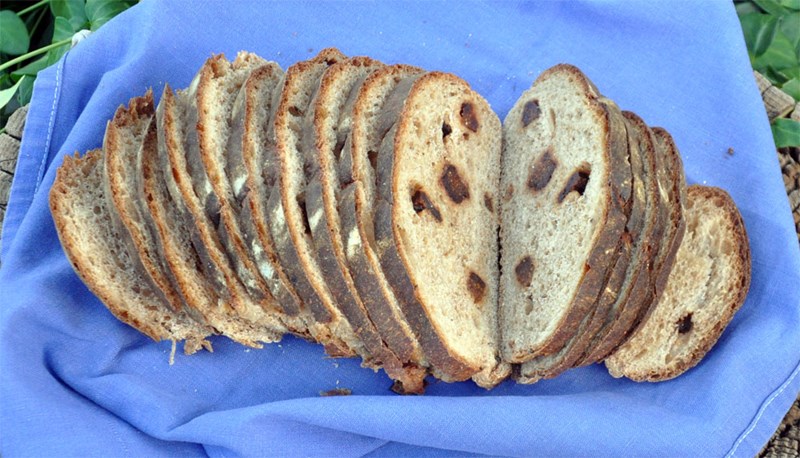 This bread is one of our favorites, and is excellent toasted and spread with chevre. While the original recipe from Nancy Silverton's 1996 Breads from the La Brea Bakery (ISBN 978-0679409076) is made with sourdough, here we've adapted it for normal instant dry yeast.
10 ounces soft, dried black figs, stems removed and halved.
¼ cup hot water
1½ cup cool water
2 tablespoons dry yeast
4 cups unbleached white bread flour
1/3 cup sugar
1 ½ teaspoons sea salt
½ teaspoon anise seeds
2 tablespoons cornmeal
Place ½ cup packed cut figs into a blender with the hot water and puree. Set aside.
Dissolve yeast in the water in the bowl of a bench-top mixer. Let rest until the yeast activates and becomes foamy. Add in the flour and sugar and mix at low speed mix until a medium-soft dough is formed, about 2 minutes. If the dough is too stiff, add in more water. Sprinkle salt over the dough and continue mixing at medium speed for another 6 minutes. Keeping mixing speed at medium slowly add in the pureed figs, cornmeal, and anise seeds. Let mix for 2 minutes and then set mixing speed to low. Add in the remaining chopped figs and mix for another 2 minutes until they are well incorporated into the dough. Place dough into an oiled bowl, cover, and let raise in a warm place until doubled.
Heat oven to 500º F. Punch dough down and cut into two equal pieces, each a little over 1 pound in weight. Form each piece into a ball and place into a small basket which has been lined with a floured tea cloth. Cover and let raise until almost doubled.
Tip the dough from the baskets and onto a cooking sheet dusted with coarse corn meal. Score the top of the loaves with 2-3 cuts. Place breads into the oven and liberally spritz with water. Close the oven door and spritz again with water in 3 minutes. Repeat this process one more time. After the last spritz, close the oven door and reduce the oven temperature to 425º F. To get the maximum oven rise in the breads don't open the oven for the next 20 minutes. After 20 minutes check the loaves and rotate if necessary to ensure even baking. Continue baking for another 10 minutes until the loaves sound hollow when tapped on the bottom. Remove the loaves to a cooling rack and lest rest at least 3 hours before slicing.





Fig Bars (for Adults)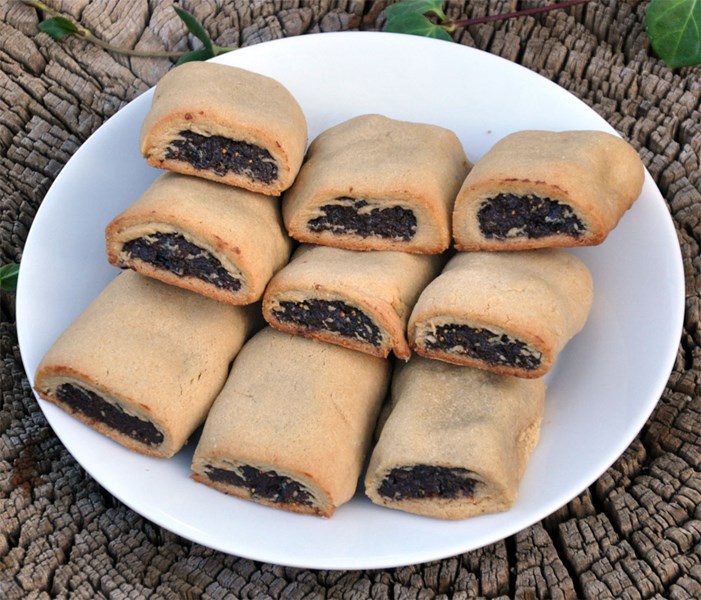 One of the things we most like doing is to make for ourselves various iconic foods that are normally left to commercial interests to assemble (see for instance our series of entries on DIY Mustards). Here we show you how to make your own 'Fig Newtons' although our cookies have little in common with these seedy comforts from our childhood. The following recipe is a bit of a mongrel, with the cookie casing coming from Nick Malgieri's 2000 Cookies Unlimited, the filling being adapted from a recipe related by Regan Daley's 2001 In the Sweet Kitchen, and with the assembly following the instructions provided by Helen Witty & Elizabeth Schneider Colchie's 1979 Better Than Store Bought (ISBN 0060146931).
Our recipe differs from a store bought 'fig newton' not only by being impeccably fresh but also by having more filling and more importantly by having that filling be far more interesting than just figs and sugar. Working from a Sicilian crostata base, we here have created a fig and date filling flavored with cocoa and coffee liqueur. It is complex with layers of flavors, and we doubt sincerely that you'll ever be able to go back to a store-bought newton again.
One of our yardsticks to determine how good these recipes are is seeing how long it takes us to make them again. We're already planning out next batch.
Cookie Dough
2¼ cups white flour
2/3 cups firmly packed brown sugar
1/8 teaspoon salt
1 teaspoon baking powder
10 tablespoons cold unsalted butter, cut into 10 pieces
1 large egg
1 teaspoon vanilla extract
Combine flour, brown sugar, salt and baking powder in the bowl of a kitchen mixer. Using the paddle attachment, beat in the butter until a coarse meal is formed. In a small bowl whisk together the egg and vanilla and add into the mixing bowl. Run the mixer at a medium-low speed until the dough holds together, no more than a minute. Remove the dough from the mixer, wrap in plastic, and let chill in the refrigerator for at least an hour.
Filling
½ pound dates, pitted and chopped
½ pound dried black figs, nibs removed and the remainder chopped
2 tablespoons orange juice concentrate, dissolved into ½ cup of water
½ cup milk
1/3 cup sugar
½ cup cocoa powder, sifted
3 tablespoons water
3 tablespoons coffee liqueur
Combine dates, figs, orange juice, milk, sugar and cocoa in a heavy bottomed sauce pan and bring to a simmer over medium-low heat. Cook for 5-7 minutes, stirring constantly, until the mixture becomes thick. Remove from heat. Add in water and coffee liqueur and puree until a uniform paste is formed. If the filling seems too thick, add in more liqueur. Cool to room temperature.
Assembly and baking
Preheat oven to 400º F.
Place the cooled filling into a pint Ziploc bag. Seal the top and snip a corner off one corner of the bottom.
Divide the dough into four equal pieces, and return all but one to the refrigerator. Quickly roll the dough into a 6" x 18" rectangle. Pipe a 1" wide bead of filling about 4" from one of the short side ends and across the entire length of the long end. Fold the shorter side of the dough over the filling, and paint with a little water. Now fold the longer side over the top. Gently transfer the filled cylinder to a parchment-lined cookie sheet. Repeat for the remaining 3 pieces of dough.
Bake for 12-15 minutes until the cookies turn golden brown. Remove from the oven and let cool. Cut the cylinders into 2-3" long pieces.