Chana Dal with Gourd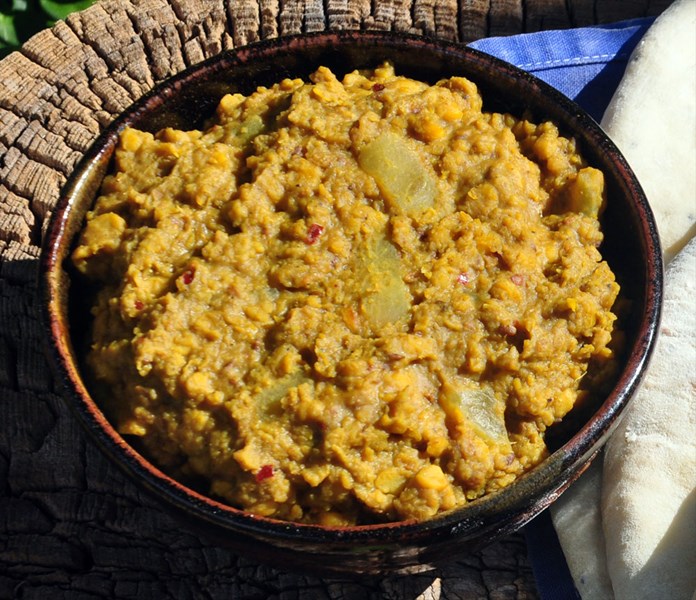 One of the real advantages of cooking with gourds rather than summer squash is that they tends to not cook down into a mush and thus remains separate and identifiable when stewed with other vegetables for extended periods. The following recipe, inspired by one presented in Yamuna Devi's 1987 Lord Krishna's Cuisine (ISBN 978-0525245643) is an excellent example, with the gourd pieces remaining intact and a wonderful contrast to the surrounding cooked chana dal.
1½ cups chana dal
8 cups water
½ teaspoon ground turmeric
2 teaspoons ground coriander
1 tablespoon fresh ginger paste
2 pounds gourd, peeled, seeded and chopped into 1½" long x ¾" wide strips
½ tablespoon garam masala
1 teaspoon salt
½ tablespoon lemon juice
4 tablespoons canola oil or ghee
½ tablespoon cumin seed
2 whole dry chilies
½ teaspoon asafetida powder
8 curry leaves, fresh
Soak the chana dal in 4 cups of water for 5 hours or overnight. Drain.
Place the soaked chana dal, water, turmeric, coriander, and ginger in a heavy pan. Bring to a boil, reduce heat to a simmer, and cook, covered, until the dal is tender, about 1½ hours.
Add in the gourd pieces and garam masala. Simmer for another 30-40 minutes until the gourd pieces are tender. Add in the salt and lemon juice.
Heat oil over a medium-high burner. When the oil is hot, add in the cumin, and stir fry until the seeds brown, about 15-30 seconds. Add in the chilies, asafedita, and curry leaves and stir in the hot oil for 10 seconds. Remove from heat and pour the hot oil and seasonings into the dal. Cover the dal and let rest for 2-3 minutes before serving.





Gourd Kalia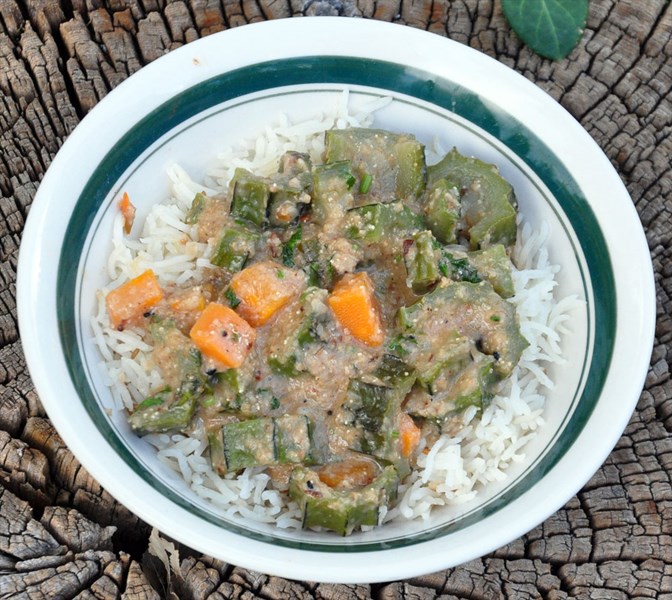 Kalias are essentially the Bengali equivalent to kormas, differing only by the spicing used to flavor the nut-thickened sauce. The following recipe, inspired by one presented by Pat Chapman in his 2007 India: Food & Cooking, allows for a choice of gourd. If you'd like a dish that is not too challenging to most western palates, use bottle gourd which has a mild, cucumber-like flavor. If you'd like to try something a little different, make this dish with young luffa gourd. This has a somewhat bitter flavor that is very much appreciated in eastern Indian and Bangladeshi cuisines. Note that the recipe calls for dry cinnamon leaf. This is commonly found in Indian groceries where it will be called 'bay leaf'. However you'll be quickly able to see the difference because it has three strong veins running down the center of the leaf, not just one as is the case for European bay leaf.
1½ pound lufa or bottle gourd
½ pound carrot, peeled and cut into ½" cubes
4 cloves garlic
1" piece of scraped fresh ginger, coarsely chopped
½ pound onion, coarsely chopped
1 tablespoon white poppy seeds
2 oz toasted almonds
¼ teaspoon cumin seed
¼ teaspoon fennel seed
¼ teaspoon fenugreek seed
¼ teaspoon black mustard seed
¼ teaspoon charnuska seed
2" long piece of cinnamon bark
3-4 cassia (cinnamon) leaves, dry
½ teaspoon cayenne
4 tablespoons canola oil or ghee
1 cup coconut milk
2 fresh red chilies, seeded and thinly sliced
2 tablespoon tomato paste
2 teaspoons garam masala
1 tablespoon minced cilantro
If using lufa, cut in half lengthwise and then each into ½" slices. If using bottle gourd, peel, remove seeds, and chop flesh into 1" cubes. Parboil lufa/gourd and carrots in boiling water until just tender. Drain.
Place garlic, ginger, onion, poppy seeds, and almonds in a blender. Puree, adding in enough water to make a pourable paste.
Heat oil/ghee in a heavy pan over a medium-high burner. When the oil is hot add in the cumin, fennel, fenugreek, mustard seed, charnuska, cassia leaf, and cayenne. Stir fry for 30 seconds. Add in the garlic/ginger/onion paste and stir fry for another 5 minutes, adding in a little coconut milk as needed to keep the mixture from sticking to the bottom of the pan.
When oil patches begin to form on the top of the cooking paste, add in the remaining coconut milk, red chilies, and tomato paste. Bring to a simmer, stirring constantly. Add in the parboiled gourd and carrot pieces, garam masala, and cilantro. Cook until heated through, remove from burner, adjust seasoning with salt, and serve.





Gourd and Tomato Korma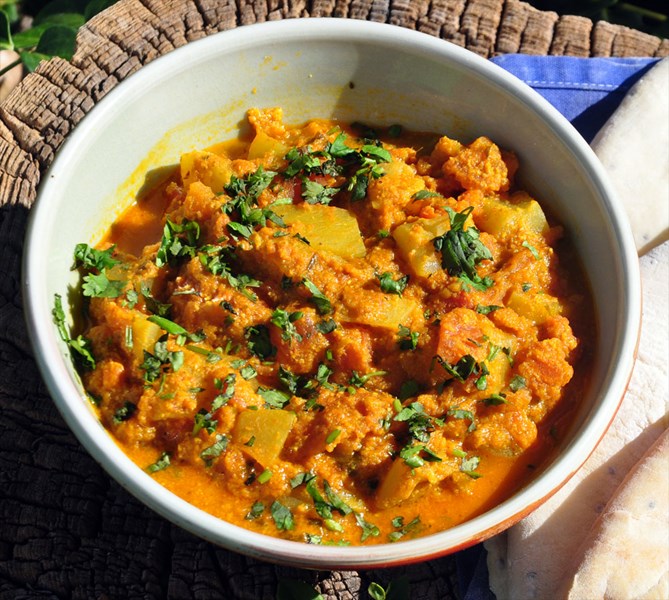 Gourds were a principle food source until the more productive squash was spread around the world following European contact with Central American agriculturalists in the 1500s. It is still possible to find gourds being used in cookery, however, especially in south Asia. In the following recipe, adapted from Yamuna Devi's 1987Lord Krishna's Cuisine (ISBN 978-0525245643), gourds are cooked with tomatoes (another New World domesticate) in a korma sauce. Kormas are curries which have been enriched and thickened with ground nuts (often almonds) and are usually not terribly hot, though they are loaded with a tremendous amount of flavor. Because of their richness and extravagance, kormas were favorite dishes in the courts of the moguls. This dish does not quite rise to these gastronomic heights, being rather a korma that would appear in temple kitchens where it would be served to common people.
1½ tablespoons coriander seed
1 teaspoon cumin seed
½ teaspoon fennel seed
2 hot green chilies, seeded and minced
1" fresh ginger root, peeled and chopped
¼ cup toasted almonds
¼ cup water
3 tablespoons vegetable oil or ghee
1 pound tomatoes, peeled, seeded and coarsely chopped
1½ pounds gourd, peeled, seeded, and cut into 1" cubes
½ teaspoon turmeric
1 teaspoon salt
3 tablespoons chopped cilantro
Toast the coriander, cumin and fennel seed in a hot, dry skillet (see directions in the Balti Garam Masala recipe). Remove from heat, cool, and grind.
Place ground spices into a blender with the chilies, ginger, toasted almonds, and water. Puree until smooth.
Heat oil/ghee in a large saucepan. Pour in the spice/almond puree and fry until it separates from the oil. Stir in the tomatoes and sauté for a few minutes. Add the gourd, turmeric, salt and half the cilantro. Bring to a gentle simmer, cover, and cook until the gourd pieces are very tender, about 30-40 minutes. Stir from time to time to keep the bottom from scorching. If the sauce become dry, add in some more water. When the gourd is soft, remove from heat, place in serving bowl and garnish with the remaining cilantro.





Roman Gourds
Gourds were a vital part of the pre-Columbian European diet. The name 'gourd' springs from the Old French 'coorde', which was derived from the Latin 'cucurbita'. This root evolved into the Italian 'zucca', with the young fruit being called 'zucchini'. In Spain, this vegetable was been known as 'calabaza', which is possibly derived from the Arabic 'qar'a yabisa' and Persian 'kharabuz' for 'dry gourd'. This helps explain why there are recipes calling for 'zucchini' that predate the discovery of the New World by Europeans: these recipes actually were developed for gourds and were then adapted to New World squash once they became available.
In the late 4th or early 5th century AD compilation of Roman recipes attributed to Apicius, in Book 3 (The Gardener) the following recipe for cooked gourds appears:
CUCURBITAS FRICTAS TRITAS
Piper, ligusticum, cuminun, origanum, cepam, vinum, liquamen et oleum. Amulo obligabis in patina et inferes.
This recipe was translated and adapted by John Edwards in his 1984 The Roman Cookery of Apicius (ISBN 978-0881790085). We share it here so that you can try an authentic Roman dish. It is really quite delicious.
½ teaspoon black peppercorns
¼ teaspoon celery seed
¼ teaspoon dry oregano leaf
¼ teaspoon cumin
1 tablespoon extra virgin olive oil
1 medium onion, quartered and thinly sliced
3 cups gourd, peeled, seeded, and cut into ¾" cubes
1/3 cup vegetable stock
1/3 cup dry white wine
salt to taste
Grind together the black pepper, celery seed, oregano, and cumin.
Heat olive oil in a heavy skillet over medium-high heat. Add in the onion and sauté for 5 minutes. Add in the ground spices, and continue cooking until the onions are transparent. Add in the gourd, stock and wine, and cook, stirring occasionally, until the gourd pieces are tender, about 30 minutes. Remove from heat, and adjust seasoning with salt. Place in a serving bowl and garnish with a little extra virgin olive oil.