Grains and Cover Crops Recipes
Barley & Mushroom Casserole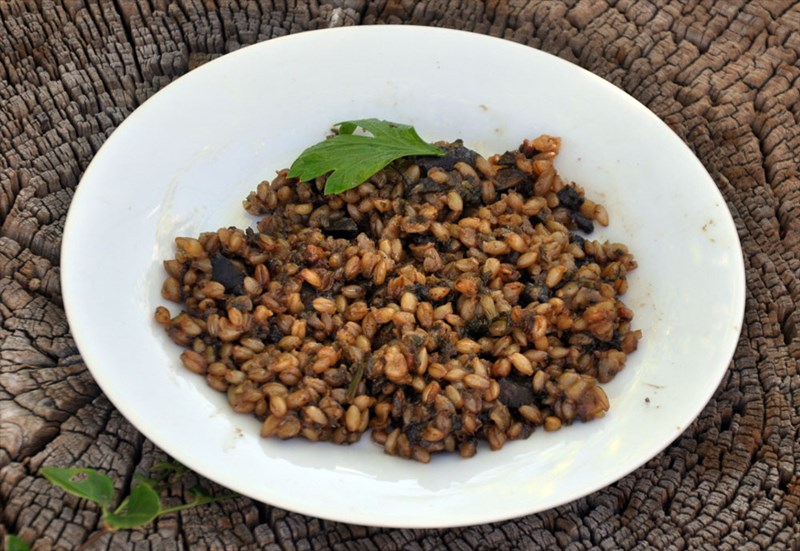 Barley is given rather short shrift in most kitchens these days and that is a real shame. Not only is this grain very economical (it increases in volume by a factor of 4 during cooking, rather than 2 as for rice) but it has a wonderful sunny and sweet flavor. It really should not be relegated to being just a filler in winter soups. In the past, barley was used much like rice as the base for grain-based dishes. The following version is adapted from one presented in Jeff Smith's 1990 The Frugal Gourmet on our Immigrant Ancestors (ISBN 978-0688075903) in the Scottish Cooking chapter. It is really wonderful and quite easy to make.
Note that we're specifying pearled barley as this is what you usually can find in groceries. Pearled barley is the equivalent of white rice in that it has had its germ and bran removed and thus cooks much more quickly. If you can find whole-grain barley and would like to use it, remember that like brown rice it will take much longer to cook – you'll likely need to bake it for 3 or more hours until it becomes tender.
1/3 cup butter
4 garlic cloves, pressed
1 large yellow onion, peeled and minced
12 oz mushrooms, sliced
1 cup pearled barley
2 tablespoons fresh basil, cut into strips
3 cups stock
¼ cup flat leaf parsley, minced
salt and freshly ground black pepper to taste
Preheat oven to 375° F.
Melt butter in a 2-quart casserole. Add in the garlic and onion and saute over medium-low heat until the onion is translucent, about 10 minutes. Add in the mushrooms, increase heat to medium, and saute another 5 minutes. Add the barley, basil, and stock. Adjust seasoning with salt and pepper. Bring the casserole to a boil, cover, and place in pre-heated oven. Bake until the barley is tender, about 45 minutes to an hour. Remove from oven and toss with the parsley immediately before serving.





Stuffed Cabbage (Holubtsi)
with Buckwheat and Mushroom Filling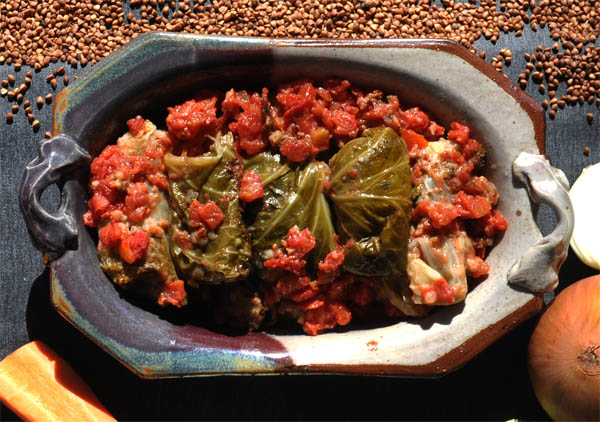 Stuffed vegetables of many sorts are well loved throughout the Slavic countries. One of the most common made is from blanched, stuffed cabbage leaves rolled up like a spring roll and then baked in the oven covered with some type of sauce. While rice-based fillings are perhaps the most widespread, it is also not unusual for them to be made with barley or buckwheat groats. The dark, earthy flavor of buckwheat marries well with mushrooms and is also perfect for our Christmas Eve feast which celebrates the richness of the land.
Buckwheat and Mushroom Filling
¼ cup olive oil, in all
1 cup whole buckwheat groats
2½ cups vegetable stock
2 large onions, finely diced
10 ounces mushrooms, cleaned and finely diced
1 medium carrot, finely diced
salt and pepper to taste
Heat 2 tablespoons olive oil in a medium-sized casserole over medium heat. When the oil is hot, add in the buckwheat groats and sauté for 4-5 minutes until the buckwheat begins to toast and darken. Add the vegetable stock, salt and pepper, and heat until boiling. Reduce heat, cover, and simmer for 15-20 minutes until all the liquid is absorbed and the buckwheat is expanded and soft.
While the buckwheat is cooking, heat the remaining 2 tablespoons of olive oil in a large skillet over medium heat. Add the onions and sauté until translucent, about 5 minutes. Next add the mushrooms, and continue sautéing for another 10 minutes until the mushrooms have stopped releasing water. Then add in the carrots, and continue cooking for another 10 minutes.
Stir the onion-mushroom-carrot mixture into the cooked buckwheat and bake in a 375° F oven until top is lightly browned, about 20 minutes.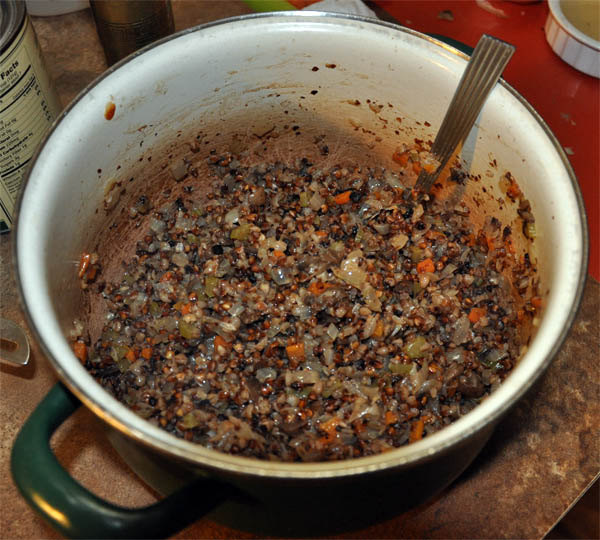 Remove from oven and cool.
Making the Holubtsi
12-18 medium-sized cabbage leaves
3 tablespoons canola oil
¼ cup flour
2 tablespoons olive oil
1 cup vegetable stock
28 oz can crushed tomatoes, with liquid
2 tablespoons apple cider vinegar
1 teaspoon sugar
1 teaspoon dill leaf
1 tablespoon finely chopped parsley
1 bay leaf
salt and pepper to taste
Blanch cabbage leaves in boiling, salted water for about 5 minutes until they have become soft and pliable. Drain and pat dry. With a sharp knife, remove the tough central rib from each leaf.
Divide the stuffing equally among the leaves, placing it in bottom half of each leaf. Fold over both sides, and roll from the bottom up, keeping the ends pressed in firmly as you go.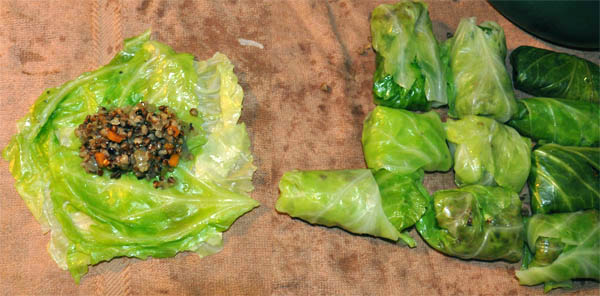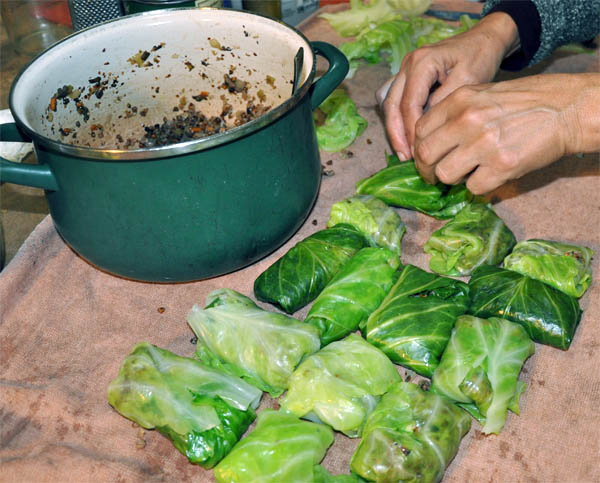 Heat oil in a large ovenproof skillet or casserole. Toss cabbage rolls in flour and fry cook in hot oil over medium heat in skillet for about 15 minutes, until browned. Add stock and tomatoes and bring to a boil. Stir in remaining ingredients and bake uncovered in a 350° F. oven for about 40 minutes.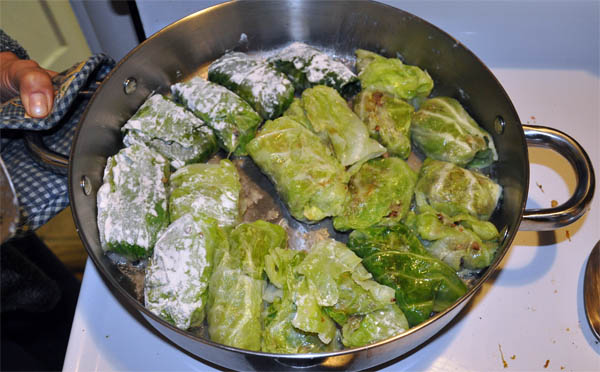 The best type of cabbage for holubtsi is a variety that does not have too tight of a head, making it easier to remove the cabbage leaves in one piece. As a result, try one of the cone-head cabbages.





Grechka Pilaf
Buckwheat groats are a tasty pyramid-shaped seed which can be cooked not unlike rice. While in North America they are called 'kasha', in Russia this word is used for any edible grain; the Russians actually refer to buckwheat as 'gretchka.' While they have a wonderful, earthy flavor, in Russia they are considered a food of the poor, and are often served apologetically to guests. There is no reason to apologize for this dish, however.
2 cups buckwheat groats
2 eggs, beaten
2 tablespoons olive oil
1 tablespoon garlic, garlic
1 yellow onion, cut into small dice
1 large carrot, cut into small dice
8 oz mushrooms, coarsely chopped
4 cups vegetable stock
Mix well buckwheat and eggs. Heat seasoned or non-stick pan to medium-high temperature, add groat and egg mixture, flatten out in pan, and stir/chop until egg is cooked and grains have separated. Set aside.
In a casserole, heat olive oil. Sauté onion, then garlic, carrot, and finally mushrooms, adding in to pan in approximately 2 minute intervals. Cook until water is released from mushrooms and evaporated. Add stock, bring to boil, simmer for 20-30 minutes until buckwheat is tender. Add salt and pepper to taste.
DIY Bulgur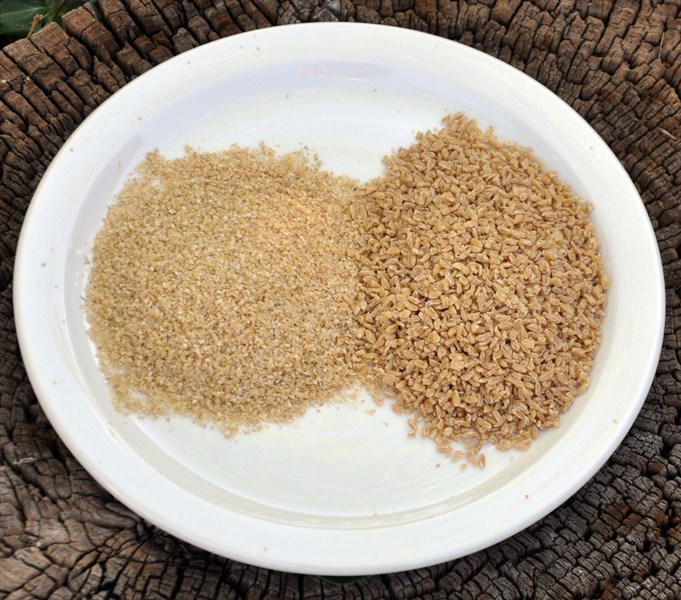 As long as you have a grain mill to crack cooked and dried wheat berries there is nothing simpler than making your own bulgur. This Middle Eastern invention likely extends back to the dawn of agriculture in the Fertile Crescent. All that one needs to do is boil wheat berries until soft, drain, and spread out to dry for a few days in the sun. According to Paula Wolfert in her 1998 Mediterranean Grains and Greens, a typical rural Turkish village will take a week out of their year just after the wheat harvest to make up their bulgur needs for the rest of the year. After cracking these cooked berries into smaller pieces, they are then ready for eating after a quick 30 minute or so soak in water. Here's the full process:
2 pounds wheat berries
Cover wheat berries with ample water and bring to a boil in a large pot. Reduce heat to simmer, cover pot, and cook until the berries are tender, at least 1½ hours. Drain cooked berries, rinse under cold water, and drain again. Let sit in the colander for a half hour to allow the berries to fully drain.
Place drained cooked wheat on a fine screen and let sit in the sun – or some other dry place – for 3-4 days until fully dried.
Run the dry cooked wheat through a grain mill to crack the berries into small pieces. If you prefer you can sieve the cracked grains and store by size: extra coarse (used in soups); large (used for pilaf); medium (used in stuffed grape leaves and other vegetables); and fine (used for tabbouleh and kisir).





Granola
You may have noticed that we've been rescuing old recipes from our recipe box and presenting them here to help save them from extinction (see Linda's Sweet Pickleand the Middle Eastern Tofu Burger, for instance). The following granola recipe is yet another example, and one of our most cherished family recipes. The recipe itself came from one of Jeff's dear friends from graduate school days at the University of North Carolina. Jean Boal (now a professor of animal behavior and marine biology at Millersville State University) wrote down her recipe for him in 1987 or 1988 and it has been his go-to granola recipe ever since. Note that this is a very flexible recipe and you should feel free to try other combinations of nuts, fruits and grains. All you need to make sure is that you keep the volumes approximately constant and that you make sure to never use precooked 'quick' oats or other grains.
1 cup toasted pepitos
1 cup honey roasted peanuts
1 cup mixed roasted, unsalted nuts
4 cups old fashioned rolled oats
2 tablespoons flour
2 tablespoons nutritional yeast flakes
1 tablespoon ground cinnamon
1 cup apple juice
2 tablespoons molasses
3 tablespoons vegetable oil
1 tablespoon vanilla extract
½ tablespoon almond extract
½ pound raisins
Preheat oven to 250° F.
Mix together the nuts, oats, flout, yeast, and cinnamon. Bring apple juice, molasses, oil, vanilla and almond extract to a simmer. Pour into oat/nut mixture and stir until the liquid has been evenly distributed and has coated all the dry ingredients. Spread into an 18x12" pan and bake, stirring every half hour, until the mixture has dried out and the various ingredients begin to separate. Remove from oven and let cool. Place in a jar.





Kisir
One of the more common ways to use bulgur is in salads. While perhaps the most iconic type of these in the west is tabbouleh, there are numerous other versions. Kisir is a common Turkish bulgur salad that differs from tabbouleh by having the bulgur grains soak in a flavored broth, then adding spices to the swollen bulgur, and finally mixing in pomegranate molasses. It has many more layers of flavors than tabbouleh, and is perfect for an autumn garden dinner made from the last vegetables of the season. The following kisir recipe is adapted from one presented by Paula Wolfert in her 1998 Mediterranean Grains & Greens and was passed onto her by Ayfer Ünsal of Gaziantep near the Syrian border.
2 cups water
2 tablespoons red pepper paste
2 tablespoons tomato paste
2 cups fine-grained bulgur
½ cup finely sliced green onions with their tops
Salt to taste
2 teaspoons mildly hot red pepper powder (New Mexico Chimayo is excellent)
1 teaspoon ground cumin
1 tesapoon freshly ground black pepper
¼ cup extra virgin olive oil
1 tablespoon pomegranate molasses (or more to taste)
2 tablespoons lemon juice
1 cup flat leaf parsley, finely chopped
2 cups romaine lettuce, ribs removed and finely shredded
2 cups small cherry tomatoes, halved
1 cup pepperoncini, cut into rings
Heat water, pepper and tomato pastes to a boil in a small saucepan. Reduce heat and simmer for 5 minutes.
Pace bulgur into a large bowl and pour the hot liquid over the top. Let stand until cold, at least 30 minutes. Break up any lumps with a fork.
With oiled hands mix the green onions into the bulgur, then salt, and finally the spices. Then add in the olive oil, pomegranate molasses and lemon juice. Let stand for at least an hour.
Fold the parsley, romaine lettuce, cherry tomatoes, and pepperoncini and serve. While it tastes great as soon as it is made, it becomes divine if you let it sit overnight.





Kutia
Kutia celebrates the richness of the land and preceding year's harvest and is only served at Ukrainian religious ceremonies of the greatest importance. While traditionally made with whole wheat berries, it can also be successfully constructed with any number of other cooked whole grains, such as spelt, emmer (farro), or Khorasan wheat (marketed under the trademarked name 'Kamut'). We actually ran out of wheat berries, and used Khorasan wheat when making the batch of Kutia illustrated below. It tasted great.
There is one special piece of equipment that we use when making our Kutia. All recipes call for ground poppy seed, and typically give directions that involve soaking poppy seeds in a hot liquid and then grinding in a food processor or blender. We find this approach simply does not work because the small size of poppy seeds does not allow them to be ground by the spinning blades. We ultimately ordered a hand-cranked poppy seed mill from Lehman Hardware in Dalton, Ohio. The current price is $30, plus shipping, although it is now being sold as a flax-seed mill.
We love the ground poppy seed paste that comes from ours, as the flavor is so much fresher than anything you can get out of a can. Serves 8
1½ dry wheat berries (or other whole grain)
4+ cups water
¾ cup poppy seeds, ground
2/3 cup slivered almonds
½ cup honey
½ cup dry apricots, chopped
½ cup raisins
½ cup dry, tart cherries
ground cinnamon, to taste
Place wheat berries and water into a pot. Bring to a boil, reduce heat to a simmer, and cook over low heat until the wheat is very tender, at least 3 hours. Make sure there is at least 1 inch of water covering the wheat berries at all times. A crock-pot set on low heat works very well for this step.
Grind poppy seeds. Toast slivered almonds on a baking sheet for 3-5 minutes in a 350° F oven until light golden brown.
Drain the cooked wheat, reserving ½ cup of the cooking liquid. Add honey to the reserved liquid and mix well.
Mix all ingredients together and bake uncovered in a 325° F oven for 20 minutes. Remove from oven, cover, and let sit for another 15 minutes. Top with a dusting of ground cinnamon.
May be served either hot or cold.





Red Flannel Hash

This is our vegan version of the iconic New England meal that is simply a Yankee adaptation of Bubble & Squeak, a classic English hash. While traditional Red Flannel Hash uses leftover chopped corned beef, potatoes, and beets from a boiled dinner, here we've substituted cooked buckwheat groats for the meat. This may seem a bit odd at first, but you'll be amazed at how similar the rich-savory flavor of the buckwheat mimics corned beef. Also note that we're using Henderson's Relish, the vegan equivalent to Worcestershire Sauce.
1/3 cup olive oil, in all
1 cup buckwheat groats
2½ cups stock
1½ cups beets, cooked, peeled, and coarsely chopped
2½ cups waxy potatoes, boiled, peeled, and diced
1 medium onion, diced
2 tablespoons parsley, chopped
1 tablespoon Henderson's Relish
salt and freshly ground black pepper to taste
Heat 1 tablespoon olive oil in a pan over medium heat. Add in buckwheat and sauté until well toasted, about 3-4 minutes. Add stock, bring to a boil, cover and simmer over low heat for 20 minutes until the buckwheat has absorbed all the stock and is tender.
Mix together the cooked buckwheat, beets, potatoes, onion, parsley, and Henderson's Relish. Heat remaining oil in a heavy 12-inch frying pan over medium heat. Add in vegetable mixture and press into the pan. Cook over low heat until the bottom is browned, about 10-15 minutes. Mix the hash and press back into the pan, and cook another 10-15 minutes until the bottom is browned again. Repeat this process at least one more time, and more if your like lots of crunchy bits to your hash. Remove from heat and serve.
Vegetarian Runza
One of our favorite activities is searching out unique local foods, wheather it bebreaded pork tenderloins in Iowa, green chili cheese fries in New Mexico, pepperoni rolls in West Virginia, or lobster rolls in Maine. When passing through Nebraska you are likely to run into the Runza Restaurant chain, which specializes in the local specality, runzas, or bierocks as they are known in Kansas and other places in the Great Plains. These are yeasted rolls filled with a savory combination of various ground meats, cabbage or saurkraut, onion and cheese. Originating in Russia, Jeff has enjoyed fried versions at both Siberian roadside stands and Moscow kiosks.
Typically these savory buns (both in North America and Russia) are filled with meat and vegetables, making them out-of-bounds for a vegetarian diet. But they are delicious and we decided to take on the challenge of making a meat-free version. We are quite happy with the result of our experimentation.
Note that in the following recipe we have made our own rye bread dough (based on a Burgundy cider-rye bread detailed in Nancy Silverton's 1996 Breads from the La Brea Bakery; ISBN 978-0679409076) to encase the buckwheat-cabbage-onion-cheese filling. Traditionally a simple white wheat dough is used, but we like the extra flavor imparted by the rye. If you don't feel like making your own, feel free to use pre-made yeast bread dough in your local restaurant freezer section.
2 tablespoon dry yeast
2¼ cups body temperature water
1 tablespoon barley malt syrup
½ cup hard cider
2 cups dark rye flour
4 cups white bread flour
2 teaspoons salt
Mix yeast with ¼ cup water and let rest until it becomes foamy. Put into large bowl with remaining 2 cups water, malt syrup, and cider. Mix in rye flour and 2 cups white flour with a wooden spoon. Mix in remaining flour ½ cup at a time until the dough begins to pull away from the side of the bowl. Mix in salt, and knead in the remaining flour ½ cup at a time. Continue kneading until the dough becomes smooth and elastic. Place in a lightly oiled bowl, cover, and let rise.
1 cup whole buckwheat groats
2 tablespoons extra-virgin olive oil (in all)
2 cups stock
1 medium onion, finely diced
2 cloves garlic, crushed
4 cups cabbage, shredded
12 oz. shredded Gruyere (or Swiss) cheese
salt and freshly ground black pepper to taste
While dough is rising, make the runza filling. Heat 1 tablespoon olive oil in a 1 quart saucepan over medium-high heat. Sauté buckwheat groats until they turn golden brown. Add in stock. Bring to a boil, reduce heat, and simmer for 20 minutes until all the stock has been absorbed and the buckwheat is tender. Remove from heat.
Heat remaining 1 tablespoon olive oil in a large pan. Sauté onion and garlic over medium heat until they have softened and become translucent, about 5 minutes. Add in shredded cabbage, cover pan, and cook, stirring occasionally, until the cabbage has collapsed and softened, about 10 minutes.
Remove from heat and allow to cool. When it reaches body temperature, mix in the cooked buckwheat and shredded cheese. Adjust seasoning to taste with salt and pepper.
Heat oven to 400° F.
When the dough has doubled in volume punch it down and roll it out into a 12x18" rectangle. Spread the filling over the top and within 1" of the edge. Roll up, sealing the bottom and sides. Place into a lightly greased baking pan and bake for 40 minutes until the dough is fully cooked and had browned nicely on both the top and bottom. Remove from oven and let cool for approximately 15 minutes. Cut into slices and serve warm.





DIY Sourdough Culture
The capturing of local microbial cultures to make leavened breads was one of the most important innovations of the ancient world. Today we think of sourdough as something that you can only find in San Francisco or have to obtain from the old hippy couple down the street. But it need not be that way: every place has its own microbial assemblages that, if given the chance, will happily turn into a local sourdough culture which will rival commercial yeasts in their leavening power and will also capture the unique terroir of their origin. The sourdough we captured 5 years ago smells quite a bit like the air just outside of the main fermenting room at Milagro Vineyard where we collected the grapes.
Even though a mystique has developed that sourdough is much harder to use than commercial yeast, we think this is as much advertising propaganda as anything else. Our experience has told us that the only difference between a local sourdough and commercial yeast is flavor (there is loads more in the sourdough) and time (it will take 3-4 times as long to raise). The issue is creating your own local sourdough adapted to your own local conditions. So, how does one do this? We're presenting the process described by Nancy Silverton in her 1996 Breads from the LaBrea Bakery (ISBN 978-0679409076) and have found it foolproof as long as you have access to high quality organic flour, pure water, and work from sanitized containers and utensils. The whole process from start to finish will take 2 weeks but at the end of that time you'll be able to bake your first loaf of bread from your own local yeast and microbe culture that you will be able to maintain for the rest of your life.
You'll actually begin your sourdough by visiting a local organic vineyard or fruit orchard and picking about a pound of ripe fruit. Because we don't have vines in our backyard we went to the Milagro Vineyard just north of Albuquerque in Corrales, New Mexico to glean Chardonnay and Cabinet Sauvignon clusters that had been missed during earlier harvest.
These fruits are covered in a whitish bloom of wild yeasts and bacteria, and we'll be using these to found our sourdough culture. While we've not tried it we think that cherries will also work to initiate a sourdough as they too are covered with yeasts. We're not so sure about other soft fruits like raspberries or blackberries, or harder fruits like apples, nectarines, plums, or pears. If you want to try these you'll likely need to experiment a bit to optimize the process. For instance, for the harder fruits you'd likely need to peel them and to place the peels in the cheesecloth bag and to make up for the lack of juice by adding more water into the initial flour paste. We'd not recommend using any downy fruit like peaches or apricots as quite a bit of dust can get stuck to the hairs, increasing the chance for deleterious microbes to be pitched into your starter.
Once you return home gently wash the fruit to remove any cobwebs or other debris, but don't wash too hard or you'll remove the beneficial yeasts. Next, assemble the following materials:
1 gallon plastic/glass/ceramic container with lid
Rubber spatula
18x18" piece of cheesecloth
Sanitizer, such as Oxy-Clean or One Step
1 pound local organic soft fruit like grapes or cherries
1 gallon room temperature spring water, in all
4 cups unbleached organic white flour
The essential first step in the process is to sanitize anything that will come into contact with the flour, water, or fruit, including not only the fermenting container but also the spatula, cheesecloth, and cup measures. This is important as we need to make sure that only the bacteria and yeast on the flour and fruit colonizes the batter. Note that once the culture has been established it is rather resistant to invasion by other microbes. You can find sanitizers like One Step at your local homebrew store or online at places like Northern Brewer.
A note about the flour: it needs to be clean, pure, and organic as you want a full complement of wheat flour microbes to be present. The best flour, of course, would be that made from home-grown and milled wheat berries; just make sure that your mill is clean and sanitized before grinding the grains. If this is not an option then you need to track down King Arthur white flour, as this firm makes very clean flour that our sourdough loves; it pouts and barely works with other, cheaper brands.
Day 1: Lay the cleaned fruit on the sanitized cheesecloth and tie together the opposite corners to make a bag. Mix together the flour and water to make a paste in the gallon container. Hold the fruit bag over the paste and crush the fruit with your hands, squeezing the juice into the paste. Mix the juice into the paste with the spatula, and then push the fruit bag to the bottom of the paste. Cover the container. Let sit at room temperature (70-75° F) out of the sun.
Days 2 & 3: Sometime during this period yeast growth will take off, making the flour mixture bubbly. Often the fruit bag will inflate with gas. When you remove the lid you should smell a fruity or yeasty aroma.
Day 4: We now need to feed the yeast which has used up all the initial food in the flour. To do this we sanitize a spatula and cup measure, gently remove the fruit bag, and then mix into the starter a cup of flour and a cup of spring water. Stir to make an even paste and return the fruit bad to the container, pushing it to the bottom of the paste.
Days 5-9: The yeast will activate during Day 5 making a bubbly paste. By Day 6 the mixture will separate into an upper liquid and lower flour layers. This is fine. Over the course of the next 4 days we'll let the yeast starve which will give the bacteria populations a chance to grow. Don't be shocked if by the end of this time the starter smells more than a bit like a crock of fermenting pickles. That's ok, and will be fixed in the next step.
Days 10-14: We now need to bring the yeast and bacterial cultures in the starter into balance. To do this we'll feed the starter three times a day for the next four days. Initially you need to remove the fruit bag, squeezing any remaining juice into the starter. Stir well and remove 2 cups to a clean covered container. You can either throw away the remaining starter, pitch it into your compost pile, or make it into sourdough pancakes or onion rings. We save the leftover starter over a 2 day period and then make pancakes, repeating again on the last day.
To the reserved starter add in one cup of flour and one cup of spring water. Stir well to remove all lumps. Repeat this process every 8 hours for 12 total feedings.
At the end of this time you'll have a fully active sourdough containing your local microbial cultures. They will likely work better than commercially purchased sourdoughs as they are adapted to your local conditions. Our local Albuquerque culture works as well as commercial yeast but cultures from the northern California coast hardly do anything.
To maintain the starter, remove 2/3 cup and place in a glass jar. Cap and store in the refrigerator. When you need to use the starter, remove it from the refigerator place it in a lidded container, mix with 2 cups flour and 2 cups water to make a batter, and cover the container. Let it sit 6-8 hours and it will then be ready. Just remember to save back 2/3 cup of the starter, place it back into its glass jar, and put it in the refigerator for the next time. You should plan on using the starter at least once a week to maintain its leavening power.





Stuffed Escarole (Scarola Imbottita)
The original recipe for this unusual Sicilian stuffed head of escarole, as presented by Clifford Wright in his 2001 Mediterranean Vegetables, is out of bounds for this blog as it used ground meat in the filling. But we liked the idea and thought that we ought to be able to come up with a vegan version. To do this we fell back on one of our most useful tricks, substituting cooked buckwheat groats for the ground meat. And because of the different flavor, we also punched up the seasonings and flavors accompanying the buckwheat. The resultant dish was amazingly tasty and well worth a try in your kitchen.
A side note: as we were eating up the leftovers we wondered how this dish would work as a topping for nachos. It turns out very well, indeed. Just be sure to coarsely chop the escarole and mix into the filling before pitching onto your nacho chips.
½ cup extra virgin olive oil, in all
1 cup buckwheat groats
2 cups stock
2 tablespoons pine nuts
2 tablespoons golden raisins
¼ cup chopped black olives
¼ cup dried tomatoes, cut into strips
2 tablespoons flat leaf Italian parsley, chopped
2 garlic cloves, minced
Salt and freshly ground black pepper to taste
2 large heads escarole
Preheat over to 300º F.
In a medium saucepan, sauté dry buckwheat groats in 2 tablespoons olive oil over medium heat until toasted, about 2 minutes. Add in stock and bring to a boil. Reduce heat to a simmer, cover pan, and cook until all of the water is absorbed and the groats are completely cooked, about 20 minutes. Remove from heat and add in pine nuts, raisins, olives, dry tomatoes, parsley, and garlic. Season with salt and pepper.
Remove any damaged outer leaves of the escaroles. Set each head on its stem end and flatten each leaf from the outside into the center without breaking them off. Place half of the buckwheat mixture into the center of each escarole head. Bring the leaves back together to enclose the filling and tie the leaves together with a piece of string.
Place the stuffed escarole heads on their sides in a casserole and garnish with the remaining olive oil. Cover tightly and bake approximately 40 minutes until the escaroles are tender. Serve immediately.