Dandelion & Garbanzo Soup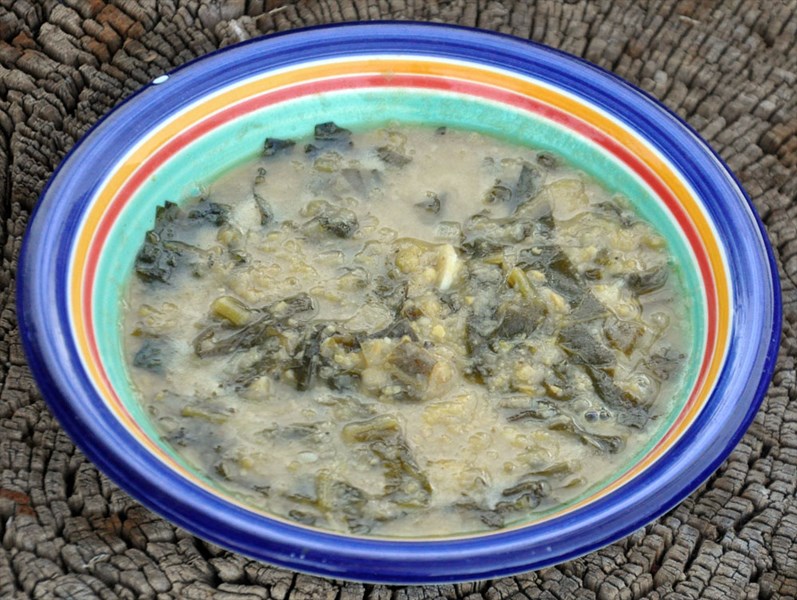 We love this thick vegan soup for its nuttiness from the garbanzo beans, its sweetness from the leeks, and the contrasting slight bitterness of the cooked dandelion greens. What also intrigues us about this recipe is how close it comes to duplicating the process of making a traditional Indian dal, where a smooth pulse soup is perked up at the last moment by the addition of a tarka, or oil fried materials (spices in the case of a dal, greens in this soup). Given the considerable trade connections between the Romans and south Asia, is it possible that the idea of a tarka made its way west, and that this recipe represents a two-millennium old example of fusion cooking? The following recipe is adapted from one presented in Christopher Styler's 1989 Primi Piatti (ISBN 978-0060159917).
1 cup dry garbanzos, covered with water and cooked until tender
¼ cup extra virgin olive oil, in all
2 medium leeks, cleaned and sliced into ½ inch slices
5 cups stock
1 tablespoon red wine vinegar
Salt and freshly ground pepper to taste
4 garlic cloves, peeled and thinly sliced
4 cups dandelion or other bitter greens cleaned and finely shredded
Heat 2 tablespoons olive oil in a heavy 4 quart pot over medium heat. Saute leeks for 2 minutes, then lower temperature to low. Cover pot and gently cook the leeks for 10 minutes or until tender.
Toss in cooked garbanzos. Add in stock and vinegar and heat to a simmer. Cover and cook for 20 minutes. Puree the leek/garbanzo/stock mixture until smooth. Adjust seasoning with salt and pepper.
Heat a skillet over medium heat and add in the remaining olive oil. Saute the garlic slices briefly, then add in the greens. Cook until the greens wilt, about 3-4 minutes. Adjust seasoning with salt. Stir the cooked greens into the soup and serve immediately.





Dandelion & Mushroom Baked Shells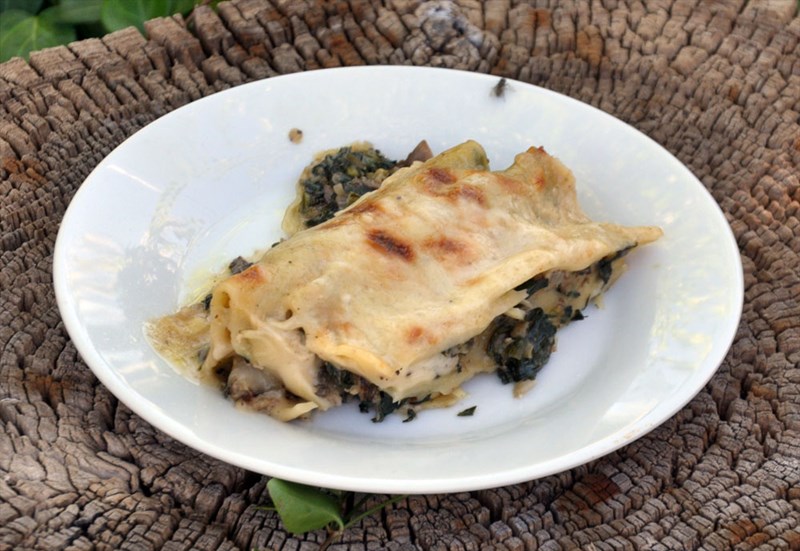 Here is a classic southern France way to cook Dandelions or any other bitter green like escarole, endive, or radicchio. We've adapted the following from a version presented by Geogeanne Brennan in her 1995 France: The Vegetarian Table (ISBN 978-0811804745) and love the combination of the greens with the sautéed mushrooms and goat milk – Gryueye sauce. We could only find rather small manicotti shells and it took quite some time to stuff them all. We suggest you try and find the biggest shells possible to make this last step easier.
½ cup butter, in all
3 tablespoons white flour
1 teaspoons salt, in all
½ teaspoon freshly ground black pepper
½ teaspoon ground mace
¼ teaspoon cayenne pepper
1½ cups milk, in all
½ cup green onions with tops, minced
½ cup shallots, minced
12 oz. fresh mushrooms, chopped
2 cups dandelion greens (or escarole, endive, radicchio)
¼ cup fine bread crumbs
1 cup Gruyere cheese, grated
Pasta shells (canneloni, manicotti, etc), precooked until barely tender
Preheat oven to 350° F.
First you make a roux. Melt 3 tablespoons of butter in a heavy saucepan over medium heat. When bubbling and foamy whisk in the flour, ½ teaspoon salt, mace, black and cayenne pepper. Continue whisking for a minute. Then whisk in the milk, stirring constantly to avoid lumps. Simmer until thickened, stirring occasionally. When the sauce will coat the back of a spoon, remove from heat. Pour about a tablespoon of milk over the top to avoid the formation of a dry skin.
Melt another 4 tablespoons of butter in a skillet over medium heat. When it is bubbling and foamy, add in the green onions and shallots. Sauté until translucent, about 5 minutes. Now add in the mushrooms, and continue to sauté until they begin to cook, about 3 minutes more. Stir in the greens and cook until just limp, about 2 more minutes. Remove from heat. Stir in the remaining ½ teaspoon salt, ½ of the sauce, and bread crumbs to make a paste.
Fill each precooked pasta shell with the mushroom-greens mixture. Using the remaining tablespoon of butter, grease a 12x8" shallow casserole. Arrange the filled shells snugly in a single layer in the casserole. Warm the sauce, whisking in the surface milk, and add in ¾ cup of the shredded Gruyere. Whisk until the cheese melts and the sauce is smooth. Pour over the filled shells and top with the remaining cheese and additional dabs of butter.
Place in oven and bake until the cheese is golden and the sauce bubbly, about 20-30 minutes. Remove from oven and let rest 5 minutes before serving.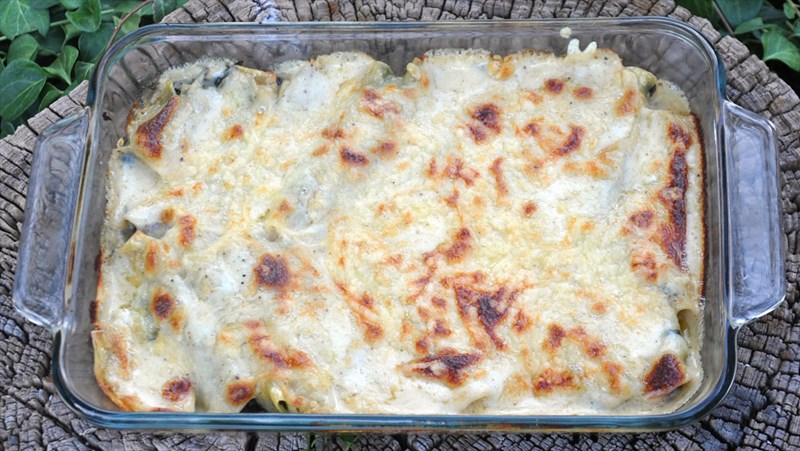 Dandelion Salad -- Zigorriesalat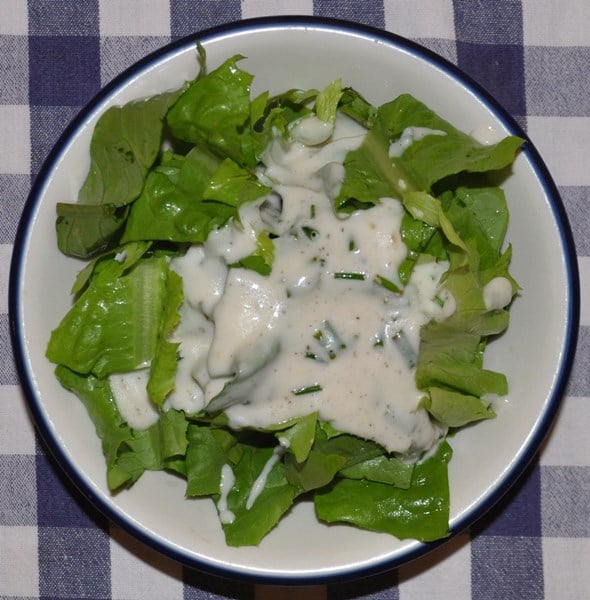 Just as in the Mediterranean, the first greens of spring were eagerly anticipated by northern European peoples. One of the favorites was dandelion. While this plant is not native to North America, its seeds were an early stowaway in hay bales carried across the Atlantic in ship holds, and rapidly became established throughout the New World. By the time the Inspirationalists arrived at Amana, it was already well established in the local flora, and soon became a dominant part of the pasturelands they created for their livestock. In this way, they were able to enjoy this first taste of spring just as they had in Swabia. Serves 4-6.
4 cups washed and chopped dandelion greens
2 tablespoons butter
1 tablespoon flour
1 cup water
2 tablespoons white wine vinegar
½ cup sour cream
2 tablespoons chopped chives
salt and freshly ground black pepper to taste
Soak prepared dandelion greens in cold water for 30 minutes. Drain. Melt butter in a small pan over medium heat and whisk in flour. Cook for a minute, and then add in the water. Bring to a boil and add in vinegar, salt, and pepper. Remove from heat and mix in the sour cream and chives. Pour hot dressing over drained greens and toss.
While you can use wild dandelion greens you need to be sure to pick them only from places that have been spared spraying with herbicides and before the flower stalks begin to emerge, as otherwise the leaves will be impossibly bitter to eat.





Mizuna Sushi Rolls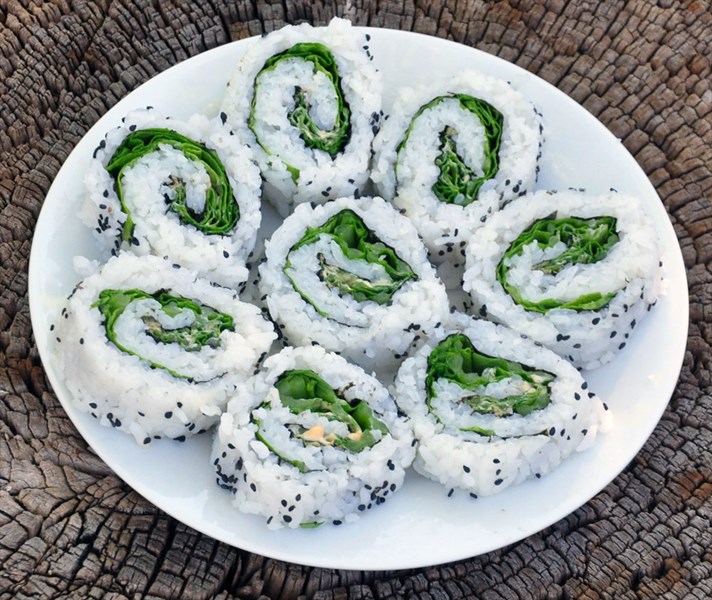 Sushi need not be made with meat; there are many traditional vegetarian versions as well to accommodate Japanese Buddhists who abstained from eating flesh. While we've never seen the following in any sushi bar or in any cookbook, we feel pretty certain that something like this has graced many a Japanese meal since the time of the Samurai to the present. Note that we've earlier detailed to process for making sushi rice and have simply linked that recipe here.
Plastic wrap
Sushi rolling mat
Sushi rice
Mizuna or other oriental mustard greens
Mayonnaise
Wasabi paste
Nori sheets, briefly roasted over a hot burner until they turn green
Black sesame seeds
Place plastic wrap on top of the rolling mat. Place a scant, even, ½" layer of rice over the plastic wrap.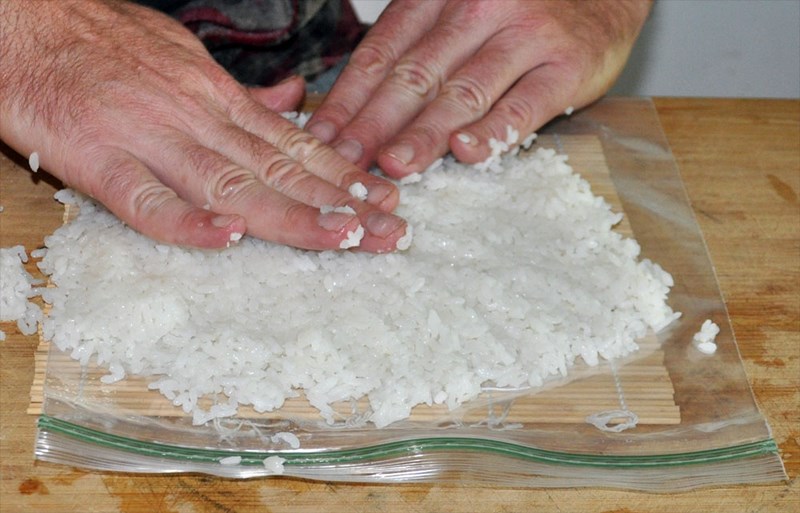 Place a nori sheet over the rice. Run a bead of mayonnaise and dots of wasabi down the middle of the noiri sheet.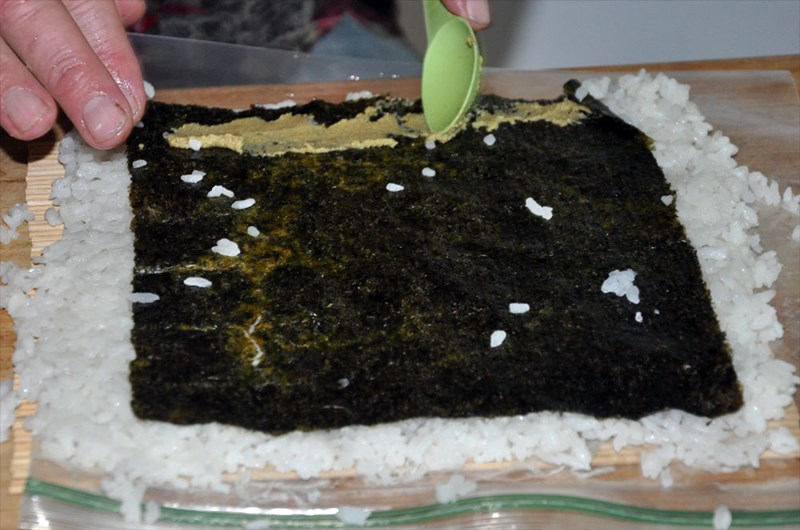 Place a 1/2" layer of mizuna over the nori, and roll up into a cylinder.
Remove the plastic wrap and sprinkle the outer rice layer with a garnish of black sesame seeds. Slice into 1" wide segments and arrange on a serving plate. Repeat until your ingredients are used up.
Ohitashi
This is an incredibly simple yet delicious Japanese way to use your spicy Asian greens. While any will work, you may want to stick with wider leaved types as you'll want large leaves to wrap around and hold together the roll.
1 pound oriental mustard greens
Salt
Soy Sauce
Hot Chili oil
White sesame seeds
Parboil the mustard in salted water, drain, and rinse under cold water. Remove the largest leaves, and arrange the remaining with the stems all on one end. Roll the largest leaves around the rest to make a cigar. Squeeze dry. Cut into 1" wide rounds and garnish with soy, chili oil and sesame seeds.





Mustard Green Spring rolls
Mustard greens have become synonymous with the soul food of African-American kitchens. But, they are appreciated across the globe by many other peoples. Here they are used as the focal ingredient in the following half-sized, pencil shaped spring rolls from Canton in the south of China.
8 oz very firm tofu, patted dry, and cut into ¼ inch dice
1 pint vegetable oil
8 oz mustard greens, shredded
12 dried shitake mushrooms, soaked for 30 minutes and thinly sliced
1 small leek, shredded
½ cup bamboo shoot, cut into fine strips
1 tablespoon soy sauce
1 tablespoon Chinese rice wine (or dry sherry)
½ teaspoon salt
a pinch of sugar
1 package of frozen spring roll wrappers, thawed, and cut in half on the diagonal
Add dry tofu cubes to hot oil, and deep fry until cubes separate, float to top, and turn light brown. Remove from oil and drain. Reserve oil.
Heat 2 tablespoons of oil in a wok. Add mustard greens, and cook until they collapse; add mushrooms, then leek, then bamboo shoots, then fried tofu cubes at 2 minute intervals. Add in soy, wine, salt, sugar, and stir fry in wok until most of liquid is evaporated. Pour mixture into bowl and cool.
Pull a triangular spring roll wrapper sheet from the stack, placing the long side nearest to you. Place 1 tablespoon of filling about 1 inch from long edge as a 4-5 inch ribbon. To allow the roll to seal, brush water onto the upper narrow tip. Fold left and right corners to the center, and then roll the long edge up towards the narrow tip. Repeat for all remaining wrappers.
When all rolls have been made, reheat the reserved cooling oil to 350o F. Lower spring rolls a few at a time into the hot oil and fry until they turn golden brown and are crisp. Remove and drain on paper towels.
Serve hot with a dip made of 1 tablespoon minced ginger root and 2 tablespoons rice vinegar.