Berbere Paste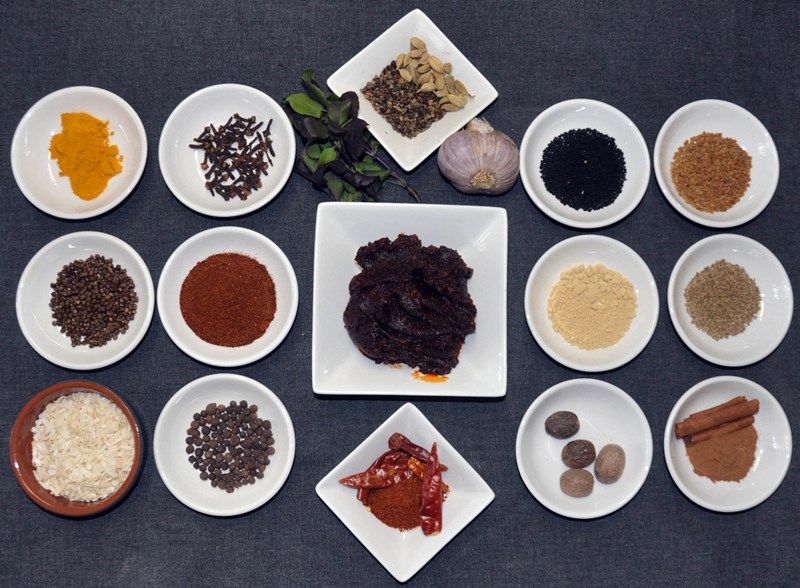 This spice paste is one of the two backbones of Ethiopian cuisine. Although it may seem reminiscent of curry in its texture and some of its ingredients, its flavor is utterly different and unique. A good berbere paste will make your Ethiopian meal truly memorable, and we're quite pleased with the following recipe that we have cobbled together from a number of various sources. Before you go about making yours, refresh your memory of how to dry roast and grind spices as related in the
Balti garam masala recipe
. Once you have accomplished this step, the remainder goes together quite simply. You'll probably want to let your berbere mature in the refrigerator for a day or two to let all the various flavorings meld. Also, we'd suggest that you consider making a double batch as it will take hardly any additional time. As it will keep for months and months in the refrigerator, having extra berbere on hand makes it possible for you to quickly throw together you next Ethiopian meal. Makes about 2 cups
12 whole cloves
½ teaspoon whole Cardamom seed
½ teaspoon whole Black Pepper seed
½ teaspoon whole Allspice
1 teaspoon whole Fenugreek seed
1 teaspoon whole Ajiwain (Bishop's Weed) seed
1 teaspoon whole Kalonji seed
1 teaspoon whole Grains of Paradise seed
3 oz mild New Mexico Chile powder
½ cup dry Onion flakes, ground
½ tablespoon ground Cayenne pepper
1 teaspoon ground Ginger
½ teaspoon ground Nutmeg
¼ teaspoon ground Turmeric
¼ teaspoon ground Cinnamon
1 tablespoon Garlic, crushed
1 tablespoon Holy Basil leaves
1 teaspoon salt
½ cup peanut oil
½ cup dry red wine
Put into a sealed glass jar and refrigerate.
Unless you live in a city with a large Ethiopian population, you'll need to order your Grains of Paradise and Holy Basil from an on-line vendor. Most of the remaining specialty spices are available at any Indian or Middle Eastern market.
Green Chile Sauce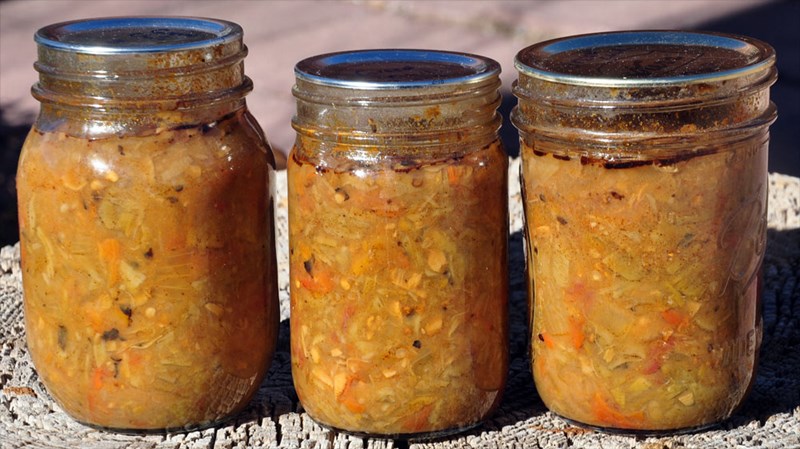 We adore the green chile sauce that is so ubiquitous to the New Mexican cuisine, and make it a point to put up a few cases every few years for home use. We prefer to make our own not only because we can control just how much salt (not much) and preservatives (none!) it contains, but also because ours tastes so much better made with home grown green chile. Our favorite recipe has been cobbled together from two different types (one from Hatch, New Mexico and other form Tubac, Arizona) presented in Cheryl Alters Jamison & Bill Jamison's incomparable 1995 The Border Cookbook, by far and away our favorite collection of southwestern recipes.
The following recipe will make 2 quarts of green chile sauce, enough for a nice batch of green chile enchiladas and some nachos on the side. We usually make four times this amount and then can the sauce for future use. The roasting of the green chiles is an essential and not optional step, as the raw chiles will lack the flavor developed in roasting. For step by step pictures of us roasting chiles, head over to the Roasted Marinated Pepper recipe..
4 cups green chile
1/3 cup canola oil
2 large onions, chopped
6 garlic cloves, peeled and minced
¼ cup all purpose flour
2 cups tomato, peeled, seeded and chopped
1½ cups stock
2 teaspoons salt, or more to taste
Roast the green chile in an oven, on a stove top, or on a grill until they are charred all over. Place in a plastic bag and let steam for 15 minutes. Remove skins under running water. Remove seeds and chop. You need 4 cups of processed chile.
Warm oil in a heavy saucepan over medium heat. Add onion and sauté until softened, 5-10 minutes. Stir in garlic and sauté for another minute. Add in flour and cook for another minute or two. Mix in the prepared green chile, tomatoes, stock and salt. Bring to a boil, reduce heat to a simmer, and cook for 15 minutes or more until thickened but pourable.
The sauce can be served immediately, frozen, or pressure canned as for low-acid vegetables.
There are only two entries left in September following our over-run of August's vegetarian tapas recipes. We thought the best way to deal with these openings in the schedule was to focus on chili peppers and to present our recipe for harissa – which we promised in a few earlier entries like the Winter Squash and Greens Couscous from April and the Middle Eastern Tofu Burger from June. We also thought this was a good time to celebrate Capsicum and late summer garden produce in general by presenting our award winning vegetarian chile recipe.
Harissa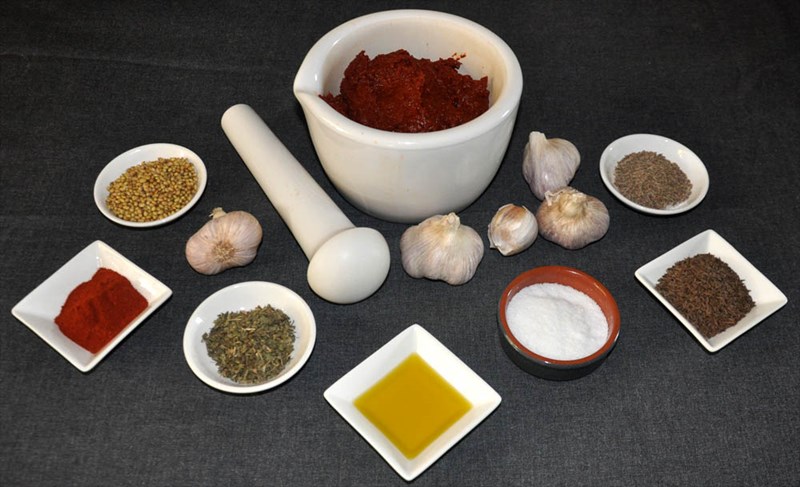 Our focus during the tapas entries was the fusion cuisine created a half-millennium ago along the western shores of the Mediterranean by the introduction of New World vegetables into indigenous European and Arabic food ways. This cooking revolution, spurred on by the introduction of new crop plants, was nowhere more profound than in the Maghreb along the Mediterranean south shore where chili peppers were immediately and enthusiastically adopted.
Harissa – often referred to as the ketchup of Tunisia – is an excellent case in point. The name harissa comes from an Arabic word meaning to pound, and as you'll see this makes sense given that we use a mortar and pestle to pound together chiles, garlic, various spices, salt, and olive oil to make a highly seasoned paste served along side of most meals in the region. Given that red pepper paste is the essential base ingredient for harissa, and that nothing like this was present in the region before the voyages of Columbus, this most popular condiment simply did not exist until 500 years ago.
While there is nothing like harissa in the pre-Columbian foods of the Maghreb, the olive oil-garlic-salt paste into which is mixed red pepper paste and ground spices does extend back to at least Roman times. This paste is the predecessor of aioli, the garlic-flavored mayonnaise of Provence and Catalonia. The egg-free emulsion used here as our harissa base is still considered by many in Spain as the 'true' aioli. The following recipe makes about 2 cups.
6 oz medium-hot New Mexico chili, ground
¾ cup water
1 tablespoon coriander seed
1 tablespoon caraway seed
1 tablespoon cumin seed
½ cup garlic, coarsely chopped
1 tablespoon salt
1/3 cup olive oil
1 tablespoon dried spearmint
Mix together ground chili and water. If paste is stiff, add in more water until it is of medium-thickness. Let sit for 30 minutes.
Place garlic and salt in a mortar and grind with a pestle until a rough paste is formed. Gradually add in the olive oil, grinding to make a thick, smooth paste.
Place garlic paste into a bowl along with the chili paste, roasted ground spices, and dry spearmint. Mix together, adding more olive oil as necessary to make a medium-thick paste. Place into a 1-pint jar, cap, and keep refrigerated.
Hot Chile Oil

This is a vital garnish for many spicy Chinese dishes. While you can buy it, you should consider making your own. It is very easy to make; you'll have yours done with only a few minutes of work. And, unlike what you'd buy in the store that will be months (if not years) old, yours will be fresh with a much brighter flavor. We've adapted the following from James Peterson's 1992 James Beard Foundation Cookbook of the Year: Sauces.
30-50 dry Cayenne or Asian hot peppers, destemmed
6 garlic cloves
3 tablespoons fresh ginger
4 cups peanut oil
½ cup dark Asian sesame oil
Chop the chiles, garlic, ginger, and black beans together by hand or in a food processor. Your goal is 2 cups; if you are short add in more chile pepper.
Combine chile mixture with peanut oil in a heavy saucepan. Place over medium heat. When the solids begin to sizzle and float, reduce heat to low and cook for another 5 minutes or until they smell toasty. Remove pan from heat and allow to cool for 30 minutes.
Strain mixture through a fine strainer or a jelly cloth, and combine with the sesame oil.
Store in a cool, dark place.
Jamaican Jerk Paste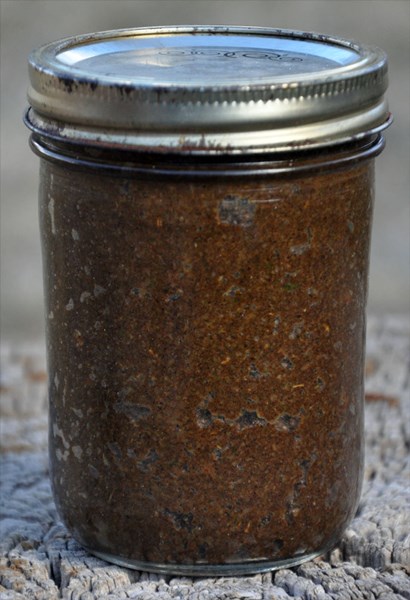 This is one of the more useful spice pastes in our larder, being redolent with the sweetness of allspice, cinnamon and nutmeg, the heat of habaneros, black peppercorns, and ginger, and the savoryness of onion, garlic, bay and thyme. While jerk paste is usually considered a meat marinade, it is just as good on vegetables and is glorious as a coating on roast potato wedges. The following recipe, adapted from Jeff Smith's 1990 The Frugal Gourmet on our Immigrant Ancestors (ISBN 978-0688075903), makes approximately 2 heaping cups, and can be stored indefinitely in the refrigerator. Note that you can make this as hot or mild as you desire by using only habaneros (the hottest) or only seasoning peppers (the mildest).
8 Scotch Bonnet / Habanero / Seasoning peppers, seeded and chopped
12 green onions, cleaned and chopped
4 ounces (approximately 1 cup) of freshly ground allspice
2 teaspoons ground cinnamon
2 teaspoons ground nutmeg
2 teaspoons freshly ground black pepper
2 teaspoons dry thyme leaf
8 garlic cloves, peeled and minced
1 heaping tablespoon freshly grated ginger paste
12 bay leaves, crumbled
1 tablespoon salt
½ cup canola oil
Puree all ingredients to a smooth paste. Place in a pint jar, cover, and refrigerate. This will keep indefinitely in the refrigerator.
Mild Lentil Stew (Yemisir Alich'a)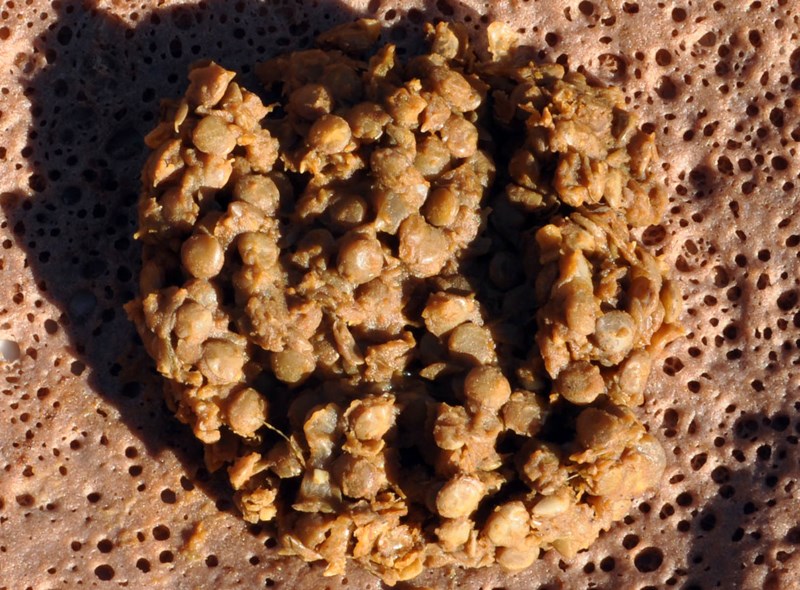 Many cultures across the globe enjoy lentil stews, whether it be an Indian dhal or a Provincial casserole. But none taste anything like lentils cooked in the Ethiopian way with berbere, spiced butter, onion, garlic and ginger. There may be no better way to introduce yourself to this cuisine, as it is simplicity itself to make once you have the berbere and spiced butter on hand. We suspect that, like us, you'll not limit it only to Ethiopian dinners and will make it often on its own. Makes 8 cups
2 cups brown lentils, picked over to remove any stones and washed
6 cups water
¾ cup chopped, seeded medium-hot New Mexico chili
2 cups red onion, chopped
¼ cup spiced butter
1 tablespoon freshly grated ginger paste
3 cloves garlic, crushed
1 tablespoon berbere paste
¼ teaspoon freshly ground black pepper
Boil lentils in water for 5 minutes. Drain lentils, reserving liquid.
Sauté green chiles and onion in spiced butter until tender. Add lentils, four cups of the reserved cooking liquid, and remaining ingredients.
Bring to a simmer and cook for 45 minutes until the lentils are soft. Serve warm.
Picked Jalapeños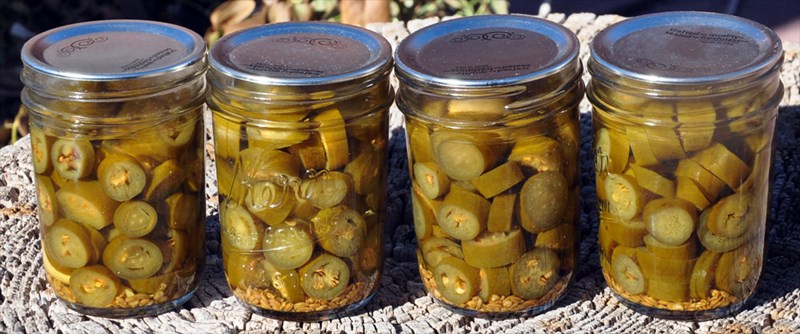 Making your own pickled jalapeño slices is so incredibly simple that there is no reason in the world why you should not make your own. They will be so much more brightly flavored that you'll wonder why you never did this before. We've based our recipe upon one presented in Lucy Norris' 2003 Pickled (ISBN 978-1584792772). Remember that you can pickle any pepper using this recipe, allowing you to choose just how much heat – if any at all – you want. This recipe will work best, though, using thick-fleshed peppers.
½ cup water
1½ cups white wine vinegar
1 teaspoon kosher or pickling salt
¼ teaspoon whole cumin seed
4 garlic cloves, peeled
2 pounds jalapeño peppers, sliced into rings
Combine water, vinegar, salt, and cumin in a nonreactive saucepan, and bring to a boil over high heat.
Place 2 cloves of garlic into each of two pint jars. Fill each jar evenly with the pepper rings. Pour over with the hot brine. Screw on the lids.
Process in a hot water bath for 10 minutes. Let rest in a cool, dark place for at least 2 weeks until the jalapeno slices lose their bright green color.
Teloloapan Red Mole
Mole is the crown-jewel of the Mexican cuisine, an impossibly luxurious chile sauce made from a wide assortment of Spanish and indigenous ingredients. Yes, this is probably one of the most involved recipes that we've presented. And, yes, it takes ¾ of a day from start to finish. But, what you get out of it is one of the most authentic and best-tasting moles that you'll ever have eaten, without any of the extra salt and preservatives that you'd get from store bought – and at a fraction of the price.
Our recipe follows rather closely one presented in the award-winning 1996 Rick Bayless's Mexican Kitchen. This mole is really nothing more than a cooked concoction of chocolate with a chile paste and a spiced nut and bread paste. You can easily spread the construction of the mole out over multiple days; for instance you can make the chile paste one Day 1; the spiced nut paste on Day 2, and the final mole construction on Day 3.
There is enough work involved here that you really don't want to make only enough for one meal. Rather it is better to make extra and to put it up by either freezing or canning. In that way you can almost instantly have mole enchiladas – or mole whatever – whenever you want. We typically make a 2x batch and this is usually enough to last us for 12-18 months.
There is no denying that this is a lot of work. But if you'd like to experience a feeling of true wealth in your kitchen, you'll get it from the glow of putting away two cases of this homemade vegan mole that will enrich your life for months to come.
One last word: be sure to track down real Mexican chocolate, which is augmented with cinnamon and other sweet spices. Typical baking chocolate will just not do.
Makes 3 quarts.
8 oz dry ancho chiles (approximately 16 peppers)
6 oz dry New Mexico chiles (approximately 20 peppers)
1/3 cup sesame seeds (1½ ounces)
1 teaspoon anise seed
3 bay leaves, crumbled
2 inch section of Mexican cinnamon (canela), crumbled, enough for 1½ teaspoons ground
1 teaspoon whole black pepper
1 teaspoon dry thyme leaf
heaping ½ teaspoon dry marjoram leaf
½ teaspoon dry whole cloves
1 avocado pit
2 slices rustic bed, dried
2 stale corn tortillas
2 cups canola oil
1/3 cup unskinned almonds
½ cup unskinned Spanish (Valencia) peanuts
1/3 cup hulled pumpkin seeds (pepitos)
1/3 cup raisins
1 medium white onion, peeled, halved, and sliced
5 ounces tomatillos, husked, rinsed and cut into quarters
8 oz tomato, seeded and cut into quarters
7-8 cups stock, or more if you can't use the chile soaking liquid
1 scant cup (5 oz) Mexican chocolate, finely chopped
1-2 tablespoons salt, or to taste
1/3 cup sugar
De-stem and deseed the chiles, keeping the pods intact as much as possible, and opening each into a single flat piece. Collect ¼ cup of the chile seeds.
Place the chile and sesame seeds into a hot skillet over medium-high heat. Shake and stir the seeds constantly until they begin to brown and release steam. Do not let them scorch or you will need to repeat this step. Remove from skillet and reserve. Return skillet to the heat and add in the anise seed, bay leaves, cinnamon, black pepper, thyme, marjoram, and cloves. Toast these spices and herbs as you did the seeds. Remove from heat. Place all the toasted ingredients together and grind through a spice mill over the course of multiple small batches. Sift the ground material though a fine-mesh strainer, and return the coarse particles to the spice mill. Continue until all has passed through the strainer. Add 1 teaspoon finely grated avocado pit to the mixture and set aside.
If not already dry, place the tortillas and bread into a 350° F oven until very crusty.
Set multiple layers of paper toweling across a large tray. Heat the oil in a 8-9 inch heavy skillet or Dutch Oven over medium. Fry the dry chiles a few at a time in the hot oil, turning constantly, until they toast and change color and release a spicy aroma – about 30 seconds per batch. Be sure to not let the chiles burn – you'll notice an acrid smell if you do. Remove fried chiles from the oil, drain, and place on the paper toweling. Repeat until all the chiles have been fried. Place the fried chiles into a large bowl and cover with hot water. Allow to stand 30 minutes, stirring occasionally to make sure all the chiles have fully rehydrated. Drain, reserving the soaking water if it is not too bitter.
While the chiles are soaking, return the skillet to medium heat. Once the oil is hot, fry the almonds, peanuts, and then the pumpkin seeds one at a time until thoroughly toasted. This should take about 1 minute for the almonds and slightly less time for the peanuts and pumpkin seeds. Be sure to not scorch the nuts. Also, be sure to cover the skillet when frying the pumpkin seeds, as they will pop out of the pan and make a huge mess of your range top. Remove each batch of nuts from the oil with a slotted spoon or equivalent, drain, and place on the paper toweling used for the chiles. Next fry the raisins until they puff and brown slightly, no more than 30 seconds. Remove from oil, drain, and place on the paper toweling. Again, be sure to not let the raisins burn. Fry the dry bread and tortillas until golden, and drain on the paper toweling. Add together the roasted nuts, raisins, bread, tortillas, and ground spices into a single bowl.
Pour enough remaining oil through a fine mesh strainer into a large heavy pot or Dutch Oven to coat the bottom. Return to medium heat and add the prepared onion and garlic. Sauté, stirring frequently, until the onions have caramelized, about 10-15 minutes. Remove to the bowl containing the toasted nuts and ground spices. Add a little more strained oil to the pot and return to medium heat. Add the tomatoes and tomatillos and cook until soft and browned, about 15 minutes. Remove from heat and add as well to the bowl with the cooked onions, toasted nuts and ground spices.
Place 1/3 of the soaked chiles into a blender with ½ cup of the reserved soaking liquid – or if this had to be discarded from bitterness, ½ cup of stock. Process to a smooth puree. Run through a food mill, retaining the chile paste and discarding the retained skins. Repeat until all the chiles have been processed.
Repeat this process with the toasted nut / ground spice / onion / tomato mixture, using the stock and keeping separate in a different bowl the paste that passes through the food mill. Return any retained material from the food mill into the blender, and continue processing until all has been turned into a smooth puree.
You now have two purees that will be combined and fried to make the finished mole. Coat the bottom of the large pot with strained oil and return to medium-high heat. When hot, add in the chile puree, and stir fry, stirring constantly, until it has reduced to a thick paste and has darkened, about 10-15 minutes. Now add in the nut / onion / tomato / spice puree, reduce heat to medium-low, and cook – stirring frequently – until the mixture is reduced to a thick paste, about 30 minutes. You'll want to watch this closely as the paste will blurp out of the pot as it reduces; we've had to clean splotches off the ceiling. But as long as you keep stirring the mixture and not run the heat too high this will not be much of a problem.
Now add in 4 cups of the remaining stock along with the chocolate, partially cover, and simmer over medium-low heat for 45 minutes. Adjust seasoning with salt and sugar, remembering that the sauce should be slightly sweet.
The mole can be used immediately, frozen in 1 cup units, or pressure canned for as for low acid foods.
Tobago Calypso Sauce
When Jeff was teaching at a university in Wisconsin, one of his former students was from the island of Tobago. She eventually returned home, and was able to invite a group over to see her island. This hot sauce was discovered during that trip, and differs from 'typical' North American hot sauces by its use of tropical fruit and mustard. Something else discovered on that trip was 'seasoning peppers' which are Scotch Bonnet / Habanero peppers lacking heat but still possessing a wonderful smoky – tropical fruit flavor. Tobagoans thought it amusing that we Ameicans tried to eat full strength Scotch Bonnets; the only way they used them was to put some heat into the following sauce. They would never consider using anything but mild seasoning peppers in their normal cooking. The problem was that at that time seasoning peppers were simply not available from any seed seller in North America. At lot has changed in the last 15 years, and now you can buy real seasoning pepper seed from the folks here at Baker Creek. We can't think of any better way for you to use them, as well as any regular-strength Habaneros that you may grow in your garden.
This recipe will make a gallon of hot sauce. Thankfully it is simple to can and enjoy for years to come.
Note that you can make this as incendiary or mild as you want by altering the proportion of habanero / scotch bonnet to seasoning peppers. You just want to make sure to use a total of 1¾ pounds in all. We've gone somewhat middle of the road and rest assured this hot sauce is plenty hot enough for us.
5 cups cider vinegar, in all
¼ cup mustard powder
2 tablespoons flour
1 tablespoon turmeric
1¼ pounds unripe papaya
1 pound seasoning peppers, seeded and chopped
¾ pound Scotch Bonnet / Habanero peppers, seeded and chopped
1 pound onion, chopped
1 head garlic, cloves separated, peeled, and minced
2 tablespoons honey
2 teaspoons salt, or more to taste
Heat 3 cups of cider vinegar over medium-high heat until simmering. Whisk in mustard powder, flour and turmeric. Lower heat and simmer, uncovered, until thick – about 10 minutes. Set aside.
Remove seeds from the papaya. Peel half, and leave the skin on the remainder. Cut into ½" dice. Add remaining ingredients (including remaining 2 cups of vinegar) into a large pot and heat to boiling. Add in the mustard sauce, and simmer for 30 minutes until the papaya, peppers, and onion are very soft. Puree into a smooth sauce. Place into clean canning jars, seal, and process for 30 minutes in a hot water bath.