Growing and Saving the Seed of Ageratum
---
Latin name Ageratum houstonianum is an annual flower that is nicknamed "floss flower" for its thread-like appearance. Tufts of true blue color make this a popular landscaping flower. Beware that all parts of this plant are poisonous!
---
HISTORY
Native to southwestern North America and Central America, ageratum has long been a popular landscaping plant. Short varieties are planted at the front of the border, while tall varieties are excellent for cutting. Attractive to butterflies.

USES
Ornamental, perfect for beds and borders and containers.

Butterfly garden.

An excellent cutting flower.

Attractive to pollinators like butterflies, wasps, and bees.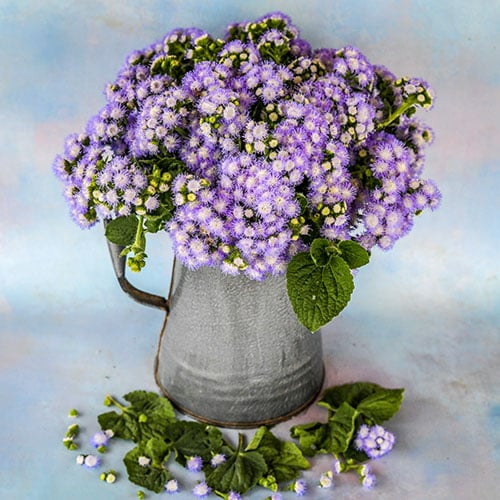 Seeds germinate in 7-10 days.

Direct sow seeds outdoors in spring, after last frost, or start indoors in trays 6-8 weeks before last frost.

Surface sow seeds uncovered, as they require light to germinate.

Ideal germination temperature is 65-75 F.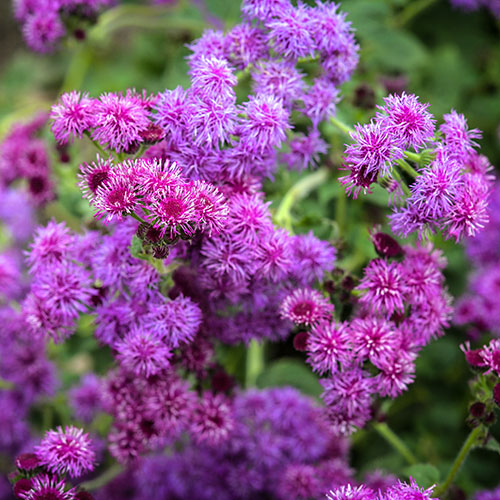 Plants are not cold hardy.

They prefer full sun, but will also grow well in part shade.

Rich, well-drained soil is best; however, plants are fairly tolerant of a wide range of soil.

Space plants at least 10 inches apart.

Do not allow plants to dry out, as they will experience drought stress.

Deadhead regularly in order to promote more blooms.
PESTS/SPECIAL CONSIDERATIONS
Mostly pest-free, with some experiencing powdery mildew or whitefly.

Avoid letting plants dry out; ageratum is not a drought-tolerant plant.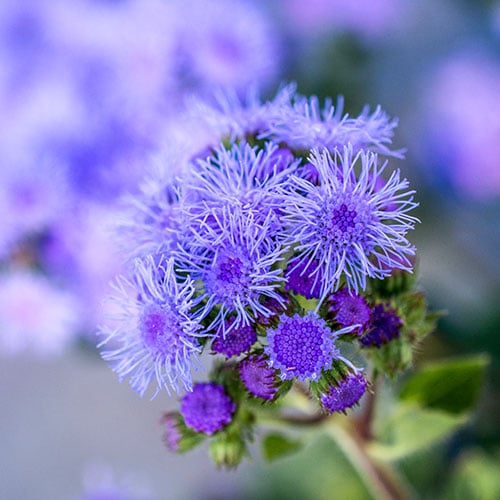 Harvest the flowers when the heads are spent.

Spread the flowers on screens to dry, then shake to remove the seeds.

Seeds remain viable for up to 4 years.