Growing and Saving Pitcher Plant (Sarracenia)
---
Sarracenia, or trumpet pitcher plants, are beautiful, fascinating carnivorous plants. These plants are perennial and cold hardy. They are very much at home at the water's edge or as part of a bog garden. Easily grown outdoors in frost-free and light-frost areas, you will want to protect them with a layer of mulch over the winter in zones 6-7. For growers north of zone 6 it is best to protect the plants from winter with a greenhouse, terrarium, or other techniques as they will die off in the severe cold. (All photos courtesy of Robert Sacilotto.)
---
HISTORY
Latin name Sarracenia species, it is native to North America and typically found in bogs along the Eastern Seaboard. (All photos courtesy of Robert Sacilotto.)

USES
All images of Pitcher Plant varieties are courtesy of Robert Sacilotto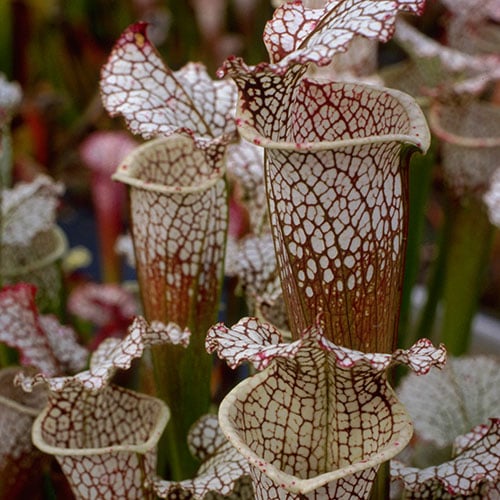 Consider using rainwater instead of tap/hose water as this prevents mineral build up, which can harm carnivorous plants.

Sarracenia seeds need a period of damp and cold before they will grow; this is called moist stratification. Spritz a paper towel to dampen it (but not soak it), fold it into a thick square, and place seeds in the center of the towel in layers so the seeds are protected from drying out. Place the moist towel in a tightly closed glass jar and place in the refrigerator for 6 to 8 weeks to mimic winter. Do NOT put them in the freezer!

These carnivorous plants are very particular about soil conditions. Start them in a soil mix consisting of: one part sand (not beach sand) to two parts sphagnum peat moss. Put the soil mix into plastic trays with drainage holes and mist to get the soil thoroughly wet. Sprinkle seeds atop the soil, as light aids germination. Gently mist the seeds to tamp them into place.

Keep the seedling tray under grow lights for 6 hours of direct sunlight/day. Keep warm at 80-90 F (a heat mat helps). Keep seeds moist, but not drenched, and do not let the grow lights dry out the seeds. You may keep the tray in a shallow saucer of water in order to keep the soil moist.

The seeds should germinate in 3 to 8 weeks.
All images of Pitcher Plant varieties are courtesy of Robert Sacilotto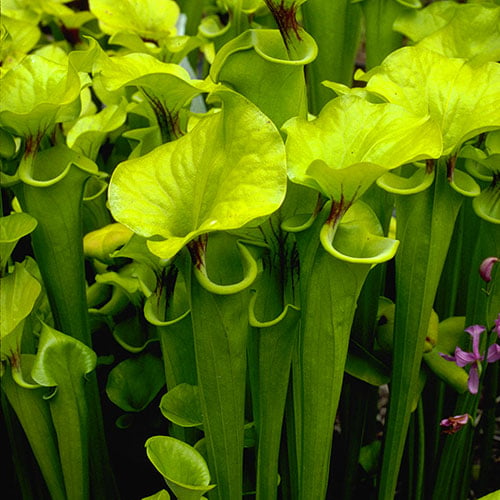 After 3 to 8 weeks in ideal planting conditions, the seedlings should emerge. The cotyledons (first set of leaves) will be shaped like a popsicle stick; the next set of leaves will be pitcher shaped! Allow the seedlings to develop 2 to 3 pitchers before very carefully transplanting.

You will want to gently harden off the seedlings for 24 hours, out of harsh direct sunlight, before planting in their new space.

Spacing will vary; a single plant will fit nicely in a 4-inch pot. If planting in a bog or clusters, you can space them 8 to 10 inches apart.

For your final planting, use the same soil mix ratio of 1 part sand to 2 parts sphagnum peat that you used in the seedling tray.

S

arracenia plants need at least six hours of direct sun during spring and summer.

Keep soil moist with rainwater.
PESTS/SPECIAL CONSIDERATIONS
Rainwater is most ideal for irrigating these plants, as hose/tap water can cause mineral buildup that is harmful to pitcher plants. It can be helpful to carefully and slowly pour rainwater over the soil to leach mineral buildup.
All images of Pitcher Plant varieties are courtesy of Robert Sacilotto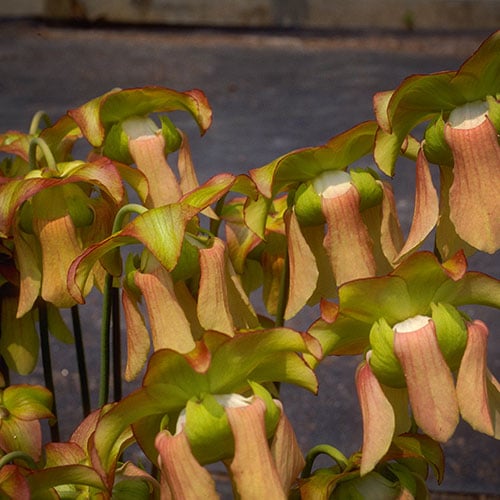 Plants can be propagated most easily by rhizome cutting.

Saved seed will need to be stratified before germinating. See germination/seed starting instructions for straification directions.
All images of Pitcher Plant varieties are courtesy of Robert Sacilotto