Growing and Saving the Seed of Asters and China Asters
---
Latin name Callistephus chinensis is an annual member of the sunflower family that is native to China, where it originated as a pink wildflower. Breeders have now achieved a wide range of colors and forms of this iconic cut flower.
---
HISTORY
Native to China and Korea, this cottage garden classic is a favorite for bold colors and long-lasting blooms. Beloved by Thomas Jefferson and grown at Monticello, as well as in many other early American gardens.

USES
Ornamental, perfect for beds and borders and containers

An excellent cutting flower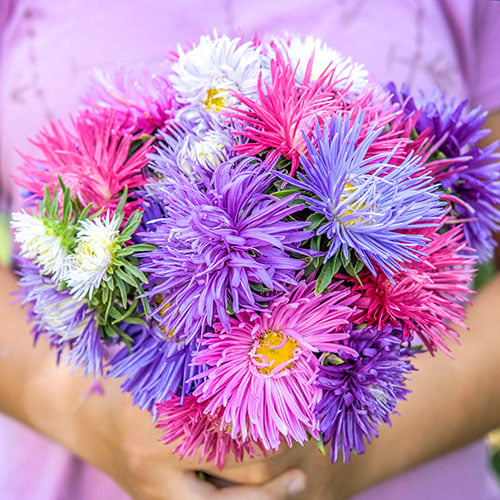 Seeds germinate in 10-20 days.

Start indoors 4-6 weeks before last frost, or direct seed outdoors after last frost.

Ideal germination temperature is 70 F.

Special note: When sowing your own saved seed, it is helpful to stratify (cold treat) seeds for 2 weeks before sowing.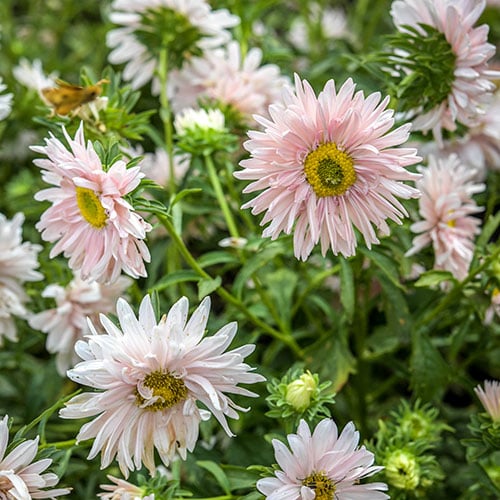 Prefers full sun to light shade, well-drained soil, and moderate moisture.

Space plants to 8-12 inches apart.

Plants will not rebloom after cutting.

Succession plant every few weeks for continuous blooming.
PESTS/SPECIAL CONSIDERATIONS
Asters can be susceptible to disease and pests.
Asters Yellow is a bacteria that is transmitted by leafhoppers. This bacterium has virus-like symptoms and is not treatable, but it can be prevented by covering plants with row cover until bloom time to keep the hoppers off of your plants when they are young and most vulnerable.

Rust and Botrytis, aka gray mold, are both caused by excessive moisture at the crown of the plant; avoid this by spacing plants 12 inches apart and keeping the garden weeded to encourage better airflow. Serenade is an organically approved spray that will treat fungal issues such as rust and mold.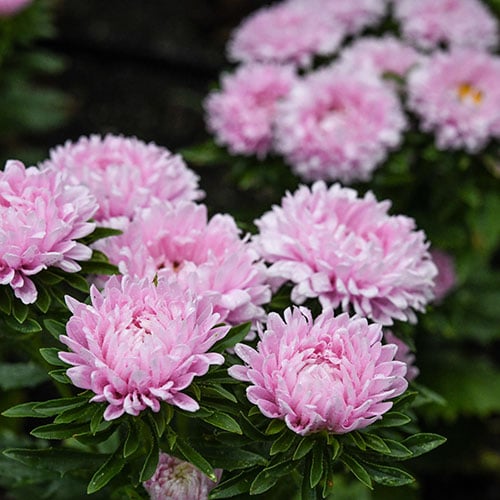 China asters are insect pollinated; they can become cross-pollinated if not grown in isolation of at least 1/4 mile or caged with bags over the blooms and hand-pollinated to prevent insects from meddling and crossing pollen.

Seeds are ready to harvest as soon as they become fuzzy. Cut plants and hang dry over a tarp to catch the seeds.

Seeds will remain viable for up to 3 years.