Growing and Saving the Seed of Bachelor's Button
---
Latin name Centaurea is an annual flower, also called cornflower. This iconic flower comes in a range of colors; however, it is most popularly known as the truest blue flower in the garden. Blue is the rarest color in the flower spectrum, making bachelor's button a stand out. An excellent cut flower that is also stunning in the landscape.
---
HISTORY
Native to Europe and Asia, the flowers were named for an ancient legend. The myth explained that Chiron, the centaur, used this flower to heal an arrow wound from battle, hence the name centaurea. The famous Egyptian King Tutankhamun was buried with an ornate floral necklace that included centaurea blooms. The boy-king was also depicted in a painting wearing a necklace of this timeless blue flower. During Victorian times, a centaurea bloom was often worn in the buttonholes of men's suits, giving rise to the name bachelor's button.

USES
Ornamental, beds, borders, butterfly garden, cutting garden, cottage garden, wildflower meadow.

Pollinator attractor.

Flower petals are edible.

Visited by butterflies, bees, and birds.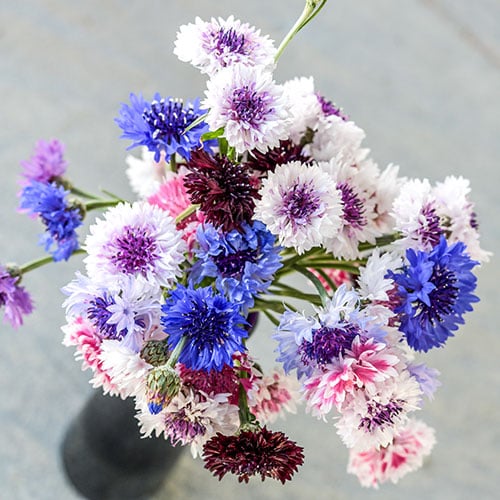 Seeds germinate in 7-14 days.

Direct sow seeds after last frost or start indoors 4 weeks before last frost.

Sow seeds 1/4 inch deep and lightly cover.

Ideal germination temperature is 60-65 F.

Special note: When sowing your own saved seed, it is helpful to stratify (cold treat) seeds for 5 days before sowing.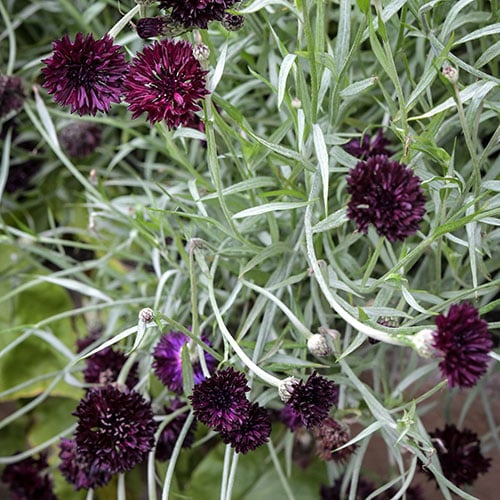 Prefers full sun and well-drained soil of any quality, from poor to moderate and rich.

Deadhead for continuous blooming.
PESTS/SPECIAL CONSIDERATIONS
Mostly a pest- and disease-free plant.
Aphids can be a problem for some growers. Encouraging or releasing beneficial insects like ladybugs will help to reduce aphid pressure. Neem oil is also an all-natural, organic-approved solution for aphids.
Seeds drop readily and will often self sow in place.

Flowers are cross-pollinated by insects and different varieties must be isolated by 1/4 mile or caged to ensure purity.

Harvest for seeds when most blooms have faded, shaking the flowers to release seeds.

Seeds remain viable for up to 7-10 years.