Growing and Saving the Seed of Calendula
---
Latin name Calendula oficinalis is an annual flower native to Eurasia/North Africa. Considered both an herb and an ornamental; the flowers and leaves are used medicinally. Blooms are also rich in resins that can help to deter some garden pests.
---
HISTORY
One of the oldest cultivated flowers, calendula has been used since antiquity for its purported medicinal properties for treating ailments of the skin, from rashes to burns. During the American civil war and WWI, it was used for dressing wounds due to its ability to slow bleeding and for its antiseptic properties.

USES
An excellent pest-repelling companion flower to grow throughout the vegetable garden.

Beds, borders, containers, cottage garden, medicinal uses.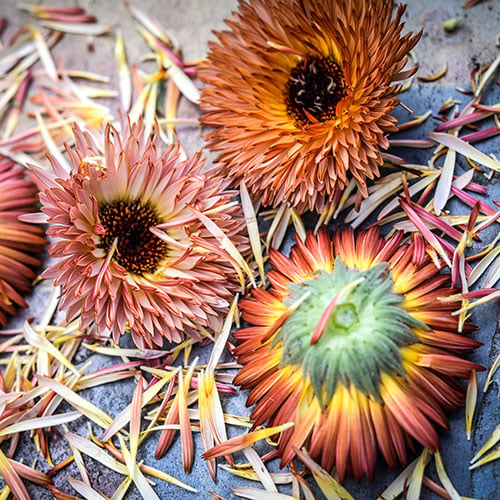 ---
Seeds germinate in 5-14 days.

Plants benefit from starting in cooler temperatures; sow them directly outdoors a few weeks before last frost is expected, or start indoors 6 weeks before last frost.

Sow seeds 1/2 inch deep.

The ideal germination temperature is 55-60 F, but is fairly flexible.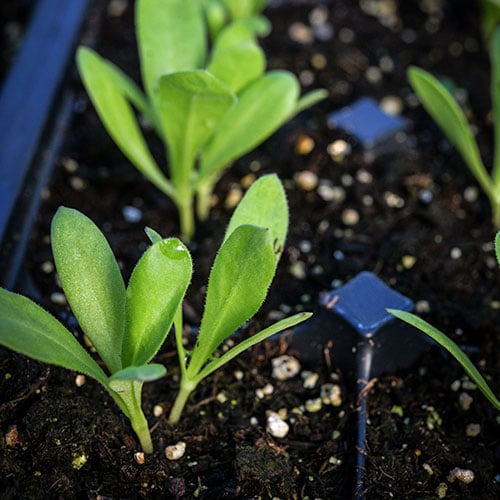 ---
Calendula is a short bushy annual; thin plants to 8-12 inches apart.

The flowers are also well suited to interplanting with vegetables, and they grow especially well in concert with tomatoes and carrots.

Calendula does not like excessive heat. Consistent temperatures over 85 F will cause the plants to decrease blooming. Heavily cutting back plants that have slowed production allows them to regrow as the season cools off in late summer.

Keep plants deadheaded to encourage more blooming.

Succession sow another crop in summer for fall blooms.
PESTS/SPECIAL CONSIDERATIONS
Typically quite pest-free, calendula can be bothered by aphids and white flies. Foliar application of insecticidal soap is the best remedy for these pests.

To prevent powdery mildew, which can occur, use drip irrigation and improve air circulation by planting farther apart.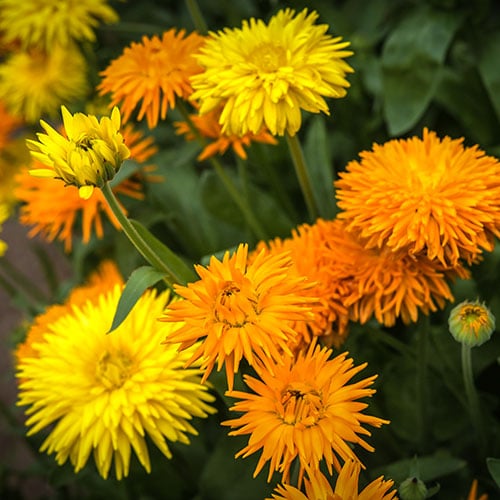 ---
Plants easily self-sow the following spring.

If growing more than one variety of calendula, you will need to isolate by 1/4 mile from any other calendula varieties, or you can use caging techniques.

Seeds are easy to save; the heads turn brown and seeds can easily be harvested in fall.

Keep in a cool, dry, dark place until next spring.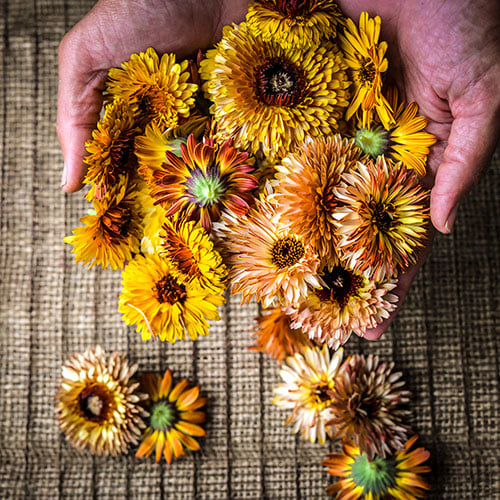 ---