GROWING AND SAVING THE SEED OF HONEYWORT
---
Latin name Cerinthe major is an tender perennial that is often grown as an annual. In its native Mediterranean range, the plants begin to grow in the winter and bloom in early spring, but many growers with cold winters will grow it as a warm-season annual. The understated blooms produce a drop of sweet nectar, hence the name honeywort. A favorite of hummingbirds.
---
HISTORY
Native to the Mediterranean, it is found across the meadows and plains of southern Italy and Greece. A member of the borage family, its name is Greek for "wax flower," as it was erroneously believed to be the source of beeswax.

USES
Ornamental.

Beds, borders, containers, cottage garden, cut flower gardens, pollinator attractors.

Visited by bees and hummingbirds.

High-end cut flower used as a foliage filler element.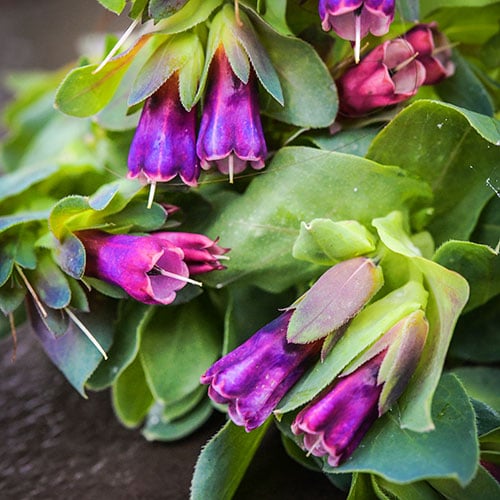 Soak seeds overnight to speed germination.

Seeds germinate in 7-21 days. Sow seeds 1/4 inch deep.

Start seeds indoors 4-6 weeks before average last frost date and transplant out after frost or direct seed outdoors after last frost.

Ideal germination temperature is 68-80 F.
Plants prefer full sun to part shade and rich, well-drained soil.

Deadhead to promote continued blooming.

Space plants 10-18 inches apart.

Plants like regular water, but do not like to be soaked; 1" per week is recommended.
PESTS/SPECIAL CONSIDERATIONS
To prevent slug infestations, surround the base of plants with diatomaceous earth or crushed eggshells.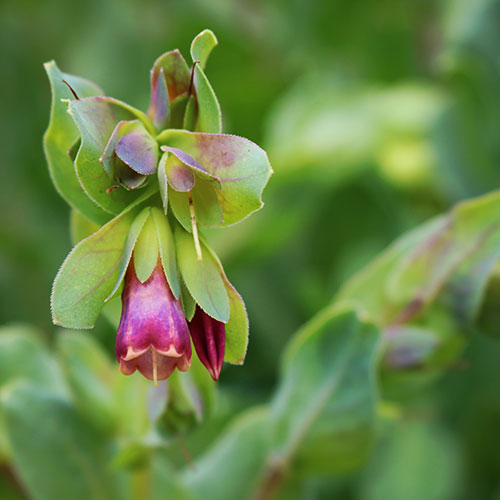 Will reseed in frost-free climates.

The seeds are explosively dehiscent and will propel themselves across the garden when dried.

To collect the large brown seeds, look for them on the ground near the plants or pick when just slightly immature and place in a paper bag where you can keep them contained when they explode.