GROWING AND SAVING THE SEEDS OF LOVE IN A MIST
---
Latin name Nigella damascena is an annual member of the buttercup family. In its native range the plants grow as a wildflower along roadsides, in abandoned fields and in wastelands and rocky areas. The unique balloon-like inflorescence and brilliant blooms make this a favorite for the cut flower garden or landscape.
---
HISTORY
Native to the Mediterranean, it was popularized as a cottage garden favorite by legendary garden designer Gertrude Jekyll.

USES
Ornamental

Beds, borders, containers, cottage garden, cut flower garden

Seed pods can be cut and used in dried or fresh arrangements

Visited by bees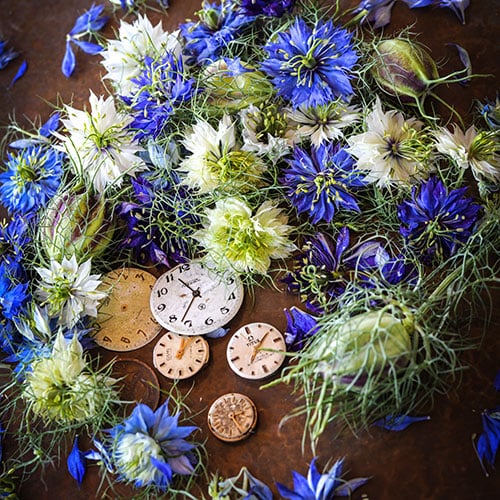 Seeds germinate in 7-14 days.

Plants are best direct sown but can be started indoors ahead of time.

Sow indoors 4-6 weeks before last frost or direct seed after last chance of frost has passed.

Succession plant every 3 weeks throughout the summer for a longer season of blooms.

Surface sow seeds and cover with a thin layer of soil.

Ideal germination temperature is 60-65 F.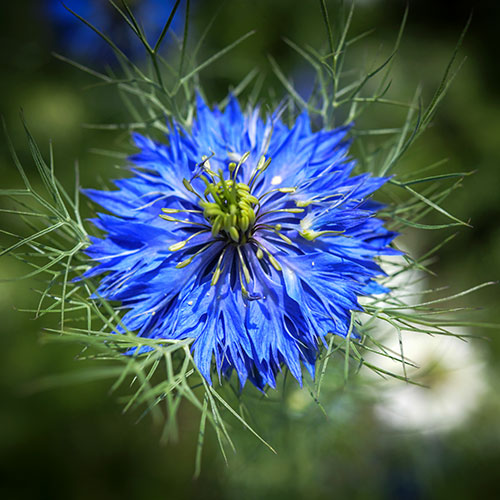 Plants prefer full sun.

They are not picky about soil fertility, as they naturally grow in poor soil, but it must be well drained.

Space plants 4-6 inches apart (the more space they have, the longer their bloom season will last!).

Keep plants deadheaded to encourage continued blooming.
PESTS/SPECIAL CONSIDERATIONS
Love In A Mist does not have any notable pest or disease problems.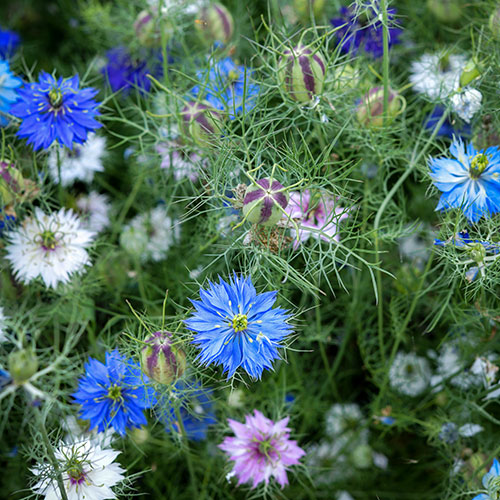 Plants will reseed in the garden readily, but you can also save seed for next season.

Allow the flowerhead containing the seeds to completely mature and dry on the plant, then clip off the flowerhead and place in a container.

Working over the top of another clean, opened container, pop the flowerheads, breaking free the aromatic, small black seeds from their pods.

The small, blackish seeds can be separated from the chaff by first screening and then winnowing.

Allow seeds to dry down for 7 days and store over winter in a cool, dark, dry place.